Ann Hood is a novelist and short story writer from the United States.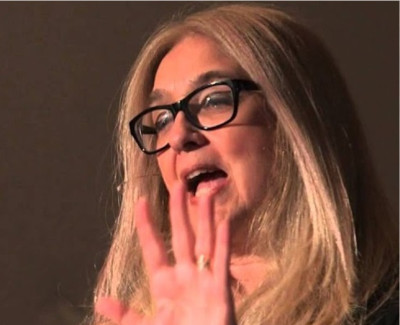 ---
Best Ann Hood Quotes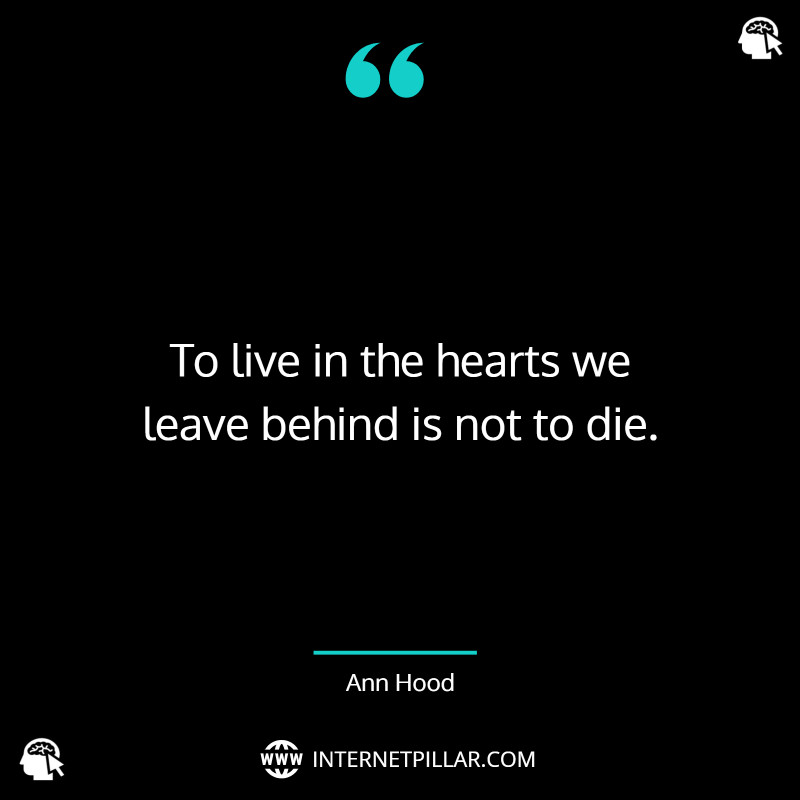 To live in the hearts we leave behind is not to die. ~ Ann Hood.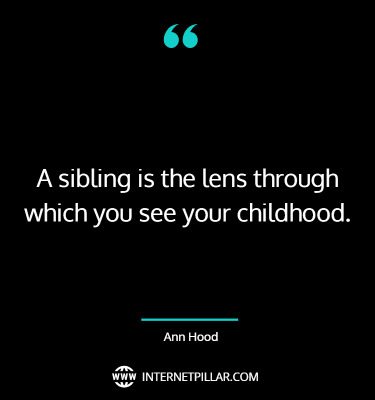 A sibling is the lens through which you see your childhood. ~ Ann Hood.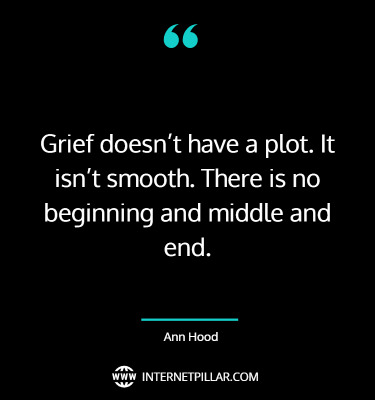 Grief doesn't have a plot. It isn't smooth. There is no beginning and middle and end. ~ Ann Hood.
Birthdays of a child who has died are strange events. ~ Ann Hood.
Darling, the psalm tells us that we must walk through the valley. We cannot walk around it, I'm afraid. ~ Ann Hood.
If you want to feel like ginger ale Claire, drink a ginger ale. ~ Ann Hood.
Still, he loved her. She knew that. He loved her the best way he could. But she wasn't sure that was enough anymore. ~ Ann Hood.
As someone who has lived the nightmare of losing a child, I know that the enormous hole left behind remains forever. ~ Ann Hood.
We spend so much of our grief looking for answers to explain what cannot be explained. ~ Ann Hood.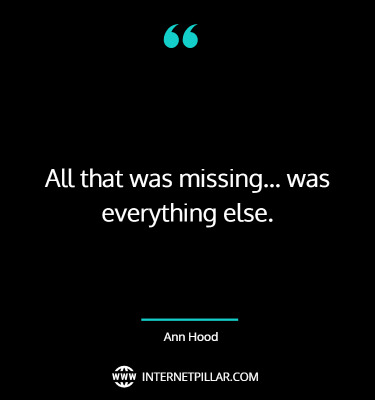 All that was missing… was everything else. ~ Ann Hood.
As an adult, I took ballet classes three times a week, and I believed it gave me better posture, a stronger body, and made me more graceful. ~ Ann Hood.
No one can write like Cheryl Strayed. ~ Ann Hood.
Famous Ann Hood Quotes
I believe that, magically, the book we are supposed to read somehow appears in our hands at just the right time. ~ Ann Hood.
I was kind of an outsider growing up, and I preferred reading to being with other kids. When I was about seven, I started to write my own books. I never thought of myself as wanting to be a writer – I just was one. ~ Ann Hood.
It was a kind of duty you owed yourself that when anybody said come on son do this or do that you should stand up and say look mister why should I do this for whom am I doing it and what am I going to get out of it in the end? ~ Ann Hood.
The only language she could speak was grief. How could he not know that? Instead, she said, I love you. She did. She loved him. But even that didn't feel like anything anymore. ~ Ann Hood.
Love is reliable. infatuation is temporary. ~ Ann Hood.
I learned to knit in 2002, six months after my 5-year-old daughter, Grace, died suddenly from a virulent form of strep. I was unable to read or write, and friends suggested I take up knitting; almost immediately I fell under its spell. ~ Ann Hood.
Top Ann Hood Quotes
Could a writer understand how her book had saved someone long ago, when the world was a fragile, scary place and the people she loved weren't in it anymore? Could a writer understand that her book had mattered more than anything? ~ Ann Hood.
He liked the right before part of things, when it was impossible to be disappointed. ~ Ann Hood.
Sometimes we pray for help in accepting what comes our way. That takes a bit of magic. ~ Ann Hood.
I see you in the library. The way you love the books. ~ Ann Hood.
She was always kind of sad, even when she smiled. ~ Ann Hood.
Everyone has read about or knows someone who has gone through fertility treatments. It is an emotional nightmare, fueled by false hope and the promise of a treatment that will work. ~ Ann Hood.
In Orphan Train, Christina Baker Kline seamlessly knits together the past and present of two women, one young and one old. Kline reminds us that we never really lose anyone or anything or – perhaps most importantly – ourselves. ~ Ann Hood.
No one who reads can ever be bored. ~ Ann Hood.
I have learned that there is more power in a good strong hug than in a thousand meaningful words. ~ Ann Hood.
Popular Ann Hood Quotes
To look at everything always as though you were seeing it either for the first or last time: Thus is your time on earth filled with glory. ~ Ann Hood.
When you read a book, and who you are when you read it, makes it matter or not. ~ Ann Hood.
Even now, there are still days so beautiful, I almost believe in God. ~ Ann Hood.
No mother should lose her child. ~ Ann Hood.
Maybe knitting is like writing a story – an act of discovery. But that seems unlikely, given the very precise directions. ~ Ann Hood.
When we deal with death, the pupils will always be fixed and dilated, which indicates that there is no longer brain activity or response. ~ Ann Hood.
She took the first tentative, terrifying, exhilarating steps into her future. ~ Ann Hood.
Don't waste your one beautiful life. ~ Ann Hood.
I know your face by touch when it's dark, I know the profile of your sleeping face, the sound of you sleeping. ~ Ann Hood.
When I was seven years old, I fell in love with a series published by Bobbs-Merrill called 'The Childhood of Famous Americans.' In it, historical figures like Clara Barton, Nancy Hanks, Elias Howe, Patrick Henry, and dozens more came to life for me as children. ~ Ann Hood.
Grief made people guilty. Guilty for being five minutes late, for taking the wrong streetcar, for ignoring a cough or sleeping too soundly. Guilt and grief went hand in hand. ~ Ann Hood.
I don't know what I want or what I feel. I thought I wanted this. Us. But now I'm not so sure. ~ Ann Hood.
In my adult life, I had spent a lot of time angry at God, mostly over the sudden deaths in my family – my brother at 30, my daughter at 5. ~ Ann Hood.
There are perhaps no days of our childhood we lived so fully as those we spent with a favorite book. ~ Ann Hood.
Meaningful Ann Hood Quotes
She imagined books and this book group getting her through whatever was coming next. ~ Ann Hood.
Babies make you do things for them. They get you up and they get you moving. ~ Ann Hood.
She understood that grief is not neat and orderly; it does not follow any rules. Time does not heal it. Rather time insists on passing and as it does, grief changes but does not go away. ~ Ann Hood.
Time doesn't heal, I had learned, it just keeps moving. And it takes us with it. ~ Ann Hood.
In the library I was handed a blueprint on how to live the mysterious, unnamable, big dream life I wanted. I was handed books. And through reading them, I grew up to find that very life. ~ Ann Hood.
It mattered most to me then because of where I was in my life. So in a way, there isn't just one book that matters most, there might be several, or even a dozen. ~ Ann Hood.
---
So these were the 47 quotes by Ann Hood.
If you like these quotes and sayings, then you can also read our other posts on standing alone quotes and unbothered quotes.