Ben Affleck is a famous actor, film director, producer, and screenwriter from the United States.
---
Best Ben Affleck Quotes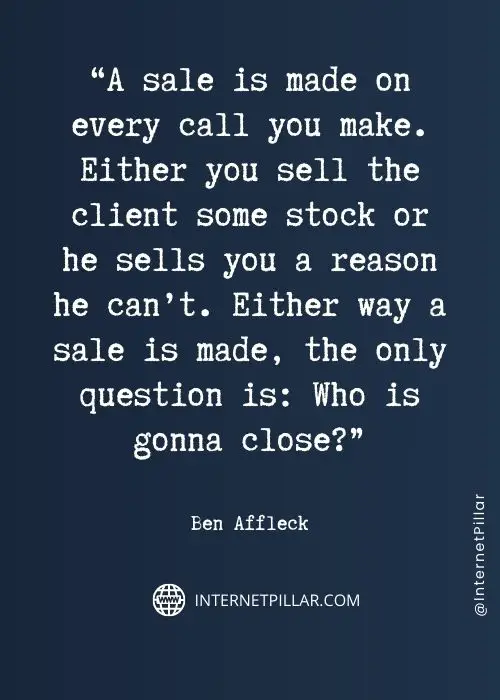 1. "A sale is made on every call you make. Either you sell the client some stock or he sells you a reason he can't. Either way a sale is made, the only question is: Who is gonna close?" ~ (Ben Affleck).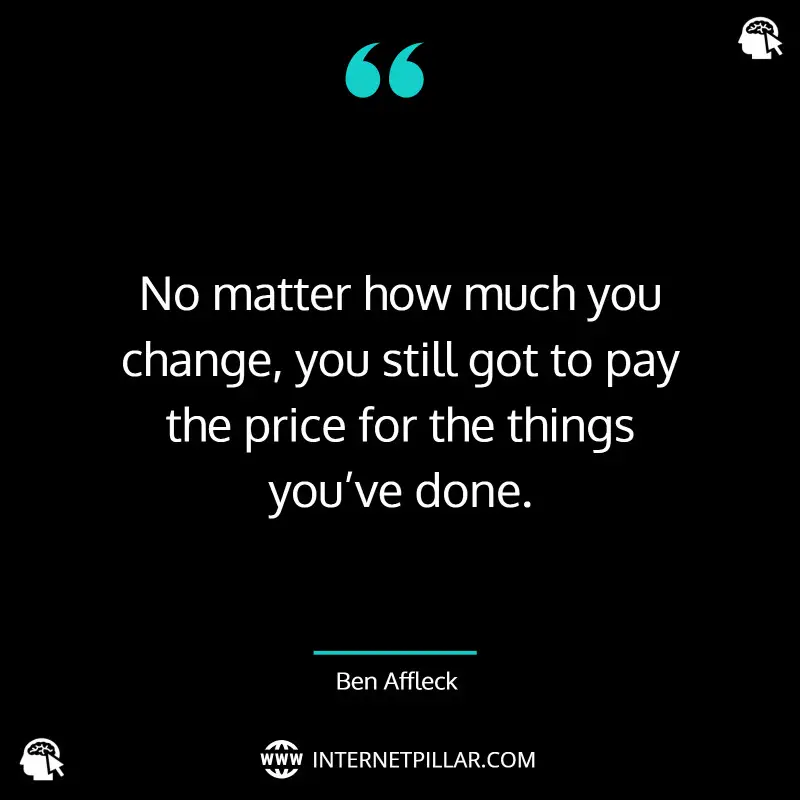 2. "No matter how much you change, you still got to pay the price for the things you've done." ~ (Ben Affleck).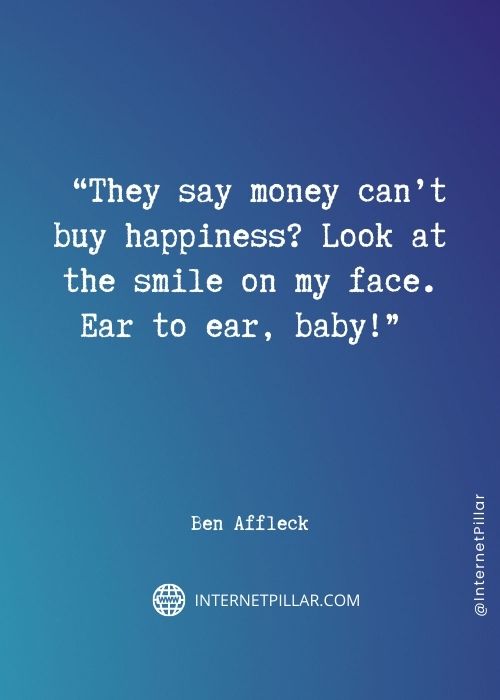 3. "They say money can't buy happiness? Look at the smile on my face. Ear to ear, baby!" ~ (Ben Affleck).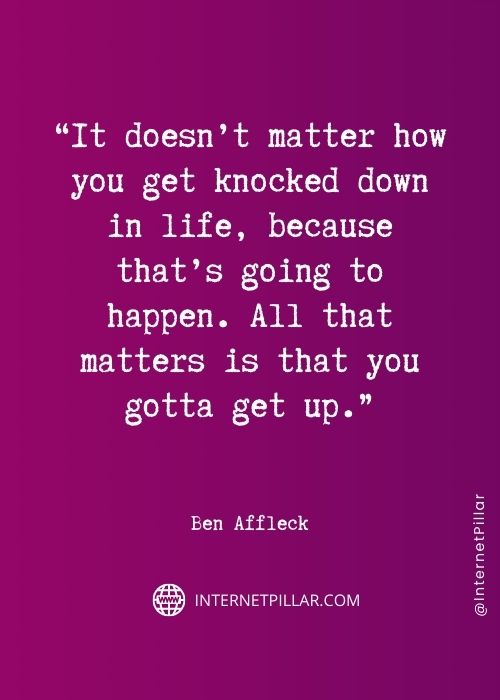 4. "It doesn't matter how you get knocked down in life, because that's going to happen. All that matters is that you gotta get up." ~ (Ben Affleck).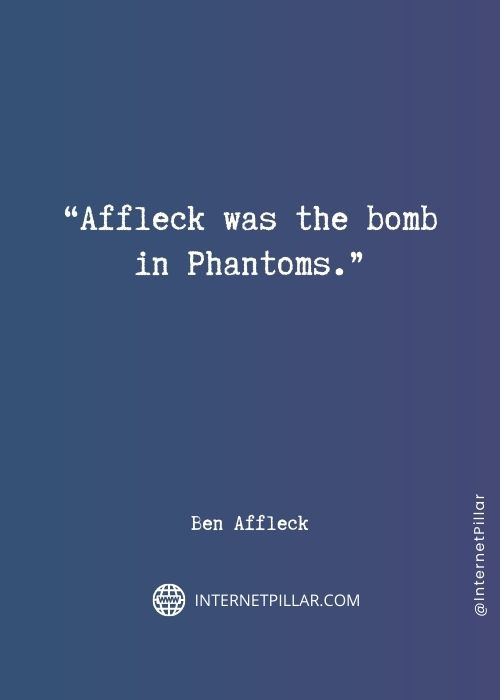 5. "Affleck was the bomb in Phantoms." ~ (Ben Affleck).
6. "You wasted $150,000 on an education you could have got for a buck fifty in late charges at the public library." ~ (Ben Affleck).
7. "Sometimes the people we meet change us forever." ~ (Ben Affleck).
8. "Anybody tells you that money is the root of all evil doesn't have any." ~ (Ben Affleck).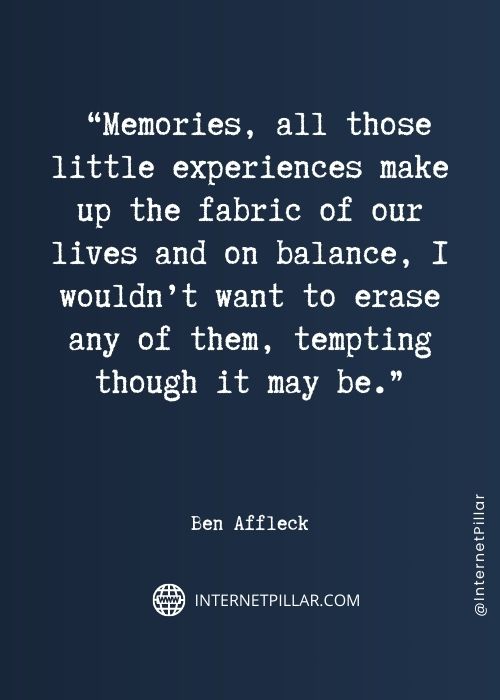 9. "Memories, all those little experiences make up the fabric of our lives and on balance, I wouldn't want to erase any of them, tempting though it may be." ~ (Ben Affleck).
10. "Its not who you love. Its how." ~ (Ben Affleck).
11. "You have to be kind to people. Treat them decently. There's no excuse for not." ~ (Ben Affleck).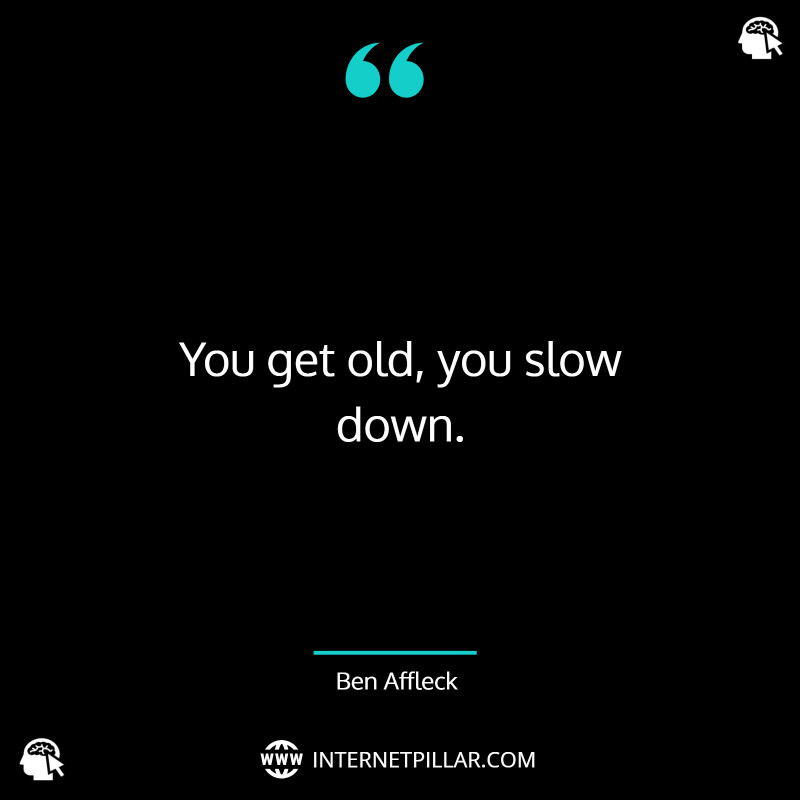 12. "You get old, you slow down." ~ (Ben Affleck).
Top Ben Affleck Quotes
13. "I'm not the type of guy who enjoys one-night stands. It leaves me feeling very empty and cynical. It's not even fun sexually. I need to feel something for the woman and entertain the vain hope that it may lead to a relationship." ~ (Ben Affleck).
14. "The best cure for a hangover is something one straight man can't do for another straight man." ~ (Ben Affleck).
15. "On the day he had colonic irrigation: 'I feel I lost my virginity that day in so many ways.'" ~ (Ben Affleck).
16. "I've seen high and lows. When things go well that doesn't make me feel like some genius. Nor will I allow the next disappointment to make me feel like a complete failure." ~ (Ben Affleck).
17. "I like that best as I am so hairy." ~ (Ben Affleck).
18. "I want to thank my wife who I don't normally usually associate with Iran. I want to thank you for working on our marriage for 10 Christmases. It's good. It is work, but it's the best kind of work, and there's no one I'd rather work with!" ~ (Ben Affleck).
19. "I'm terrible in the kitchen. I was mostly raised by my mother and she could cook, so I never perfected that skill. If I had to count on my own cooking to survive, I'd probably be thinner." ~ (Ben Affleck).
20. "I like the incongruity of how in Iran, these people we think of as being revolutionaries or fanatics or whatever are just as aware of Luke Skywalker and Darth Vader as our people are back home." ~ (Ben Affleck).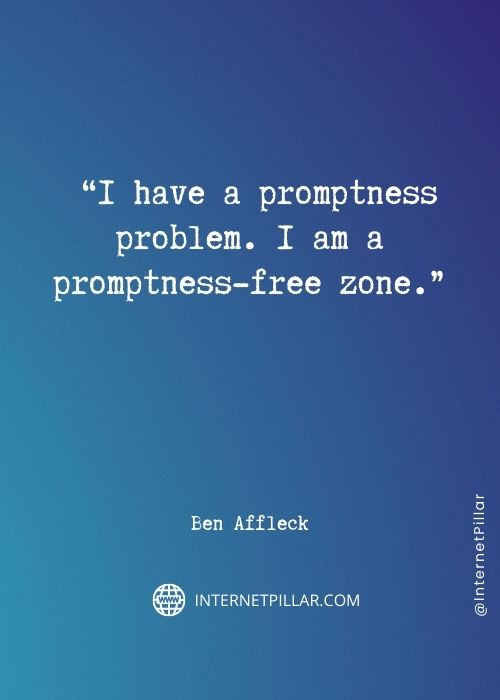 21. "I have a promptness problem. I am a promptness-free zone." ~ (Ben Affleck).
22. "Well I've never used that phrase before, but yes she is bootylicious." ~ (Ben Affleck).
Famous Ben Affleck Quotes
23. "I don't want to jump off the roof or jump for joy depending on my movie reviews, or whether it makes money. I think the larger, more meaningful things are family and the people you love." ~ (Ben Affleck).
24. "There are two things for a marriage to be good. One is to work hard on it. The other one is to marry above you. And I succeeded at both of those." ~ (Ben Affleck).
25. "There is nothing worse that a thirteen-year-old boy. You're embarrassed by your parents, and you're trying to find your independence because, deep inside, you are so dependent on your mom." ~ (Ben Affleck).
26. "I think we all like to see ourselves as good dads, but there's also that fear, 'Oh, I don't want to be like my father,' or, 'I hope my kid doesn't turn out like me.' You know, I have those feelings too. So the key is optimism." ~ (Ben Affleck).
27. "I grew up in a home environment where I wasn't getting esteem for anything I did." ~ (Ben Affleck).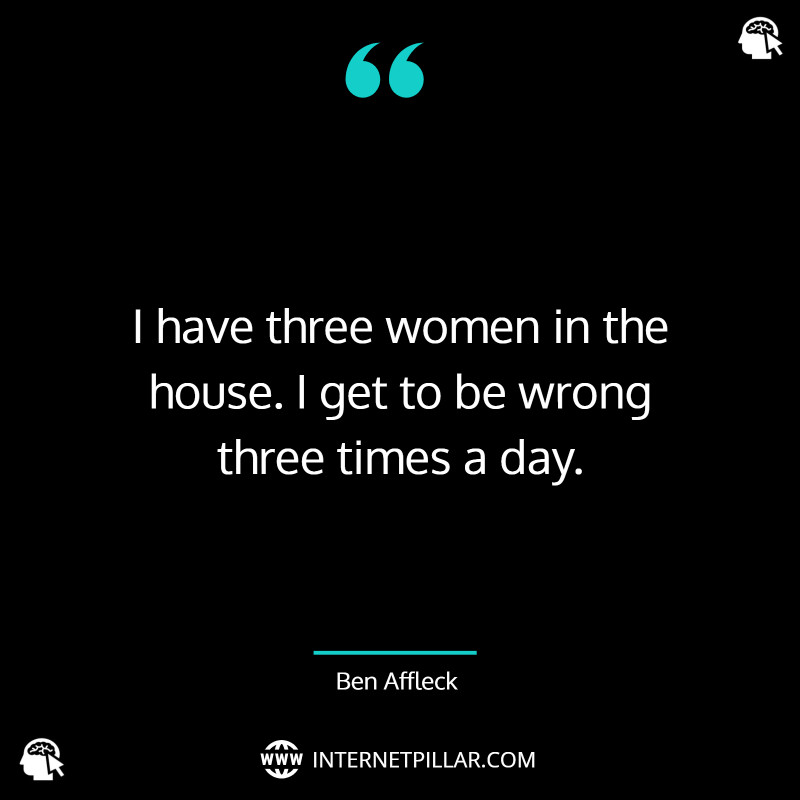 28. "I have three women in the house. I get to be wrong three times a day." ~ (Ben Affleck).
29. "I kinda see my current position like this: Here's your five minutes in the toy store, so you gotta do all the good movies you can before 'Chuck Woolery' rings the bell." ~ (Ben Affleck).
30. "When you hire great actors, you're lucky, so you just try to create an atmosphere where they can succeed and relax and take risks. You're happy that you get to watch them at the monitor and that your name is on the director's chair." ~ (Ben Affleck).
31. "Directing is monumentally complicated and it's a function of all the time you pay to it. I think it would be great to do a movie I'm not in, I could just eat Fritos and just say, 'yeah, it's good!' Some day." ~ (Ben Affleck).
Popular Ben Affleck Quotes
32. "Sometimes I get insecure about being a real director because I look at the great directors, and they have such command. But maybe that keeps me critical of myself. Maybe it keeps me moving forward." ~ (Ben Affleck).
33. "I recognize that Hollywood is not about seniority. Often it's not even a meritocracy. It's about what you did yesterday. You have a couple of misses, and suddenly it's impossible to find a hit. So the swings are gigantic. But I've always understood it as such, and navigated it as such." ~ (Ben Affleck).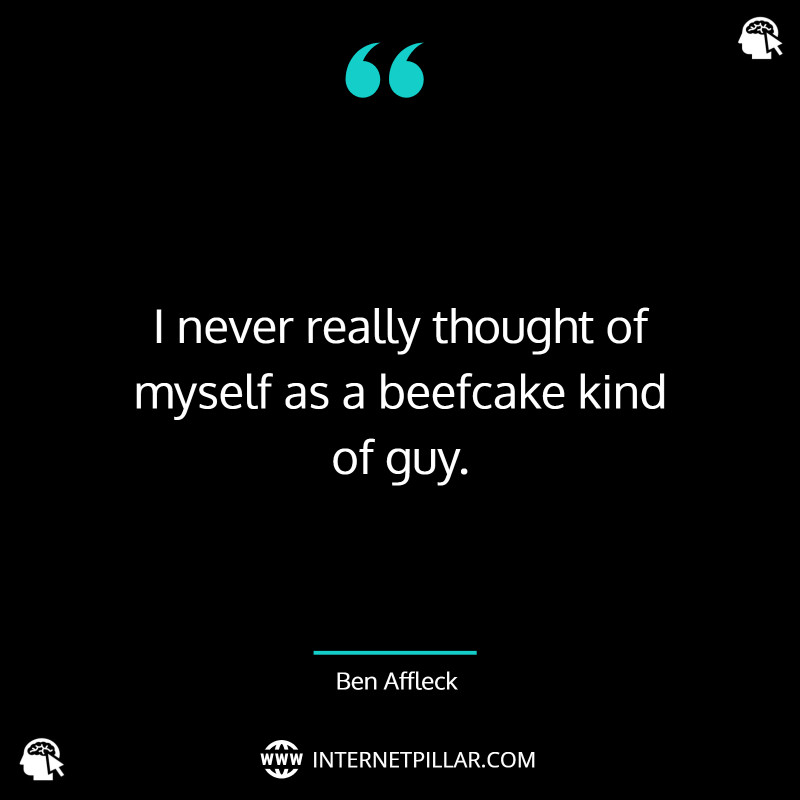 34. "I never really thought of myself as a beefcake kind of guy." ~ (Ben Affleck).
35. "Yes, I'm going to be the President of the United States. You know why? You think you can get chicks by being in the movies? You can really get chicks by being the President." ~ (Ben Affleck).
36. "There's a lot of noise in the world, and the internet magnifies that energy." ~ (Ben Affleck).
37. "My mother went to Radcliffe, and rather than just trying to get rich, she wanted to be a teacher and taught for over 30 years in the public schools. She's definitely got some war stories." ~ (Ben Affleck).
38. "A lot of my shows in the past have been more theatrical than others, but you really get the bug for it when you direct on stage." ~ (Ben Affleck).
39. "People ascribe a certain kind of silliness to the movie business. Everybody feels like, "In the movies, they do crazy stuff."" ~ (Ben Affleck).
40. "But when I felt like I had something to prove? Then I got up early every morning and worked all day long. I didn't know if I had any more talent than anyone else directing, but I knew I could work hard at it, and so I did." ~ (Ben Affleck).
Inspiring Ben Affleck Quotes
41. "No matter what you're doing, if you're trying to make a movie, you need to be working with people that are really good and who make you better." ~ (Ben Affleck).
42. "One of the things it channelled in me was that experience that I'd had of wearing a big red leather thing on my upper torso in Daredevil with a mask I couldn't see through and an outfit that completely inhibited movement, feeling humiliated and like a fool. I just recalled that." ~ (Ben Affleck).
43. "You know George M. Steinbrenner III is the center of all evil in the universe." ~ (Ben Affleck).
44. "A friend of my mom's was a casting director so, really as kind of a lark, I had a couple of acting jobs that had just enough exposure to give me the option to continue if I wanted to. I followed through with it." ~ (Ben Affleck).
45. "After 2000 or so, I started to realize I wanted to be doing something else. I didn't want to be in front of a camera. I was frustrated. I didn't think I would stop acting, but I didn't want to be seen." ~ (Ben Affleck).
46. "No actor forgets the times he couldn't get a job. I think everyone doing this operates from that fear. You don't want that momentum to stop when you get it." ~ (Ben Affleck).
47. "If you want to be able to use the powers of Flash and Wonder Woman and Cyborg, you have to have bad guys who are up to snuff and give them what they can really kind of get their cars out on the track and open up the accelerator a little bit." ~ (Ben Affleck).
48. "I simply asked if I could have a go at adapting a screenplay. But I did not want any money, in case I failed because I did not want a script out there with my name on it that might be completely dysfunctional." ~ (Ben Affleck).
49. "I'm much more interested in what an actor has to say about something substantial and important than who they're dating or what clothes they're wearing or some other asinine, insignificant aspect of their life." ~ (Ben Affleck).
50. "People decided that I was the frat guy, even though I've never been inside a fraternity, or the guy who beat them up at school, even though that wasn't me at all." ~ (Ben Affleck).
---
You Might Like