Born in 1933 to an underprivileged family in Auburn, California, Ben Nighthorse Campbell rose to become a Northern Cheyenne chief, Korean War veteran, judo wrestler, U.S. Olympian and renowned jewelry designer, before becoming the first Native American U.S. Senator.
Campbell served in the Korean War after dropping out of high school, later securing his GED. His judo skills led him to captain the U.S. team at the 1964 Tokyo Olympics.
Post-war, he obtained a degree in physical education and fine arts from San Diego State University and gained international acclaim for his jewelry designs.
In 1982, Campbell transitioned into politics as a Colorado state legislator, later moving to the U.S. House of Representatives in 1987 and the Senate in 1992.
He made notable contributions as part of various committees, particularly as the first Native American chair of the Indian Affairs Committee.
Campbell worked towards settling Native American water rights, preserving Colorado's wilderness and combating fetal alcohol syndrome.
Related: Sharice Davids Quotes from the American Politician and Ann Richards Quotes from the Former American Politician
He sponsored key legislations like the Sand Creek Massacre National Historic Site and the Colorado Ute Settlement Act Amendments of 2000.
A family man with a continued passion for jewelry design and motorcycling, Campbell's life embodies diverse accomplishments.
I have picked some of the famous quotes by Ben Nighthorse.
---
Best Ben Nighthorse Campbell Quotes
If there was no war, the young men felt that they were denied manhood. ~ Ben Nighthorse Campbell.
Slavery was once a tradition. Killing Indians like animals was once a tradition. ~ Ben Nighthorse Campbell.
Simply put, 'Redskins' is offensive to Indian people. Whether it is considered offensive by non-Indians is not the issue. It is offensive to us. ~ Ben Nighthorse Campbell.
I voted for the Defense of Marriage Act but I do not believe we should institutionalize a form of discrimination against any minority by amending the Constitution. ~ Ben Nighthorse Campbell.
This is representative government, and Indians have very little political clout because for the most part, they don't vote. But white ranchers and farmers do vote. ~ Ben Nighthorse Campbell.
I don't think the approach is to simply give them [the Indian tribes] money, because too much money has disappeared in Indian country, too much has been mismanaged. The history of Indian country is the disappearance of money. ~ Ben Nighthorse Campbell.
The young men felt that they were denied manhood. ~ Ben Nighthorse Campbell.
Famous Ben Nighthorse Campbell Quotes
Indians were here first – it's about time. We're way behind the African Americans and Hispanic Americans in getting politically involved, but we're beginning to take a page out of their notebook. ~ Ben Nighthorse Campbell.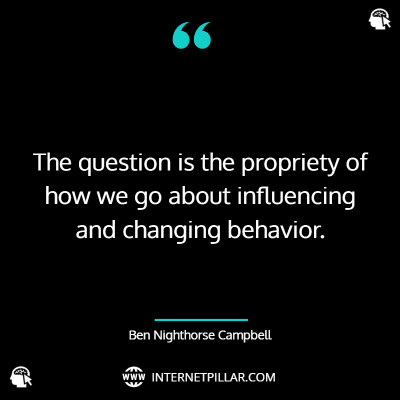 The question is the propriety of how we go about influencing and changing behavior. ~ Ben Nighthorse Campbell.
And it sends an important message to me, because I am sick to death to hear my opponent saying Republicans don't trust me. They do trust me, in landslide proportions, and they're proving it tonight. We're going to bury that for good. ~ Ben Nighthorse Campbell.
The president, just as any other American, deserves a legal defense against personal lawsuits not related to his office. But the costs of that defense should be borne by him and not the taxpayer. ~ Ben Nighthorse Campbell.
---
So these were the 11 top quotes about Ben Nighthorse Campbell.
If you like these quotes and sayings, then you can also read my other posts on Susan La Flesche Picotte quotes and Edmonia Lewis quotes.