Having a brother is akin to having a best friend.
They can be annoying, yet supportive, quarrelsome, yet caring.
To express this unique bond, it's often helpful to use specially crafted brother quotes, which can beautifully encapsulate the love and admiration that exists between siblings.
This article presents an extensive list of such quotes, suitable for younger, older and even non-blood related brothers.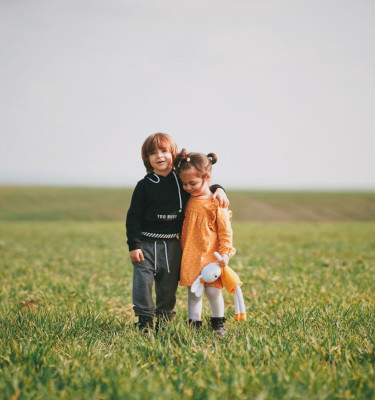 These quotes are humorous and uplifting, perfect for expressing the sentiment behind the brotherly bond.
They help in expressing feelings which might be challenging to put into words, especially when talking to a brother.
Be it making him laugh or turning sentimental, these quotes offer a way to celebrate the unique and special relationship shared with a brother.
---
Best Brother Quotes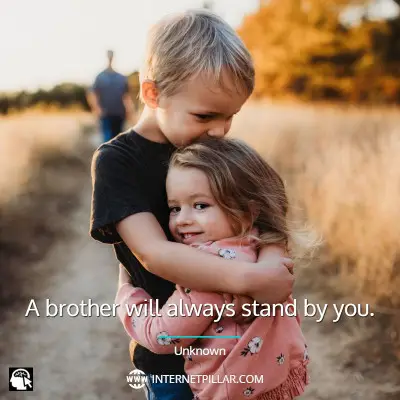 A brother will always stand by you. ~ Unknown *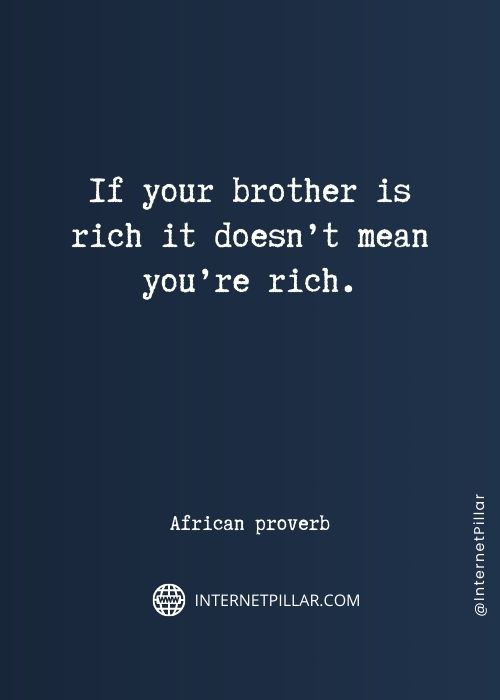 If your brother is rich it doesn't mean you're rich. ~ African proverb.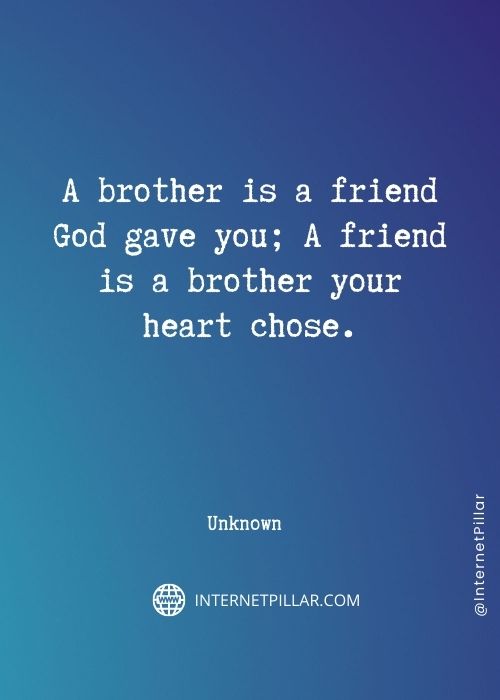 A brother is a friend God gave you; A friend is a brother your heart chose. ~ Unknown *
All men are brothers. ~ Lailah Gifty Akita.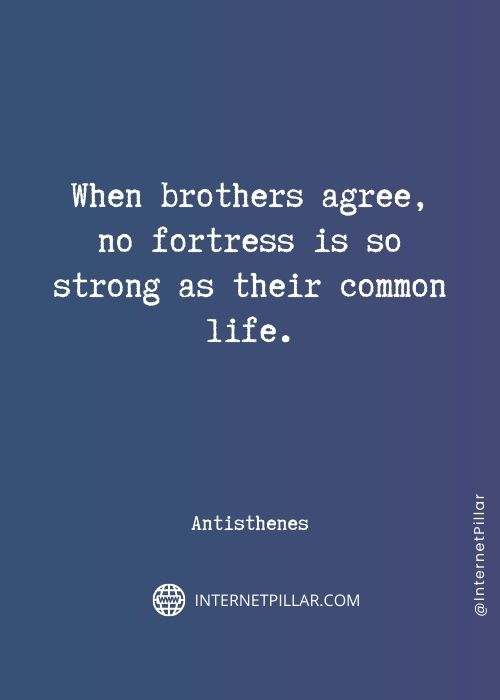 Until blacks and whites see each other as brother and sister, we will not have parity. It's very clear. ~ Maya Angelou.
We came into the world like brother and brother, and now let's go hand in hand, not one before another. ~ William Shakespeare.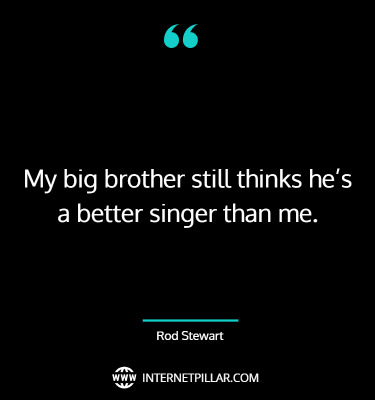 My big brother still thinks he's a better singer than me. ~ Rod Stewart.
He who understands you is greater kin to you than your own brother. For even your own kindred neither understand you nor know your true worth. ~ Kahlil Gibran.
Famous Brother Quotes
Either men will learn to live like brothers, or they will die like beasts. ~ Max Lerner.
I grew up with six brothers. That's how I learned to dance – waiting for the bathroom. ~ Bob Hope.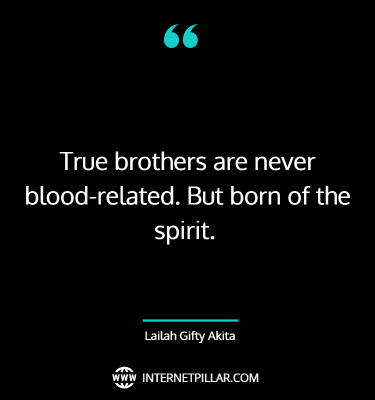 True brothers are never blood-related. But born of the spirit. ~ Lailah Gifty Akita.
Once a brother, always a brother, no matter the distance, no matter the difference and no matter the issue. ~ Byron Pulsifer.
When you deal with your brother, be pleasant, but get a witness. ~ Hesiod.
All men were made by the Great Spirit Chief. They are all brothers. ~ Chief Joseph.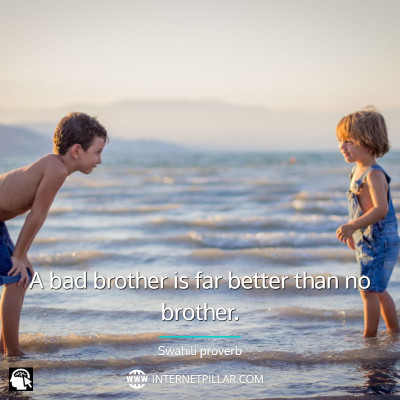 A bad brother is far better than no brother. ~ Swahili proverb.
You are a rare species – a brother who never judges me. ~ Unknown *
Top Brother Quotes
Silence is a brother of delight. ~ Arabic Proverb.
There is always a chance that he who sets himself up as his brother's keeper will end up by being his jail-keeper. ~ Eric Hoffer.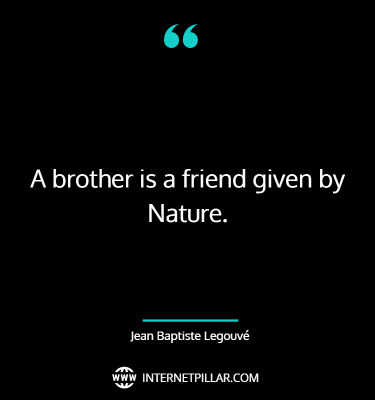 A brother is a friend given by Nature. ~ Jean Baptiste Legouvé.
If you want to know how your girl will treat you after marriage, just listen to her talking to her little brother. ~ Sami Levenson.
Sometimes being a brother is even better than being a superhero. ~ Marc Brown.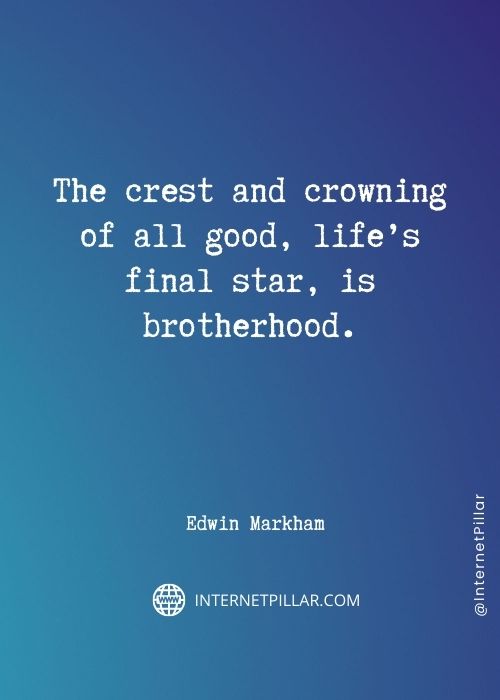 The crest and crowning of all good, life's final star, is brotherhood. ~ Edwin Markham.
We have flown the air like birds and swum the sea like fishes, but have yet to learn the simple act of walking the earth like brothers. ~ Martin Luther King Jr.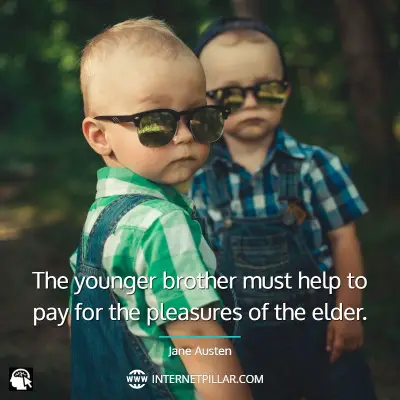 The younger brother must help to pay for the pleasures of the elder. ~ Jane Austen.
A friend is a brother who was once a bother. ~ Unknown *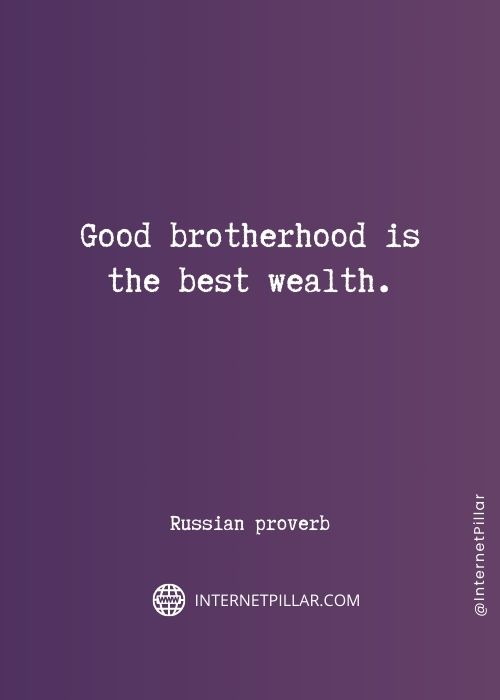 Good brotherhood is the best wealth. ~ Russian proverb.
Related: Best Brotherhood Quotes about Brothers Love and Quotes about Brothers for a Solid Brotherly Bond
Thought-Provoking Brother Quotes
Equality lies only in human moral dignity… Let there be brothers first, then there will be brotherhood, and only then will there be a fair sharing of goods among brothers. ~ Fyodor Dostoyevsky.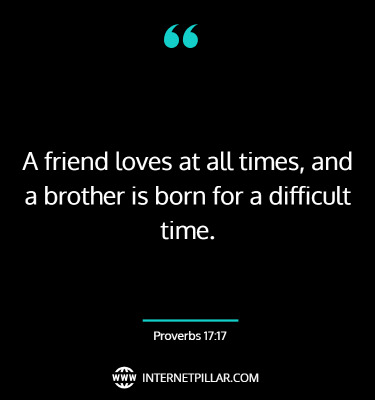 A friend loves at all times, and a brother is born for a difficult time. ~ Proverbs 17:17.
The mystical bond of brotherhood makes all men brothers. ~ Thomas Carlyle.
Brother may it inspire you to know when I need a daily boost I remember the days of yesterday and the laughter we had as children. ~ Robert Rivers.
There's a lot of times that both myself and my brother wish, obviously, that we were just completely normal. ~ Prince Harry.
The bond that links your true family is not one of blood, but of respect and joy in each other's life. ~ Richard Bach.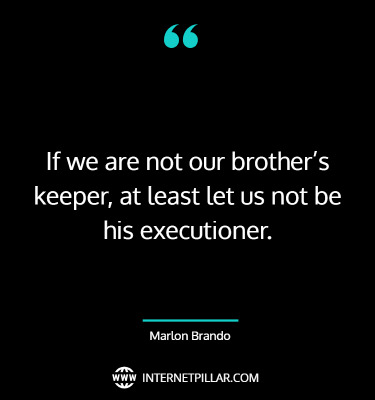 If we are not our brother's keeper, at least let us not be his executioner. ~ Marlon Brando.
A sibling is the lens through which you see your childhood. ~ Ann Hood.
You must recognize that the way to get the good out of your brother and your sister is not to return evil for evil. ~ Louis Farrakhan.
Do you know what friendship is… it is to be brother and sister; two souls which touch without mingling, two fingers on one hand. ~ Victor Hugo.
Wise Brother Quotes
We must learn to live together as brothers or perish together as fools. ~ Martin Luther King Jr.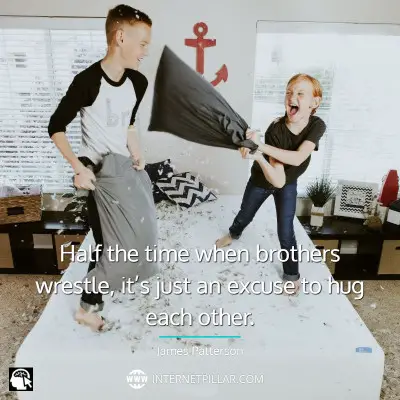 Half the time when brothers wrestle, it's just an excuse to hug each other. ~ James Patterson.
If thy brother wrongs thee, remember not so much his wrong-doing, but more than ever that he is thy brother. ~ Epictetus.
The men who learn endurance, are they who call the whole world, brother. ~ Charles Dickens.
God blesses him who helps his brother. ~ Ahmad Shah Massoud.
The world is now too small for anything but brotherhood. ~ A. Powell Davies.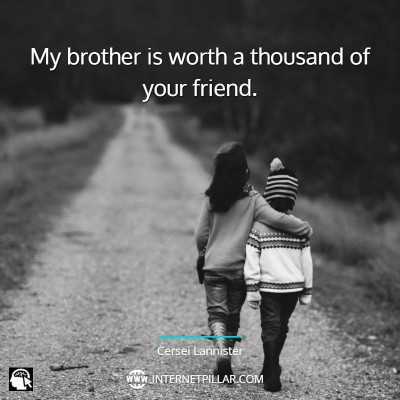 My brother is worth a thousand of your friend. ~ Cersei Lannister.
Brothers don't necessarily have to say anything to each other – they can sit in a room and be together and just be completely comfortable with each other. ~ Leonardo DiCaprio
You are a brother like no other. ~ Unknown *
Popular Brother Quotes
There is no success you can celebrate more than the success of a brother. ~ Diego Luna.
A brother is like gold and a friend is like diamond. If gold cracks you can melt it and make it just like it was before. If a diamond cracks, it can never be like it was before. ~ Ali Ibn Abi Talib.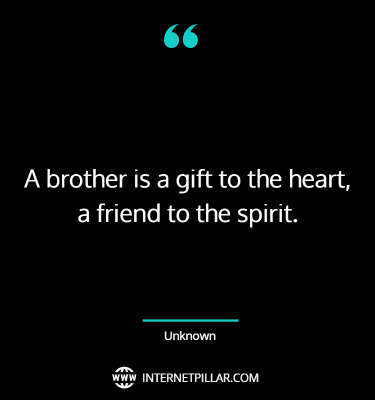 A brother is a gift to the heart, a friend to the spirit. ~ Unknown *
There is no time like the old time, when you and I were young! ~ Oliver Wendell Holmes Sr.
People are of two types: they are either your brothers in faith or your equals in humanity. ~ Ali Ibn Abi Talib.
The beauty of genuine brotherhood and peace is more precious than diamonds or silver or gold. ~ Martin Luther King Jr.
It is an honor to call you, brother. ~ Unknown *
Man lives freely only by his readiness to die, if need be, at the hands of his brother, never by killing him. ~ Mahatma Gandhi.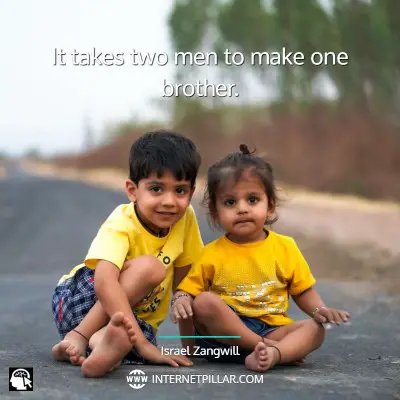 It takes two men to make one brother. ~ Israel Zangwill.
Let brotherly love continue. ~ Hebrews 13:1.
Great Brother Quotes
My brother is really, really slow. ~ Usain Bolt.
I believe in the brotherhood of all men, but I don't believe in wasting brotherhood on anyone who doesn't want to practice it with me. Brotherhood is a two-way street. ~ Malcolm X.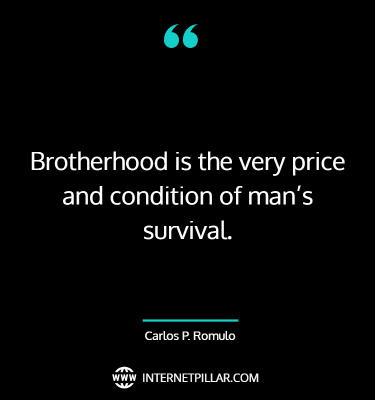 Brotherhood is the very price and condition of man's survival. ~ Carlos P. Romulo.
Brothers and sisters are as close as hands and feet. ~ Vietnamese Proverb.
The universal brotherhood of man is our most precious possession. ~ Mark Twain.
Once a brother, always a brother no matter the distance, no matter the difference and no matter the issue. ~ Byron Pulsifer.
Most families had four, five brothers. But because it was just me and Darryl, we had to be twice as strong. ~ Barry White.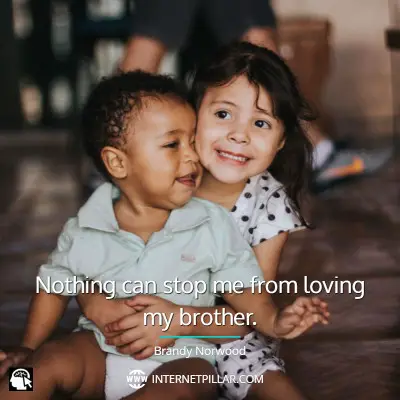 Nothing can stop me from loving my brother. ~ Brandy Norwood.
Oh, brothers! I don't care for brothers. My elder brother won't die, and my younger brothers seem never to do anything else. ~ Oscar Wilde.
Because brothers don't let each other wander in the dark alone. ~ Jolene Perry.
Every person whether he is Hindu, Muslim or Buddhist, he is my brother, my sister. ~ Mother Teresa.
Profound Brother Quotes
It's rare to have a best friend who is also your brother and also an NFL football player, and he knows exactly what I'm talking about. ~ Eli Manning.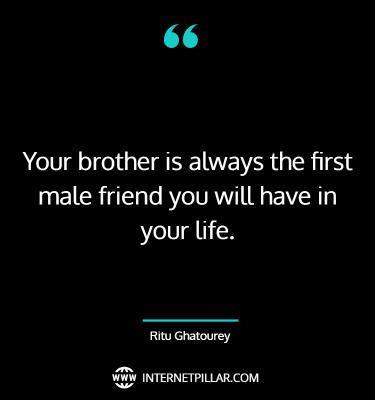 Your brother is always the first male friend you will have in your life. ~ Ritu Ghatourey.
The bond that binds us is beyond choice. We are brothers. We are brothers in what we share. ~ Ursula K. Le Guin.
There is a little boy inside the man who is my brother… Oh, how I hated that little boy. And how I love him too. ~ Anna Quindlen.
Our brothers and sisters are there with us from the dawn of our personal stories to the inevitable dusk. ~ Susan Scarf Merrell.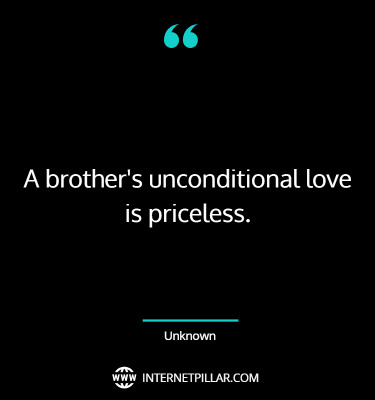 A brother's unconditional love is priceless. ~ Unknown *
United we stand, divided we fall. ~ Aesop.
---
So these were the 81 top quotes about Brother.
If you like these quotes and sayings, then you can also read my other posts on Death quotes and Selfishness quotes.