Brown-eyed people are thought to have "warm" personalities.
Brown-eyed people are often thought to be practical, dependable, and down-to-earth. 
Whether you have brown eyes personally or just admire their particular beauty, these quotes and sayings will leave you feeling encouraged.
For generations, poets and philosophers have written about the power of brown eyes.
---
Best Brown Eyes Quotes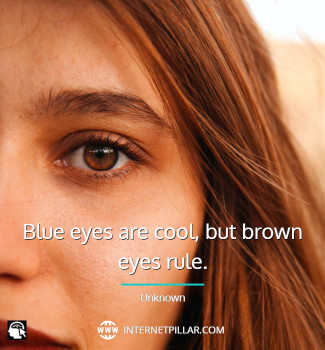 Blue eyes are cool, but brown eyes rule. ~ Unknown.
Can't take my eyes off you, my brown-eyed beauty. ~ Unknown.
You can fall in brown eyes and be lost forever. ~ Unknown.
I've learned to love my brown eyes. ~ Tinashe.
Pretty brown eyes and a mind full of thoughts. ~ Unknown.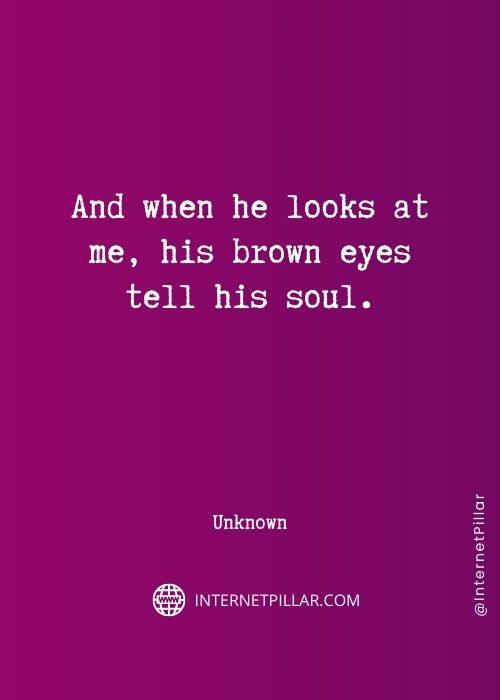 And when he looks at me, his brown eyes tell his soul. ~ Unknown.
I look into your great brown eyes, where love and loyal homage shine, and wonder where the difference lies between your soul and mine!. ~ J. G. Holland.
Brown eyes don't need to ask for attention. ~ Unknown.
What colors are the eyes of Anubis?" "Brown…Duh. ~ Rick Riordan.
Dark and haunting, yet warm and welcoming. Those brown eyes are a quandary, to be sure. ~ Unknown.
A baby's brown eyes are warmer and sunnier than a world of blue skies. ~ Unknown.
Also Read: Hazel Eyes Quotes and Sayings to Mesmerize You and Green Eyes Quotes and Sayings to Enchant You
Beautiful Brown Eyes Quotes
Brown eyes are the best eyes. ~ Unknown.
There are brown eyes in the world, after all, as well as blue, and one pair of brown that meant heaven to me as the blue had never done. ~ E. Nesbit.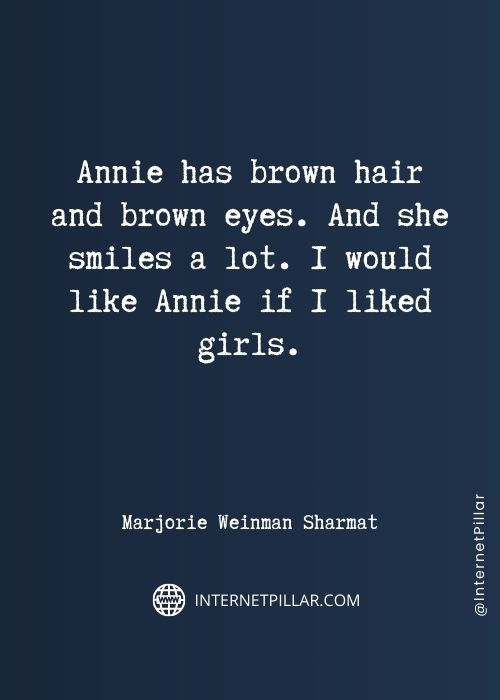 Annie has brown hair and brown eyes. And she smiles a lot. I would like Annie if I liked girls. ~ Marjorie Weinman Sharmat.
And there I was, pretty as heck, brown eyes, a few freckles, fashion challenged, and a bad attitude. Max II. ~ James Patterson.
Your brown eyes are beautiful. Don't believe the hype. ~ Alexandra Elle.
Making love in the green grass behind the stadium with you my brown eyed girl. ~ Van Morrison.
Staring into the mirror, I was surprised to see a haunted look in my brown eyes. There was pain there, pain and loss that even the nicest dress and makeup couldn't hide. ~ Richelle Mead.
Lovely Brown Eyes Quotes
Brown eyes are never quiet. ~ Unknown.
I like green or brown eyes. Tall but not overwhelmingly so. I like men who do yoga and meditate. ~ Kristin Davis.
Step through these brown eyes and into my soul, stay awhile. ~ Unknown.
Seek shelter in my dark brown eyes of night; stay and rest your weary soul there. ~ Unknown.
Her eyes, walnut brown and shaded by fanned lashes, met mine. Held for a moment. Flew away. ~ Khaled Hosseini.
Brown eyes shout what the lips are afraid to say. ~ Unknown.
Don't it make my brown eyes blue? ~ Crystal Gayle.
Mild brown eyes beckon me to the past, but memory provides no clue. ~ Mason Cooley.
In the misty morning fog with our hearts a-thumping, And you, my brown-eyed girl. ~ Van Morrison.
---
So these were the 30 famous quotes about Brown Eyes.
If you like these quotes and sayings, then you can also read my other popular blog posts on the topics of Blue Eyes quotes and Holy Spirit quotes.
References and Sources: