Carrie Nation was a woman who fought for prohibition.
She would go into bars and restaurants and smash alcohol bottles with a hatchet.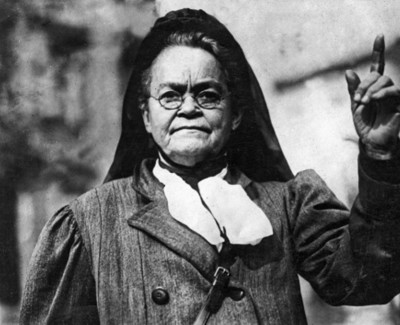 Her goal was to get people to stop drinking so that they would not get drunk and do bad things.
You will find below a curated collection of the best 'Carrie Nation' quotes that you can read and share with others.
---
Top 5 Carrie Nation Quotes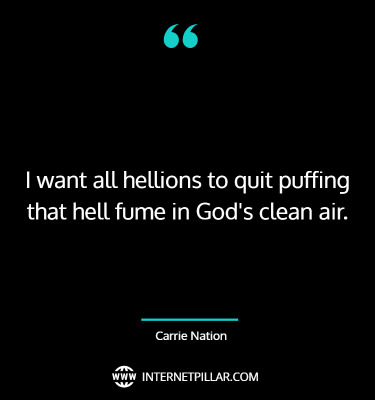 I want all hellions to quit puffing that hell fume in God's clean air. ~ Carrie Nation.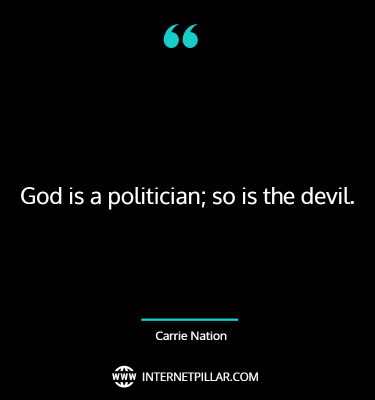 God is a politician; so is the devil. ~ Carrie Nation.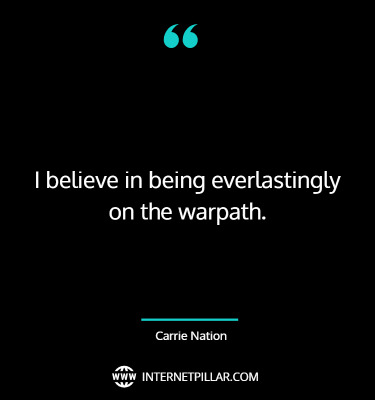 I believe in being everlastingly on the warpath. ~ Carrie Nation.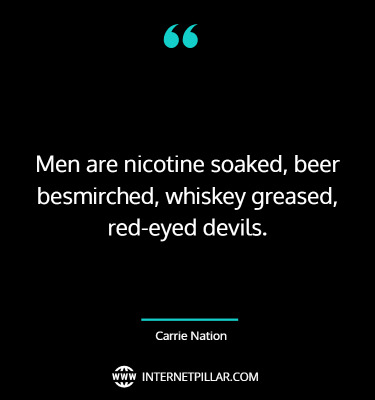 Men are nicotine soaked, beer besmirched, whiskey greased, red-eyed devils. ~ Carrie Nation.
Faithful to the cause of Prohibition – She hath done what she could. ~ Carrie Nation.
Best Carrie Nation Quotes
No man who drank or smoked could ever come nearer to me than the telephone. I'd say, I won't let you – you nicotine-soaked, beer-besmeared, whiskey-greased, red-eyed devil – talk to me face to face. ~ Carrie Nation.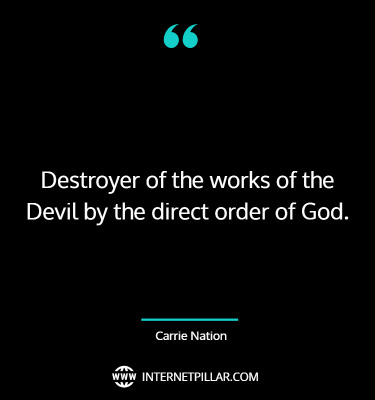 Destroyer of the works of the Devil by the direct order of God. ~ Carrie Nation.
A Pittsburgh factory is making me a lot of hatchets on which will be the words: 'Carry Nation's Loving Home Defenders. Smash the Saloon and build up the home.' ~ Carrie Nation.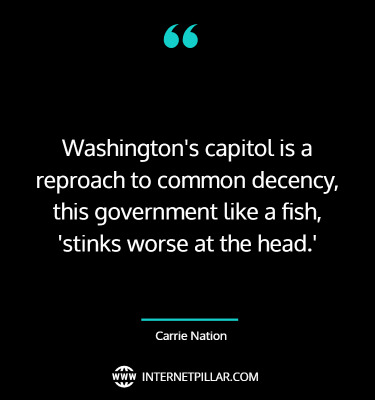 Washington's capitol is a reproach to common decency, this government like a fish, 'stinks worse at the head.' ~ Carrie Nation.
Famous Carrie Nation Quotes
Caroline Amelia Nation, often known as Carrie, Carry Nation, or Hatchet Granny, was an outspoken member of the temperance movement who resisted alcohol prior to Prohibition. Nation is known for using a hatchet to assault alcohol-serving establishments.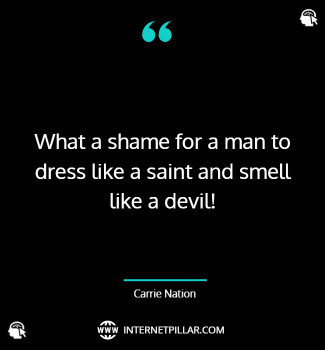 What a shame for a man to dress like a saint and smell like a devil! ~ Carrie Nation.
I felt invincible. My strength was that of a giant. God was certainly standing by me. I smashed five saloons with rocks before I ever took a hatchet. ~ Carrie Nation.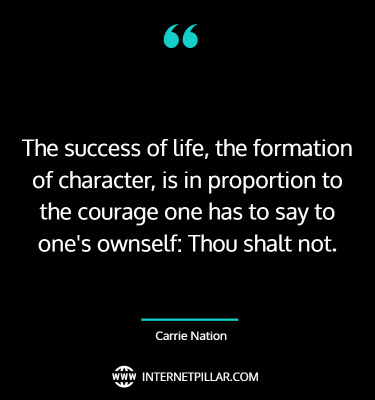 The success of life, the formation of character, is in proportion to the courage one has to say to one's ownself: Thou shalt not. ~ Carrie Nation.
---
So these were the 15 top quotes about Carrie Nation.
If you like these quotes and sayings, then you can also read my other posts on Marvin Hagler quotes and Ian Watson quotes.
You are welcome to share these quotes, sayings and phrases with your friends and family on Facebook, Twitter, Instagram, WhatsApp, and Pinterest and inspire them to take their life to the next level and achieve success and greatness!