Carrie Amelia Nation, born November 25, 1846, was a prominent figure in pre-Prohibition America's temperance movement.
She was known for her direct actions against saloons using a hatchet, Nation's fight against liquor was triggered by her first marriage to an alcoholic.
She later married David Nation and adopted the name Carry A. Nation for its slogan value.
Born into a plantation-owning family, she turned to teaching and boarding after her first husband's death.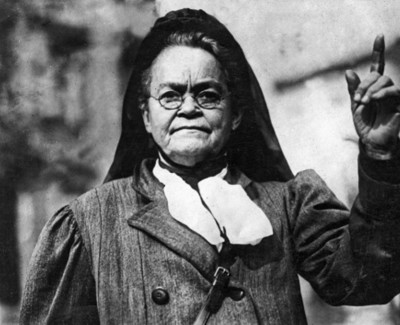 After remarrying, she and David moved to Kansas where she became a local Women's Christian Temperance Union leader, speaking against alcohol, tobacco and immodest dress.
Guided by religious convictions, she started her saloon-smashing campaign in 1900, gaining notoriety and often facing arrest.
Her efforts enforced prohibition laws and spread her message.
Related: Ralph Abernathy Quotes from American Civil Rights Activist and Vernon Jordan Quotes from the Civil Rights Leader
After her death, her home was declared a U.S. National Historic Landmark, symbolizing her enduring influence on the prohibition movement.
I have compiled a list of the famous quotes by Carrie Nation in this article.
---
Top 5 Carrie Nation Quotes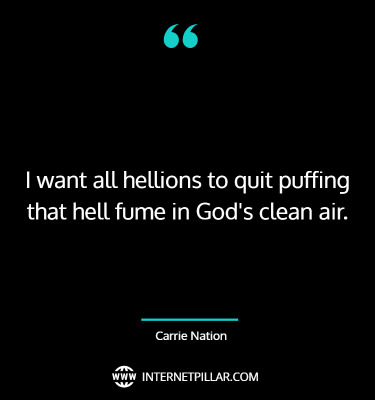 I want all hellions to quit puffing that hell fume in God's clean air. ~ Carrie Nation.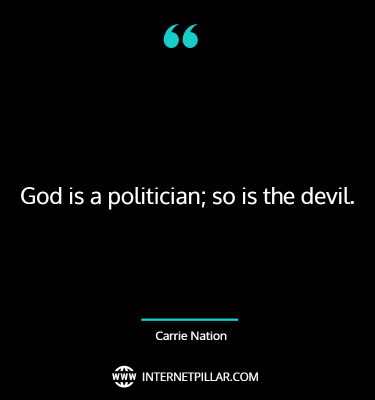 God is a politician; so is the devil. ~ Carrie Nation.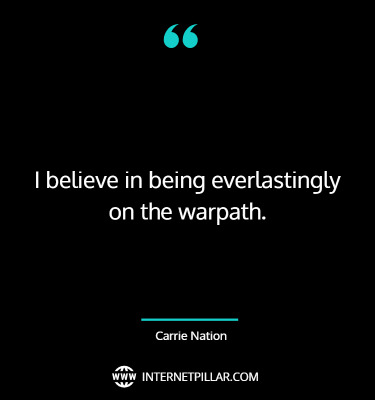 I believe in being everlastingly on the warpath. ~ Carrie Nation.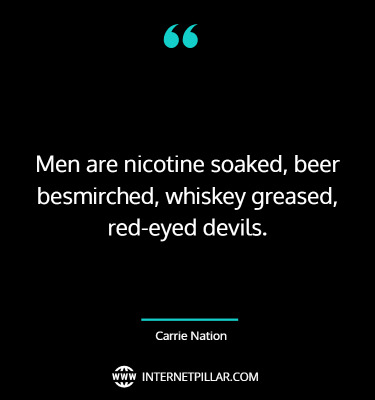 Men are nicotine soaked, beer besmirched, whiskey greased, red-eyed devils. ~ Carrie Nation.
Faithful to the cause of Prohibition – She hath done what she could. ~ Carrie Nation.
Best Carrie Nation Quotes
No man who drank or smoked could ever come nearer to me than the telephone. I'd say, I won't let you – you nicotine-soaked, beer-besmeared, whiskey-greased, red-eyed devil – talk to me face to face. ~ Carrie Nation.
It is not possible to make a bad law. If it is bad, it is not a law. ~ Carrie Nation.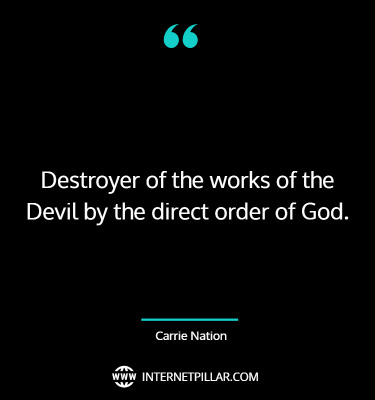 Destroyer of the works of the Devil by the direct order of God. ~ Carrie Nation.
A Pittsburgh factory is making me a lot of hatchets on which will be the words: 'Carry Nation's Loving Home Defenders. Smash the Saloon and build up the home.' ~ Carrie Nation.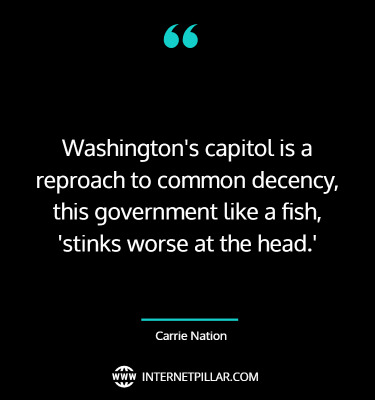 Washington's capitol is a reproach to common decency, this government like a fish, 'stinks worse at the head.' ~ Carrie Nation.
Famous Carrie Nation Quotes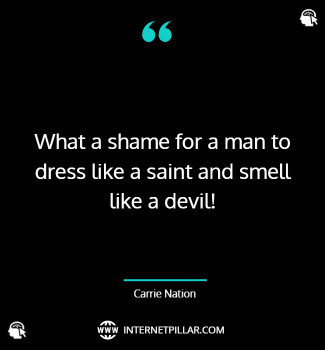 What a shame for a man to dress like a saint and smell like a devil! ~ Carrie Nation.
I felt invincible. My strength was that of a giant. God was certainly standing by me. I smashed five saloons with rocks before I ever took a hatchet. ~ Carrie Nation.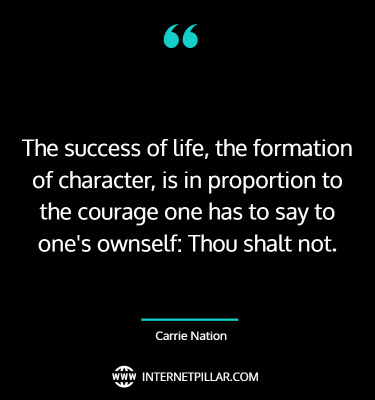 The success of life, the formation of character, is in proportion to the courage one has to say to one's ownself: Thou shalt not. ~ Carrie Nation.
---
So these were the 15 top quotes about Carrie Nation.
If you like these quotes and sayings, then you can also read my other posts on Marvin Hagler quotes and Ian Watson quotes.