Charming individuals are really fun to be around.
Let's look at some of the best quotes about charm.
---
Top 10 Charm Quotes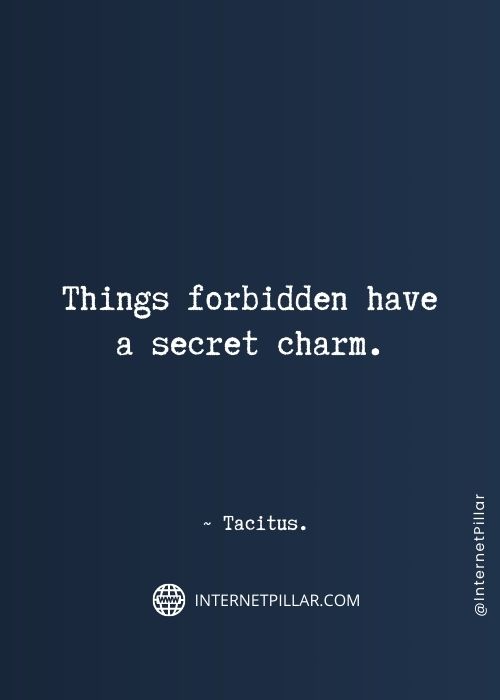 Things forbidden have a secret charm. ~ Tacitus.
Power without abuse loses its charm. ~ Paul Valery.
There is no charm equal to tenderness of heart. ~ Jane Austen.
Brevity is a great charm of eloquence. ~ Marcus Tullius Cicero.
Grace in women has more effect than beauty. ~ William Hazlitt.
A girl should be two things: classy and fabulous. ~ Coco Chanel.
Stupidity has a certain charm – ignorance does not. ~ Frank Zappa.
Forbidden things have a secret charm. ~ Publius Cornelius Tacitus.
Charm strikes the sight, but merit wins the soul. ~ Alexander Pope.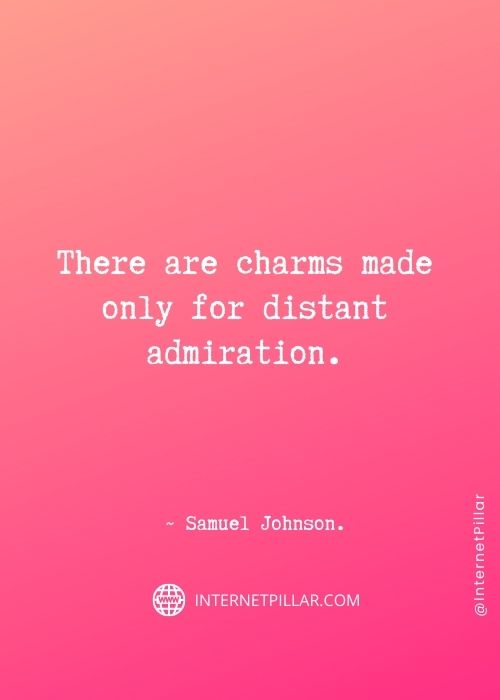 There are charms made only for distant admiration. ~ Samuel Johnson.
Also read: Life is Beautiful Quotes and Inspirational Short Quotes.
Charm Quotes
Beauty, devoid of grace, is a mere hook without the bait. ~ Talleyrand.
Give a girl the right shoes, and she can conquer the world. ~ Marilyn Monroe.
Illusion and wisdom combined are the charm of life and art. ~ Joseph Joubert.
Charm is a woman's strength just as strength is a man's charm. ~ Havelock Ellis.
A plain woman is one who, however beautiful, neglects to charm. ~ Edgar Saltus.
I don't carry lucky charms, but I believe in those things. ~ Christopher Walken.
It's innocence when it charms us, ignorance when it doesn't. ~ Mignon McLaughlin.
Charm Quotes for Instagram
Charm is always genuine; it may be superficial but it isn't false. ~ P. D. James.
Youth smiles without any reason. It is one of its chiefest charms. ~ Thomas Gray.
Depression is melancholy minus its charms – the animation, the fits. ~ Susan Sontag.
A beauty is a woman you notice; a charmer is one who notices you. ~ Adlai E. Stevenson.
There is a charm about the forbidden that makes it unspeakably desirable. ~ Mark Twain.
Charm is a way of getting the answer 'Yes' without asking a clear question. ~ Albert Camus.
There is no personal charm so great as the charm of a cheerful temperament. ~ Henry Van Dyke.
Charm is a glow within a woman which casts a most becoming light on others. ~ John Mason Brown.
I'm convinced that it's energy and humor. The two of them combined equal charm. ~ Judith Krantz.
Famous Charm Quotes
An object in possession seldom retains the same charm that it had in pursuit. ~ Pliny the Elder.
Charm is the quality in others that makes us more satisfied with ourselves. ~ Henri Frederic Amiel.
Conceit spoils the finest genius? and the great charm of all power is modesty. ~ Louisa May Alcott.
It is absurd to divide people into good and bad. People are either charming or tedious. ~ Oscar Wilde.
Modesty is the gentle art of enhancing your charm by pretending not to be aware of it. ~ Oliver Herford.
Charm is the ability to make someone else think that both of you are pretty wonderful. ~ Kathleen Winsor.
All the diversity, all the charm, and all the beauty of life are made up of light and shade. ~ Leo Tolstoy.
Quotes about Charm
Charm is the ability to insult people without offending them; nerdiness the reverse. ~ Nassim Nicholas Taleb.
The charm of fame is so great that we like every object to which it is attached, even death. ~ Blaise Pascal.
Woman would be more charming if one could fall into her arms without falling into her hands. ~ Ambrose Bierce.
Time's stern tide, with cold Oblivion's wave, Shall soon dissolve each fair, each fading charm. ~ Anna Seward.
The charms of the passing woman are generally in direct ratio to the swiftness of our passage. ~ Marcel Proust.
Beauties in vain their pretty eyes may roll; charms strike the sight, but merit wins the soul. ~ Alexander Pope.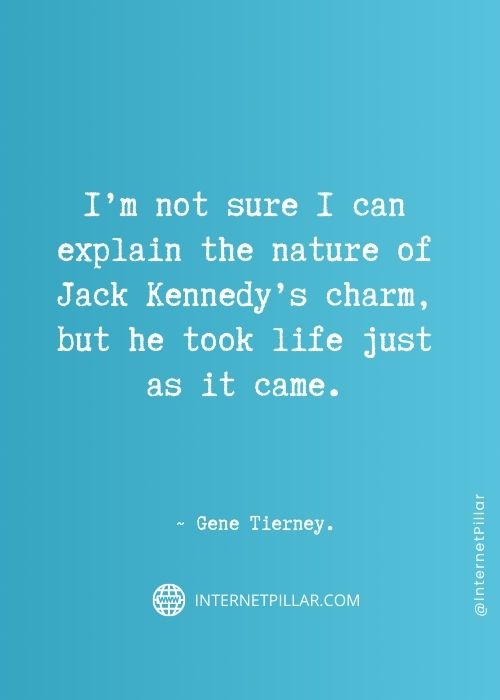 I'm not sure I can explain the nature of Jack Kennedy's charm, but he took life just as it came. ~ Gene Tierney.
Powerful Quotes about Charm
An ideal wife is one who remains faithful to you but tries to be just as charming as if she weren't. ~ Sacha Guitry.
I want peace. I want to see if somewhere there isn't something left in life of charm and grace. ~ Margaret Mitchell.
There is a sort of charm in ugliness if the person has some redeeming qualities and is only ugly enough. ~ Josh Billings.
One mustn't look at the abyss, because there is at the bottom an inexpressible charm which attracts us. ~ Gustave Flaubert.
All charming people have something to conceal, usually their total dependence on the appreciation of others. ~ Cyril Connolly.
We are born charming fresh and spontaneous and must be civilized before we are fit to participate in society. ~ Judith Martin.
When a girl feels that she's perfectly groomed and dressed she can forget that part of her. That's charm. ~ F. Scott Fitzgerald.
Charm was a scheme for making strangers like and trust a person immediately, no matter what the charmer had in mind. ~ Kurt Vonnegut.
Beautiful Quotes about Charm
Charming people live up to the very edge of their charm, and behave as outrageously as the world will let them. ~ Logan Pearsall Smith.
There's a difference between beauty and charm. A beautiful woman is one I notice. A charming woman is one who notices me. ~ John Erskine.
A woman has to be intelligent, have charm, a sense of humor, and be kind. It's the same qualities I require from a man. ~ Catherine Deneuve.
The charm of history and its enigmatic lesson consist in the fact that, from age to age, nothing changes and yet everything is completely different. ~ Aldous Huxley.
There's no secret to working with kids. They either charm you and you can work with them, or they don't charm you and you feel you're stuck with them. ~ Jerome Robbins.
The human heart has hidden treasures, In secret kept, in silence sealed; The thoughts, the hopes, the dreams, the pleasures, Whose charms were broken if revealed. ~ Charlotte Bronte.
---
---
So these were the 55 Quotes about Charm.
If you like these quotes, then you can also read our other posts on Serenity Quotes and Optimism Quotes and Tea Quotes and Unhappy Quotes and Breathing Quotes.