In today's increasingly competitive world, exceptional customer service that prioritizes client needs is more crucial than ever.
However, working in customer service can be a mixed bag of rewarding, energizing days and challenging ones that might make you question your impact.
To help boost morale and motivation during those tough times, a curated list of inspirational customer service quotes has been compiled.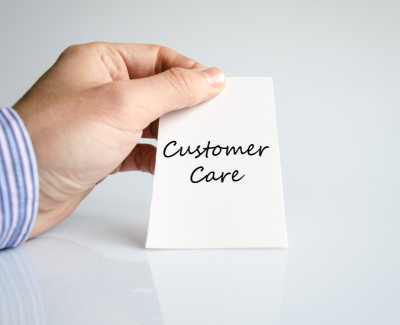 These powerful quotes serve as a reminder of the profound effect your dedicated efforts have on both your organization and the individuals you assist.
They act as a beacon, guiding you back to your mission and rekindling your passion for service on your most challenging days.
Use these motivational quotes as a tool to keep you driven, reminding you of the importance and positive influence of your role in customer service.
---
Top 10 Customer Care Quotes
Screw the competition – focus on good customer service. ~ Richard Branson.
Customer service should not be a department, it should be the entire company. ~ Tony Hsieh.
It takes months to find a customer…seconds to lose one. ~ Vince Lombardi.
Good customer service costs less than bad customer service. ~ Sally Gronow.
A satisfied customer is the best business strategy of all. ~ Michael LeBoeuf.
Customers never wanted social service, they wanted to be treated right the first time. ~ Frank Eliason.
Here is a powerful yet simple rule: always give people more than they expect to get. ~ Nelson Boswell.
The tables have turned. Today's consumers are more empowered than ever before. ~ Robert Rose.
Your mission statement may be on the wall, but your core values are displayed in the attitudes of your employees. ~ Elle Clarke.
Good service is good business. ~ Siebel Ad.
Powerful Customer Care Quotes
91% of organizations said they aspire to be among the customer experience leaders in their industry…yet only 37% had started any kind of formal CXM initiative. ~ Tim Walters.
The goal as a company is to have customer service that is not just the best but legendary. ~ Sam Walton.
The purpose of a business is to create and keep customers. ~ Theodore Levitt.
If the shopper feels like it was poor service, then it was poor service. We are in the customer perception business. ~ Mark Perrault.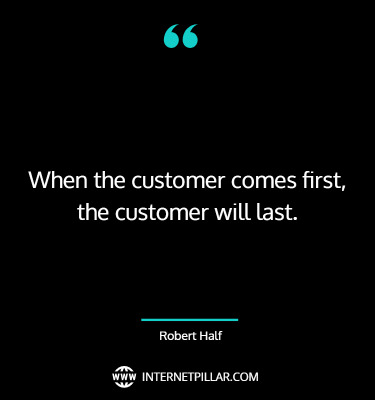 When the customer comes first, the customer will last. ~ Robert Half.
Related: Customer Service Quotes to Inspire and Motivate Your Team and Funny Customer Service Quotes That You Will Enjoy
Famous Customer Care Quotes
Happy customers are your biggest advocates and can become your most successful sales team. ~ Lisa Masiello.
Good social customer service is about empowering customers, not making them a slave to your channel. ~ TheIntrapreneur.
A strong customer service culture can't be copied. ~ Jerry Fritz.
Customers are like teeth. If you don't take care of them they go away one by one until there are none. ~ Jerry Flanagan.
I consider each customer as a family member who deserves nothing but the best service. ~ Tammy Toh.
Always keep in mind the old retail adage: Customers remember the service a lot longer than they remember the price. ~ Lauren Freedman.
If you don't take care of your customer, your competitor will. ~ Bob Hooey.
Your customer doesn't care how much you know until they know how much you care. ~ Damon Richards.
One customer well taken care of could be more valuable than $10,000 worth of advertising. ~ Jim Rohn.
In the world of internet customer service, it's important to remember your competitor is only one mouse click away. ~ Doug Warner.
Amazing Customer Care Quotes
Sales without customer service is like stuffing money into a pocket full of holes. ~ David Tooman.
Customer service as an enterprise function is at an inflection point. Real change is needed. Real change is possible. Real change is being demanded. And 'social' is the catalyst for this change. ~ BS Dalton.
We cannot promote our brands as responsive, caring, and customer-focused while ignoring too many of our customers' needs and complaints in social media. ~ Augie Ray.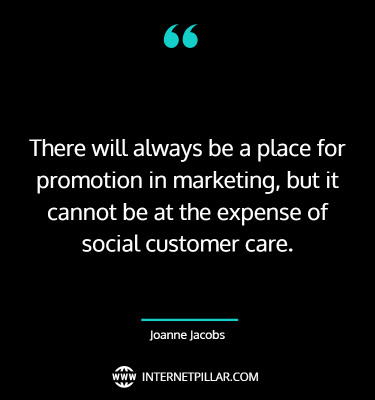 There will always be a place for promotion in marketing, but it cannot be at the expense of social customer care. ~ Joanne Jacobs.
The best customer service is if the customer doesn't need to call you, doesn't need to talk to you. It just works. ~ Jeff Bezos.
The first step in exceeding your customer's expectations is to know those expectations. ~ Roy H Williams.
I believe in the power of recognition and empowerment leading to great employee engagement. And employee engagement is critical to guest engagement. Employee empowerment and recognition is the core of our culture and how we achieve outstanding customer service. ~ Herve Humler.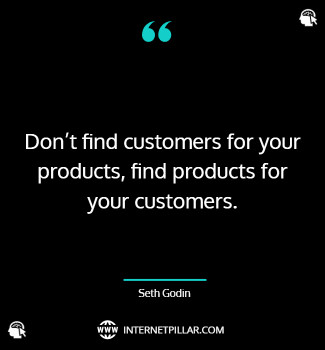 Don't find customers for your products, find products for your customers. ~ Seth Godin.
If you convince customers that you genuinely care about them more than you care about their money, they will make you rich. ~ Michael Kouly.
For us it's all about engagement, creating content that our customers want to interact with and building specialist teams for social media customer care to bring in personality and create dialogue. ~ Emma Morrison.
Popular Customer Care Quotes
Your most unhappy customers are your greatest source of learning. ~ Bill Gates.
Every contact we have with a customer influences whether or not they'll come back. We have to be great every time or we'll lose them. ~ Kevin Stirtz.
Customers who are merely satisfied remain your customers only as long as everything goes their way. ~ Chip Bell.
If you don't care, your customer never will. ~ Marlene Blaszczyk.
Make every interaction count, even the small ones. They are all relevant. ~ Shep Hyken.
I worry about any company which focuses too heavily on trying to provide customer service on platforms like Twitter or Facebook. I feel they are generating a lot of cost for very little benefit to the customer as well as the company itself. ~ Vincent Boon.
The reason it seems that price is all your customers care about is that you haven't given them anything else to care about. ~ Seth Godin.
Instead of focusing on the competition, focus on the customer. ~ Scott Cook.
here is a place in the world for any business that takes care of its customers – after the sale. ~ Harvey MacKay.
Customer service is the new marketing. ~ Derek Sivers.
A customer is the most important visitor on our premises. He is not dependent on us. We are dependent on him. He is not an interruption in our work. He is the purpose of it. He is not an outsider in our business. He is part of it. We are not doing him a favor by serving him. He is doing us a favor by giving us an opportunity to do so. ~ Mahatma Gandhi.
Treat the customer like you would want to be treated. Period! ~ Brad Schweig.
I genuinely believe that any business can create a competitive advantage through giving outstanding customer care. ~ Gary Vaynerchuk.
Best Customer Care Quotes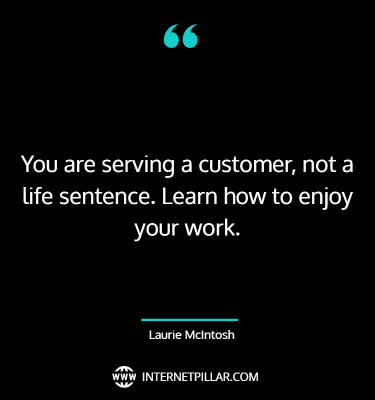 You are serving a customer, not a life sentence. Learn how to enjoy your work. ~ Laurie McIntosh.
Don't try to tell the customer what he wants. If you want to be smart, be smart in the shower. Then get out, go to work and serve the customer! ~ Gene Buckley.
We don't want to push our ideas on to customers, we simply want to make what they want. ~ Laura Ashley.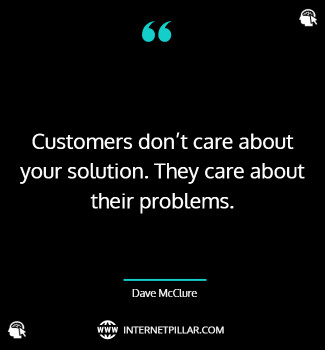 Customers don't care about your solution. They care about their problems. ~ Dave McClure.
Worry about being better; bigger will take care of itself. Think one customer at a time and take care of each one the best way you can. ~ Gary Comer.
Our greatest asset is the customer! Treat each customer as if they are the only one! ~ Laurice Leitao.
In my honest opinion, the brands with responsive, helpful, and savvy customer service on social media are those that will end up winning the social media marketing game in the future. ~ Neal Schaffer.
If you do build a great experience, customers tell each other about that. Word of mouth is very powerful. ~ Jeff Bezos.
We see our customers as invited guests to a party, and we are the hosts. It's our job every day to make every important aspect of the customer experience a little bit better. ~ Jeff Bezos.
Great Customer Care Quotes
Your customer doesn't care how much you know until they know how you care. ~ Damon Richards.
Our customers are not our competitors. We compete for them, not with them. ~ T Jay Taylor.
Kindness and courtesy are at the root of a positive customer service experience. ~ Shep Hyken.
Your social customer care strategy should be aligned to your company strategy, and aligned to your overall customer service strategy. ~ Kate Leggett.
Although your customers won't love you if you give bad service, your competitors will. ~ Kate Zabriskie.
Revolve your world around the customer and more customers will revolve around you. ~ Heather Williams.
Successful people are always looking for opportunities to help others. Unsuccessful people are always asking, 'what's in it for me? ~ Brian Tracy.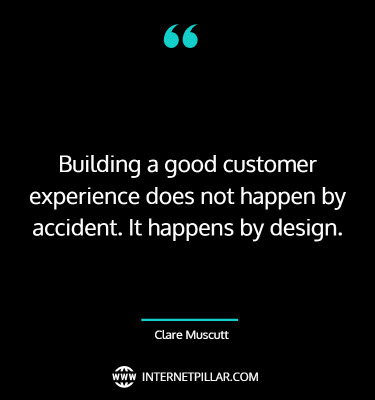 Building a good customer experience does not happen by accident. It happens by design. ~ Clare Muscutt.
Super Customer Care Quotes
Make the customer the hero of your story. ~ Ann Handley.
Big and small companies today listen like never before. The question is whether they are 'hearing' any better. ~ Dave Carroll.
Customers are assets to be cared for and nurtured. ~ Jeanne Bliss.
It is not the employer who pays the wages. Employers only handle the money. It is the customer who pays the wages. ~ Henry Ford.
Customer service is the experience we deliver to our customers. It's the promise we keep to the customer. It's how we follow through for the customer. It's how we make them feel when they do business with us. ~ Shep Hyken.
Do what you do so well that they will want to see it again and bring their friends. ~ Walt Disney.
Look after the customer and the business will take care of itself. ~ Ray Kroc.
Know what your customers want most and what your company does best. Focus on where those two meet. ~ Kevin Stirtz.
---
So these were the 75 famous quotes about Customer Care.
If you like these quotes and sayings, then you can also read my other popular blog posts on the topics of Frugality quotes and Banking quotes.