Providing outstanding customer service is a key differentiator between a flourishing and failing business.
It is an important aspect in both maintaining current customers and drawing new ones, eventually contributing to a company's development and success.
Outstanding customer service quotes provide professionals with vital insights and advice on the necessity of treating customers with respect, attention and empathy.
These thought-provoking quotes are intended to excite and inspire employees to go above and beyond while engaging with customers.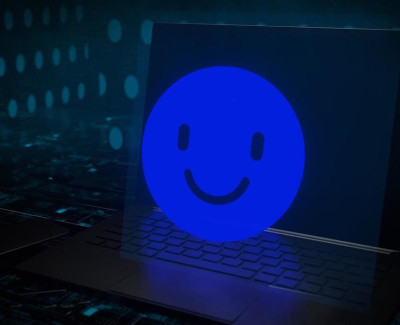 These compelling quotes, known by many names such as "customer success quotes" and "customer experience quotes," serve as subtle reminders for staff to emphasize client satisfaction and continuously explore ways to enhance their service.
Team members can contribute to the development of a corporate culture that values and prioritizes great customer service by internalizing and using the wisdom contained in these quotes, eventually contributing to long-term success and a fantastic reputation in the industry.
---
Top 10 Customer Service Quotes
If you don't care, your customer never will. ~ Marlene Blaszczyk.
Customer service is about empathy. ~ Chaz Van de Motter.
Courteous treatment will make a customer a walking advertisement. ~ JCPenney.
Life is for service. ~ Fred Rogers.
Good customer service costs less than bad customer service. ~ Sally Gronow.
Put yourself in their shoes. ~ Jesse Harrison.
Thank your customer for complaining and mean it. Most will never bother to complain. They'll just walk away. ~ Marilyn Suttle.
When the customer comes first, the customer will last. ~ Robert Half.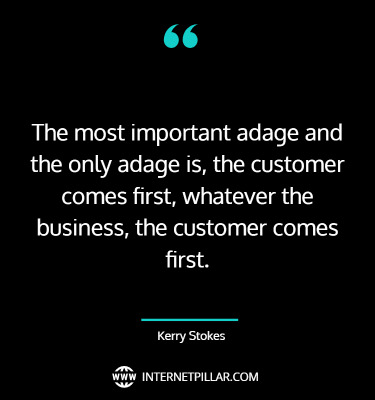 The most important adage and the only adage is, the customer comes first, whatever the business, the customer comes first. ~ Kerry Stokes.
How you think about your customers influences how you respond to them. ~ Marilyn Suttle.
Also read: Customer Care Quotes and Rescue Dog Quotes and Lilac Quotes.
Famous Customer Service Quotes
It's through vulnerability that human beings create connections. The more vulnerable we can be with one another, the more that we'll trust one another and the more we'll be able to collaborate effectively. ~ Neil Blumenthal.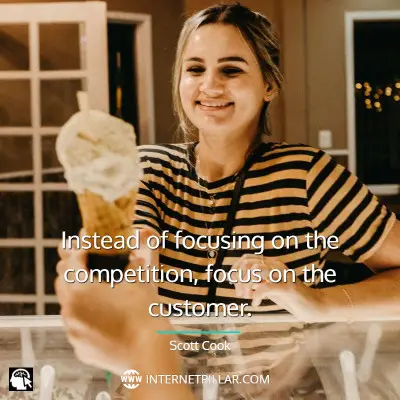 Instead of focusing on the competition, focus on the customer. ~ Scott Cook.
We take most of the money that we could have spent on paid advertising and instead put it back into the customer experience. Then we let the customers be our marketing. ~ Tony Hsieh.
You are allowed to do this – don't worry about the rules, don't worry about getting into trouble, your job is to take care of the customer. Your job is to make the person leave happy. ~ John Pepper.
Treat the customer like you would want to be treated. Period! ~ Brad Schweig.
I believe in the power of recognition and empowerment leading to great employee engagement. And employee engagement is critical to guest engagement. Employee empowerment and recognition is the core of our culture and how we achieve outstanding customer service. ~ Herve Humler.
You'll never have a product or price advantage again. They can be too easily duplicated. But a strong customer service culture cannot be copied. ~ Jerry Fritz.
A satisfied customer is the best business strategy of all. ~ Michael LeBoeuf.
Excellent Customer Service Quotes
Customer service shouldn't just be a department, it should be the entire company. ~ Tony Hsieh.
If you work just for money, you'll never make it, but if you love what you're doing and you always put the customer first, success will be yours. ~ Ray Kroc.
Make a customer, not a sale. ~ Katherine Barchetti.
The goal as a company is to have customer service that is not just the best but legendary. ~ Sam Walton.
Be dramatically willing to focus on the customer at all costs, even at the cost of obsoleting your own stuff. ~ Scott D. Cook.
Always have an attitude of gratitude. ~ James R. Nowlin.
A lot of people have fancy things to say about customer service, but it's just a day-in, day-out, ongoing, never-ending, persevering, compassionate kind of activity. ~ Christopher McCormick.
Inspiring Customer Service Quotes
Every company's greatest assets are its customers, because without customers there is no company. ~ Michael LeBoeuf.
How you think about your customer influences how you respond to them. ~ Marilyn Suttle.
When you assume negative intent, you're angry. If you take away that anger and assume positive intent, you will be amazed. ~ Indra Nooyi.
If you are not taking care of your customer, your competitor will. ~ Bob Hooey.
Happy customers are your biggest advocates and can become your most successful sales team. ~ Lisa Masiello.
Customers will never love a company until the employees love it first. ~ Simon Sinek.
It is not your customer's job to remember you, it is your obligation and responsibility to make sure they don't have the chance to forget you. ~ Patricia Fripp.
Imagine your customer is your best friend – listen to their concerns, be a shoulder to lean on and then shift the focus from what went wrong to how you can help make it right. ~ Rachel Hogue.
It takes months to find a customer… seconds to lose one. ~ Vince Lombardi.
Best Customer Service Quotes
Your most unhappy customers are your greatest source of learning. ~ Bill Gates.
If you love your customer to death, you can't go wrong. ~ Graham Day.
As a membership site we're always focused on reducing churn and increasing satisfaction. We know that collecting feedback from customers throughout the customer's lifecycle has allowed us to achieve both. ~ James Bake.
What sets us apart as a company is that we want to deal with anyone that owns our product, regardless of where you bought it. If you have an issue with a Santa Cruz Bike and come to us with your issue, we'll help you resolve your issue. ~ Kyle Harder.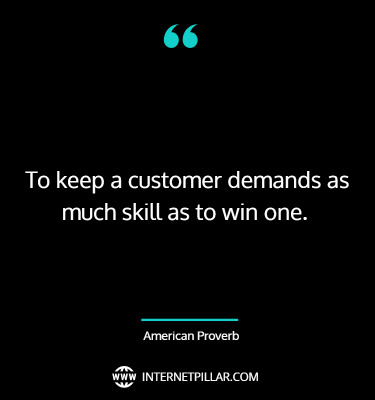 To keep a customer demands as much skill as to win one. ~ American Proverb.
Service, in short, is not what you do, but who you are. It is a way of living that you need to bring to everything you do, if you are to bring it to your customer interactions. ~ Betsy Sanders.
Happiness is a by-product of an effort to make someone else happy. ~ Gretta Palmer.
Inspirational Customer Service Quotes
Ask your customers to be part of the solution, and don't view them as part of the problem. ~ Alan Weiss.
Our greatest asset is the customer! Treat each customer as if they are the only one! ~ Laurice Leitao.
Ease your customers' pain. ~ Hazel Edwards.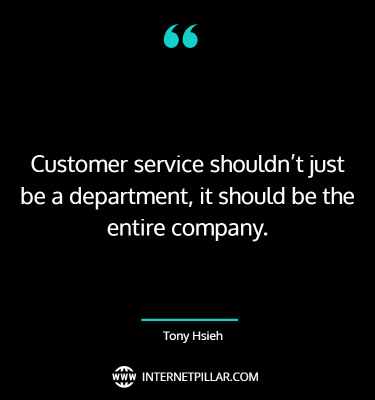 Customer service shouldn't just be a department, it should be the entire company. ~ Tony Hsieh.
A brand for a company is like a reputation for a person. You earn reputation by trying to do hard things well. ~ Jeff Bezos.
Profit is the applause you get for taking care of your customers and creating a motivating environment for your employees. ~ Unknown.
Customer service is not a department, it's an attitude! ~ Unknown.
Popular Customer Service Quotes
The customer is why we are here. If we take good care of them, they'll give us good reason to come back. ~ Jenny McKenzie.
The sole reason we are in business is to make life less difficult for our clients. ~ Matthew Odgers.
I've learned that people will forget what you said, people will forget what you did, but people will never forget how you made them feel. ~ Maya Angelou.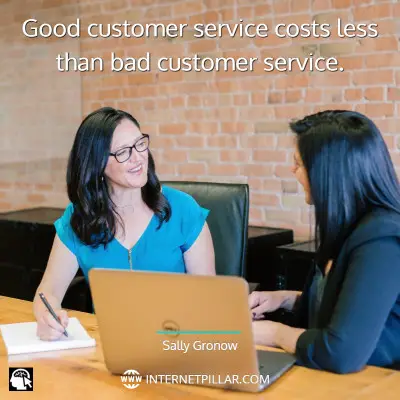 Good customer service costs less than bad customer service. ~ Sally Gronow.
Don't try to tell the customer what he wants. If you want to be smart, be smart in the shower. Then get out, go to work and serve the customer! – Gene Buckley ~ Anna Segova.
Biggest question: Isn't it really 'customer helping' rather than customer service? And wouldn't you deliver better service if you thought of it that way? ~ Jeffrey Gitomer.
Until you understand your customers – deeply and genuinely – you cannot truly serve them. ~ Rasheed Ogunlaru.
Service, in short, is not what you do, but who you are. It's a way of living that you need to bring to everything you do if you're to bring it to your customer interactions. ~ Betsy Sanders.
The magic formula that successful businesses have discovered is to treat customers like guests and employees like people. ~ Tom Peters.
Great customer service doesn't mean that the customer is always right, it means that the customer is always honoured. ~ Chris LoCurto.
Excellent customer service is the number one job in any company! It is the personality of the company and the reason customers come back. Without customers there is no company! ~ Connie Edler.
Powerful Customer Service Quotes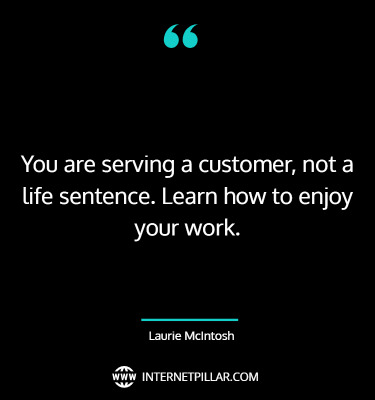 You are serving a customer, not a life sentence. Learn how to enjoy your work. ~ Laurie McIntosh.
Bottom-line obsession comes from turning the pursuit of money into a God and forgetting the real master your business serves: The Customer. ~ Michael Shevack.
A customer is the most important visitor on our premises, he is not dependent on us. We are dependent on him. He is not an interruption in our work. He is the purpose of it. He is not an outsider in our business. He is part of it. We are not doing him a favor by serving him. He is doing us a favor by giving us an opportunity to do so. ~ Mahatma Gandhi.
We see our customers as invited guests to a party, and we are the hosts. It's our job to make the customer experience a little bit better. ~ Jeff Bezos.
When you serve the customer better, they always return on your investment. ~ Kara Parlin.
Whether you are big or small, you cannot give good customer service if your employees don't feel good about coming to work. ~ Martin Oliver.
Positive Customer Service Quotes
When a customer complains, he is doing you a special favor; he is giving you another chance to serve him to his satisfaction. You will appreciate the importance of this opportunity when you consider that the customer's alternative option was to desert you for a competitor. ~ Seymour Fine.
Quality in a service or product is not what you put into it. It is what the customer gets out of it. ~ Peter Drucker.
There is place in the world for any business that takes care of its customers ~ after the sale. ~ Harvey MacKay.
A brand is no longer what we tell the customer it is ~ it is what customers tell each other it is. ~ Scott Cook.
If you make a sale, you can make a living. If you make an investment of time and good service in a customer, you can make a fortune. ~ Jim Rohn.
To give without any reward, or any notice, has a special quality of its own. ~ Anne Morrow Lindeberg.
---
So these were the 76 top quotes about Customer Service.
If you like these quotes and sayings, then you can also read my other posts on Team Communication quotes and Change Management quotes.
---
Sources: