"Dare to Dream" means that you should have the courage to think big and achieve big things in your life.
You have to broaden your thinking and go for your dreams no matter what.
I hope these dare to dream quotes are going to inspire and motivate you.
---
Inspiring Dare to Dream Quotes
Dreams grow if you grow. ~ Zig Ziglar.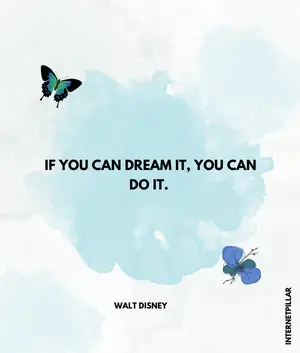 If you can dream it, you can do it. ~ Walt Disney.
Never leave your dreams unfulfilled. ~ James Clear.
Reality is wrong. Dreams are for real. ~ Tupac Shakur.
Dream big and anything is possible. ~ DeMarcus Cousins.
Life is never easy for those who dream. ~ Robert James Waller.
Simple dreams are the hardest to come true. ~ Melina Marchetta.
Yesterday's dreams are often tomorrow's realities. ~ Bruce Lee.
There is nothing like a dream to create the future. ~ Victor Hugo.
No one has ever achieved greatness without dreams. ~ Roy T. Bennett.
Best Dare to Dream Quotes
Life is too short to be living somebody else's dream. ~ Hugh Hefner.
No matter where you're from, your dreams are valid. ~ Lupita Nyong'o.
If your dreams don't scare you, they are too small. ~ Richard Branson.
It may be that those who do most, dream most. ~ Stephen Butler Leacock.
You have to have a dream so you can get up in the morning. ~ Billy Wilder.
Dreams come in a size too big so that we may grow into them. ~ Josie Bisse.
Dream as if you'll live forever. Live as if you'll die today. ~ James Dean.
Motivational Dare to Dream Quotes
It's difficult to follow your dream. It's a tragedy not to. ~ Ralph Marston.
You're something between a dream and a miracle. ~ Elizabeth Barrett Browning.
That which is dreamed can never be lost, can never be undreamed. ~ Neil Gaiman.
For those who dare to dream, there is a whole world to win. ~ Dhirubhai Ambani.
You can kill the dreamer, but you can't kill the dream. ~ Martin Luther King Jr.
A dream becomes a goal when action is taken toward its achievement. ~ Bo Bennett.
I don't dream at night, I dream all day; I dream for a living. ~ Steven Spielberg.
All our dreams can come true if we have the courage to pursue them. ~ Walt Disney.
Everyone's dream can come true if you just stick to it and work hard. ~ Serena Williams.
Inspirational Dare to Dream Quotes
If you don't build your dream, someone will hire you to help build theirs. ~ Tony Gaskins.
A dream you dream alone is only a dream. A dream you dream together is reality. ~ Yoko Ono.
Your work is to discover your world and then with all your heart give yourself to it. ~ Buddha.
Make the action to move closer to your dream the first action you take each day. ~ Leo Babauta.
Dream what you dare to dream. Go where you want to go. Be what you want to be. ~ Earl Nightingale.
You have to fight to reach your dream. You have to sacrifice and work hard for it. ~ Lionel Messi.
Whatever you do, or dream you can, begin it. Boldness has genius and power and magic in it. ~ Goethe.
Never give up on your dream. because you never know what the Lord can bless you with. ~ Kelly Rowland.
Quotes about Dare to Dream
A dream doesn't become reality through magic; it takes sweat, determination, and hard work. ~ Colin Powell.
Some people dream of success, while other people get up every morning and make it happen. ~ Wayne Huizenga.
Dreams don't work unless you take action. The surest way to make your dreams come true is to live them. ~ Roy T. Bennett.
Dreams are the seeds of change. Nothing ever grows without a seed, and nothing ever changes without a dream. ~ Debby Boone.
Ask yourself, 'How long am I going to work to make my dreams come true?' I suggest you answer, 'As long as it takes.' ~ Jim Rohn.
Between the great things we cannot do and the small things we will not do, the danger is that we shall do nothing. ~ Adolph Monod.
When you believe in your dream and your vision, then it begins to attract its own resources. No one was born to be a failure. ~ Myles Munroe.
Always remember, you have within you the strength, the patience, and the passion to reach for the stars to change the world. ~ Harriet Tubman.
So many of our dreams at first seem impossible, then they seem improbable, and then, when we summon the will, they soon become inevitable. ~ Christopher Reeve.
Dream small dreams. If you make them too big, you get overwhelmed and you don't do anything. If you make small goals and accomplish them, it gives you the confidence to go on to higher goals. ~ John H. Johnson.
---
So these are some of the best quotes about dare to dream.
If you like these inspiring quotes and sayings, then you are prompted to read our other popular blog posts on the topics of Self Perception Quotes and Black Leaders Quotes.