December is the twelfth and final month of the year, is marked by the winter solstice and celebrated festivities like Christmas.
It's a month bustling with activities, filled with parties, gift exchanges and festive preparations.
While some enjoy the holiday season's merriment, others may find it challenging. To encapsulate the diverse sentiments of the season, a collection of inspiring December quotes has been compiled.
These quotes capture the essence of December, from the beauty of winter snow and festive cheer to the warmth of family gatherings.
They serve as a tool to welcome this unique month, whether you're looking for Instagram captions, festive wishes for cards, or merely to express a happy December sentiment.
Embrace the magic of December and the end of the year with these quotes, designed to reignite love for this remarkable month and inspire everyone to make the most of this winter time.
---
Best December Quotes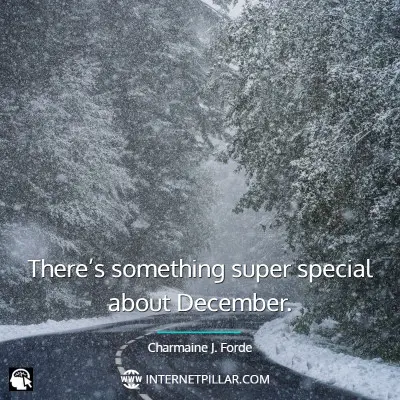 There's something super special about December. ~ Charmaine J. Forde.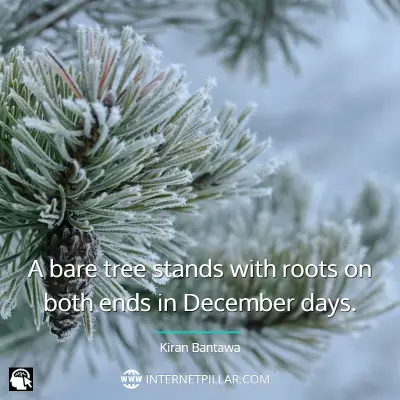 A bare tree stands with roots on both ends in December days. ~ Kiran Bantawa.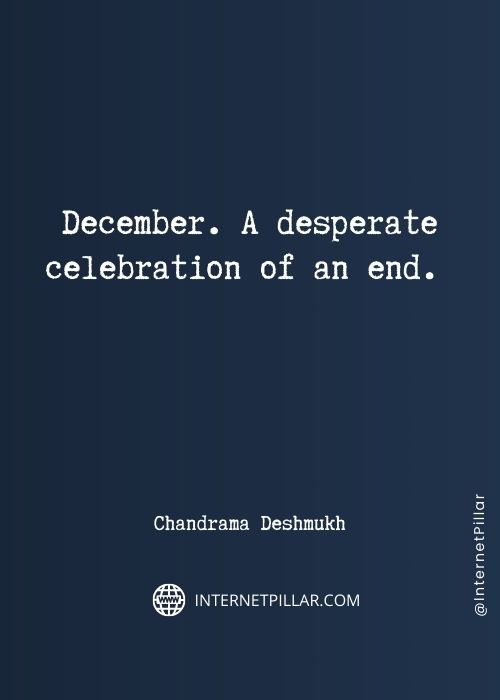 December. A desperate celebration of an end. ~ Chandrama Deshmukh.
Will you love me in December as you do in May? ~ Jack Kerouac.
I've come to sing you a song called December. ~ Ryan Murphy.
Michigan isn't just cold in December; it's arctic. ~ Daniel Milstein.
Of all the months of the year there is not a month one half so welcome to the young, or so full of happy associations, as the last month of the year. ~ Charles Dickens.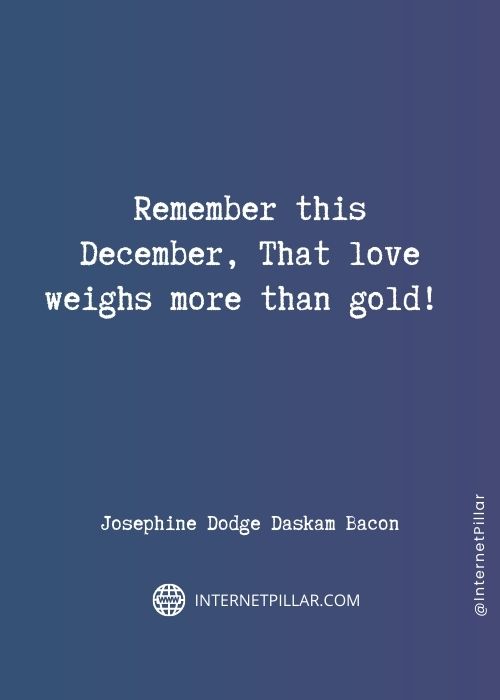 Remember this December, That love weighs more than gold! ~ Josephine Dodge Daskam Bacon.
Outside the house it was storming, a busy downfall of flakes that the wind blew lightly across acres of old snow left from December. ~ Gladys Hasty Carroll.
My brothers and sisters, true love is a reflection of the Savior's love. In December of each year, we call it the Christmas spirit. You can hear it. You can see it. You can feel it. ~ Thomas S. Monson.
Lovely December Quotes
The color of springtime is in the flowers; the color of winter is in the imagination. ~ Terri Guillemets.
And last December drear, with piteous low-drooped head. In a voice of desolation crying out, 'The year is dead. And so, with changeful gear, with smile or frown or song, the months, in strange variation, are ever gliding along. ~ Edgar Fawcett.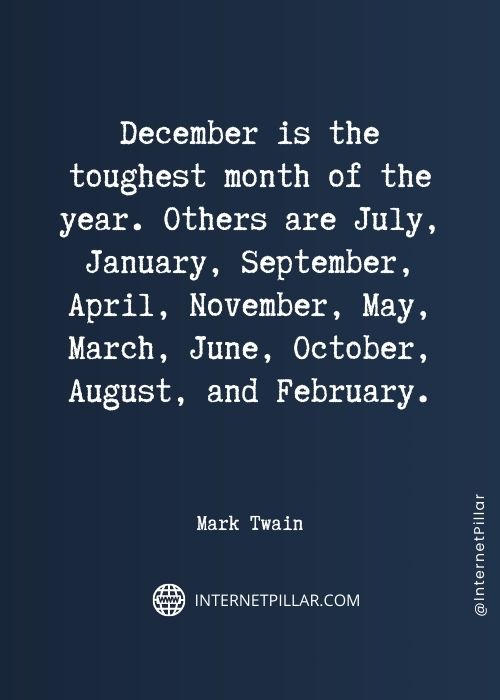 December is the toughest month of the year. Others are July, January, September, April, November, May, March, June, October, August, and February. ~ Mark Twain.
I miss being in Barbados in December. That is the time I always remember. The smell of varnish on the wooden floors. And the smell of paint on the wooden doors. The crowds in de Supermarket buying up the rum, and the music blasting. Puh rup a pum pum. ~ Charmaine J Forde.
Yet my heart loves December's smile as much as July's golden beam; then let us sit and watch the while the blue ice curdling on the stream. ~ Emily Jane Bronte.
No matter what my fortune may be, or where I may roam, in December, I'll be going home. ~ Floyd Huddleston.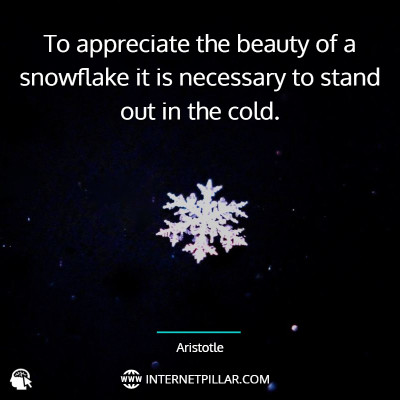 To appreciate the beauty of a snowflake it is necessary to stand out in the cold. ~ Aristotle.
December's wintery breath is already clouding the pond, frosting the pane, obscuring summer's memory. ~ John Geddes.
Related: May Quotes and June Quotes.
Beautiful December Quotes
It seems like everything sleeps in winter, but it's really a time of renewal and reflection. ~ Elizabeth Camden.
When I was a child, my December weekends were spent making cards, decorating the tree, hanging the wreath, and preparing brandy butter and peppermint creams. ~ Pippa Middleton.
Outside the house, it was storming, a busy downfall of flakes that the wind blew lightly across acres of old snow left from December. ~ Gladys Hasty Carroll.
Drink deep or be careful how you taste this December vintage. The first sip may chill, but a full draught warms and invigorates. ~ John Burroughs.
Through the small tall bathroom window the December yard is gray and scratchy, the trees calligraphic. ~ Dave Eggers.
December: a month of lights, snow and feasts; time to make amends and tie up loose ends; finish off what you started and hope your dreams come true. ~ Unknown.
Famous December Quotes
The sun that brief December day Rose cheerless over hills gray, And, darkly circled, gave at noon A sadder light than waning moon. ~ John Greenleaf Whittier.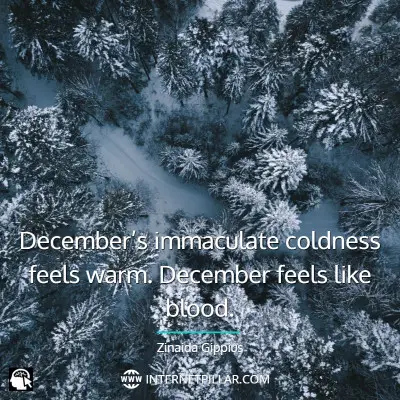 December's immaculate coldness feels warm. December feels like blood. ~ Zinaida Gippius.
There's something magical about December. ~ Charmaine J Forde.
As we struggle with shopping lists and invitations, compounded by December's bad weather, it is good to be reminded that there are people in our lives who are worth this aggravation, and people to whom we are worth the same. ~ Donald E. Westlake.
If cold December gave you birth, The month of snow and ice and mirth, Place on your hand a Turquoise blue, Success will bless whatever you do. ~ Unknown.
Men are April when they woo, December when they wed. Maids are May when they are maids, but the sky changes when they are wives. ~ William Shakespeare.
December, being the last month of the year, cannot help but make us think of what is to come. ~ Fennel Hudson.
Inspiring December Quotes
In the bleak midwinter, frosty wind made moan, earth stood hard as iron, water like a stone; snow had fallen, snow on snow, snow on snow, in the bleak midwinter, long ago. ~ Christina Rossetti.
By December an elastic skin of ice reached out hundreds of miles into the sea, rolling with every wave. ~ Will Chancellor.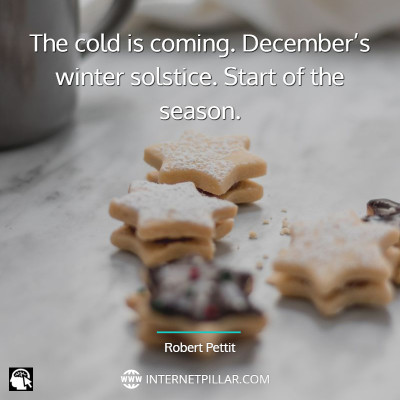 The cold is coming. December's winter solstice. Start of the season. ~ Robert Pettit.
In the winter she curls up around a good book and dreams away the cold. ~ Ben Aaronovitch.
What good is the warmth of summer, without the cold of winter to give it sweetness. ~ John Steinbeck.
Hello, December! You're the last one so be the best one. ~ Unknown.
At Christmas I no more desire a rose Than wish a snow in May's new-fangled mirth; But like of each thing that in season grows. ~ William Shakespeare.
Shout now! The months with loud acclaim, Take up the cry and send it forth; May breathing sweet her Spring perfumes, November thundering from the North. With hands upraised, as with one voice, They join their notes in grand accord; Hail to December! Say they all, It gave to Earth our Christ the Lord! ~ J.K. Hoyt.
Top December Quotes
There is October in every November and there is November in every December! All seasons melted in each other's life! ~ Mehmet Murat ildan.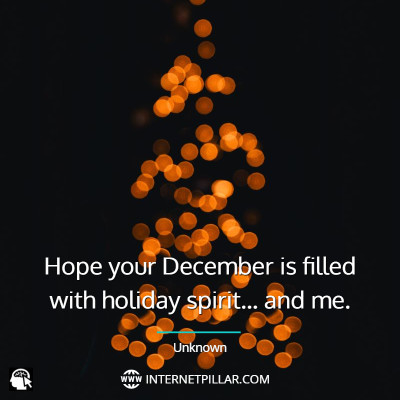 Hope your December is filled with holiday spirit… and me. ~ Unknown.
December drops no weak, relenting tear, By our fond Summer sympathies ensnared. Nor from the perfect circle of the year Can even Winter's crystal gems be spared. ~ Christopher Pearce Cranch.
May and October, the best-smelling months? I'll make a case for December; evergreen, frost, wood smoke, cinnamon. ~ Lisa Kleypas.
I know. I'm lazy. But I made myself a New Years' resolution that I would write myself something really special. Which means I have 'til December, right? ~ Catherine O'Hara.
December is the holdout month, all the others torn away. ~ Anne Gisleson.
This looks like a December day, it looks like we've come to the end of the way. ~ Willie Nelson.
Inspirational December Quotes
In this world only winter is certain. ~ George R.R. Martin.
Will love be true as December frost, or fickle and fall like the rose in June? ~ Clement Scott.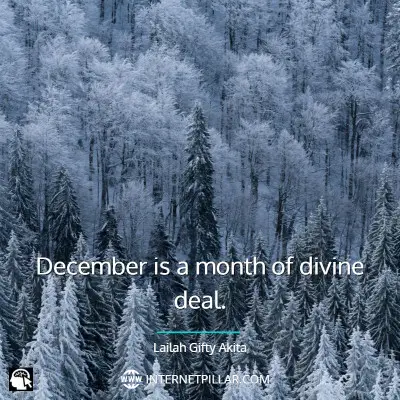 December is a month of divine deal. ~ Lailah Gifty Akita.
In cold December fragrant chaplets blow, and heavy harvests nod beneath the snow. ~ Alexander Pope.
It is December, and nobody asked if I was ready. ~ Sarah Kay.
From December to March, there are for many of us three gardens – the garden outdoors, the garden of pots and bowls in the house, and the garden of the mind's eye. ~ Katherine S. White.
I heard a bird sing in the dark of December. A magical thing. And sweet to remember. We are nearer to Spring than we were in September. I heard a big sing in the dark of December. ~ Oliver Herford.
Popular December Quotes
In the depth of winter, I finally learned that there was in me an invincible summer. ~ Albert Camus.
If we make it through December, everything's gonna be all right; it's the coldest time of winter and I shiver when I see the falling snow. ~ Merle Haggard.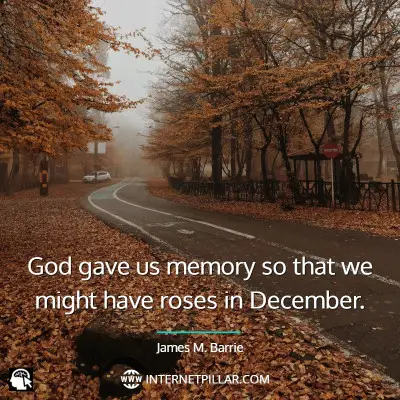 God gave us memory so that we might have roses in December. ~ James M. Barrie.
In a drear-nighted December, Too happy, happy brook, Thy bubblings ne'er remember Apollo's summer look; But with a sweet forgetting, They stay their crystal fretting, Never, never petting About the frozen time. ~ John Keats.
I prefer winter and fall when you feel the bone structure of the landscape – the loneliness of it, the dead feeling of winter. Something waits beneath it; the whole story doesn't show. ~ Andrew Wyeth.
The crisp path through the field in this December snow, in the deep dark, where we trod the buried grass like ghosts on dry toast. ~ Dylan Thomas.
How did it get so late so soon? ~ Dr. Seuss.
It is never over, though we are in December! ~ Ernest Agyemang Yeboah.
---
So these were the 65 top quotes about December month.
If you like these quotes and sayings, then you can also read my other posts on October quotes and November quotes.