Life is an adventure full of ups and downs and twists and turns.
What distinguishes the successful people from the others is their viewpoint and attitude toward problems.
This article has 105 insightful deep life quotes that will make you pause, ponder, and think.
These quotes comes from great minds from many areas of life and will challenge your thinking and belief system and motivate you to live a meaningful life.
---
Best Deep Life Quotes
We should not moor a ship with one anchor, or our life with one hope. ~ Epictetus.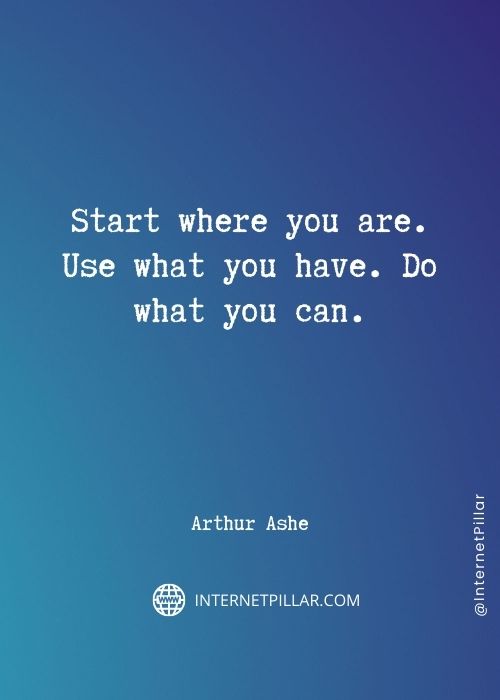 Start where you are. Use what you have. Do what you can. ~ Arthur Ashe.
It is not length of life, but depth of life. ~ Ralph Waldo Emerson.
Sometimes you win, sometimes you learn. ~ John C. Maxwell.
Life is the art of drawing without an eraser. ~ John W. Gardner.
You must do the things you think you cannot do. ~ Eleanor Roosevelt.
Could I have been anyone other than me? ~ Dave Matthews.
You can, you should, and if you're brave enough to start, you will. ~ Stephen King.
In the depth of winter, I finally learned that within me there lay an invincible summer. ~ Albert Camus.
We can complain because rose bushes have thorns, or rejoice because thorns have roses. ~ Abraham Lincoln.
Our task in life is to find our deep soul work and throw ourselves headlong into it. ~ Phil Cousineau.
Only as we keep an open communication with our deep inner life will we have the wisdom to make effective choices. ~ Stephen Covey.
Life is not a matter of holding good cards, but of playing a poor hand well. – Robert Louis Stevenson.
Turning your back on the darkness didn't mean the darkness would turn it's back on you. ~ Jennifer Donnelly.
I want to be like water. I want to slip through fingers, but hold up a ship. ~ Michelle Williams.
The changes in our life must come from the impossibility to live otherwise than according to the demands of our conscience, not from our mental resolution to try a new form of life. ~ Leo Tolstoy.
Life is in ourselves and not in the external. ~ Fyodor Dostoevsky.
If life were predictable it would cease to be life, and be without flavor. ~ Eleanor Roosevelt.
Also Read: 103 Life is Precious Quotes and Sayings to Cherish it and 107 Moving Forward Quotes to Move on in Life
Famous Deep Life Quotes
Never underestimate the importance of having someone in your life who makes you want to be a better person. ~ Dauvoire.
Life is what happens when you're busy making other plans. ~ John Lennon.
The longer I go about living, I see it's the relationship that is most meaningful. ~ William Shatner.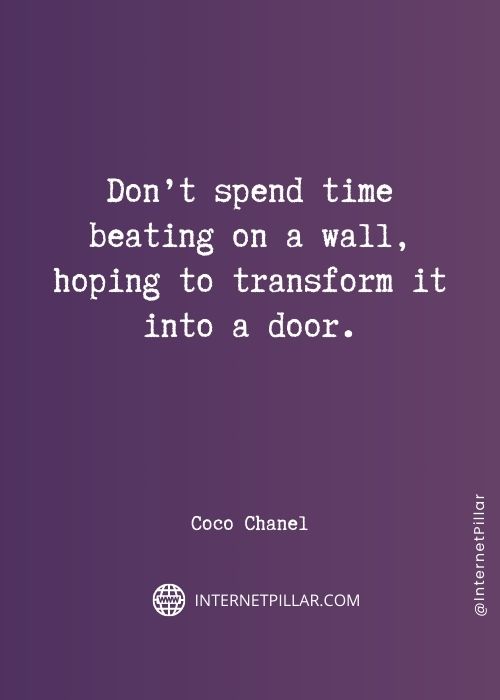 Don't spend time beating on a wall, hoping to transform it into a door. ~ Coco Chanel.
Always go too far, because that's where you'll find the truth. ~ Albert Camus.
The reason why we struggle with insecurity is because we compare our behind the scenes with everyone else's highlight reel. ~ Stephen Furtick.
Get busy living or get busy dying. ~ Stephen King.
We become what we think about most of the time, and that's the strangest secret. ~ Earl Nightingale.
The loneliest moment in someone's life is when they are watching their whole world fall apart, and all they can do is stare blankly. ~ F. Scott Fitzgerald.
Life is a series of natural and spontaneous changes. Don't resist them; that only creates sorrow. Let reality be reality. Let things flow naturally forward in whatever way they like. ~ Lao Tzu.
Knowing what must be done does away with fear. ~ Rosa Parks.
The purpose of morality is to teach you, not to suffer and die, but to enjoy yourself and live. ~ Ayn Rand.
Challenges are what make life interesting. Overcoming them is what makes life meaningful. ~ Joshua Marine.
Take life one step at a time, look forward to your future, stop looking back and regretting the past, the past is the past because it does not last! ~ Abhishek Tiwari.
Don't walk in front of me; I may not follow. Don't walk behind me; I may not lead. Just walk beside me and be my friend. ~ Albert Camus.
Without deep reflection one knows from daily life that one exists for other people. ~ Albert Einstein.
Popular Deep Life Quotes
Life is not measured by the number of breaths we take, but by the moments that take our breath away. ~ Maya Angelou.
A thousand words will not leave so deep an impression as one deed. ~ Henrik Ibsen.
You will not be punished for your anger, you will be punished by your anger. ~ Buddha.
We are always getting ready to live but never living. ~ Ralph Waldo Emerson.
The more you know who you are, and what you want, the less you let things upset you. ~ Stephanie Perkins.
Perfection is boring. Getting better is where all the fun is. ~ Dragos Roua.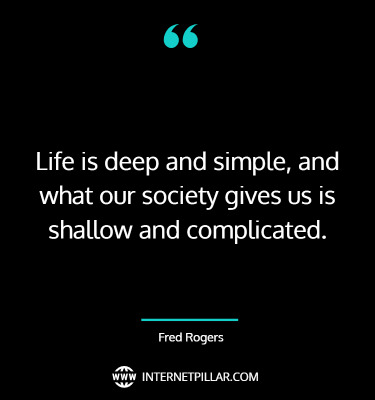 Life is deep and simple, and what our society gives us is shallow and complicated. ~ Fred Rogers.
If you look at what you have in life, you'll always have more. ~ Oprah Winfrey.
We shall see but a little way if we require to understand what we see. ~ Henry David Thoreau.
Never do tomorrow what you can do today. Procrastination is the thief of time. ~ Charles Dickens.
Life is a perpetual instruction in cause and effect. ~ Ralph Waldo Emerson.
Life is about not knowing, having to change, taking the moment and making the best of it, without knowing what's going to happen next. ~ Gilda Radner.
The pain will not go away by getting angry or bitter, it will go away when you learn to accept life's challenges with grace and ease. ~ Leon Brown.
The future belongs to those who believe in the beauty of their dreams. ~ Eleanor Roosevelt.
The whole secret of a successful life is to find out what is one's destiny to do, and then do it. ~ Henry Ford.
Life begins at the end of your comfort zone. ~ Neale Donald Walsch.
Top Deep Life Quotes
The present moment is filled with joy and happiness. If you are attentive, you will see it. ~ Thich Nhat Hanh.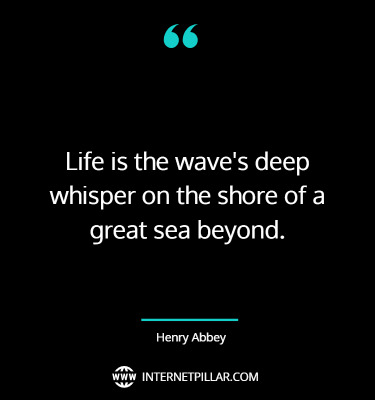 Life is the wave's deep whisper on the shore of a great sea beyond. ~ Henry Abbey.
Life is either a daring adventure or nothing at all. ~ Helen Keller.
By having a reverence for life, we enter into a spiritual relation with the world by practicing reverence for life we become good, deep, and alive. ~ Albert Schweitzer.
If you are living out of a sense of obligation you are a slave. ~ Dr. Wayne Dyer.
The fullness of life is only accessible in the present moment. ~ Eckhart Tolle.
If you want to live a happy life, tie it to a goal, not to people or objects. ~ Albert Einstein.
Life shrinks or expands in proportion to one's courage. ~ Anais Nin.
Life is too deep for words, so don't try to describe it, just live it. ~ C S Lewis.
Always remember that you are absolutely unique. Just like everyone else. ~ Margaret Mead.
To find your own way is to follow your bliss. This involves analysis, watching yourself and seeing where real deep bliss is – not the quick little excitement, but the real deep, life-filling bliss. ~ Joseph Campbell.
It is one of the most beautiful compensations of this life that no man can sincerely try to help another without helping himself. ~ Ralph Waldo Emerson.
Tell me and I forget. Teach me and I remember. Involve me and I learn. ~ Benjamin Franklin.
When one door of happiness closes, another opens, but often we look so long at the closed door that we do not see the one that has been opened for us. ~ Helen Keller.
Life is a maze in which we take the wrong turning before we have learned to walk. ~ Cyril Connolly.
If you ever discover that what you're seeing is a play within a play, just slow down, take a deep breath, and hold on for the ride of your life. ~ Jack Handey.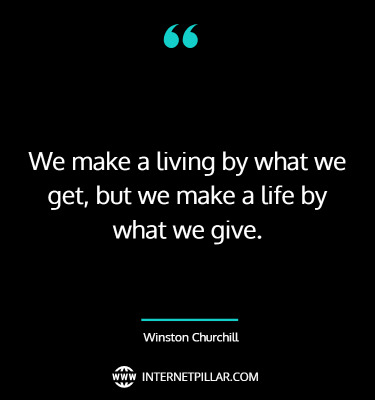 We make a living by what we get, but we make a life by what we give. ~ Winston Churchill.
Our lives improve only when we take chances…and the first and most difficult risk we can take is to be honest with ourselves. ~ Walter Anderson.
Think big thoughts but relish small pleasures. ~ Jackson Brown Jr.
If my life is going to mean anything, I have to live it myself. ~ Rick Riordan.
Every saint has a past, and every sinner has a future. ~ Oscar Wilde.
In the circle of life there is no top, no corner, and no straight lines. ~ Mike Dolan.
Amazing Deep Life Quotes
Deep life refers to all the life forms that exist in environments where sunlight does not reach. This includes organisms that live in the deep ocean, as well as bacteria and other microorganisms that exist in rocks deep underground.

Deep life is often very different from surface life, adapted to survive in harsh conditions with little or no light.
Go into yourself and see how deep the place is from which your life flows. ~ Rainer Maria Rilke.
You only live once, but if you do it right, once is enough. ~ Mae West.
Many of life's failures are people who did not realize how close they were to success when they gave up. ~ Thomas A. Edison.
The meaning of life is found by diving deep, deep within. ~ Vishnudevananda Saraswati.
Do not be lured by the need to be liked: better to be respected, even feared. ~ Robert Greene.
Don't handicap your children by making their lives easy. ~ Robert A. Heinlein.
Don't judge each day by the harvest you reap but by the seeds that you plant. ~ Robert Louis Stevenson.
Something deep in the human heart breaks at the thought of a life of mediocrity. ~ C. S. Lewis.
Remember that not getting what you want is sometimes a wonderful stroke of luck. ~ Dalai Lama.
The fullness of life is only accessible in the present moment. ~ Eckhart Tolle.
Every life has forks in the road. And sometimes, the tines of that fork stab deep. ~ Brad Meltzer.
Don't try to force anything. Let life be a deep let go. ~ Eileen Caddy.
Challenges are what make life interesting. Overcoming them is what makes life meaningful. ~ Joshua J. Marine.
Dead people receive more flowers than the living ones because regret is stronger than gratitude. ~ Anne Frank.
Lies hurt people; imagination makes life more fun. ~ Dean Koontz.
We ask for long life, but 'tis deep life, or noble moments that signify. Let the measure of time be spiritual, not mechanical. ~ Ralph Waldo Emerson.
Our greatest achievement in life is being happy with the little things that probably means nothing to others. ~ Hermann J Steinherr.
Life is not a problem to be solved, but a reality to be experienced. ~ Soren Kierkegaard.
Not how long, but how well you have lived is the main thing. ~ Seneca.
Good friends help you to find important things when you have lost them…your smile, your hope, and your courage. ~ Doe Zantamata.
The more I see the less I know for sure. ~ John Lennon.
As I look back on my life, I realize that every time I thought I was being rejected from something good, I was actually being redirected to something better. ~ Steve Maraboli.
You are only as free as you think you are and freedom will always be as real as you believe it to be. ~ Robert M. Drake.
You know you're in love when you can't fall asleep because reality is finally better than your dreams. ~ Dr. Seuss.
The greatest danger for most of us is not that our aim is too high and we miss it but that it is too low and we reach it. ~ Michel Angelo.
The big lesson in life, baby, is never be scared of anyone or anything. ~ Frank Sinatra.
Short Deep Life Quotes
Be happy for this moment. This moment is your life. ~ Omar Khayyam.
You can't depend on your eyes when your imagination is out of focus. ~ Mark Twain.
In order to write about life first you must live it. ~ Ernest Hemingway.
Life is savagely unfair. It ignores our deep seated convictions and places a disproportionate emphasis on the decisions we make in split seconds. ~ Chris Cleave.
One day your life will flash before your eyes. Make sure it's worth watching. ~ Gerard Way.
Life is a mystery as deep as ever death can be. ~ Mary Mapes Dodge.
It is better to have a meaningful life and make a difference than to merely have a long life. ~ Bryant H. McGill.
---
So these were the 105 quotes about Deep Life.
If these quotes and sayings connect with you, check out our other posts on deep love quotes and life goes on quotes.
---
References and Sources: