Edmonia Lewis was an American sculptor who is also known as "Wildfire".
---
Best Edmonia Lewis Quotes
How strange the Great Spirit has led me on without father or mother. ~ Edmonia Lewis.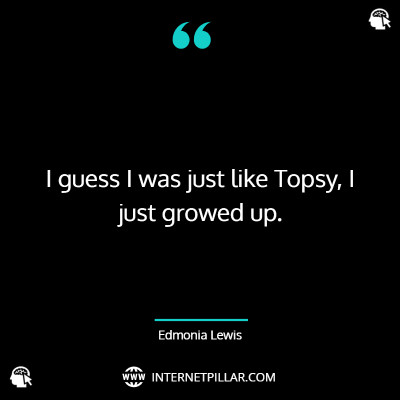 I guess I was just like Topsy, I just growed up. ~ Edmonia Lewis.
I shall never live in America. ~ Edmonia Lewis.
My features I take from my father, but my spirit, my industry and perseverance I get from my Indian mother. ~ Edmonia Lewis.
My first thought was for my poor father's people, how I could do them good in a very small way. ~ Edmonia Lewis.
I have a strong sympathy for all women who have struggled and suffered. For this reason the Virgin Mary is very dear to me. ~ Edmonia Lewis.
I was delighted to learn – very eager. I had never learned anything. ~ Edmonia Lewis.
Until I was twelve years old, I led this wandering life, fishing, swimming, and making moccasins. ~ Edmonia Lewis.
Famous Edmonia Lewis Quotes
It would have done your heart good to see what a friendly welcome I received … How much I have thought about that encouraging reception. It is a great example for the US Government to follow in her treatment of a poor people struggling to rise out of degradation. ~ Edmonia Lewis.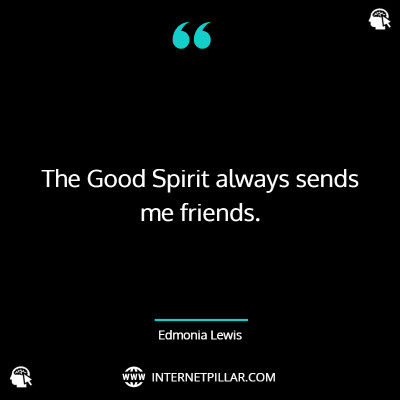 The Good Spirit always sends me friends. ~ Edmonia Lewis.
I know praise is not good for me. Some praise me because I am a colored girl, and I don't want that kind of praise. I had rather you would point out my defects, for that will teach me something. ~ Edmonia Lewis.
On surviving cholera: I kept up my pluck with a bible and brandy bottle beside my bed, so that if one gave out she might take to the other. ~ Edmonia Lewis.
One day, I saw a statue of Benjamin Franklin, and I said to myself, 'I can do that kind of work, too.' ~ Edmonia Lewis.
Top Edmonia Lewis Quotes
No, I have not a drop of what they call white blood in my veins. My father was a full blooded Negro, and my mother was a full blooded Chippewa. ~ Edmonia Lewis.
Today is pay-day and pay-day is always an unpleasant time … we must sell our work if we want to live. ~ Edmonia Lewis.
Americans are a queer people. Don't you think a lady – a rich lady, too – came to me and said 'Miss Lewis, that is a very beautiful statue, but don't you think it would have been more proper to drape it? Clothing is necessary to Christian art.' ~ Edmonia Lewis.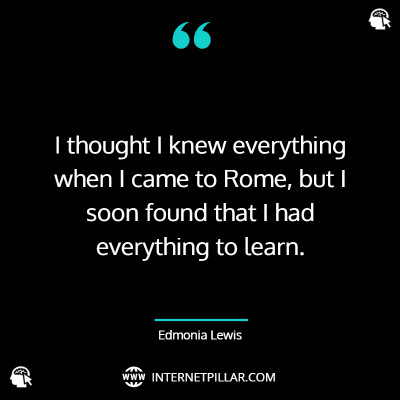 I thought I knew everything when I came to Rome, but I soon found that I had everything to learn. ~ Edmonia Lewis.
I am going back to Italy to do something for the race – something that will excite the admiration of the other races of the earth. ~ Edmonia Lewis.
Sometimes the times were dark and the outlook was lonesome, but where there is a will, there is a way. I pitched in and dug at my work until now I am where I am. It was hard work though, but with color and sex against me, I have achieved success. That is what I tell my people whenever I meet them, that they must not be discouraged, but work ahead until the world is bound to respect them for what they have accomplished. ~ Edmonia Lewis.
When questioned how she became an artist, she replied: well, it was a strange selection for a poor girl to make, wasn't it? I suppose it was in me … I became almost crazy to make something like the thing which fascinated me. ~ Edmonia Lewis.
Popular Edmonia Lewis Quotes
I responded, 'Madame, that is not modesty in you. That is worse than mock modesty. You see and think only of evil not intended. Your mind, Madame, is not as pure, I fear, as my statue.' ~ Edmonia Lewis.
There is nothing so beautiful as the free forest. To catch a fish when you are hungry, cut the boughs of a tree, make fire to roast it, and eat it in the open air, is the greatest of all luxuries. I would not stay a week pent up in cities, if it were not for my passion for Art. ~ Edmonia Lewis.
I was practically driven to Rome in order to obtain the opportunities for art culture, and to find a social atmosphere where I was not constantly reminded of my color. The land of liberty had not room for a colored sculptor. ~ Edmonia Lewis.
I was … declared to be wild – they could do nothing with me. Often they said to me, 'Here is your book, the book of Nature; come and study it.' ~ Edmonia Lewis.
I never hear of [racist snipes in Rome]. Why, I am invited everywhere, and am treated just as nicely as if the bluest of blue blood flowed through my veins. I number among my patrons the Marquis of Bute, Lady Ashburton and other members of the nobility. ~ Edmonia Lewis.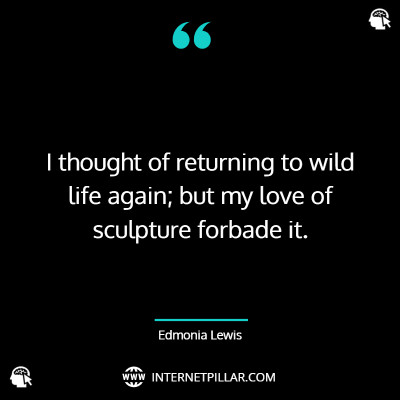 I thought of returning to wild life again; but my love of sculpture forbade it. ~ Edmonia Lewis.
My mother was a wild Indian, and was born in Albany, of copper colour, and with straight, black hair. There she made and sold moccasins. My father, who was a negro, and a gentleman's servant, saw her and married her. ~ Edmonia Lewis.
I felt the strangest sensations in putting on dresses. I had never worn anything but blankets. (Laughing) You see I had good opportunities for studying the nude. ~ Edmonia Lewis.
---
So these were the 28 top quotes about Edmonia Lewis.
If you like these quotes and sayings, then you can also read my other posts on Maria Tallchief quotes and Columbus Day quotes.