The End of Summer is the time when the summer season comes to an end. 
This occurs as the days begin to become shorter and the temperature begins to drop.
Typically, people associate the end of summer with returning to school and beginning the preparations for winter.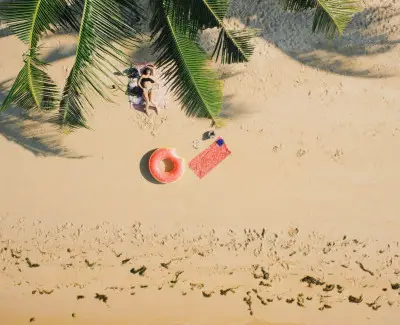 ---
Best End of Summer Quotes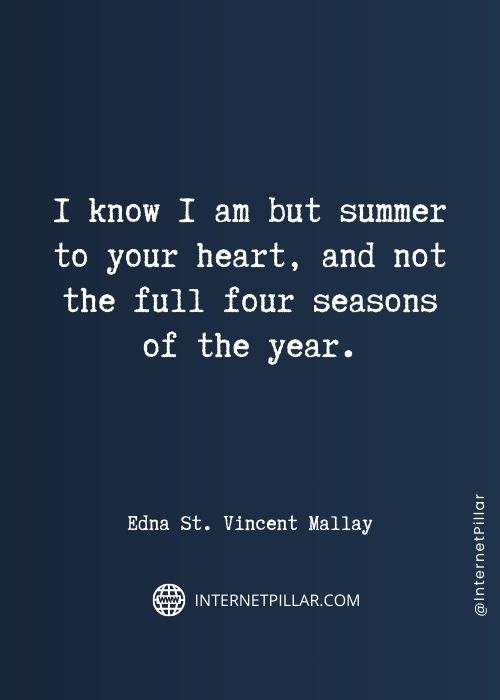 I know I am but summer to your heart, and not the full four seasons of the year. ~ Edna St. Vincent Mallay .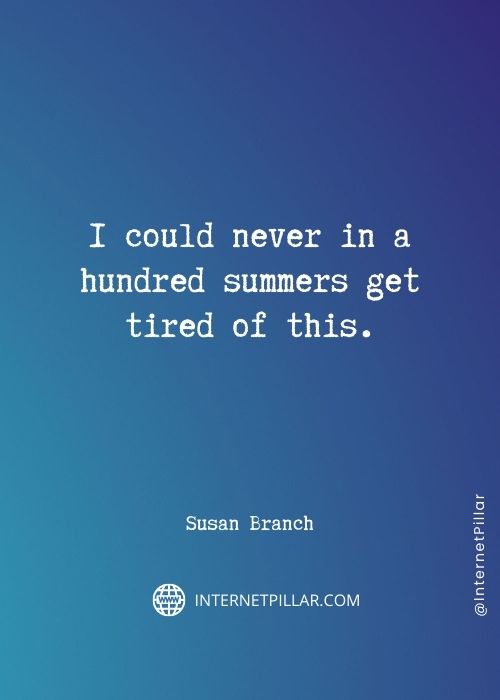 I could never in a hundred summers get tired of this. ~ Susan Branch.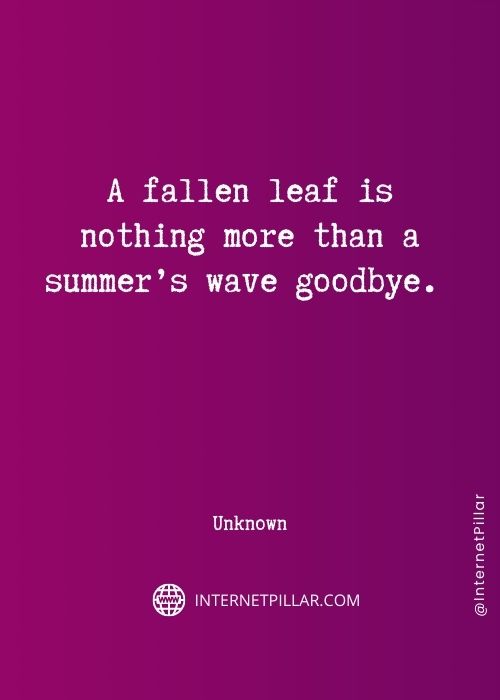 A fallen leaf is nothing more than a summer's wave goodbye. ~ Unknown.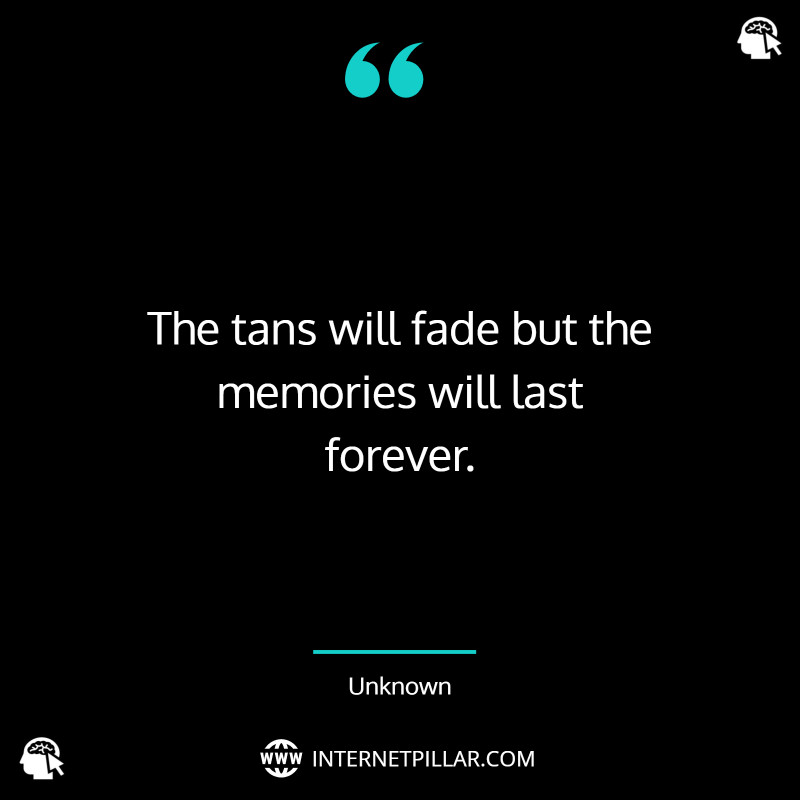 The tans will fade but the memories will last forever. ~ Unknown.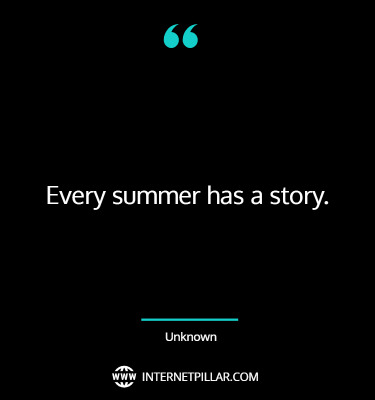 Every summer has a story. ~ Unknown.
Summertime. It was a song. It was a season. I wondered if that season would ever live inside of me. ~ Benjamin Alire Sáenz.
Summer has always been good to me, even the bittersweet end, with the slanted yellow light. ~ Paul Monette.
Deep summer is when laziness finds respectability. ~ Sam Keen.
Summer is singing with joy, and the beaches are inviting you with dancing waves. ~ Debasish Mridha.
Summer afternoon – summer afternoon; to me those have always been the two most beautiful words in the English language. ~ Henry James.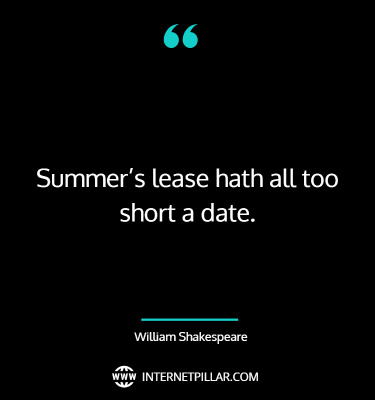 Summer's lease hath all too short a date. ~ William Shakespeare.
With all these lovely tokens of September days are here, with summers best of weather and the autumns best of cheer. ~ Helen Hunt Jackson.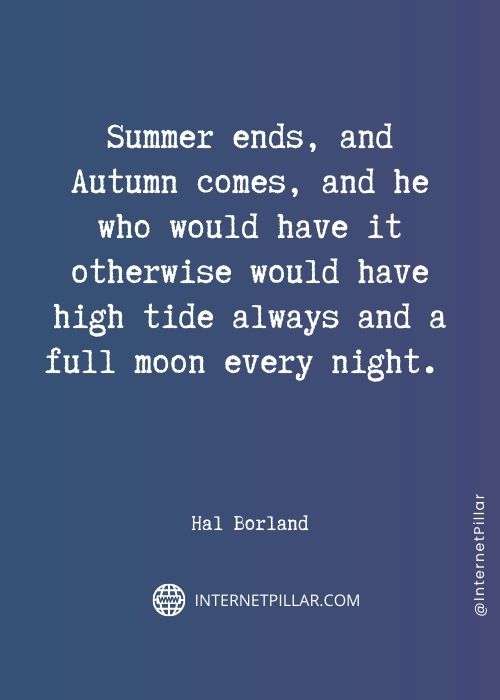 Summer ends, and Autumn comes, and he who would have it otherwise would have high tide always and a full moon every night. ~ Hal Borland.
People take pictures of the Summer, just in case someone thought they had missed it, and to proved that it really existed. ~ Ray Davies.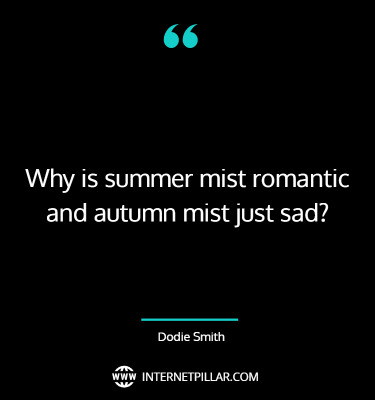 Why is summer mist romantic and autumn mist just sad? ~ Dodie Smith.
When summer gathers up her robes of glory, and like a dream of beauty glides away. ~ Sarah Helen Whitman.
Top End of Summer Quotes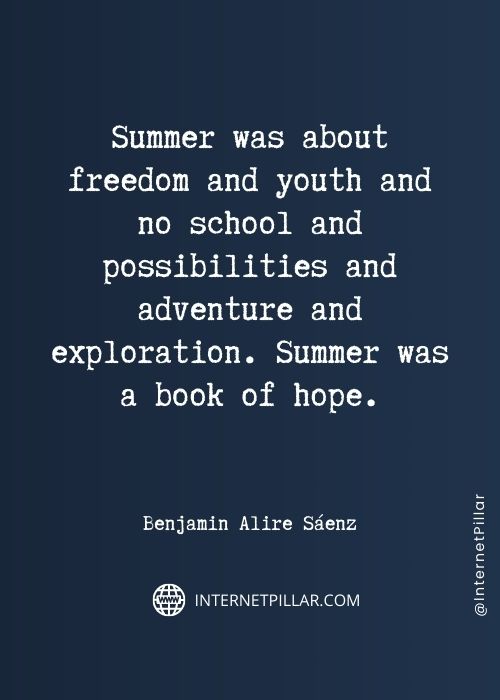 Summer was about freedom and youth and no school and possibilities and adventure and exploration. Summer was a book of hope. ~ Benjamin Alire Sáenz
It is the glistening autumnal side of summer. I feel a cool vein in the breeze, which braces my thought, and I pass with pleasure over sheltered and sunny portions of the sand where the summer's heat is undiminished, and I realize what a friend I am losing. ~ Henry David Thoreau.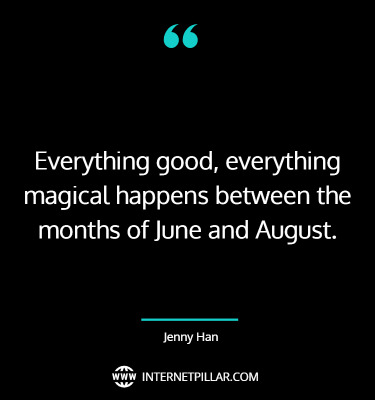 Everything good, everything magical happens between the months of June and August. ~ Jenny Han.
It was June, and the world smelled of roses. The sunshine was like powdered gold over the grassy hillside. ~ Maud Hart Lovelace.
August rain: the best of the summer gone, and the new fall not yet born. The odd uneven time. ~ Slyvia Plath.
If it could only be like this always – always summer, always alone, the fruit always ripe. ~ Evelyn Waugh.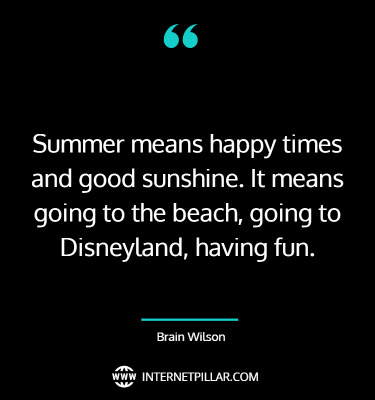 Summer means happy times and good sunshine. It means going to the beach, going to Disneyland, having fun. ~ Brain Wilson.
It was a queer, sultry summer, the summer they electrocuted the Rosenbergs, and I didn't know what I was doing in New York. ~ Sylvia Plath.
Inspiring End of Summer Quotes
The end-of-summer winds make people restless. ~ Sebastian Faulks.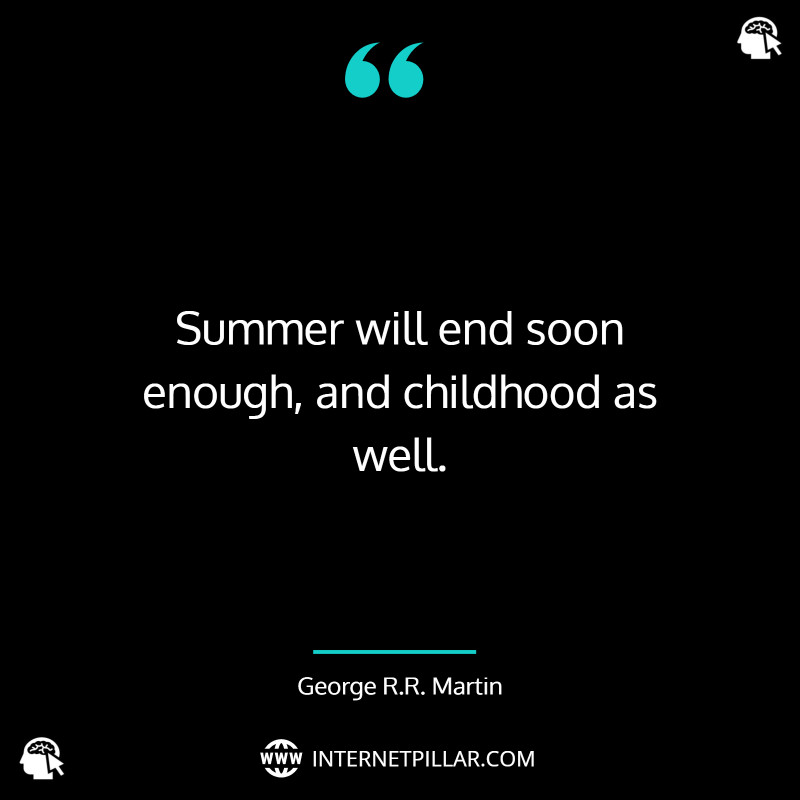 Summer will end soon enough, and childhood as well. ~ George R.R. Martin.
The morning had dawned clear and cold, with a crispness that hinted at the end of summer. ~ George R.R. Martin.
In summer, the song sings itself. ~ William Carlos Williams.
Here is the ghost of summer that lived for us. Here is a promise of summer to be. ~ William E. Henley.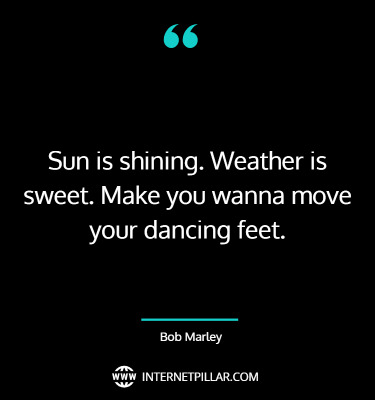 Sun is shining. Weather is sweet. Make you wanna move your dancing feet. ~ Bob Marley.
September was a thirty-days long goodbye to summer, to the season that left everybody both happy and weary of the warm, humid weather and the exhausting but thrilling adventures. ~ Lea Malot.
We need society, and we need solitude also, as we need summer and winter, day and night, exercise and rest. ~ Philip Gilbert Hamerton.
Famous End of Summer Quotes
A perfect summer day is when the sun is shining, the breeze is blowing, the birds are singing, and the lawnmower is broken. ~ James Dent.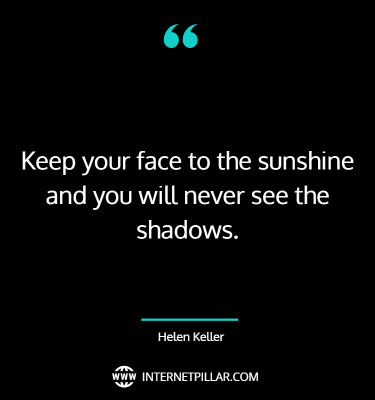 Keep your face to the sunshine and you will never see the shadows. ~ Helen Keller.
It's always summer somewhere. ~ Lily Pulitzer.
Summer passes and one remembers one's exuberance. ~ Yoko Ono.
What good is the warmth of summer, without the cold of winter to give it sweetness. ~ John Steinbeck.
One benefit of summer was that each day we had more light to read by. ~ Jeannette Walls.
To say it was a beautiful day would not begin to explain it. It was that day when the end of summer intersects perfectly with the start of fall. ~ Ann Patchett.
August has passed, and yet summer continues by force to grow. They sprout secretly between the chapters of the year, covertly included between its pages. ~ Jonathan Safran Foer.
Inspirational End of Summer Quotes
Summer should get a speeding ticket ~ goes by way too fast! ~ Anonymous.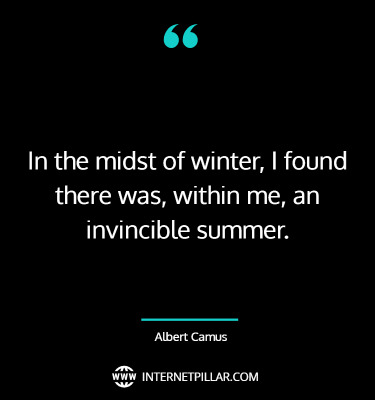 In the midst of winter, I found there was, within me, an invincible summer. ~ Albert Camus.
The summer night is like a perfection of thought. ~ Wallace Stevens.
Watching the summer close is like watching a good kid die for no apparent reason. ~ Darnell Lamont Walker.
Do what we can, summer will have its flies. ~ Ralph Waldo Emerson.
Summer bachelors like summer breezes, are never as cool as they pretend to be. ~ Nora Ephron.
It is easy to forget now, how effervescent and free we all felt that summer. ~ Anna Godbersen.
Popular End of Summer Quotes
One must maintain a little bit of summer, even in the middle of winter. ~ Henry David Thoreau.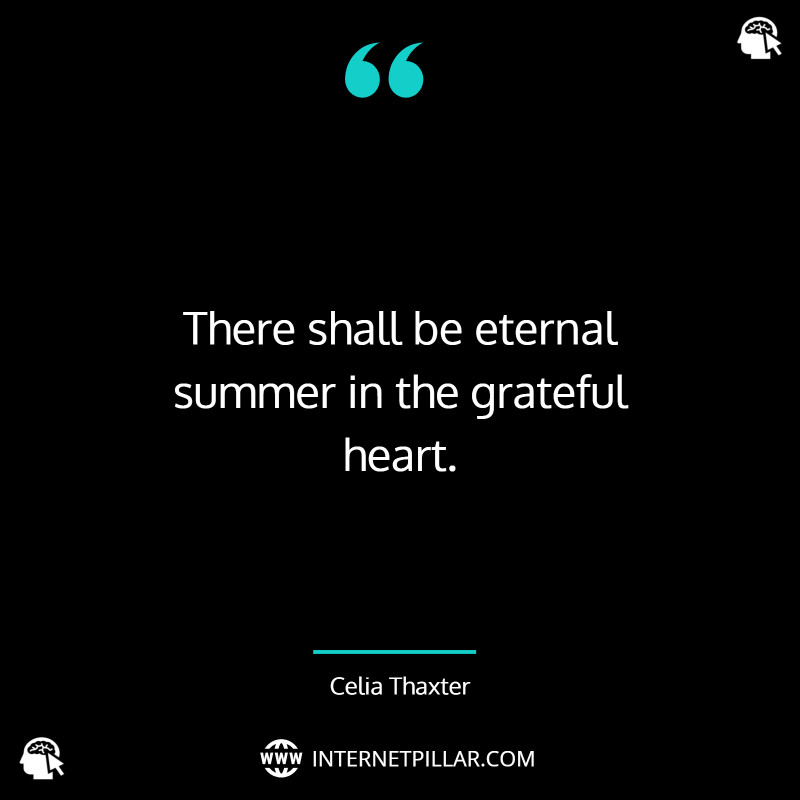 There shall be eternal summer in the grateful heart. ~ Celia Thaxter.
Summer afternoon – summer afternoon; to me those have always been the two most beautiful words in the English language. ~ Henry James.
People don't notice whether it's winter or summer when they're happy. ~ Anton Chekhov.
Sweet, sweet burn of sun and summer wind, and you my friend, my new fun thing, my summer fling. ~ K.D. Lang.
New beginnings are often disguised as painful endings. ~ Lao Tzu.
Summer friends will melt away like summer snows, but winter friends are friends forever. ~ G.R.R. Martin.
---
So these were the 55 top End of Summer quotes to close out the season away.
If you like these quotes and sayings, then you can also read my other posts on wildflower quotes and Pisces quotes.