The "83 Food Quotes That All Foodies Will Love" emphasize the universal love for food, not just in its consumption, but also in its creation and representation.
These food quotes serve as a reminder that life is fleeting and should be enjoyed through great food.
This post stresses the importance of dietary nutrients, which foster growth, physical activity and overall health, illustrating food's critical role in sustaining life and offering energy.
Beyond the physical benefits, food also provides emotional comfort, making these quotes perfect for sharing with loved ones across various social media platforms, including Pinterest, Facebook, Twitter and Instagram.
---
Best Food Quotes
There is no sincerer love than the love of food. ~ George Bernard Shaw.
Food is symbolic of love when words are inadequate. ~ Alan D. Wolfelt.
I'm pretty sure that eating chocolate keeps wrinkles away because I have never seen a 1 year old with a Hershey bar and crows feet. ~ Amy Neftzger.
Life is uncertain. Eat dessert first. ~ Ernestine Ulmer.
Tell me what you eat, and I will tell you what you are. ~ Anthelme Brillat-Savarin.
We all eat, and it would be a sad waste of opportunity to eat badly. ~ Anna Thomas.
A recipe has no soul. You, as the cook, must bring soul to the recipe. ~ Thomas Keller.
After a good dinner one can forgive anybody, even one's own relatives. ~ Oscar Wilde.
Rice is born in water and must die in wine. ~ Italian Proverb.
Only dull people are brilliant at breakfast. ~ Oscar Wilde.
No man is lonely eating spaghetti; it requires so much attention. ~ Christopher Morley.
Soup is just a way of screwing you out of a meal. ~ Jay Leno.
One cannot think well, love well and sleep well if one has not dined well. ~ Virginia Woolf.
Music with dinner is an insult both to the cook and the violinist. ~ G. K. Chesterton.
Famous Food Quotes
Don't dig your grave with your own knife and fork. ~ English Proverb.
Life is a combination of magic and pasta. ~ Federico Fellini.
The onion is the truffle of the poor. ~ Robert J. Courtine.
I cook with wine. Sometimes I even add it to the food. ~ W.C. Fields.
To eat is a necessity, but to eat intelligently is an art. ~ François de la Rochefoucauld.
The only time to eat diet food is while you're waiting for the steak to cook. ~ Julia Child.
All you need is love. But a little chocolate now and then doesn't hurt. ~ Charles M. Schulz.
If your mother cooks Italian food, why should you go to a restaurant? ~ Martin Scorcese.
Training is everything. The peach was once a bitter almond; cauliflower is nothing but cabbage with a college education. ~ Mark Twain.
Popcorn for breakfast! Why not? It's a grain. It's like, like, grits, but with high self-esteem. ~ James Patterson.
People who love to eat are always the best people. ~ Julia Child.
A gourmet who thinks of calories is like a tart who looks at her watch. ~ James Beard.
I could talk food all day. I love good food. ~ Tom Brady.
Vegetables are a must on a diet. I suggest carrot cake, zucchini bread, and pumpkin pie. ~Jim Davis.
The sweetest honey Is loathsome in his own deliciousness And in the taste confounds the appetite. ~ William Shakespeare.
Let food be thy medicine and medicine be thy food. ~ Hippocrates.
If more of us valued food and cheer and song above hoarded gold, it would be a merrier world. ~ J.R.R. Tolkien.
Related Quotes: Healthy Eating Quotes to Motivate You To Eat Better and Nutrition Quotes on Health and Healthy Eating
Popular Food Quotes
Laughter is brightest in the place where the food is. ~ Irish Proverb.
Life expectancy would grow by leaps and bounds if green vegetables smelled as good as bacon. ~ Doug Larson.
You don't need a silver fork to eat good food. ~ Paul Prudhomme.
The chief pleasure in eating does not consist in costly seasoning, or exquisite flavor, but in yourself. ~ Horace.
Never eat more than you can lift. ~ Miss Piggy.
My weaknesses have always been food and men – in that order. ~ Dolly Parton.
Everything you see I owe to spaghetti. ~ Sophia Loren.
The only thing I like better than talking about Food is eating. ~ John Walters.
Food is the most primitive form of comfort. ~ Sheila Graham.
If you really want to make a friend, go to someone's house and eat with him – the people who give you their food give you their heart. ~ Cesar Chavez.
We are living in a world today where lemonade is made from artificial flavors and furniture polish is made from real lemons. ~ Alfred E. Newman.
When baking, follow directions. When cooking, go by your own taste. ~ Laiko Bahrs.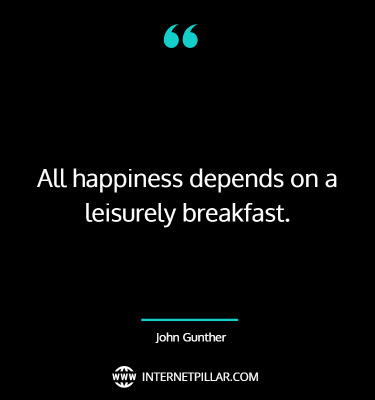 All happiness depends on a leisurely breakfast. ~ John Gunther.
You can tell a lot about a fellow's character by his way of eating jellybeans. ~ Ronald Reagan.
Pull up a chair. Take a taste. Come join us. Life is so endlessly delicious. ~ Ruth Reichl.
An onion can make people cry, but there has never been a vegetable invented to make them laugh. ~ Will Rogers.
Top Food Quotes
People want honest, flavourful food, not some show-off meal that takes days to prepare. ~ Ted Allen.
Food is the moral right of all who are born into this world. ~ Norman Borlaug.
Food is not rational. Food is culture, habit, craving, and identity. ~ Jonathan Sofran Foer.
He who eats alone chokes alone. ~ Arabian Proverb.
The best comfort food will always be greens, cornbread, and fried chicken. ~ Maya Angelou.
One of the very nicest things about life is the way we must regularly stop whatever it is we are doing and devote our attention to eating. ~ Luciano Pavarotti.
Food is symbolic of love when words are inadequate. ~ Alan D. Wolfet.
Cheese is milk's leap toward immortality. ~ Clifton Fadiman.
To eat is to appropriate by destruction. ~ Jean-Paul Sartre.
Food for the body is not enough. There must be food for the soul. ~ Dorothy Day.
If there were only turnips and potatoes in the world, someone would complain that plants grow the wrong way. ~ Georg C. Lichtenberg.
Food is our common ground, a universal experience. ~ James Beard.
Eat breakfast like a king, lunch like a prince, and dinner like a pauper. ~ Adelle Davis.
Food brings people together on many different levels. It's nourishment of the soul and body; it's truly love. ~ Giada De Laurentiis.
Food is like sex: When you abstain, even the worst stuff begins to look good. ~ Beth McCollister.
A little chocolate a day keeps the doctor at bay. ~ Marcia Carrington.
There are people in the world so hungry, that God cannot appear to them except in the form of bread. ~ Mahatma Gandhi.
Inspiring Food Quotes
Good bread is the most fundamentally satisfying of all foods; good bread with fresh butter, the greatest of feasts! ~ James Beard.
I like food. I like eating. And I don't want to deprive myself of good food. ~ Sarah Michelle Gellar.
Vegetables are food of the earth, but fruits taste of the heavens. ~ Terri Guillemets.
If we're not willing to settle for junk living, we certainly shouldn't settle for junk food. ~ Sally Edwards.
Cooking is like love. It should be entered into with abandon or not at all. ~ Harriet Van Horne.
The way you make an omelet reveals your character. ~ Anthony Bourdain.
Condensed milk is wonderful. I don't see how they can get a cow to sit down on those little cans. ~ Fred Allen.
Animals feed; man eats; only a man of wit knows how to eat. ~ Jean Anthelme.
He who does not mind his belly, will hardly mind anything else. ~ Samuel Johnson.
If soup isn't hot enough to make a grown man wince, it's undrinkable. ~ Terri Guillemets.
When a man's stomach is full it makes no difference whether he is rich or poor. ~ Euripides.
We don't get fat because we overeat; we overeat because we're getting fat. ~ Gary Taubes.
It's difficult to think anything but pleasant thoughts while eating a homegrown tomato. ~ Lewis Grizzard.
You can't just eat good food. You've got to talk about it too. And you've got to talk about it to somebody who understands that kind of food. ~ Kurt Vonnegut.
Food is your body's fuel. Without fuel, your body wants to shut down. ~ Ken Hill.
I know once people get connected to real food, they never change back. ~ Alice Waters.
First we eat, then we do everything else. ~ M.F.K. Fisher.
The secret of success in life is to eat what you like and let the food fight it out inside. ~ Mark Twain.
---
So these were the 83 quotes about Food.
If these quotes and sayings connect with you, check out our other posts on disappointment quotes and gossip quotes.