When you "go with the flow," you don't think for yourself; instead, you do what's convenient or accepted.
"Going with the flow" is an idiom that emphasizes adaptability, acceptance and flexibility in the face of life's unpredictable changes.
It recognizes the importance of being able to bend and adapt to situations, rather than rigidly trying to control or alter them.
This ability to go with the flow can sometimes be more beneficial than a strict determination to achieve goals, as it keeps one on track and prevents situations from breaking down.
A collection of inspiring quotes about going with the flow highlights the wisdom of understanding when to show courage and when to be gentle and receptive.
This philosophy encourages embracing life as it comes and letting go of fear of the unknown, promoting a stress-free enjoyment of life.
Though determination and goal-setting are vital, the complementary ability to go with the flow ensures balance, resilience and long-term success.
Let's get started with go with the flow quotes.
---
Best Go with the Flow Quotes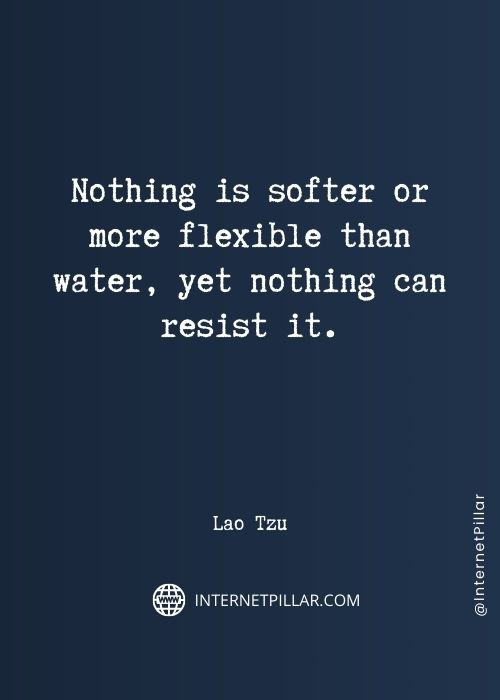 Nothing is softer or more flexible than water, yet nothing can resist it. ~ Lao Tzu.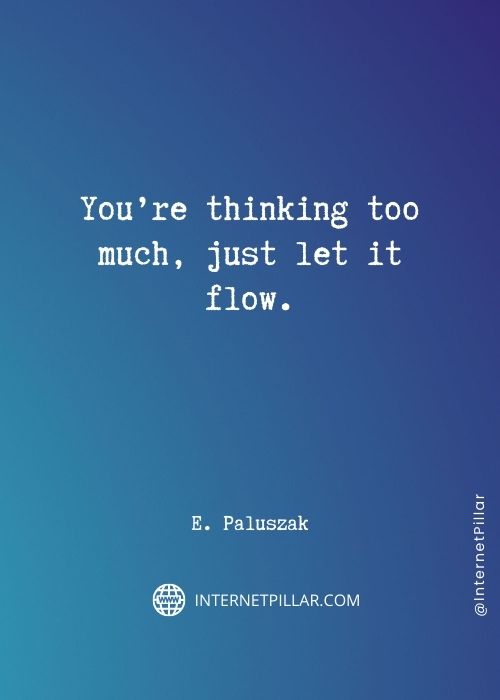 You're thinking too much, just let it flow. – E. Paluszak.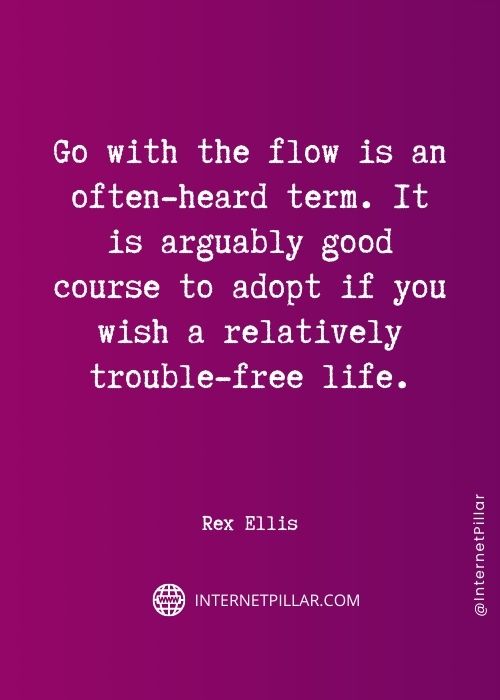 Go with the flow is an often-heard term. It is arguably good course to adopt if you wish a relatively trouble-free life. ~ Rex Ellis.
Don't go through life, grow through life. ~ Eric Butterworth.
Some cause happiness wherever they go; others whenever they go. ~ Oscar Wilde.
Give fear no hold on you. Keep sinews loose and senses open, ready at every instant to flow with the rush of action. ~ Poul Anderson.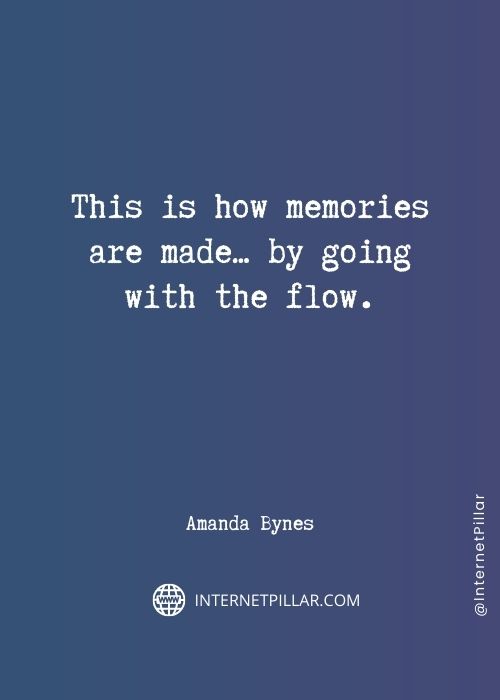 This is how memories are made… by going with the flow. ~ Amanda Bynes.
You come into the world alone and you go out of the world alone yet it seems to me you are more alone while living than even going and coming. ~ Emily Carr.
Let things flow naturally forward in whatever way they like. ~ Laozi.
Don't ever go with the flow. Be the flow. ~ Jay-Z.
Famous Go with the Flow Quotes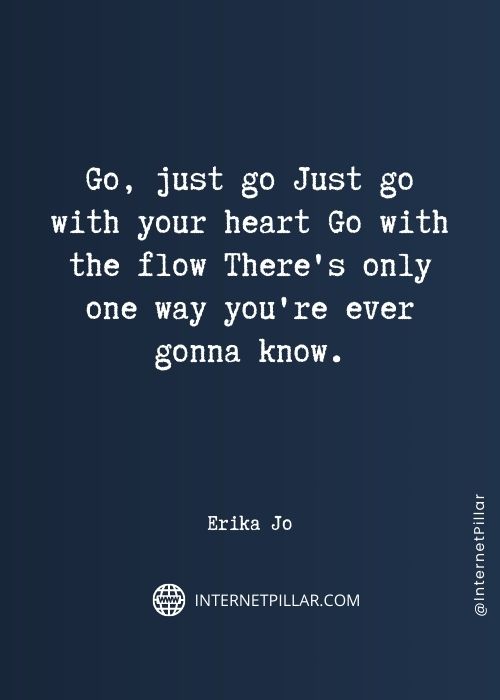 Go, just go Just go with your heart Go with the flow There's only one way you're ever gonna know. ~ Erika Jo.
Your flow is as tangible and real as any locomotive, and just as powerful. ~ Robert Genn.
Human behavior flows from three main sources: desire, emotion, and knowledge. ~ Plato.
Be still like a mountain and flow like a great river. ~ Lao Tzu.
If you want to conquer fear, don't sit home and think about it. Go out and get busy. ~ Dale Carnegie.
I like going with the flow. ~ Jim Sarbh.
The more you go with the flow of life and surrender the outcome to God, and the less you seek constant clarity, the more you will find that fabulous things start to show up in your life. ~ Mandy Hale.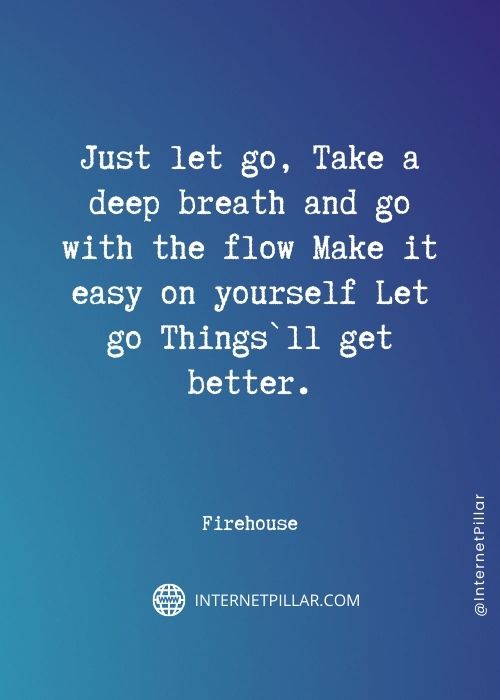 Just let go, Take a deep breath and go with the flow Make it easy on yourself Let go Things`ll get better. ~ Firehouse.
Popular Go with the Flow Quotes
It is not the strongest person who wins in life, but it is the most nimble, flexible, and adaptive person who wins in life. ~ Debasish Mridh.
Do not go with the flow. Be the flow. ~ Elif Shafak.
Life is so much easier when I allow myself to be myself and go with the flow. ~ Taylor Schilling.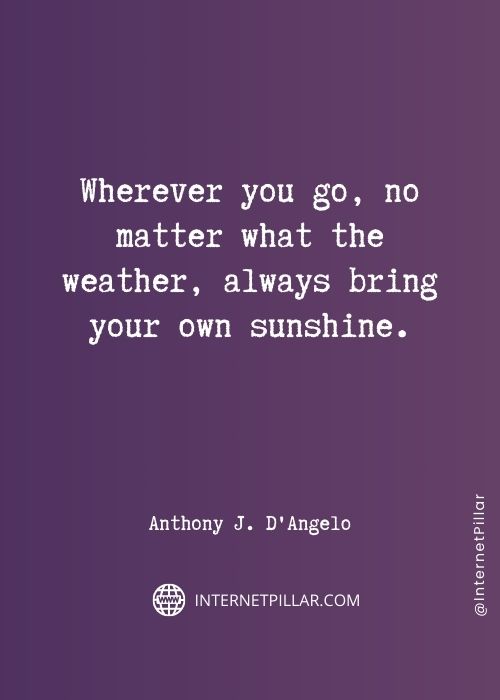 Wherever you go, no matter what the weather, always bring your own sunshine. ~ Anthony J. D'Angelo.
Water flows because it's willing. ~ Marty Rubin.
Even a dead fish can go with the flow. ~ Jim Hightower.
The opposite for courage is not cowardice, it is conformity. Even a dead fish can go with the flow. ~ Jim Hightower.
If they don't chase you when you walk away keep walking. ~ Anonymous.
We must let go of the life we have planned, so as to accept the one that is waiting for us. ~ Joseph Campbell.
Surrender to the flow. ~ Mike Gordon.
Going with the flow is soothing but risky. ~ Jenny Holzer.
Flow doesn't come to those who try to do things well, it comes to those who try to do things freely. ~ Barry Michaels.
Top Go with the Flow Quotes
Waking up to visions of where you think you'll We know there is nothing on your mind Go, go lets go with the flow Leave your inhibitions. ~ Afrodyty.
Better just go with the flow. Last thing that we should do is go slow. I'm thinking we should ride. ~ Lurk.
The woods are lovely, dark and deep. But I have promises to keep, and miles to go before I sleep. ~ Robert Frost.
No doubts, no expectations. just go with the flow and everything will work itself out. ~ Anonymous.
The river makes the water flow. That's how I live. I just let everything flow. Flow with the river. ~ Vitor Belfort.
If you don't know what you want, you will probably never get it. ~ Oliver Wendell Holmes Jr.
Flow with whatever is happening and let your mind be free. Stay centered by accepting whatever you are doing. This is the ultimate. ~ Chuang Tzu.
Move with the flow. Don't fight the current. Resist nothing. Let life carry you. Don't try to carry it. ~ Oprah Winfrey.
Going with the flow is for some people an excuse for not taking action and it refers usually to one's life situation. ~ Eckhart Tolle.
Everything flows and nothing abides, everything gives way and nothing stays fixed. ~ Heraclitus.
Short Go with the Flow Quotes
You never let a serious crisis go to waste. And what I mean by that it's an opportunity to do things you think you could not do before. ~ Rahm Emanuel.
The more in harmony you are with the flow of your own existence, the more magical life becomes. ~ Adyashanti.
just go with the flow We've been working all week Tomorrow doesn't matter When you're moving your feet It's all about tonight. ~ Pixie Lott.
One who can learn to flow with the current as well as manage the current is the successful one. ~ Sri Sri Ravi Shankar.
It doesn't matter where you are coming from. All that matters is where you are going. ~ Brian Tracy.
There is no past, no future; everything flows in an eternal present. ~ James Joyce.
Everything is in motion. Everything flows. Everything is vibrating. ~ William Hazlitt.
They say, timing is everything. But then they say, there is never a perfect time for anything. ~ Anthony Liccione.
---
So these were the 47 quotes about Go with the Flow.
If these quotes and sayings connect with you, check out our other posts on unity quotes and losing quotes.