"Grinding" is an expression used to describe the unwavering pursuit of one's objectives via hard labor and tenacity.
In this article, we have chosen a collection of grind quotes meant to rekindle your inner fire and renew your drive.
It's amazing how a little shift in viewpoint can rekindle our motivation, spurring us on after failures or when we're feeling overwhelmed.
---
Table of Contents
Grind Quotes
If it's one thing I know well is how to get my grind on. ~ Wiz Khalifa.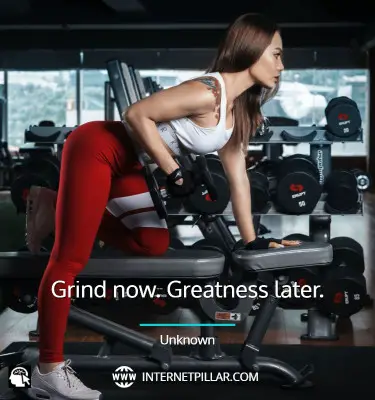 Grind now. Greatness later. ~ Unknown Author.
Keep grinding, stay hustling. Never say never. ~ Unknown Author.
It takes time, it's a grind. There are no shortcuts. You've got to grind and grind. ~ Mark Cuban.
When you find your why, you find a way to make it happen. ~ Eric Thomas.
Grind in silence and let your achievements make the noise. ~ Unknown Author.
Someone busier than you is grinding right now. ~ Unknown Author.
If you're still broke, the grind includes Sunday! ~ Unknown Author.
For me, the main thing is to continue to work, continue to grind on everything, and stay focused. ~ Trevor Ariza.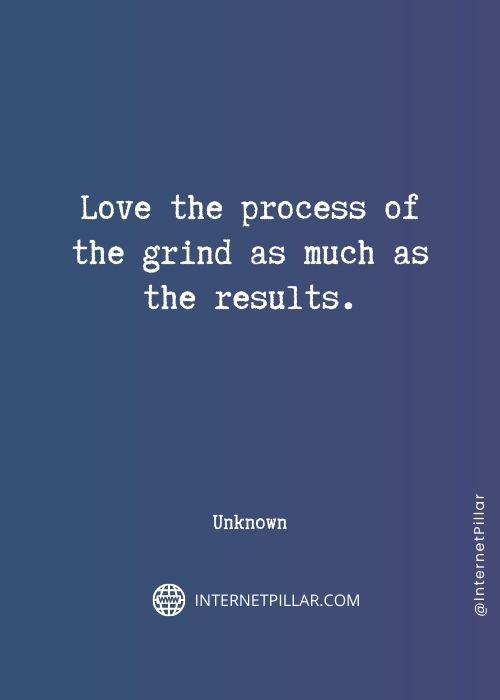 Love the process of the grind as much as the results. ~ Unknown Author.
Greatness only comes before 'grind' in the dictionary. ~ Unknown Author.
Related Quotes: 123 Famous Hard Work Quotes To Succeed In Life & Business and 127 Best Self Improvement Quotes on Personal Growth and Progress
Motivational Grind Quotes
Before we too can move mountains, we must learn to walk the daily grind – one quiet step at a time. ~ Sebastian Richard.
Anything lost can be found again, except for time wasted. A vision without action is merely a dream. Action – it's the grind, it's the hustle, it's the persistence. ~ Kevin Gates.
Don't expect people to understand your grind when God did not give them your vision. ~ Unknown Author.
I like to grind and not think too much about the good stuff. I like to focus on the stuff I need to get better at. ~ Khalil Mack.
Some people dream of success while others wake up and work hard at it. ~ Napoleon Hill.
When you're in the day-to-day grind, it just seems like it's another step along the way. But I find joy in the actual process, the journey, the work. It's not the end. It's not the end event. ~ Cal Ripken, Jr.
Nothing can substitute for just plain hard work. I had to put in the time to get back. And it was a grind. It meant training and sweating every day. But I was completely committed to working out to prove to myself that I still could do it. ~ Andre Agassi.
Best Grind Quotes
There may be people that have more talent than you, but there's no excuse for anyone to work harder than you. ~ Derek Jeter.
Hustle. Grind. Integrity. ~ Stephanie Lahart.
Maybe the cure for any burnout is to work harder. ~ Phil Knight.
What makes you grind? You have to always be chasing something. ~ Unknown Author.
Rise and grind! Hard work beats talent when talent doesn't work hard. ~ Unknown Author.
Grind while they sleep. Learn while they party. Live as they dream. ~ Unknown Author.
People just see the shine. They don't see the grind. ~ Kodak Black.
You have to stay focused and be mentally tough. That's what I've really learned – every day is a grind, and you have to go hard. ~ Chris Gronkowski.
Famous Grind Quotes
Separate the body from the mind and grind, grind, grind. ~ Rachel Wolchin.
It's not a question of how much work it will take, how much suffering will be involved, or how fast the results will come. It's about committing to the grind every day. ~ Ben Bergeron.
I've got a dream that is worth more than my sleep. ~ Eric Thomas.
The grind never ends. ~ Danny Amendola.
Every morning starts a new page in your morning. Make it a great one today. ~ Doe Zantamanta.
The world is yours and everything in it. It's out there. Get on your grind and get it. ~ Young Jeezy.
My daily conversation, it consists of hustle – grinding from the bottom sick and tired of the struggle. ~ Kevin Gates.
To all the women who are working long hours, tired nights, and early mornings, your grind is precious. Stay hustling. ~ Unknown Author.
You constantly have to grind – work harder than anyone else. ~ Adam Thielen.
Sunflowers end up facing the sun, but they go through a lot of dirt to find their way there. ~ J.R. Rim.
Monday Motivational Grind Quotes
My confidence comes from the daily grind – training my butt off day in and day out. ~ Hope Solo.
Grind until you get it no matter what the haters say and never look back. Keep striving 'cause it's your life. ~ Jonathan Anthony Burkett.
She's a lady on the move, hustling and grinding with her beauty and brain; she's on the mission to be the best her that can be. ~ Unknown Author.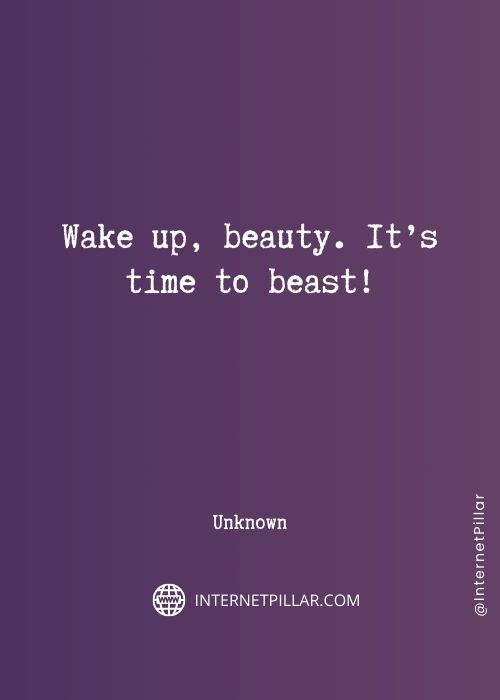 Wake up, beauty. It's time to beast! ~ Unknown Author.
What I lack in talent, I compensate with my willingness to grind it out. That's the secret of my life. ~ Guy Kawasaki.
I ain't follow nobody's path; I did it my own way. It's just grindin', ya feel me? You just gotta grind. ~ Roddy Ricch.
Rise and grind! Remember what controls your attention controls your life. Where your attention goes, energy flows and so goes your life. ~ Unknown Author.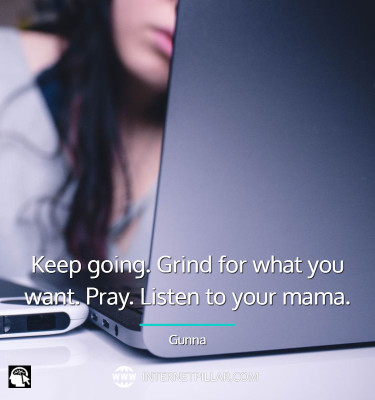 Keep going. Grind for what you want. Pray. Listen to your mama. ~ Gunna.
That's what the grind is – doing all the little things knowing that something may not come out of it. It probably won't. But the goal is to get a shot at it. ~ Bobby Bones.
I'm thankful to God that my life changed, but I'm also still on my grind. ~ Tory Lanez.
My legacy is that I will hustle and grind. No one will stop me from hustling. I'll be where God wants me to be. ~ August Alsina.
Powerful Grind Quotes
You've gotta learn to love the grind. Because life is the grind. ~ John Calipari.
Greatness is sifted through the grind, therefore don't despise the hard work now for surely it will be worth it in the end. ~ Sanjo Jendayi.
It's Monday, and the grind continues. ~ Unknown Author.
Rise and grind! Don't forget, 'The difference between ordinary and extraordinary is that little extra.' ~ Unknown Author.
I love the work, love the grind. I love what I have to go through to get what I want. ~ Deshaun Watson.
Most of the time, when it rains it starts pouring, but how we grind it makes the weather change for us. ~ Nipsey Hussle.
You can't cheat the grind, it knows how much you have invested. It won't give you anything you haven't worked for. ~ Unknown Author.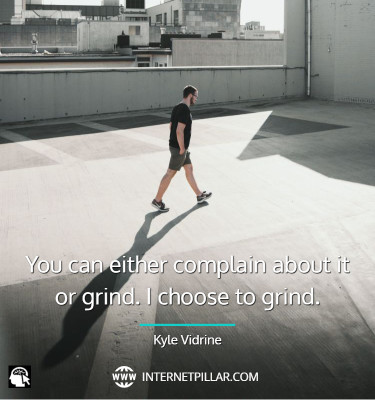 You can either complain about it or grind. I choose to grind. ~ Kyle Vidrine.
If you are not where you want to be it's because you are not grinding hard enough. ~ Unknown Author.
Don't whine for it, grind for it. ~ Chanda Temple.
Inspiring Grind Quotes
New week. Focus more. smile more. And grind harder. ~ Unknown Author.
Grind and hustle for you, not because you care about what other people think. ~ Unknown Author.
It can be a grind – training, and fighting, and waiting for your chance. But when that opportunity presents itself, you have to be ready because you never know if or when you'll get another shot. ~ Tyron Woodley.
Keep grinding. Someone you don't know is rooting for you. ~ Unknown Author.
G + R + I + N + D = Get Ready It's a New Day. ~ Unknown Author.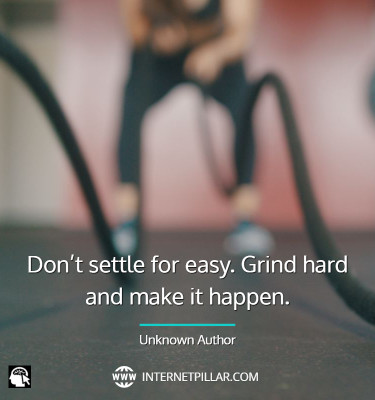 Don't settle for easy. Grind hard and make it happen. ~ Unknown Author.
Talk less, grind more. ~ Atlas Rowe.
You're not going to become a beast overnight. Grind every day until you become one. ~ Unknown Author.
I grind. I hustle. I don't have time to get no haircut. ~ Baron Davis.
Inspirational Grind Quotes
Monday, I grind. Tuesday, I grind. Wednesday, I grind. Thursday, I grind. Friday, I grind. Saturday, I grind. Sunday, I grind. And, that's why I'm here today. ~ Eric Thomas.
Skill is only developed by hours and hours of work. ~ Usain Bolt.
Sometimes, there's no support system. It's just you and your grind. ~ Unknown Author.
Steady grind, and in time, you'll be sure to find like a star in the sky you were born to shine. ~ Unknown Author.
When you have time to shine, you have time to grind. ~ Ahemad R. Kazi.
I wish everyone well, but you need to focus on yourself. You need to stop putting your hand out. Everyone wants handouts. Everyone wants things for free. You've got to put in the work. You've got to grind. You've got to go through the struggle, and you've got to get it. ~ Connor McGregor.
My career has been successful, but it's been a grind of hard work. ~ Emmanuelle Chriqui.
I grind and I graft, but I will make sure that I get that time off here and there to unwind and relax and have a life. ~ Tulisa.
---
Here is a motivational video on Grind.
---
So these were the 77 quotes about Grind.
If you like these quotes and sayings, then you can also read my other popular blog posts on the topics of Warrior quotes and Crown quotes and Dragonfly quotes.
---
Sources: