These Hair Quotes and Sayings are great for curls lovers.
Human hair is a universal think, with a broad range of hues, textures and lengths that add to our individual look.
Hair comes in a variety of styles, from curly to wavy to straight, making each individual's hair unique and wonderful.
Hair is rich in symbolism, often indicating physical power and vigor. Hair has been connected with energy, confidence and personal identity throughout history and throughout cultures.
Hair is regarded an important component of self-expression in many countries, with haircuts and grooming routines expressing personal tastes, beliefs and values.
In essence, hair is a strong representation of our uniqueness and personal strength as well as an integral aspect of our physical appearance.
---
Best Hair Quotes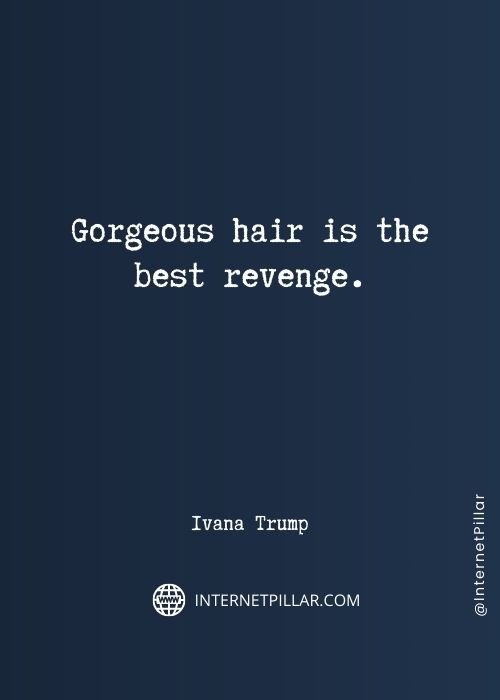 Gorgeous hair is the best revenge. ~ Ivana Trump.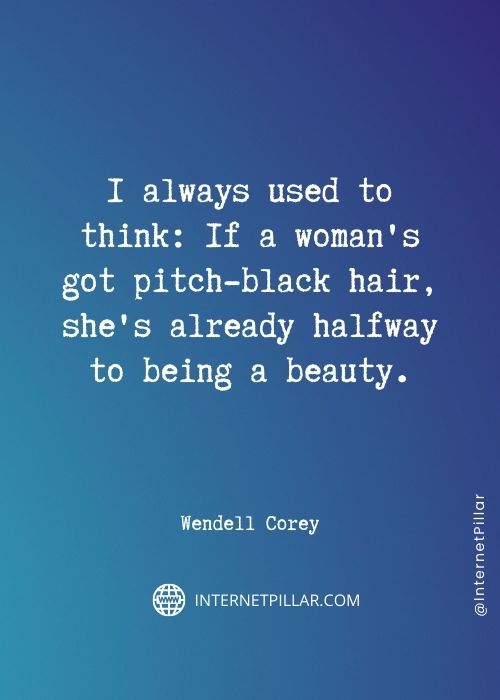 I always used to think: If a woman's got pitch-black hair, she's already halfway to being a beauty. ~ Wendell Corey.
A woman with her hair turned up always looks as if she were going some place either to the opera or the shower bath. ~ Orson Welles.
My blackness has never been in my hair. Blackness is not a hairstyle. ~ Bertha Gilkey.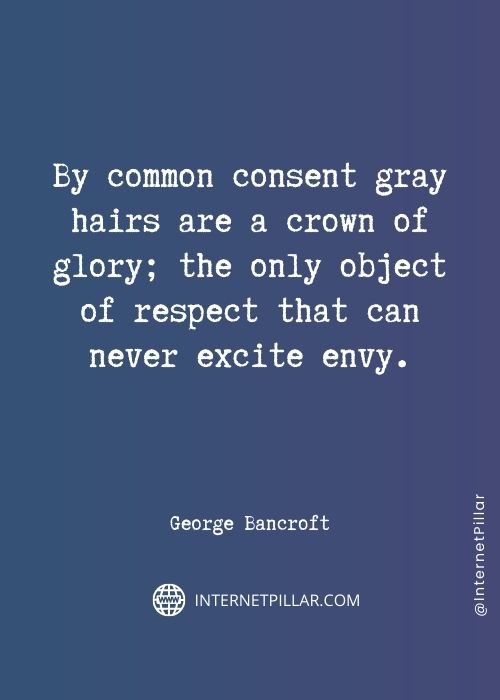 By common consent gray hairs are a crown of glory; the only object of respect that can never excite envy. ~ George Bancroft.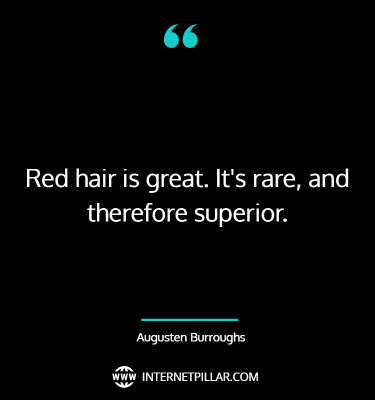 Red hair is great. It's rare, and therefore superior. ~ Augusten Burroughs.
The worse the haircut, the better the man. ~ John Green.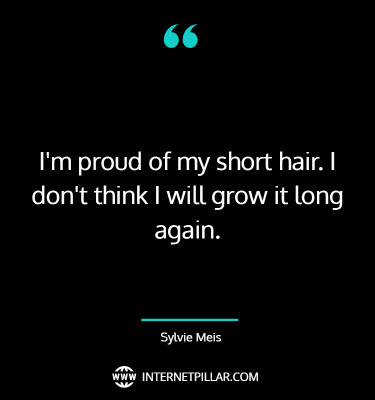 I'm proud of my short hair. I don't think I will grow it long again. ~ Sylvie Meis.
Inflation is when you pay fifteen dollars for the ten-dollar haircut you used to get for five dollars when you had hair. ~ Sam Ewing.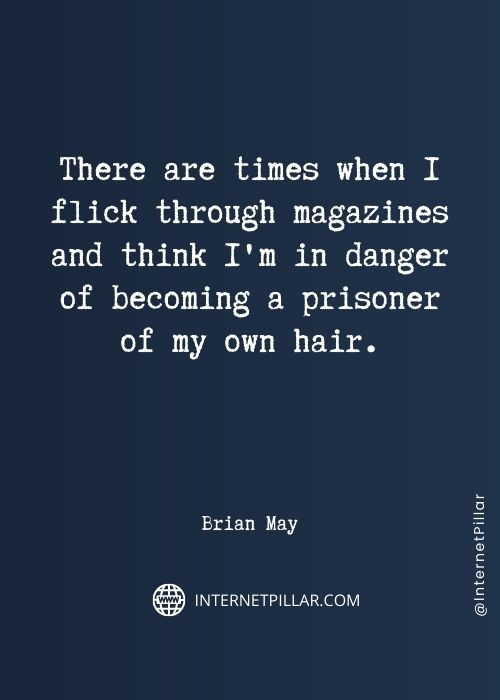 There are times when I flick through magazines and think I'm in danger of becoming a prisoner of my own hair. ~ Brian May.
Related: 45 Redhead Quotes and Sayings to Laud Your Ginger Hair and 70 Resilience Quotes to Surge Ahead in Life
Powerful Hair Quotes
When a woman isn't beautiful, people always say, 'You have lovely eyes, you have lovely hair.' ~ Anton Chekov.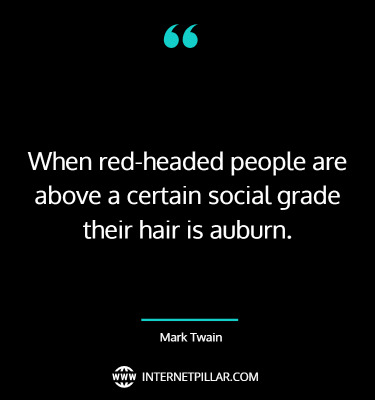 When red-headed people are above a certain social grade their hair is auburn. ~ Mark Twain.
I love my hair because it's a reflection of my soul. It's dense, it's kinky, it's soft, it's textured, it's difficult, it's easy and it's fun. That's why I love my hair. ~ Tracee Ellis Ross.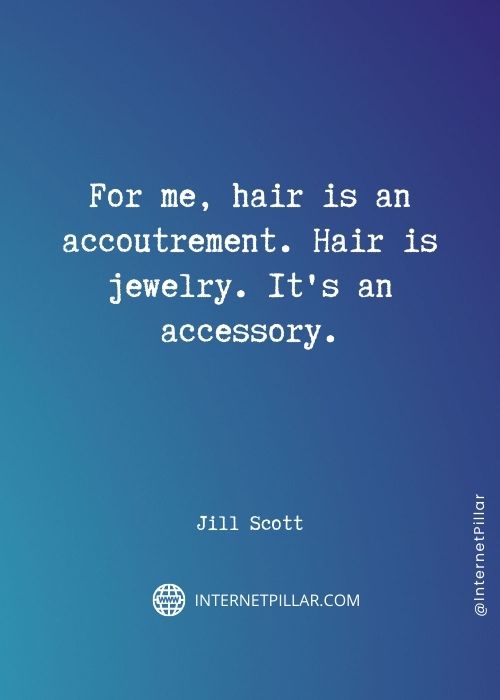 For me, hair is an accoutrement. Hair is jewelry. It's an accessory. ~ Jill Scott.
When I see the pictures you play in that theater, it makes the hair stand on the edge of my seat. ~ Michael Curtiz.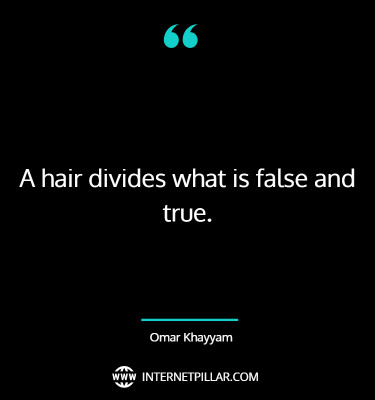 A hair divides what is false and true. ~ Omar Khayyam.
I'm losing my hair when I want hair and getting hair where I don't. ~ Billy Crystal.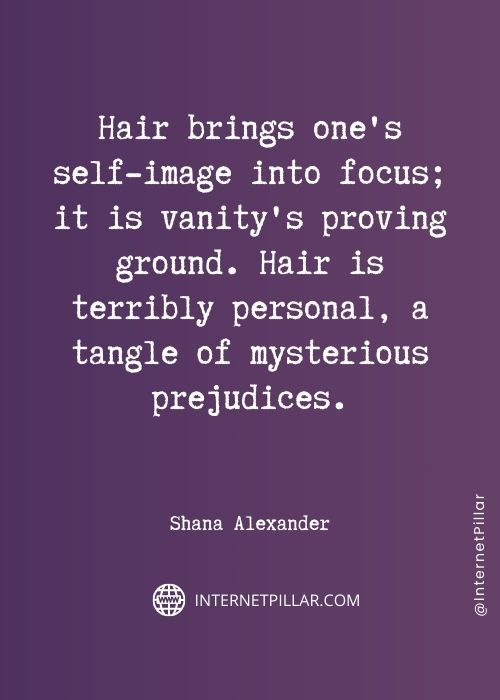 Hair brings one's self-image into focus; it is vanity's proving ground. Hair is terribly personal, a tangle of mysterious prejudices. ~ Shana Alexander.
It is foolish to tear one's hair in grief, as though sorrow would be made less by baldness. ~ Marcus Tullius Cicero.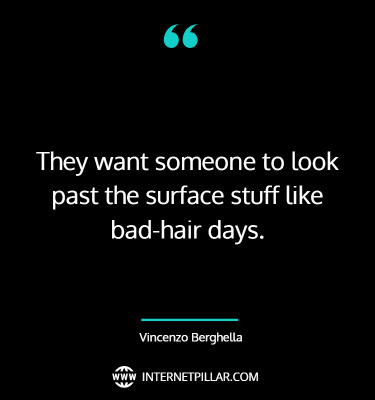 They want someone to look past the surface stuff like bad-hair days. ~ Vincenzo Berghella.
Hair grows faster at night than during the day and between the ages of sixteen and twenty-four. ~ Alicia Alvrez.
Famous Hair Quotes
If my hair gets any frizzier, I'll shave it to the scalp. Or light it on fire. Whichever is easier. ~ Victoria Scott.
Long, straight blonde hair (think Gwyneth Paltrow) are considered the wealthiest and most sexy. ~ Alicia Alvrez.
I think we're all obsessed with our hair – the daily ritualized pruning that we do, and the way in which we spend a lot of our time putting hair on, or ripping it off. ~ Judy Darragh.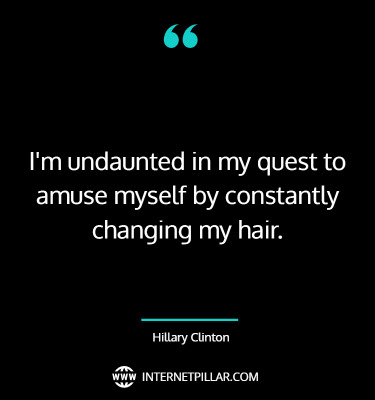 I'm undaunted in my quest to amuse myself by constantly changing my hair. ~ Hillary Clinton.
Anyone can be confident with a full head of hair. But a confident bald man – there's your diamond in the rough. ~ Larry David.
I refuse to think of them as chin hairs. I think of them as stray eyebrows. ~ Janette Barber.
Pull the hair on my head the wrong way, and I would be on my knees begging for mercy. I have very sensitive follicles. ~ Benedict Cumberbatch.
Hair style is the final tip-off whether or not a woman really knows herself. ~ Hubert de Givenchy.
Long hair minimizes the need for barbers; socks can be done without; one leather jacket solves the coat problem for many years; suspenders are superfluous. ~ Albert Einstein.
How much hair do you have on your body? Scientists put it at about 5 million hairs, many of them so fine you can hardly see them. ~ Alicia Alvrez.
Amazing Hair Quotes
It doesn't matter how long my hair is or what color my skin is or whether I'm a woman or a man. ~ John Lennon.
She was the most beautiful creature on Earth – her hair said so in that language only hair can speak. ~ Gabriel Ba.
When a woman ceases to alter the fashion of her hair, you guess that she has passed the crisis of her experience. ~ Mary Austin.
Gentlemen prefer blondes…but gentlemen marry brunettes. ~ Anita Loos.
For me, the working of hair is architecture with a human element. ~ Vidal Sassoon.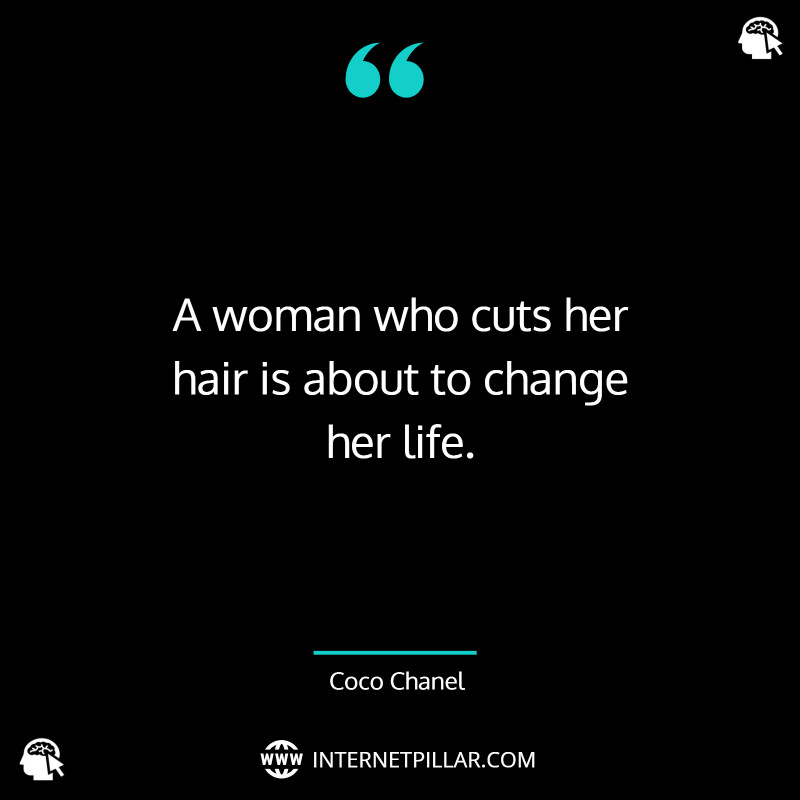 A woman who cuts her hair is about to change her life. ~ Coco Chanel.
A fine head of hair adds beauty to a good face, and terror to an ugly one. ~ Lycurgus.
One hair of a woman can draw more than a hundred pairs of oxen. ~ James Howell.
I wish I had more hair on my head. Maybe if I sprinkled fertilizer on it, it would grow. ~ Kylie Bax.
Long hair is considered bohemian, which may be why I grew it, but I keep it long because I love the way it feels, part cloak, part fan, part mane, part security blanket. ~ Marge Piercy.
The hair is the richest ornament of women. ~ Martin Luther.
It seems no more than right that men should seize time by the forelock, for the rude old fellow, sooner or later, pulls all their hair out. ~ George D. Prentice.
The only equal treatment in the world is white hair. ~ Chinese Proverb.
Red hair sir, in my opinion, is dangerous. ~ PG Wodehouse.
Popular Hair Quotes
Once you've had chemotherapy, there's no such thing as bad hair day. ~ Elizabeth Tirbelis.
Beauty draws us with a single hair. ~ Alexander Pope.
There's many a man has more hair than wit. ~ William Shakespeare.
Your hair is the ball gown you never take off. ~ Jo Robertson.
Babies haven't any hair: Old men's heads are just as bare; From the cradle to the grave. Lies a haircut and a shave. ~ Samuel Goodman Hoffenstein.
I have little hair because my brain is so big it pushes the hair out. ~ Silvio Berlusconi.
Men don't get smarter as they grow older, they just lose their hair. ~ Mary Astor.
People always ask me how long it takes to do my hair. I don't know, I'm never there. ~ Dolly Parton.
Life is short. You might as well live it with really great hair. ~ Anonymous.
Another thing about women is that they can be persuaded to do anything with their hair, except leave it alone. ~ Evan Esar.
Things are good for gray hair, but the best one is a sensible head. ~ Evan Esar.
Quotes about Hair
Gray hair is God's graffiti. ~ Bill Cosby.
No rival will steal away my sure love; that glory will be my gray hair. ~ Propertius.
Beware of her fair hair, for she excels. All women in the magic of her locks; And when she winds them round a young man's neck, she will not ever set him free again. ~ Johann Wolfgang von Goethe.
Experience is a precious gift, only given a man when his hair is gone. ~ Turkish Proverb.
I'm enjoying the aging process and the gray hair and the wrinkles. ~ Chris Pine.
I swear that girl was born with a pen in her hand, the moon in her hair, and stars in her soul. ~ Melody Lee.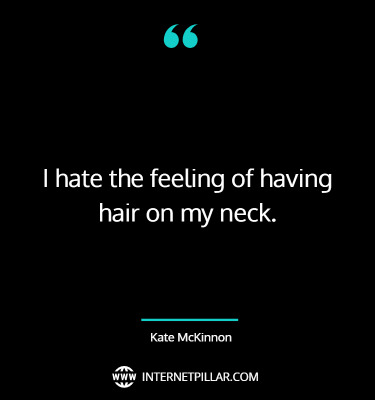 I hate the feeling of having hair on my neck. ~ Kate McKinnon.
It is not by the gray of the hair that one knows the age of the heart. ~ Edward Bulwer-Lytton.
Her messy hair a visible attribute of her stubborn spirit. As she shakes it free, she smiles knowing wild is her favorite color. ~ J. Iron Word.
Top Hair Quotes
For years I used to try to straighten my hair, but I've reached a stage where I think, I've got red curly hair, and it's actually really great. ~ Bonnie Langford.
I've discovered that how I look is not a function of anything as ephemeral as my hair. ~ Judith Light.
Your hair, your hair is like a field of silver daisies – I should like to run barefoot through your hair. ~ Franchot Tone.
It doesn't matter if your life is perfect as long as your hair color is. ~ Stacy Snapp Killian.
Anybody who has curly hair knows you don't want it to be brushed out because it becomes a never-ending tangle. ~ Judy Davis.
My curls defined me; even my personality was curly, bouncy, springy, and playfully twisted. ~ Elise Allen.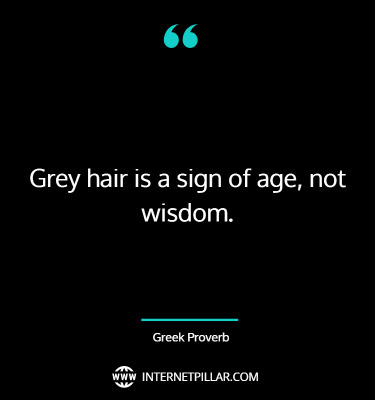 Grey hair is a sign of age, not wisdom. ~ Greek Proverb.
My hair doesn't take well to instruction. ~ Leigh Bardugo.
Hair is the first thing. And teeth the second. Hair and teeth. A man got those two things he's got it all. ~ James Brown.
Short, tousled hairstyles (like Meg Ryan) are thought to be outgoing and self-assured. ~ Alicia Alvrez.
Economics makes no sense; no matter how much or how little hair you have, the price of a haircut is the same. ~ Evan Esar.
Once in his life, every man is entitled to madly fall in love with a gorgeous redhead. ~ Lucille Ball.
Can't say it often enough. Change your hair, change your life. ~ Thomas Pynchon.
If you want to get ahead in business, you've got to have serious hair. ~ Melanie Griffith.
I have always thought that if women's hair posed so many problems, God would certainly have made us bald. ~ Marjane Satrapi.
My real hair color is kind of a dark blonde. Now I just have mood hair. ~ Julia Roberts.
With short hair you have to get a haircut every two or three weeks. And if you're coloring your hair, you have to color it that often. Every time I did it, I felt fraudulent. ~ Jamie Lee Curtis.
Beautiful Hair Quotes
I am really terrible when it comes to guys. Inside, I just see myself as this overweight tomboy with funny-coloured hair and bad skin. ~ Katie McGrath.
If your hair is done properly and you're wearing good shoes, you can get away with anything. ~ Iris Apfel.
There is one thing about baldness: it's neat. ~ Don Herold.
I would rather have had one breath of her hair, one kiss from her mouth, one touch of her hand, than eternity without it. ~ Nicolas Cage.
Some early hair dyes; crushed dry tadpoles in oil ancient Egypt; black wine, raw crow's eggs, and putrefied leeches in ancient Rome. ~ Alicia Alvrez.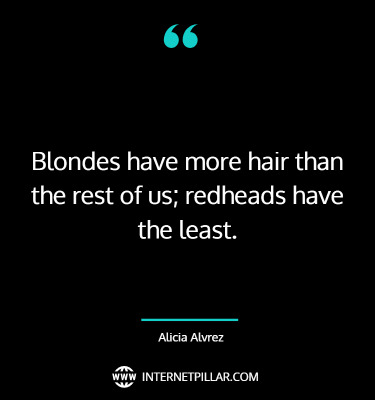 Blondes have more hair than the rest of us; redheads have the least. ~ Alicia Alvrez.
I always get bored with my hair. That's why I would always change it throughout my career. ~ Janet Jackson.
Her albino hair illuminated my dreams, shining brighter than moonlight. ~ Anna Kavan.
---
So these were the 90 quotes about Hair.
If these quotes and sayings connect with you, check out our other posts on color quotes and food quotes.
---
Sources: