To eat healthy, you must select foods that are beneficial to your body.
Embrace these uplifting quotes about healthy eating to guide you towards smarter food choices and enhanced physical and mental wellbeing.
Staying healthy and looking good demands consistency in eating nutritious foods and regular workouts.
Yet, the omnipresent lure of fast, convenient and unhealthy food can make this endeavor more arduous.
Even with firm New Year's fitness resolutions and concrete plans, you may still find yourself succumbing to the allure of unhealthy food.
However, regularly reciting motivational quotes about healthy eating might just be the support you need to stave off these temptations.
If you find it difficult to maintain a healthy diet, these optimistic sayings about food and wellbeing could be a beacon of inspiration.
Let these 72 impactful healthy eating quotes be your arsenal in battling unhealthy food choices.
Make them a constant reminder by sticking them around your workspace, on your kitchen cabinets and refrigerator.
This way, they'll serve as daily prompts, steering you towards a healthier, happier lifestyle.
---
Top 10 Healthy Eating Quotes
You are what you eat. ~ Michael Pollan.
An apple a day keeps the doctor away ~ Proverb.
Health requires healthy food. ~ Roger Williams.
The first wealth is health. ~ Ralph Waldo Emerson.
The simpler I get, the healthier I get. ~ Kris Carr.
Eat food. Not too much. Mostly plants. ~ Michael Pollan.
A healthy outside starts from the inside. ~ Robert Urich.
Healthy cooking is the best preventive medicine. ~ Unknown.
Every girl and dude should be eating healthy food. ~ Unknown.
One should eat to live, not live to eat. ~ Benjamin Franklin.
Also read: Nutrition Quotes and Calm Quotes.
Healthy Eating Quotes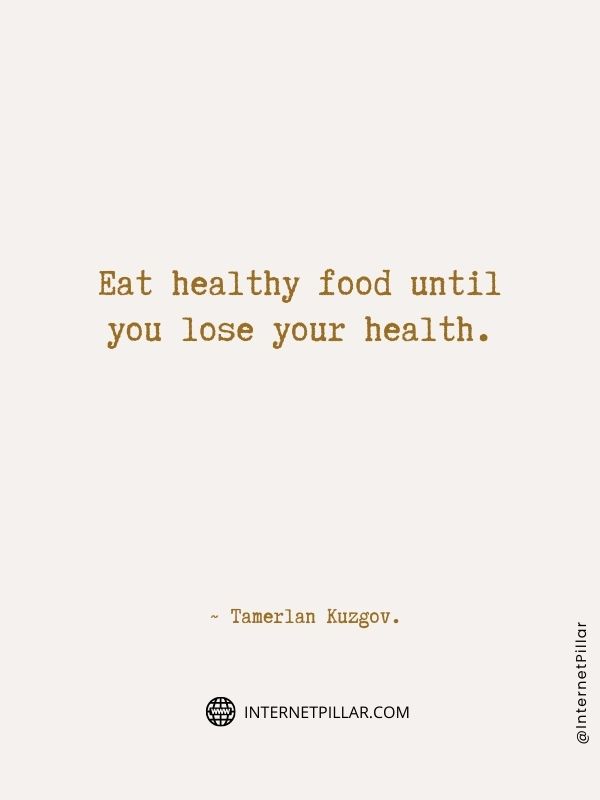 Eat healthy food until you lose your health. ~ Tamerlan Kuzgov.
Nature is so smart, it puts medicine in the food. ~ David Wolfe.
After dinner rest a while; after supper walk a mile. ~ T. Cogan.
Images for Healthy Eating Quotes
Love yourself enough to live a healthy lifestyle. ~ Jules Robson.
You don't have to eat less, you just have to eat right. ~ Unknown.
Eating crappy food isn't a reward – it's a punishment. ~ Drew Carey.
Health and cheerfulness naturally beget each other. ~ Joseph Addison.
Every time you eat is an opportunity to nourish your body. ~ Unknown.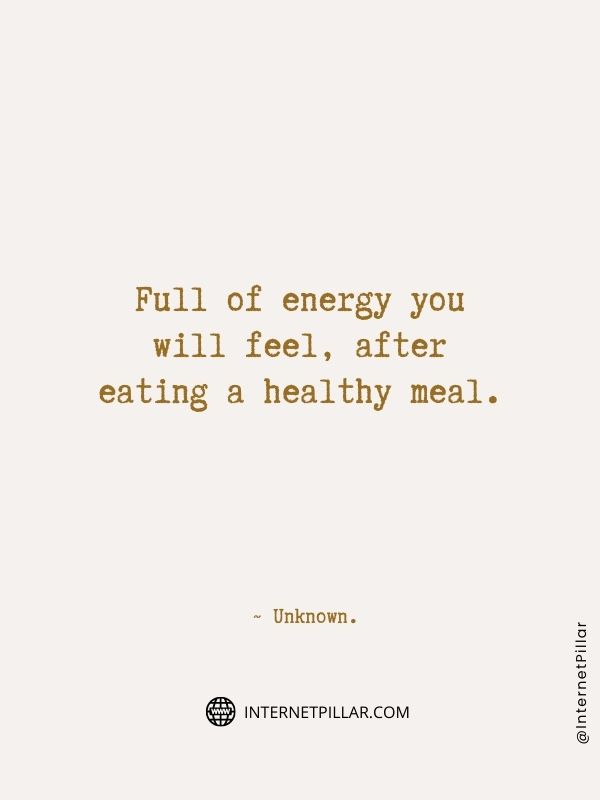 Full of energy you will feel, after eating a healthy meal. ~ Unknown.
Healthy Eating Quotes Celebrating Better Food Choices
Health is a relationship between you and your body ~ Terri Guillemets.
To avoid sickness eat less; to prolong life worry less. ~ Chu Hui Weng.
Came from a plant, eat it; was made in a plant, don't. ~ Michael Pollan.
Your body is a temple, but only if you treat it as one. ~ Astrid Alauda.
Let food be thy medicine, thy medicine shall be thy food. ~ Hippocrates.
Quotes about Healthy Eating
Eat healthy day and night, to keep your future looking bright. ~ Unknown.
To eat is a necessity, but to eat intelligently is an art. ~ La Rochefoucauld.
If you keep good food in your fridge, you will eat good food. ~ Errick McAdams.
A healthy diet is no longer a luxury rather a health necessity. ~ Ryan Frimmel.
Our bodies are our gardens – our wills are our gardeners. ~ William Shakespeare.
Real food doesn't have ingredients. Real food is the ingredients. ~ Jamie Oliver.
Inspirational Healthy Eating Quotes
Healthy citizens are the greatest asset any country can have. ~ Winston Churchill.
Healthy eating also means eating a variety of nutritious foods. ~ Susan R. Gregson.
Healthy dieting is without a doubt the foundation of healthy living. ~ Ryan Frimmel.
From the bitterness of disease man learns the sweetness of health. ~ Catalan Proverb.
It is health that is real wealth and not pieces of gold and silver. ~ Mahatma Gandhi.
There is nothing unhealthy about educating youngsters about nutrition. ~ Pierre Dukan.
You feel better when you're eating food that retains nutritional value. ~ Amber Heard.
Healthy Eating Quotes to Motivate You
Don't eat anything your great-grandmother wouldn't recognize as food. ~ Michael Pollan.
Almost nothing influences our gut bacteria as much as the food we eat. ~ Giulia Enders.
What you eat literally becomes you. You have a choice in what you're made of. ~ Unknown.
Eat breakfast like a king, lunch like a Prince and dinner like a pauper. ~ Adelle Davis.
Best Healthy Eating Quotes For You and Your Kids
Your diet is a bank account. Good food choices are good investments. ~ Bethenny Frankel.
Eat breakfast like a king, lunch like a prince, and dinner like a pauper. ~ Adelle Davis.
One cannot think well, love well, sleep well, if one has not dined well. ~ Virginia Woolf.
Healthy people eating healthy food should never need to take an antibiotic. ~ Joel Fuhrman.
Every time you eat or drink you are either feeding disease or fighting it. ~ Heather Morgan.
Food should be cleansing, it should be restorative, and it should be fun. ~ James Colquhoun.
Water is the most neglected nutrient in your diet, but one of the most vital. ~ Julia Child.
Your body is your temple. Keep it pure and clean for the soul to reside in. ~ B.K.S. Iyengar.
He who takes medicine and neglects to diet wastes the skill of his doctors. ~ Chinese Proverb.
Health is like money, we never have a true idea of its value until we lose it. ~ Josh Billings.
When you start eating food without labels, you no longer need to count calories. ~ Amanda Kraft.
Positive Healthy Eating Quotes
Exercise is king. Nutrition is queen. Put them together and you've got a kingdom. ~ Jack LaLanne.
By choosing healthy over skinny, you are choosing self-love over self-judgment. ~ Steve Maraboli.
It's not about eating healthy to lose weight. It's about eating healthy to feel good. ~ Demi Lovato.
Processed foods not only extend the shelf life, but they extend the waistline as well. ~ Karen Sessions.
Life expectancy would grow by leaps and bounds if green vegetables smelled as good as bacon. ~ Doug Larson.
When diet is wrong, medicine is of no use. When diet is correct, medicine is of no need. ~ Ayurvedic Saying.
Nobody can be in good health if he does not have all the time fresh air, sunshine and good water. ~ Flying Hawk.
A healthy diet is a solution to many of our health-care problems. It's the most important solution. ~ John Mackey.
Proper nutrition is the difference between feeling exhausted and getting the most out of a workout. ~ Summer Sanders.
Motivational Healthy Eating Quotes
Sufficient sleep, exercise, healthy food, friendship, and peace of mind are necessities, not luxuries. ~ Mark Halperin.
Those who think they have no time for healthy eating will sooner or later have to find time for illness. ~ Edward Stanley.
The food you eat can be either the safest and most powerful form of medicine or the slowest form of poison. ~ Ann Wigmore.
Take care of yourself, be healthy, and always believe you can be successful in anything you truly want. ~ Alessandra Ambrosio.
Keeping your body healthy is an expression of gratitude to the whole cosmos – the trees, the clouds, everything. ~ Thich Nhat Hanh.
The only way to keep your health is to eat what you don't want, drink what you don't like, and do what you'd rather not. ~ Mark Twain.
Healthy eating is a way of life, so it's important to establish routines that are simple, realistically, and ultimately livable. ~ Horace.
If you maintain a healthy diet, or at least are smart about your food choices, you'll still see the pounds come off. ~ Misty May-Treanor.
Healthy eating does not mean simply counting calories. It means thinking about both the calories and nutrients in foods. ~ Susan R. Gregson.
To ensure good health: eat lightly, breathe deeply, live moderately, cultivate cheerfulness, and maintain an interest in life. ~ William Londen.
---
---
So these were the 72 Quotes about Healthy Eating.
If you like these quotes, then you can also read our other posts on Human Connection Quotes and New Chapter Quotes and Self Destruction Quotes.