Ice hockey is a competitive, thrilling and fast-paced sport that calls for collaboration, skill, and strategy.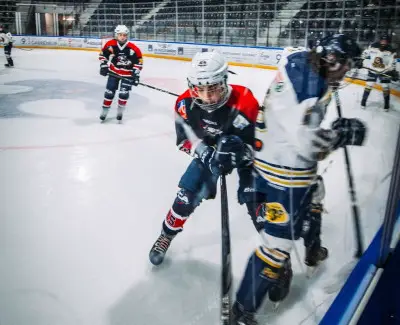 ---
Top 10 Ice Hockey Quotes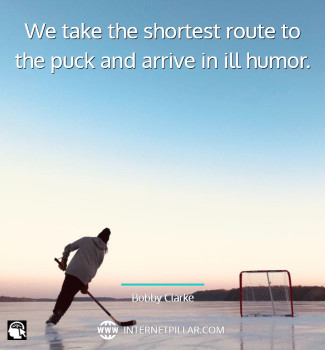 We take the shortest route to the puck and arrive in ill humor. ~ Bobby Clarke.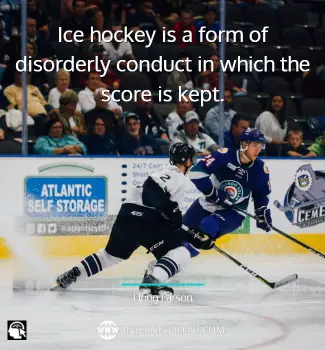 Ice hockey is a form of disorderly conduct in which the score is kept. ~ Doug Larson.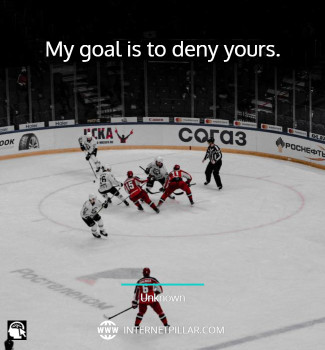 My goal is to deny yours. ~ Unknown.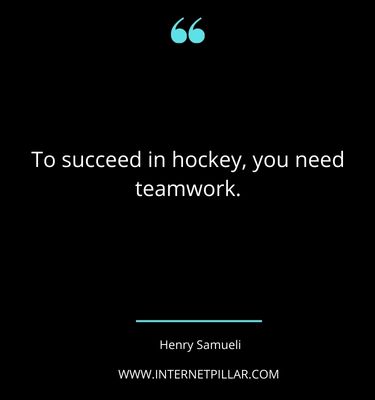 To succeed in hockey, you need teamwork. ~ Henry Samueli.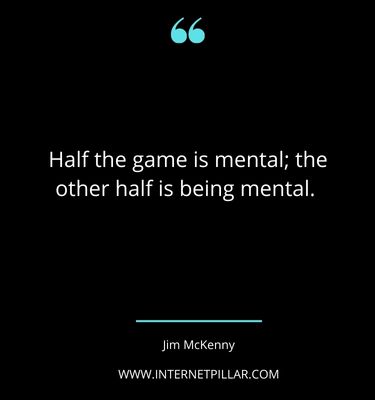 Half the game is mental; the other half is being mental. ~ Jim McKenny.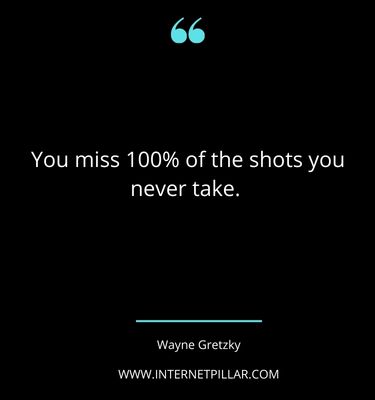 You miss 100% of the shots you never take. ~ Wayne Gretzky.
Hockey players wear numbers because you can't always identify the body with dental records. ~ Unknown.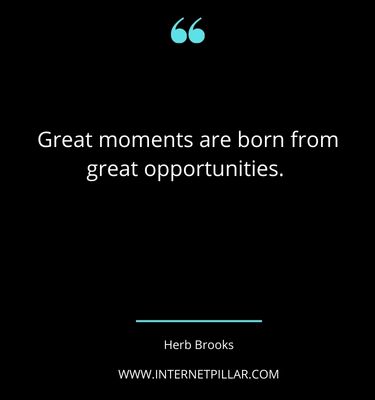 Great moments are born from great opportunities. ~ Herb Brooks.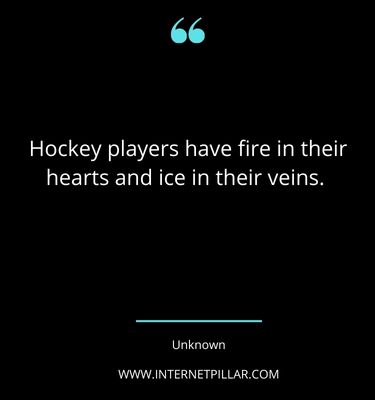 Hockey players have fire in their hearts and ice in their veins. ~ Unknown.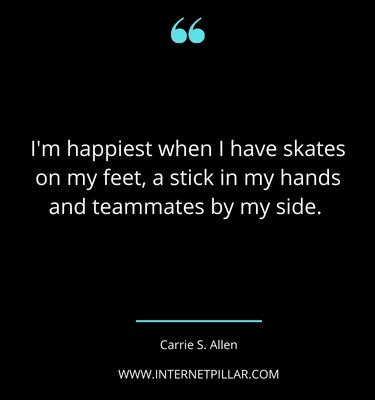 I'm happiest when I have skates on my feet, a stick in my hands and teammates by my side. ~ Carrie S. Allen.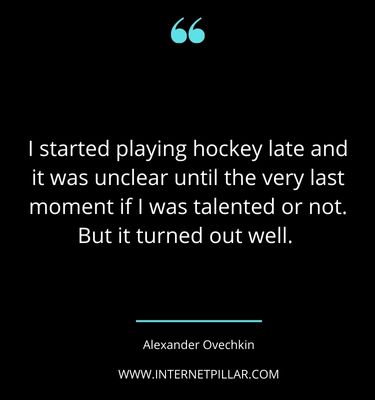 I started playing hockey late and it was unclear until the very last moment if I was talented or not. But it turned out well. ~ Alexander Ovechkin.
Best Ice Hockey Quotes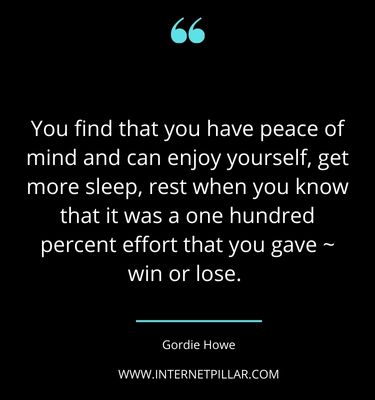 You find that you have peace of mind and can enjoy yourself, get more sleep, rest when you know that it was a one hundred percent effort that you gave ~ win or lose. ~ Gordie Howe.
When you play hockey, you don't have any fear. As soon as you step on the ice everything goes away and you're focusing on the puck and focusing on the play. ~ Alexander Ovechkin.
I wasn't naturally gifted in terms of size and speed; everything I did in hockey I worked for, and that's the way I'll be as a coach. ~ Wayne Gretzky.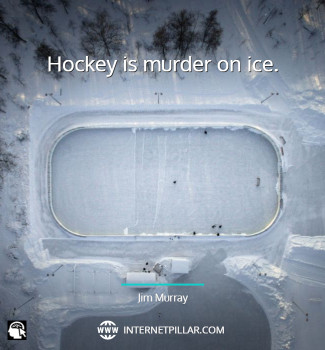 Hockey is murder on ice. ~ Jim Murray.
All hockey players are bilingual. They know English and profanity. ~ Gordie Howe.
We get nose jobs all the time in the NHL, and we don't even have to go to the hospital. ~ Brad Park.
To win the game is great. To play the game is greater. To love the game is greatest of all. ~ Bob O'Connor.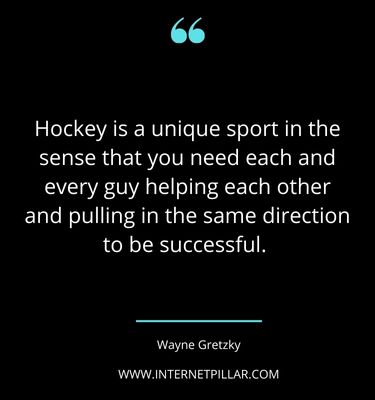 Hockey is a unique sport in the sense that you need each and every guy helping each other and pulling in the same direction to be successful. ~ Wayne Gretzky.
Inspiring Ice Hockey Quotes
I found out that if you are going to win games, you had better be ready to adapt. ~ Scotty Bowman.
The highest compliment that you can pay me is to say that I work hard every day, that I never dog it. ~ Wayne Gretzky.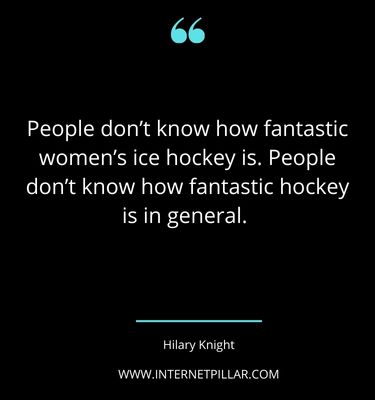 People don't know how fantastic women's ice hockey is. People don't know how fantastic hockey is in general. ~ Hilary Knight.
It doesn't matter what I think. It doesn't matter what other people think. You have to get on the ice and participate and play and the best team wins. ~ Wayne Gretzky.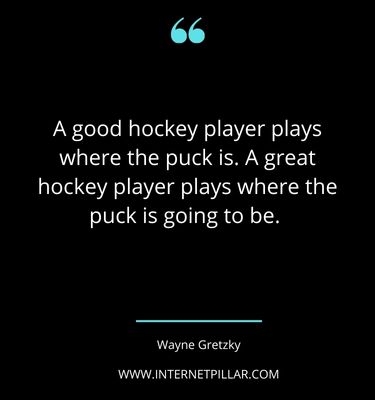 A good hockey player plays where the puck is. A great hockey player plays where the puck is going to be. ~ Wayne Gretzky.
Whether you're trying to learn in hockey or trying to learn in life, I've always tried to be observant and tried to learn more, tried to evolve, whether it's as a hockey player or as a person. With each year, I try to do that. ~ Sidney Crosby.
Famous Ice Hockey Quotes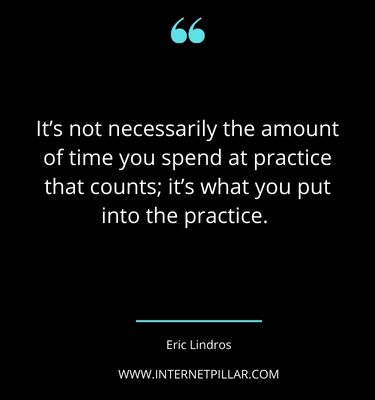 It's not necessarily the amount of time you spend at practice that counts; it's what you put into the practice. ~ Eric Lindros.
Sometimes you do the hard work and set the table and somebody else eats the meal. ~ Brian Burke.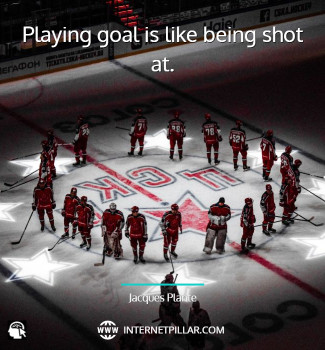 Playing goal is like being shot at. ~ Jacques Plante.
You watch a hockey game, and the hand-eye coordination and the speed are really miraculous; how those guys track the puck alone, just following it with their eyes. ~ Liev Schreiber.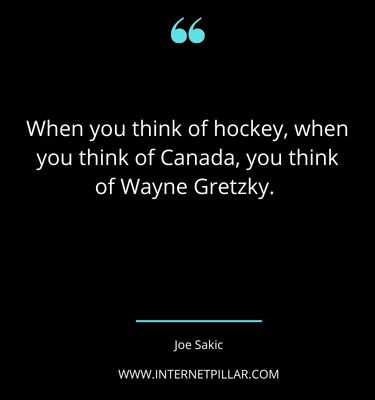 Every day is a great day for hockey. ~ Mario Lemieux.
Motivational Ice Hockey Quotes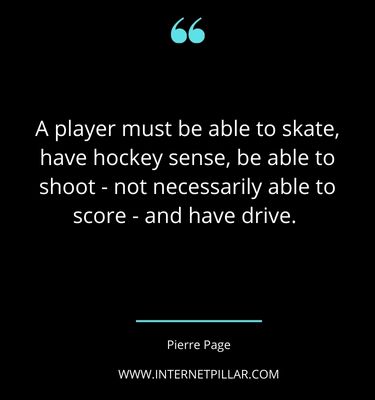 A player must be able to skate, have hockey sense, be able to shoot – not necessarily able to score – and have drive. ~ Pierre Page.
A puck is a hard rubber disc that hockey players strike when they can't hit one another. ~ Jimmy Cannon.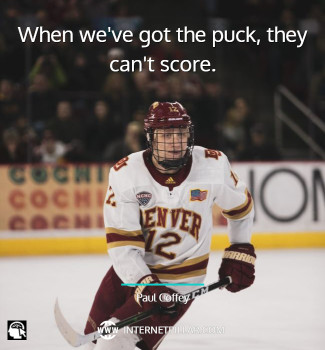 When we've got the puck, they can't score. ~ Paul Coffey.
It's never been easy. But I've always wanted to play hockey. I love hockey. I'd rather play hockey than do anything else. If you have that kind of desire, I think you can achieve what you want to achieve. ~ Manon Rheaume.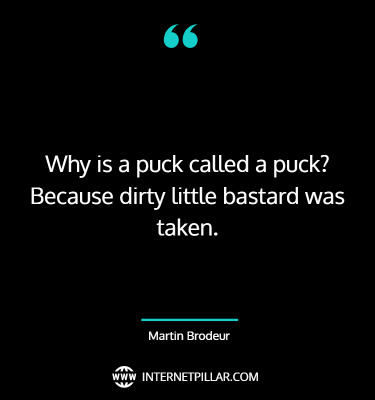 Nobody's a natural. You work hard to get good and then work to get better. It's hard to stay on top. ~ Paul Coffey.
---
---
So these were the 38 quotes about Ice Hockey.
If you like these quotes and sayings, then you can also read my other popular blog posts on the topics of Baseball quotes and Basketball quotes.