Indecision refers to the difficulty or inability to make decisions promptly.
Sometimes, this hesitation can be so detrimental that even making an error might be preferable to remaining indecisive.
Being in a state of indecision implies a struggle with choosing between options.
Some people might be moderately indecisive, taking their time to carefully weigh their options before proceeding.
To inspire and motivate those grappling with indecision, a collection of 58 quotes has been curated.
These quotes will help you to shed light on the impact of indecision and offer guidance to break free from its shackles.
Through these insightful sayings, individuals can gain a deeper understanding of indecision and its implications, hopefully enabling them to navigate decision-making processes more effectively and confidently.
---
Best Indecision Quotes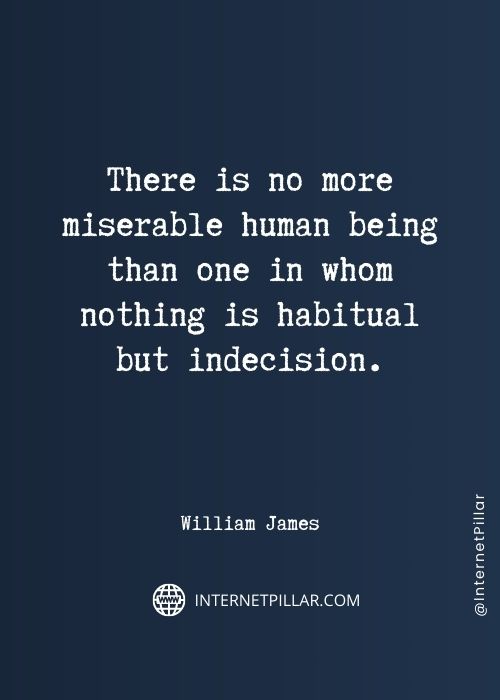 There is no more miserable human being than one in whom nothing is habitual but indecision. ~ William James.
Indecision is the key to flexibility. ~ Kathy Reichs.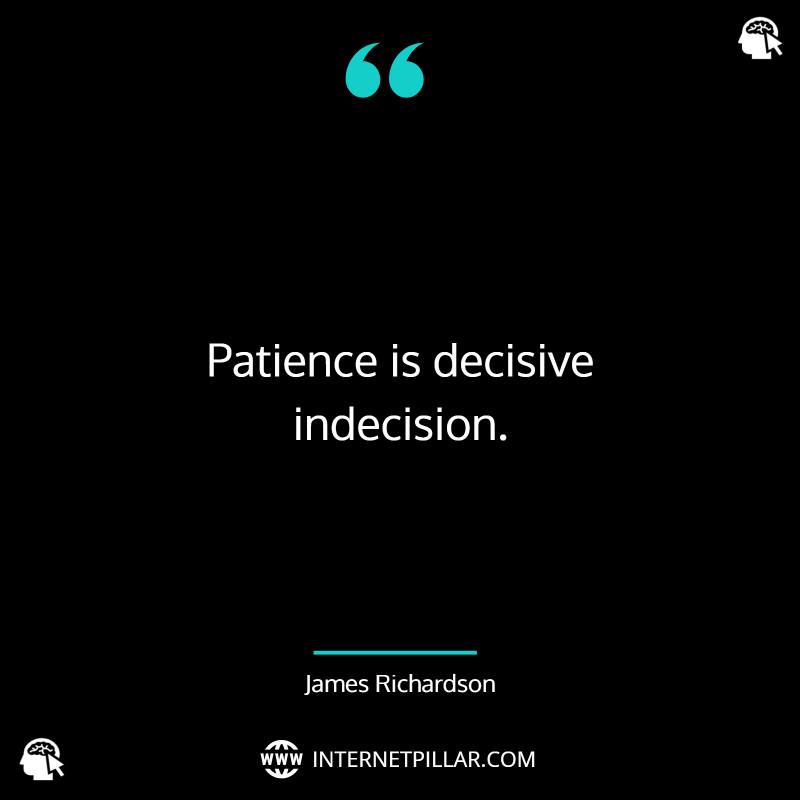 Patience is decisive indecision. ~ James Richardson.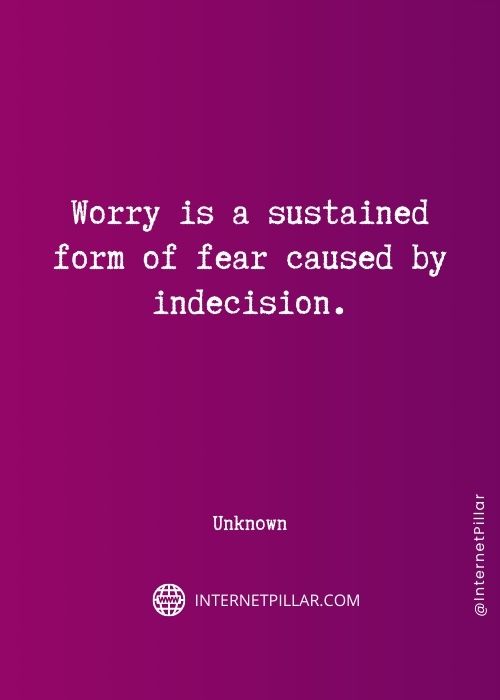 Worry is a sustained form of fear caused by indecision. ~ Unknown.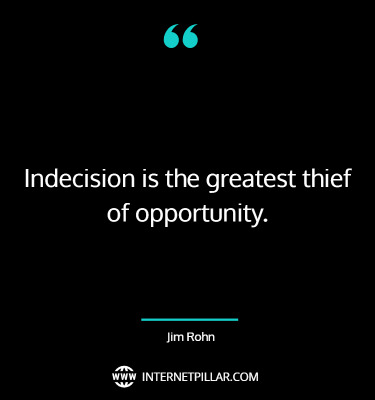 Indecision is the greatest thief of opportunity. ~ Jim Rohn.
He who hesitates is sometimes saved. ~ James Thurber.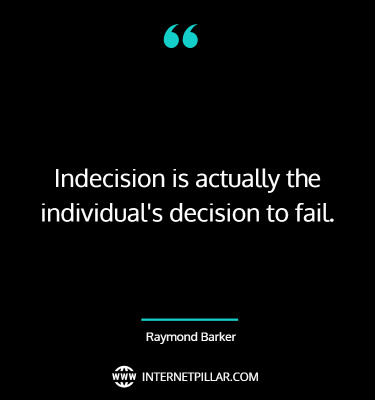 Indecision is actually the individual's decision to fail. ~ Raymond Charles Barker.
The tragedy of a man who could not make up his mind. ~ Laurence Olivier.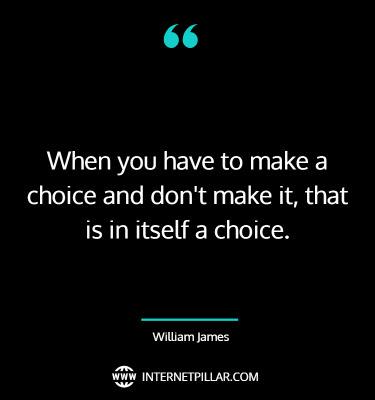 When you have to make a choice and don't make it, that is in itself a choice. ~ William James.
More errors arise from inhibited indecision than from impulsive behavior. ~ Morris L. Ernst.
Through indecision opportunity is often lost. ~ Publilius Syrus.
While there is nothing inherently wrong with asking questions, the inability to decide on correct answers can make us unhappy. ~ Saint Bonaventure.
Decision is a sharp knife that cuts clean and straight; indecision, a dull one that hacks and tears and leaves ragged edges behind it. ~ Gordon Graham.
See also: Best Strength Quotes to Sail Through Tough and Hard Times and Disappointment Quotes to Inspire You to Move Ahead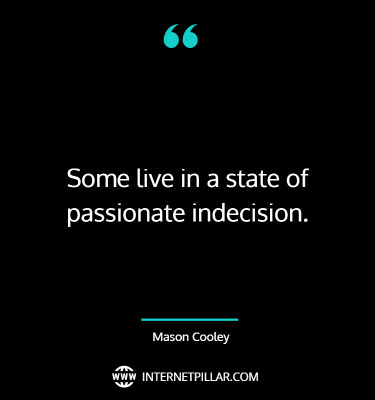 Some live in a state of passionate indecision. ~ Mason Cooley.
The risk of a wrong decision is preferable to the terror of indecision. ~ Maimonides.
Famous Indecision Quotes
Once I make up my mind, I'm full of indecision. ~ Oscar Levant.
Indecisiveness wears a person out. ~ E.L. Konigsburg.
To teach how to live with uncertainty, and yet without being paralyzed by hesitation, is perhaps the chief thing that philosophy in our age can still do for those who study it. ~ Bertrand Russell.
I feel like I am in a constant battle with myself. I am being pushed and pulled in two different directions. ~ Krystalle Bianca.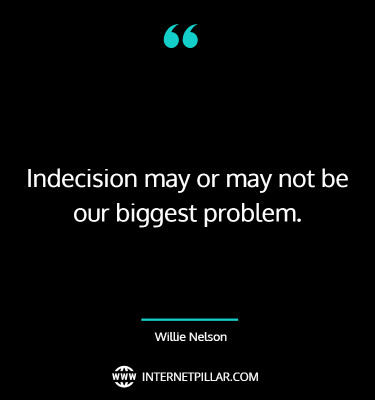 Indecision may or may not be our biggest problem. ~ Willie Nelson.
Indecision may or may not be my problem. ~ Jimmy Buffett.
Indecision is a form of self-abuse – be ready to step up! ~ Suzanne Evans.
Indecision and delays are the parents of failure. ~ George Canning.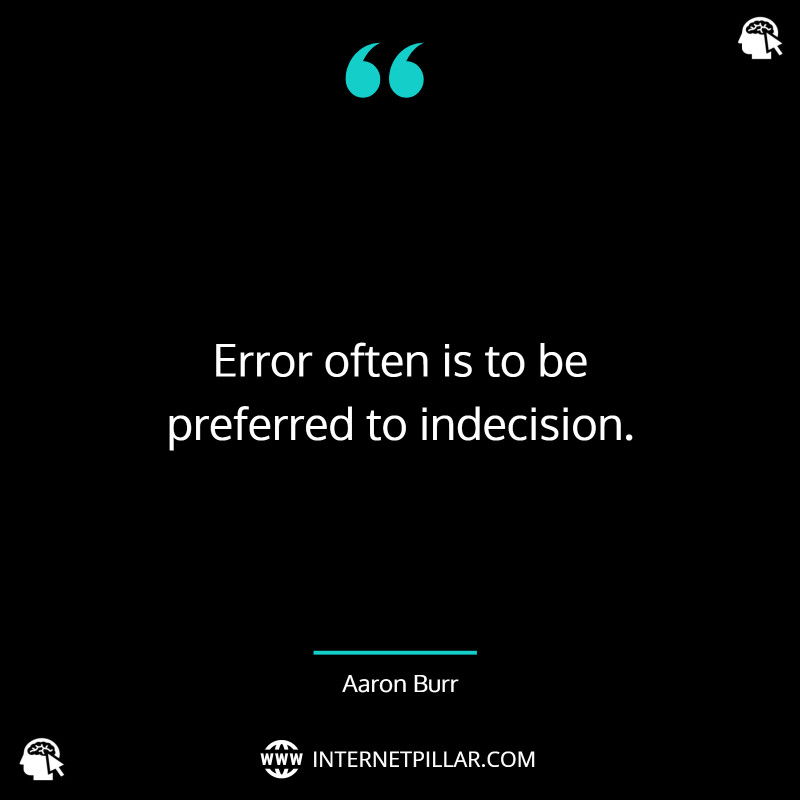 Error often is to be preferred to indecision. ~ Aaron Burr.
Inaction and indecision in the present is because of fear of consequences of the future. ~ L. Ron Hubbard.
When people get more frustrated by their indecision than by the situation that prompted it, clarity often follows. ~ Carolyn Hax.
Indecision becomes decision with time. ~ Unknown.
Opportunity never sneaks up on those who straddle the fence of indecision. ~ Napoleon Hill.
I don't do anything with my life except romanticize and decay with indecision. ~ Allen Ginsberg.
To be constantly changing one's plans isn't decision at all-it's indecision. ~ Rabindranath Tagore.
Indecision, doubt and fear. The members of this unholy trio are closely related; where one is found, the other two are close at hand. ~ Napoleon Hill.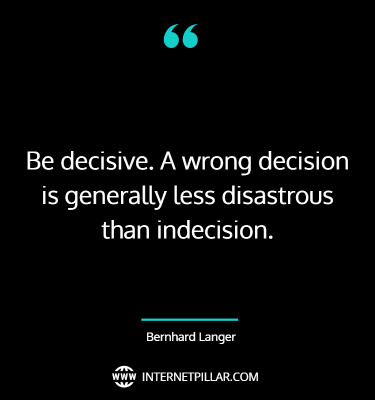 Be decisive. A wrong decision is generally less disastrous than indecision. ~ Bernhard Langer.
Indecision is debilitating; it feeds upon itself; it is, one might almost say, habit-forming. Not only that, but it is contagious; it transmits itself to others. ~ H. A. Hopf.
Top Indecision Quotes
The worst decision is indecision. ~ Ryan Harwood.
What is fear after all? It is indecision. You seek some way to resist, escape. There is none. ~ Anne Rice.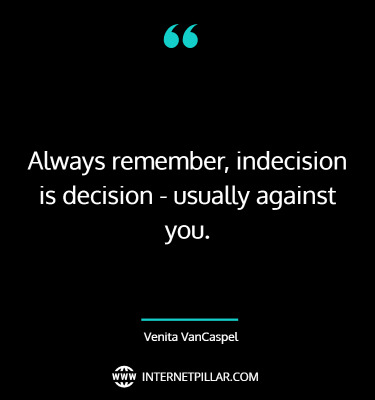 Always remember, indecision is decision – usually against you. ~ Venita VanCaspel.
Endurance is frequently a form of indecision. ~ Elizabeth Bibesco.
Prudence is not hesitation, procrastination, or moderation. It is not driving in the middle of the road. It is not the way of ambivalence, indecision, or safety. ~ John Ortberg.
Indecision and fear can cripple any chances of succeeding and lead to maelstroms of regret that fuel our most fantastic nightmares. ~ Kilroy J. Oldster.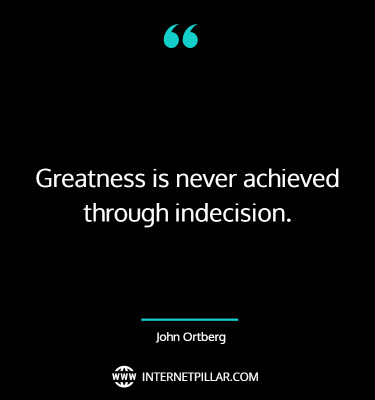 Greatness is never achieved through indecision. ~ John Ortberg.
Indecision is the seedling of fear. ~ Napoleon Hill.
Indecision is fatal. It is better to make a wrong decision than build up a habit of indecision. If you're wallowing in indecision, you certainty can't act – and action is the basis of success. ~ Marie Beynon Lyons Ray.
More is lost by indecision than wrong decision. Indecision is the thief of opportunity. It will steal you blind. ~ Marcus Tullius Cicero.
I'll give you a definite maybe. ~ Sam Goldwyn.
Indecision is the seedling of fear. ~ Napoleon Hill.
Having made the decision, do not revise it unless some new fact comes to your knowledge. Nothing is so exhausting as indecision, and nothing is so futile. ~ Bertrand Russell.
Popular Indecision Quotes
A decision unmade is still a decision. It won't go away. Neither will problems or more options. ~ Emily Grabatin.
Action cures fear. Indecision, postponement, on the other hand, fertilize fear. ~ David Joseph Schwartz.
Indecision and reveries are the anesthetics of constructive action. ~ Sylvia Plath.
Indecision is a major time waster; 80% of decisions should be made the first time they come up. ~ Brian Tracy.
When it comes to betting on yourself…you're a chicken-livered coward if you hesitate. B.C. Forbes.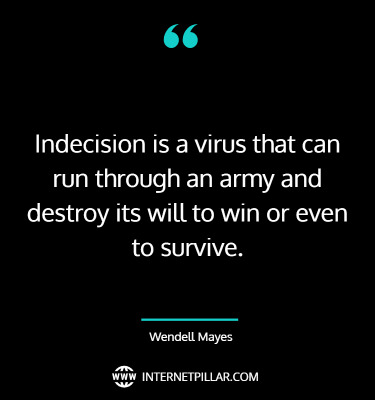 Indecision is a virus that can run through an army and destroy its will to win or even to survive. ~ Wendell Mayes.
Beige is the color of indecision. ~ Paula Scher.
Money isn't the solution to your problems. It only lets you carry your unhappiness around in style. ~ Shannon L. Alder.
Things can harden meaningfully in the moment of indecision. ~ John Ashbery.
The worst of all human ailments: indecision. ~ Napoleon Hill.
One of the painful things about our time is that those who feel certainty are stupid, and those with any imagination and understanding are filled with doubt and indecision. ~ Bertrand Russell.
Evil draws its power from indecision and concern for what other people think. ~ Pope Benedict XVI.
I've never been able to plan my life. I just lurch from indecision to indecision. ~ Alan Rickman.
---
So these were the 58 quotes about Indecision.
If you like these quotes and sayings, then you can also read our other posts on Novak Djokovic quotes and Chris Evans quotes.