Inner beauty is not something that can be seen or measured.
It is something that is felt and experienced on a deeper level.
This type of beauty comes from within and cannot be bought or achieved through external means.
It must be found within oneself and must be nurtured and appreciated. It is the beauty that is inside each and every one of us.
It cannot be found in any other person or thing. Inner beauty is the true reflection of who you are on the inside and it reflects your inner strength, courage, faith and will to live a full life.
You will find below a curated collection of the popular 'Inner Beauty' quotes that you can read and share with others.
---
Best Inner Beauty Quotes
Outer beauty attracts, but inner beauty captivates. ~ Kate Angell.
I know my best angles. ~ Scarlet Johannson.
Inner beauty should be the most important part of improving one's self. ~ Priscilla Presley.
When beauty lives in the heart, it doesn't need to show up anywhere else. ~ Steve Goodier.
I believe that children are our future. Teach them well and let them lead the way. Show them all the beauty they possess inside. ~ Whitney Houston.
Nobody can bring you peace but yourself. ~ Ralph Waldo Emerson.
A great figure or physique is nice, but it's self-confidence that makes someone really sexy. ~ Vivica Fox .
Beauty is the purest feeling of the soul. Beauty arises when soul is satisfied. ~ Amit Ray.
Outer beauty pleases the eye. Inner beauty captivates the heart. ~ Mandy Hale.
Famous Inner Beauty Quotes
Create a beautiful inside and you will look more beautiful on the outside. ~ Charles F Glassman.
Beauty is the illumination of your soul. ~ John O'Donohue.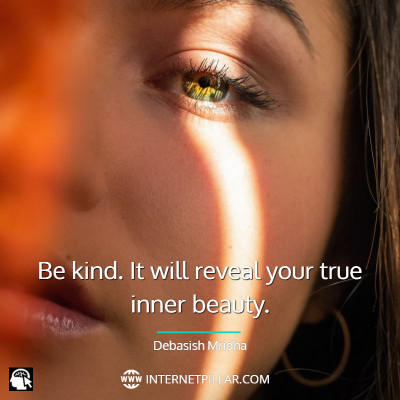 Be kind. It will reveal your true inner beauty. ~ Debasish Mridha.
You are not born with beauty, your beauty is created by who you are. Your inner beauty is more important than how people see you on the outside. ~ Emily Coussons.
Beauty is an expression of the inner and outer simplicity, kindness, and uniqueness of a person. ~ Debasish Mridha.
When you're a beautiful person on the inside, nothing in the world can change that about you … If you can't accept yourself, then certainly no one else will. ~ Sasha Azevedo.
Beauty is defined not by our physical appearance but who we choose to be. ~ Andrew Davenport.
Some of the most beautiful things worth having in your life come wrapped in a crown of thorns. ~ Shannon L. Alder.
Top Inner Beauty Quotes
Butterflies can't see their wings. They can't see how truly beautiful they are, but everyone else can. People are like that as well. ~ Naya Rivera.
Let your inner beauty be your main force. ~ Anoir Ou-Chad.
Groom yourself with a comb of confidence and inner beauty. ~ Suyasha Subedi.
We should look to the mind, and not to the outward appearance. ~ Aesop.
For beautiful eyes, look for the good in others; for beautiful lips, speak only words of kindness; and for poise, walk with the knowledge that you are never alone. ~ Audrey Hepburn.
Beauty is not who you are on the outside, it is the wisdom and time you gave away to save another struggling soul like you. ~ Shannon L. Alder.
We see the beauty within and cannot say no. ~ Dave Eggers.
My father used to say, 'Let them see you and not the suit. That should be secondary.' ~ Cary Grant.
Popular Inner Beauty Quotes
Focus on your inner beauty. Outer beauty will draw people to you, inner beauty will keep them in your presence. ~ Robert Overstreet.
Outer beauty turns the head, but inner beauty turns the heart. ~ Helen J. Russell.
Beauty is in the heart of the beholder. ~ H. G. Wells.
It's beauty a kind of radiance. People who possess a true inner beauty, their eyes are a little brighter, their skin a little more dewy. They vibrate at a different frequency. ~ Cameron Diaz.
True beauty could be discovered only by one who mentally complete the incomplete. ~ Kakuzō Okakura.
When the inner beauty exceeds the outward beauty – it creates a magical dance in the heart. ~ Angie Karan.
I believe inner beauty is beauty in its truest form. When we nurture ourselves, it brings an inevitable, positive transformation. ~ Paula Abdul.
True Inner Beauty Quotes
How I feel about myself is more important than how I look. Feeling confident, being comfortable in your skin – that's what really makes you beautiful. ~ Bobbi Brown.
If inner beauty really mattered, gyms wouldn't have been so crowded & libraries so empty… ~ Nitya Prakash.
There's more to a person than flesh. Judge others by the sum of their soul and you'll see that beauty is a force of light that radiates from the inside out. ~ Aaron Lauritsen.
Our hearts are drunk with a beauty our eyes could never see. ~ George W. Russell.
A smart woman doesn't have to think if she is beautiful. A beautiful woman doesn't have to think if she is smart. ~ Ljupka Cvetanova.
Angels only care about what you look like on the inside. A pure heart is the vessel that contains a soul's true beauty. ~ Molly Friedenfeld.
Outer beauty is transient, but the inner beauty of a kind heart gets brighter with time. Be kind and get prettier forever. ~ Debasish Mridha.
Hide yourself in God, so when a man wants to find you he will have to go there first. ~ Shannon L. Alder.
Profound Inner Beauty Quotes
If people were more concerned with how they looked on the inside, then on the outside, the world would be a nicer place to exist. ~ David Walsh.
There is nothing more beautiful than someone who goes out of their way to make life beautiful for others. ~ Mandy Hale.
Meditation is realizing and expanding your inner beauty in every direction. ~ Amit Ray.
Beauty is how you feel inside, and it reflects in your eyes. It is not something physical. ~ Sophia Loren.
Beauty is truth's smile when she beholds her own face in a perfect mirror. ~ Rabindranath Tagore.
The beauty of a woman is not in a facial mole, but true beauty in a Woman is reflected in her soul. It is the caring that she lovingly gives, the passion that she knows. ~ Audrey Hepburn.
he so called 'inner beauty' is simply character. It's your behavior or attitude towards the world and people around you. Meaning, it can be beautiful and ugly too! ~ Mwanandeke Kindembo.
Beautiful Inner Beauty Quotes
As if you were on fire from within. The moon lives in the lining of your skin. ~ Pablo Neruda.
People are like stained-glass windows. They sparkle and shine when the sun is out, but when the darkness sets in, their true beauty is revealed only if there is a light from within. ~ Elisabeth Kübler-Ross.
The best part of beauty is that which no picture can express. ~ P.C. Cast.
What's the whole point of being pretty on the outside when you're so ugly on the inside? ~ Jess C. Scott.
Something with inner beauty will live forever, like the scent of a rose. ~ Alex Flinn.
In the end, you will not see the physical beauty in others that caught your eye, but the fire that burned within them. This kind of beauty is the bonfire you had to attend. ~ Shannon L. Alder.
True beauty is not related to what color your hair is or what color your eyes are. True beauty is about who you are as a human being, your principles, your moral compass. ~ Ellen DeGeneres.
I think beauty comes from within. If you're happy and look at life in the best way you can, even when there are problems, it can make you beautiful on the outside. ~ Faith Hill.
Lovely Inner Beauty Quotes
At the core of your heart, you are perfect and pure. No one and nothing can alter that. ~ Amit Ray.
A pure heart is superlatively rare and even more attractive. ~ J.S.B. Morse.
Pretty is something you're born with. But beautiful, that's an equal opportunity adjective. ~ Ralph Waldo Emerson.
No one cares for the exterior. ~ Anne Brontë.
Maybe it's NOT Maybelline. Maybe you were just born with it. ~ Mandy Hale.
In the end, you will not see the physical beauty in others that caught your eye, but the fire that burned within them. ~ Shannon L. Alder.
No matter how plain a woman may be, if truth and honesty are written across her face, she will be beautiful. ~ Eleanor Roosevelt.
Thought-Provoking Inner Beauty Quotes
Love beyond physical appearance is divine in nature. ~ Arshia Mittal.
Beauty is not in the face; beauty is a light in the heart. ~ Kahlil Gibran.
When I was your age…I wish I'd known that I already had everything I needed within myself to be happy, instead of looking for happiness at beauty counters. ~ Ilene Beckerman.
Beauty lives with kindness. ~ William Shakespeare.
Sometimes people are beautiful. Not in looks. Not in what they say. Just in what they are. ~ Markus Zusak.
Beauty is when you can appreciate yourself. When you love yourself, that's when you're most beautiful. ~ Zoe Kravitz.
Kindness and awareness work together. Through awareness, we understand the underlying beauty of everything and every being. ~ Amit Ray.
Outer beauty is inner beauty made visible. ~ Paulo Coelho.
Inspirational Inner Beauty Quotes
Because true beauty comes from within, from the person you are. ~ Sara Ella.
The beauty that we find in the world is a reflection of the beauty inside of us. ~ Abhijit Naskar.
It's that heart of gold and stardust shine that makes you beautiful. ~ R.M. Broderick.
You have to rely on whatever sparks you have inside. ~ Lisa Kleypas.
Her INNER BEAUTY is what makes her outer beauty exquisitely beautiful. ~ Stephanie Lahart.
Not much to look at, but as with all true beauty, it is what's inside that counts. ~ Matt Sewell.
Boys think girls are like books, If the cover doesn't catch their eye they won't bother to read what's inside. ~ Marilyn Monroe.
The fountain of beauty is the heart and every generous thought illustrates the walls of your chamber. ~ Francis Quarles.
Positive Inner Beauty Quotes
You are one thing only. You are a Divine Being. An all-powerful Creator. ~ Anthon St. Maarten.
Beauty is only skin deep, but ugly lies to the bone. Beauty dies and fades away, but ugly holds its own! Cultivate Inner Beauty that never fades away but grows and matures with time! ~ Deodatta V. Shenai-Khatkhate.
Beauty begins the moment you decide to be yourself. ~ Coco Chanel.
There is no definition of beauty, but when you can see someone's spirit coming through, something unexplainable, that's beautiful to me. ~ Liv Tyler.
Your inner light is what makes you beautiful. ~ Mary Davis.
There is strange comfort in knowing that no matter what happens today, the Sun will rise again tomorrow. ~ Aaron Lauritsen.
To be beautiful means to be yourself. You don't need to be accepted by others. You need to accept yourself. ~ Thich Nhat Hanh.
---
So these were the 95 top quotes about Inner Beauty.
Tell me in the comments section, which "Inner Beauty" quotes were your favorite?
If you like these quotes and sayings, then you can also read my other posts on Reading quotes and Simplicity quotes.
You are welcome to share these quotes, sayings and phrases with your friends and family on Facebook, Twitter, Instagram, WhatsApp, and Pinterest and inspire them to take their life to the next level and achieve success and greatness!