Introspection signifies the purposeful act of turning inward to assess one's thoughts, emotions, and motives.
It's akin to casting a light onto the recesses of your mind to scrutinize your cognitive and emotional patterns.
This ability is vital in troubleshooting and decision-making processes, especially when navigating complex or challenging situations.
Introspection empowers you to uncover hidden assumptions, prejudices, and emotional reactions that might influence your decisions.
It helps in identifying recurring thought patterns, comprehending your feelings, and achieving a clear understanding of your personal values and goals.
Introspection can cultivate a deeper self-awareness and will enable you to make more informed and authentic decisions.
---
Best Introspection Quotes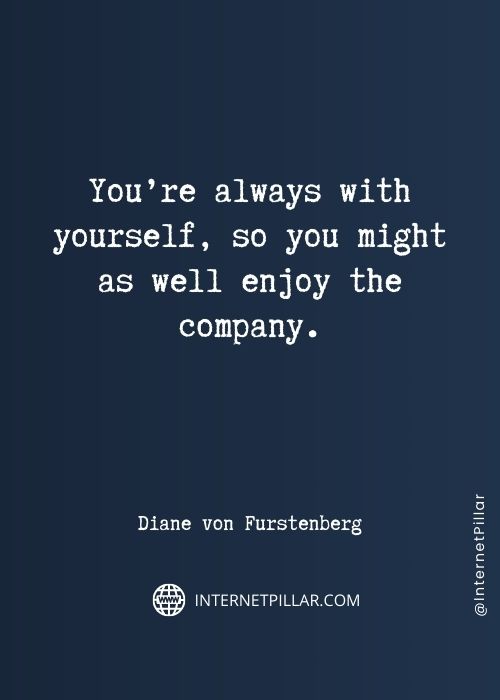 You're always with yourself, so you might as well enjoy the company. ~ Diane von Furstenberg.
It requires as much caution to tell the truth as to conceal it. ~ Baltasar Gracian.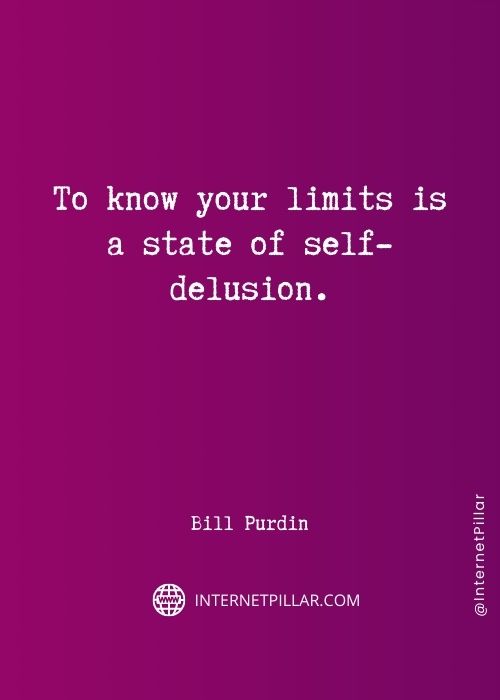 To know your limits is a state of self-delusion. ~ Bill Purdin.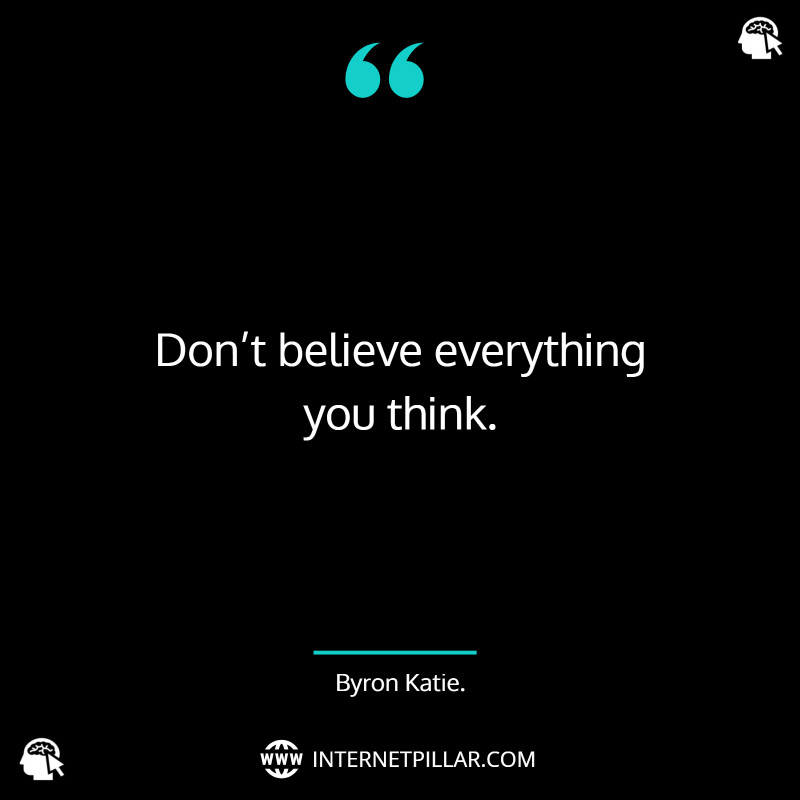 Don't believe everything you think. ~ Byron Katie.
Honest self understanding liberates us from our stuck emotions. ~ C Terry Warner.
Introspection is one of the most underused yet powerful tools for success. ~ Richard Carlson.
Mastering others is strength; mastering yourself is true power. ~ Tao Te Ching.
Introspection is always retrospection. ~ Jean-Paul Sartre.
Silence is only frightening to people who are compulsively verbalizing. ~ William S. Burroughs.
It is good for society to have this introspection. ~ Jacques Verges.
The most introspective of souls are often those that have been hurt the most. ~ Shannon L. Alder.
Related Quotes: 74 Self-Love Quotes to Start Loving Yourself and 117 Best Self Worth Quotes to Know Your Worth
Self Introspection Quotes
Your visions will become clear only when you can look into your own heart. Who looks outside, dreams; who looks inside, awakes. ~ Carl Jung.
Knowing yourself is the beginning of all wisdom. ~ Aristotle.
Honest self reflection opens your mind to reprogramming, change, success, and freedom. ~Unknown.
When I do comedy, I lose all inhibition and introspection. I no longer care. ~ Jessica Alba.
Who in the world am I? Ah, that's the great puzzle. ~ Lewis Carroll.
Sometimes, you have to look back in order to understand the things that lie ahead. ~ Yvonne Woon.
Famous Introspection Quotes
Made for spirituality, we wallow in introspection. Made for joy, we settle for pleasure. Made for justice, we clamor for vengeance. ~ N. T. Wright.
The most mature human insight comes from one's introspection rather than from exterior research. ~ Hugh Downs.
There is only one corner of the universe you can be certain of improving, and that's your own self. ~ Aldous Huxley.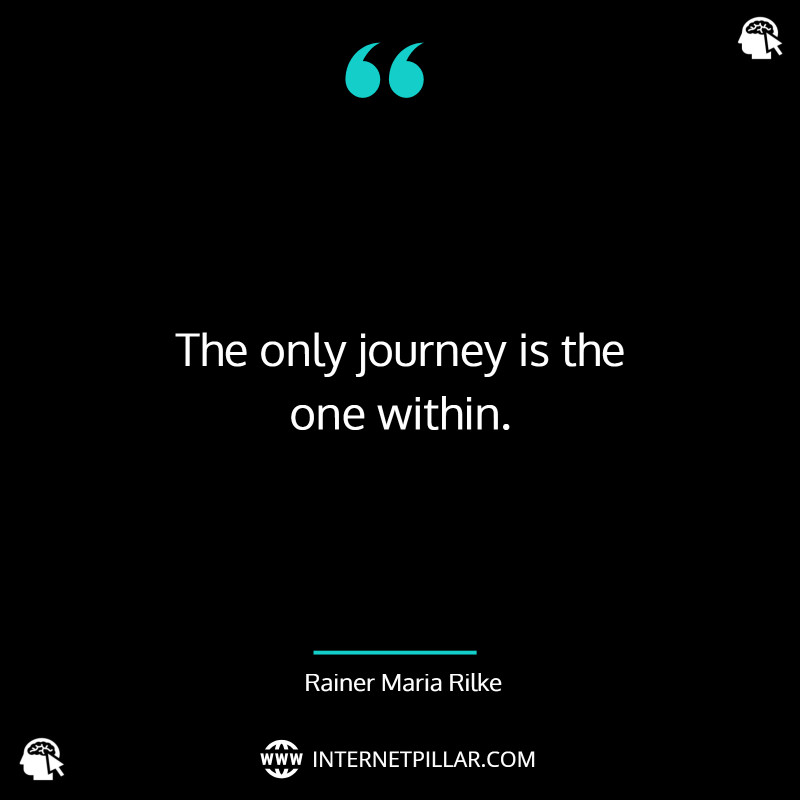 The only journey is the one within. ~ Rainer Maria Rilke.
There are three principal means of acquiring knowledge… observation of nature, reflection, and experimentation. ~ Denis Diderot.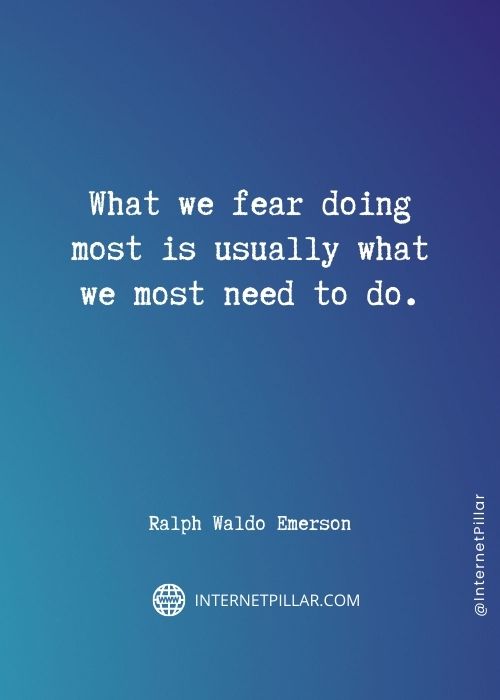 What we fear doing most is usually what we most need to do. ~ Ralph Waldo Emerson.
Zen masters say you cannot see your reflection in running water, only in still water. ~ Elizabeth Gilbert.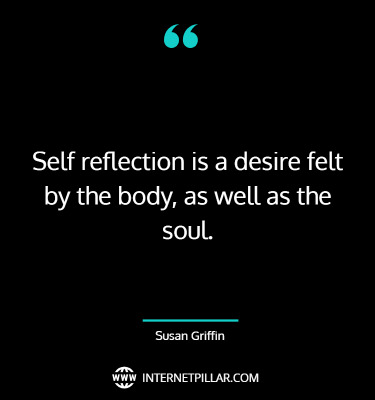 Self reflection is a desire felt by the body, as well as the soul. ~ Susan Griffin.
The problem with introspection is that it has no end. ~ Philip K. Dick.
Popular Introspection Quotes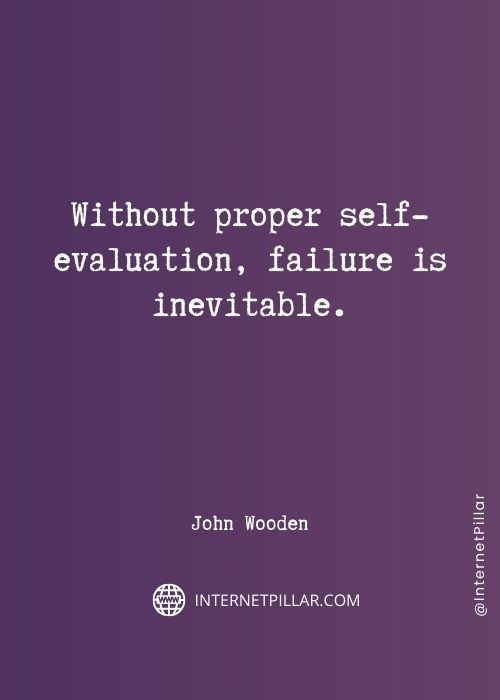 Without proper self-evaluation, failure is inevitable. ~ John Wooden.
Your greatest self has been waiting your whole life; don't make it wait any longer. ~ Dr. Steve Maraboli.
Education, introspection, self-love and excellence are the only ways to overcome the wrath of ignorance. ~ Romany Malco.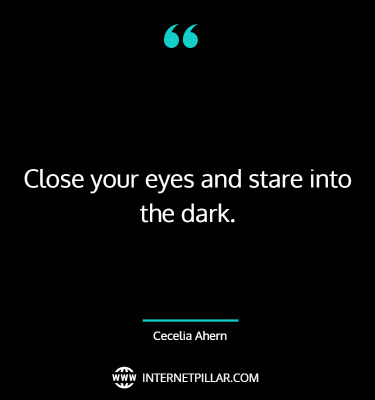 Close your eyes and stare into the dark. ~ Cecelia Ahern.
Self-observation is the first step of inner unfolding. ~ Amit Ray.
Self Reflection entails asking yourself questions about your values… and imagining where you want to take your life in the future. ~ Robert L. Rosen.
The mind may wander, but let not the senses wander with it. If the senses wander where the mind takes them, one is done for. ~ Mahatma Gandhi.
Your brain shall be your servant instead of your master. You will rule it instead of allowing it to rule you. ~ Charles Popplestone.
It's not differences that divide us. It's our judgments about each other that do. ~ Margaret J Wheatley.
Do what you feel in your heart to be right – you'll be criticized anyway. ~ Eleanor Roosevelt.
In order to understand the world, one has to turn away from it on occasion. ~ Albert Camus.
Introspection is a devouring monster. You have to feed it with much material, much experience, many people, many places, many loves, many creations, and then it ceases feeding on you. ~ Anais Nin.
In self introspection, 'self' becomes an object to self. ~ Alex Gillespie.
Association with human beings lures one into self-observation. ~ Franz Kafka.
Self-control is strength. Right thought is mastery. Calmness is power. ~ James Allen.
I think everybody's weird. We should all celebrate our individuality and not be embarrassed or ashamed of it. ~ Johnny Depp.
A writer needs a life of introspection. ~ Tom Robbins.
Self-reflection is the gateway to freedom. ~ Dzigar Kongtrul Rinpoche.
Top Introspection Quotes
Mindfully practicing authenticity during our most soul-searching struggles is how we invite grace, joy and gratitude into our lives. ~ Brene Brown.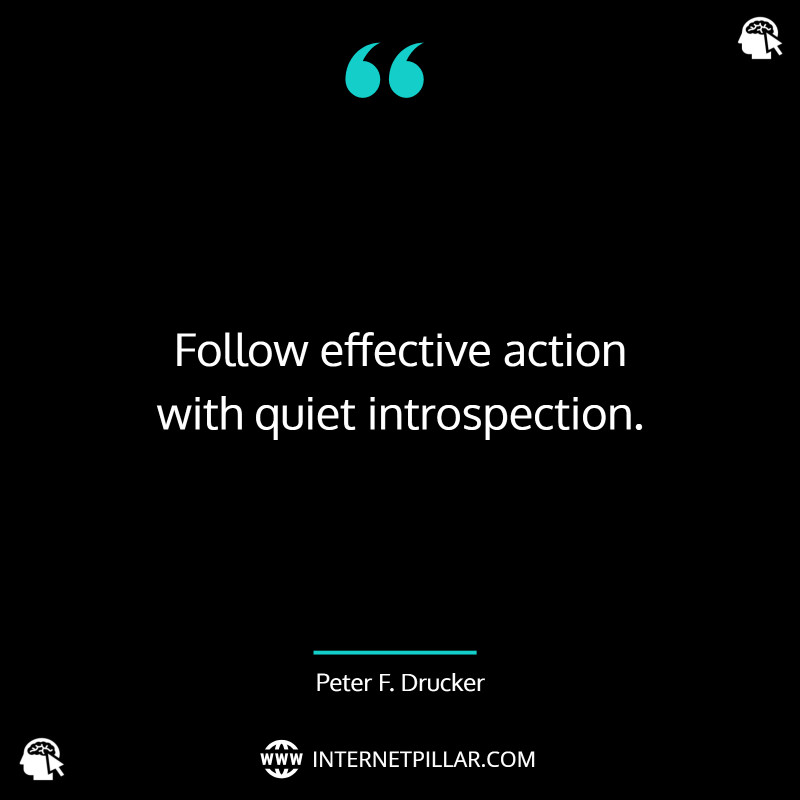 Follow effective action with quiet introspection. ~ Peter F. Drucker.
The most important of life's battles is the one we fight daily in the silent chambers of the soul. ~ David O. McRay.
Anybody desirous of success should spend some time in introspection and contemplation. ~ Sam Veda.
He that knows himself, knows others. ~ Charles Caleb Colton.
One could argue that most of the trouble in the world is caused by introspection. ~ Nick Hornby.
I choose the term self-reflection because it foregrounds the self. ~ Alex Gillespie.
I doubt that any such reflexive, knowledgeable, self attribution is non-empirical. ~ Tyler Burge.
The mind can weave itself warmly in the cocoon of its own thoughts, and dwell a hermit anywhere. ~ James Russell Lowell.
Self-control is the ability to control the expression of our passions and emotions. ~ Anonymous.
Trust yourself. Create the kind of self that you will be happy to live with all your life. ~ Golda Meir.
Short Introspection Quotes
The philosophy of the wisest person that ever existed, is mainly derived from the act of introspection. ~ William Godwin.
Being is. Being is in itself. Being is what it is. ~ Jean Paul Sartre.
Don't become too preoccupied with what is happening around you. Pay more attention to what is going on within you. ~Mary Frances Winters.
Self Reflection reveals self in motion. ~ Alex Gillespie.
Mastering self-control, the act of restraining one's emotions is the true key to success. ~ Timothy Pina.
One's greatest challenge is to control oneself. ~ Kazi Shams.
---
So these were the 63 quotes about self introspection and self journey.
If these quotes and sayings connect with you, check out our other posts on mystery quotes and feedback quotes.
---
Resources: