Self-love encompasses the ability to cherish your originality, acknowledging that your particular characteristics contribute to your distinct personality.
It is about accepting your flaws and accepting them as essential components of your personality.
True self-love is full acceptance of oneself including flaws and weaknesses.
It rejects the concept of perfection in favor of appreciating the totality of one's existence.
This complete acceptance is the core of self-love; it enables you to navigate life with confidence and sincerity, cultivating a stronger connection with yourself and the world around you.
---
Top 10 Love Yourself Quotes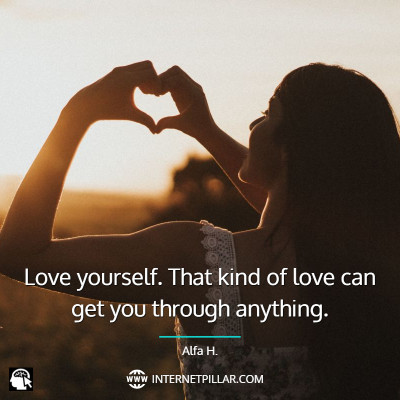 Love yourself. That kind of love can get you through anything. ~ Alfa H.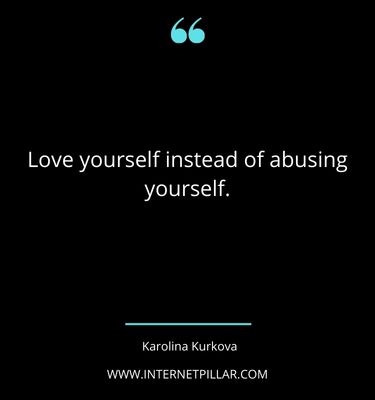 Love yourself instead of abusing yourself. ~ Karolina Kurkova.
If you can't love yourself, you can't love other people. ~ Kyle.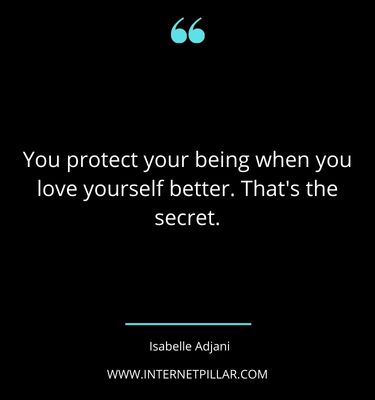 You protect your being when you love yourself better. That's the secret. ~ Isabelle Adjani.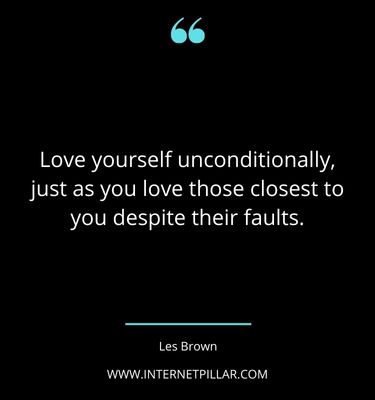 Love yourself unconditionally, just as you love those closest to you despite their faults. ~ Les Brown.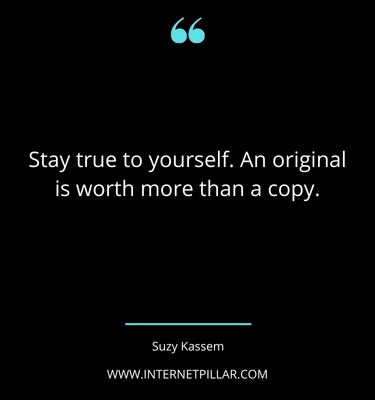 Stay true to yourself. An original is worth more than a copy. ~ Suzy Kassem.
It's hard to feel desire when you don't feel desirable. ~ Christine Feehan.
First and foremost, it's important to love yourself. ~ Karrueche Tran.
If you don't love yourself, you cannot love others. ~ Dalai Lama.
Be yourself, love yourself and live the life you are meant to live. ~ Darice Cairns.
Related Quotes: 84 Confidence Quotes to Uplift Your Self-Esteem and 113 Best Self Esteem Quotes to Boost Your Confidence and Life
Famous Love Yourself Quotes
Loving yourself is not an act; it is not something you initiate. It is something you allow. ~ Wes Beavis.
Love yourself enough to have a meaningful life. ~ Millen Livis.
Learn yourself and love yourself. ~ Khoudia Diop.
You yourself, as much as anybody in the entire universe, deserve your love and affection. ~ Buddha.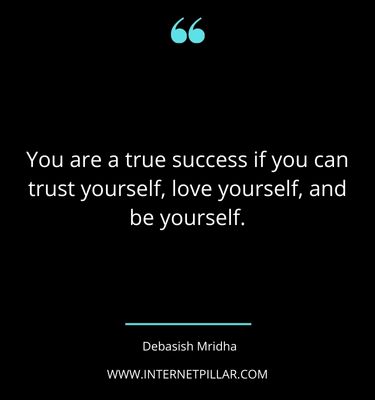 You are a true success if you can trust yourself, love yourself, and be yourself. ~ Debasish Mridha.
It's easy to love yourself when you feel good enough, when you feel special enough, when you're loved enough, when you have enough money, and you're appreciated. ~ Debbie Ford.
Why are you trying so hard to fit in when you were born to stand out? ~ Ian Wallace.
One thing I did was to create a Love Yourself List. I wrote down everything I like about myself, and put it on my bathroom mirror. Then I read it until I believed it. Any time I compared myself to others, and felt negative about myself, I'd go back to that list. ~ Lizzie Velasquez.
Profound Love Yourself Quotes
People that don't know what they are worth will always see their capture's wings, but never their tail. ~ Shannon L. Alder.
If you don't love yourself, nobody will. Not only that, you won't be good at loving anyone else. Loving starts with the self. Love yourself and dream bigger. ~ Teresa Collins.
To love yourself right now, just as you are, is to give yourself heaven. Don't wait until you die. If you wait, you die now. If you love, you live now. ~ Alan Cohen.
It's when you start to love yourself more than those around you that your ego begins to take shape & form. ~ Anthony T. Hincks.
If you have the ability to love, love yourself first. ~ Charles Bukowski.
If you don't love yourself, you can't love anybody else. And I think as women we really forget that. ~ Jennifer Lopez.
Don't ever criticize yourself. Don't go around all day long thinking, 'I'm unattractive, I'm slow, I'm not as smart as my brother.' God wasn't having a bad day when he made you… If you don't love yourself in the right way, you can't love your neighbor. You can't be as good as you are supposed to be. ~ Joel Osteen.
Best Love Yourself Quotes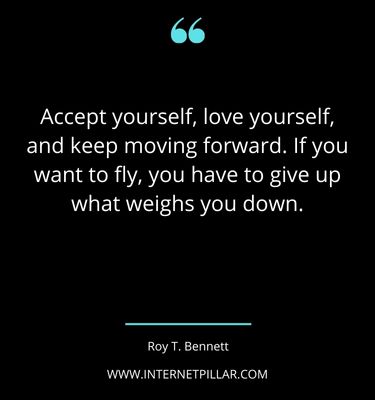 Accept yourself, love yourself, and keep moving forward. If you want to fly, you have to give up what weighs you down. ~ Roy T. Bennett.
You deserve someone who makes you feel like the otherworldly creature you are. Yourself. ~ Amanda Lovelace.
You've got to love yourself first. You've got to be okay on your own before you can be okay with somebody else. ~ Jennifer Lopez.
Love yourself first and everything else falls into line. You really have to love yourself to get anything done in this world. ~ Lucille Ball.
Love yourself. Then find something to love beyond yourself. ~ Grace Potter.
If you are happy, you can give happiness. If you don't love yourself and if you are unhappy with yourself, you can't give anything else but that. ~ Gisele Bundchen.
Love is a battle with yourself. Be kind and love yourself before you love anyone else. ~ Karen Quan.
Thought-Provoking Love Yourself Quotes
Forgiving yourself, believing in yourself and choosing to love yourself are the best gifts one could receive. ~ Brittany Burgunder.
I've really come to realize you have to love yourself before you can expect someone else to. ~ Leah Remini.
The greatest thing in the world is to know how to belong to oneself. ~ Michel de Montaigne.
Love who you are, embrace who you are. Love yourself. When you love yourself, people can kind of pick up on that: they can see confidence, they can see self-esteem, and naturally, people gravitate towards you. ~ Lilly Singh.
Be beautiful, be stylish, and love yourself. ~ Karishma Tanna.
Love yourself. It is important to stay positive because beauty comes from the inside out. ~ Jenn Proske.
Love yourself for who you are, and trust me, if you are happy from within, you are the most beautiful person, and your smile is your best asset. ~ Ileana D'Cruz.
Popular Love Yourself Quotes
We can never obtain peace in the outer world until we make peace with ourselves. ~ Dalai Lama.
Love only yourself a little bit longer, until you can't stand not to love someone else. ~ Kiera Cass.
If you can learn to love yourself and all the flaws, you can love other people so much better. And that makes you so happy. ~ Kristin Chenoweth.
What I am is how I came out. No one's perfect and you just have to accept your flaws and learn to love yourself. ~ Kelly Brook.
Your body is your body; it's natural. Learn to love yourself for it. ~ Emily Ratajkowski.
When you love yourself and are able to indulge in yourself, and you're grounded in your 'yes' or 'no,' it's nothing to ask a guy on a date. ~ Karrueche Tran.
Love yourself. Forgive yourself. Be true to yourself. How you treat yourself sets the standard for how others will treat you. ~ Steve Maraboli.
Positive Love Yourself Quotes
Encourage yourself, believe in yourself, and love yourself. Never doubt who you are. ~ Stephanie Lahart.
Learning to love yourself is not going to happen overnight – the first step is trying to be kinder and more patient with yourself, and I understand that it takes time. ~ Tess Holliday.
The greatest rebellion is loving yourself in a world trying to sabotage your light. ~ Nikki Rowe.
Accept yourself, love yourself. ~ Chanel Iman.
Only if you love yourself, only if you're happy with yourself and only if you know your own worth will you ever be happy. ~ Momina Mustehsan.
Love yourself no matter what! ~ Erin Heatherton.
Motivational Love Yourself Quotes
One way to feel good about yourself is to love yourself… to take care of yourself. ~ Goldie Hawn.
How you love yourself is how you teach others to love you. ~ Rupi Kaur.
Love yourself enough to set boundaries. Your time and energy are precious. You get to choose how you use it. You teach people how to treat you by deciding what you will and won't accept. ~ Anna Taylor.
You need to love yourself and be yourself one hundred percent before you can actually love someone else. ~ Christina Perri.
I've always practiced this: Love yourself. Move your body. Watch your portions. ~ Richard Simmons.
You can't let someone else lower your self-esteem, because that's what it is – self-esteem. You need to first love yourself before you have anybody else love you. ~ Winnie Harlow.
Don't forget to tell yourself positive things daily! You must love yourself internally to glow externally. ~ Hannah Bronfman.
Inspirational Love Yourself Quotes
You have to learn to love yourself before you can love someone else. Because it's only when we love ourselves that we feel worthy of someone else's love. ~ Alyssa B. Sheinmel.
You've got to tune out the other people and tune in to what's going on inside. Love yourself. Nourish your body. ~ Cheryl Burke.
Love yourself no matter who you are or where you come from. ~ Diane Guerrero.
When you've learned to love yourself, you get all the things that come with that. Friends, passion, success. ~ Christen Press.
I want to tell everybody to celebrate every day, to savor the day and be good to yourself, love yourself, and then you can be good to others and be of service to others. ~ Charlotte Rae.
Don't forget to love yourself. ~ Soren Kierkegaard.
Whatever you are doing, love yourself for doing it. Whatever you are feeling, love yourself for feeling it. ~ Thaddeus Golas.
Inspiring Love Yourself Quotes
Beauty is when you can appreciate yourself. When you love yourself, that's when you're most beautiful. ~ Zoe Kravitz.
Celebrate who you are in your deepest heart. Love yourself and the world will love you. ~ Amy Leigh Mercree.
The most powerful relationship you will ever have is the relationship with yourself. ~ Steve Maraboli.
Life is really not easy, we all have our personal battles, but it is important that you really treasure yourself, love yourself and have a sense of self-worth. ~ Heart Evangelista.
To love oneself is the beginning of a life-long romance. ~ Oscar Wilde.
---
So these were the 75 top quotes about Love Yourself.
If you like these quotes and sayings, then you can also read my other posts on Strength quotes and Sad quotes.
---
References: