Maggie Siff, born on June 21, 1974, is a well-known American actress celebrated for her television roles such as Rachel Menken Katz in 'Mad Men,' Tara Knowles in 'Sons of Anarchy,' and Wendy Rhoades in 'Billions.'
Born in The Bronx, New York City, she embraces her Jewish cultural heritage alongside her Irish and Swedish roots.
She graduated in English from Bryn Mawr College, followed by an M.F.A. in acting from New York University's Tisch School of the Arts.
Prior to television, Siff had an extensive career in regional theater, earning a Barrymore Award in 1998 for her performance in Ibsen's 'Ghosts.'
Her notable film roles include 'Push,' 'Leaves of Grass,' and 'One Percent More Humid.'
Drawing from her experience working at a hedge fund, she delivered a remarkable performance in 'Billions.'
Related: Mindy Kaling Quotes from The Hilarious Author and Actress and Heather Langenkamp Quotes from the American Actress
She also became the spokesperson for Betterment, an online financial advisor, in 2018.
I have curated the top quotes by Maggie Siff in this post.
---
Best Maggie Siff Quotes
I'm not your biggest girly girl. ~ Maggie Siff.
I so never went through a bad-girl period. ~ Maggie Siff.
I think, as an actor, theater is like one of the things that you feel most in control of and in charge of. ~ Maggie Siff.
A day on a film set is maddening. ~ Maggie Siff.
Cate Blanchett is somebody who I could watch do anything. I love what an extraordinary chameleon she can be. There's something about the way she bends and transforms that feels otherworldly to me. ~ Maggie Siff.
I grew up in the Bronx, but in Riverdale – not exactly an area of New York that's known for being rough and tumble. ~ Maggie Siff.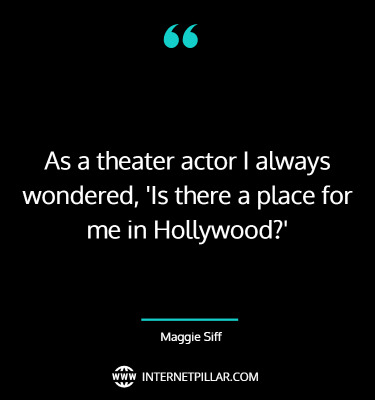 As a theater actor I always wondered, 'Is there a place for me in Hollywood?' ~ Maggie Siff.
You just have to learn how to fall down and get back up again. You just have to keep going. ~ Maggie Siff.
I was an English major in college! ~ Maggie Siff.
I want to do more independent film. I'm blessed to be working on really quality episodic television, which to me actually feels like a sort of 13-hour film. ~ Maggie Siff.
---
If these quotes and sayings connect with you, check out our other posts on Constance Marie quotes and Nathalie Kelley quotes.