Maggie Siff is an actress from the United States.
---
Best Maggie Siff Quotes
I'm not your biggest girly girl. ~ Maggie Siff.
I so never went through a bad-girl period. ~ Maggie Siff.
I think, as an actor, theater is like one of the things that you feel most in control of and in charge of. ~ Maggie Siff.
A day on a film set is maddening. ~ Maggie Siff.
Cate Blanchett is somebody who I could watch do anything. I love what an extraordinary chameleon she can be. There's something about the way she bends and transforms that feels otherworldly to me. ~ Maggie Siff.
I grew up in the Bronx, but in Riverdale – not exactly an area of New York that's known for being rough and tumble. ~ Maggie Siff.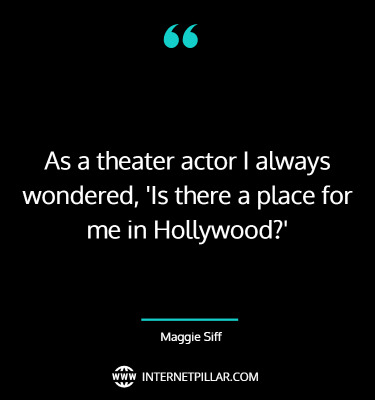 As a theater actor I always wondered, 'Is there a place for me in Hollywood?' ~ Maggie Siff.
You just have to learn how to fall down and get back up again. You just have to keep going. ~ Maggie Siff.
I was an English major in college! ~ Maggie Siff.
I want to do more independent film. I'm blessed to be working on really quality episodic television, which to me actually feels like a sort of 13-hour film. ~ Maggie Siff.
---
If these quotes and sayings connect with you, check out our other posts on Constance Marie quotes and Nathalie Kelley quotes.