Having peace of mind means being content and joyful with what you have in your life.
You feel peace of mind when you aren't stressed or anxious about anything.
---
Famous Peace of Mind Quotes
Nothing can disturb your peace of mind unless you allow it to. ~ Roy T. Bennett.
None is richer than he who simply has peace of mind. ~ Maj Wambebe.
For peace of mind, we need to resign as general manager of the universe. ~ Larry Eisenberg.
It is our peaceful mind that leads to a happy and peaceful life.. and ultimately to a beautiful, loving, more peaceful world. ~ Barbara Schmidt.
Peace of mind for five minutes, that's what I crave. ~ Alanis Morissette.
You will give yourself peace of mind if you perform every act of your life as if it were your last. ~ Marcus Aurelius.
With the practice of mindfulness, every breath brings happiness. Mindfulness can make every moment of our daily life peaceful, clear, and loving. ~ Thich Nhat Hanh.
We don't realize that, somewhere within us all, there does exist a supreme self who is eternally at peace. ~ Elizabeth Gilbert.
Some people are able to find peace and inner happiness even in the humblest of circumstances, while others who seemingly have everything – are miserable. ~ Puff Dr. Robert.
Inner Peace of Mind Quotes
Peace of mind helps you live your life on your own terms, in values of your own choosing, so that every day your life grows richer and greater. ~ Napoleon Hill.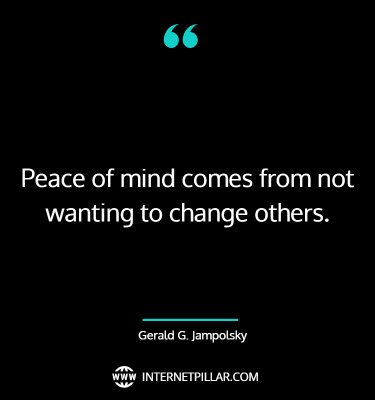 Peace of mind comes from not wanting to change others. ~ Gerald G. Jampolsky.
Peace is a day-to-day problem, the product of a multitude of events and judgments. Peace is not an "is" it is a "becoming". ~ Haile Selassie.
Peace of mind comes when your life is in harmony with true principles and values and in no other way. ~ Stephen Covey.
There are many things that are essential to arriving at true peace of mind, and one of the most important is faith, which cannot be acquired without prayer. ~ John Wooden.
When God is ready for you to move, He will make your situation uncomfortable. ~ Germany Kent.
If water derives lucidity from stillness, how much more the faculties of the mind! ~ Chuang Tzu.
Cultivate peace of mind which does not separate oneself from one's surroundings. When that is done successfully, then everything else follows naturally. ~ Robert M. Prisig.
Top Peace of Mind Quotes
You should feel beautiful and you should feel safe. What you surround yourself with should bring you peace of mind and peace of spirit. ~ Stacy London.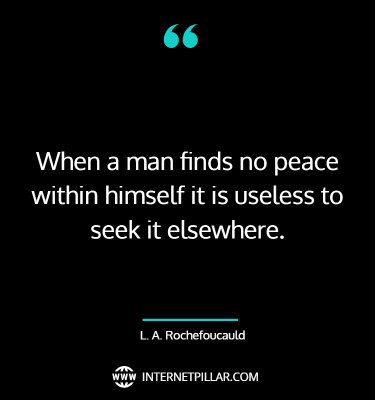 When a man finds no peace within himself it is useless to seek it elsewhere. ~ L. A. Rochefoucauld.
The priority of life is peace of mind, seek for it first and then everything in life will surely glow with passionate peace. No more fighting once the battle is over. Let understanding rule your life and Keep the peace flag alive. ~ Kemmy Nola.
Mental health is the ability to love, the ability to work, the ability to play, and the ability to use your mind soundly. ~ Ashley Montagu.
The best thing you can ever have is peace of mind, it is a basking fire to keep a cold heart in warmth, and a fortified confidence to be proud of. ~ Michael Bassey Johnson.
Peace starts from within, how can you make peace with someone if you have no peace of mind? ~ Peter Marley.
Peace of mind makes the body healthy, but jealousy is like a cancer. ~ Bible.
The mind is never right but when it is at peace within itself. ~ Seneca.
You'll never find peace of mind until you listen to your heart. ~ George Michael.
Best Peace of Mind Quotes
Every time we respond to a situation with love rather than anger, or fear, or hatred, we take a step toward a more peaceful life. ~ Karen Casey.
In whosoever presence you find peace of mind, devoid of fear, only that person can be your guru. ~ Ilaiyaraaja.
For every minute you remain angry, you give up sixty seconds of peace of mind. ~ Ralph Waldo Emerson.
Without peace of mind, life is just a shadow of its possibilities. ~ Jean Borysenko.
By achieving peace of mind, you will live more fully. In terms of satisfaction with life, you will be repaid many times over for each moment you spend cultivating peacefulness. ~ Jerry Dorsman.
Be so strong that nothing can disturb your peace of mind. ~ Christian D. Larson.
Peace of mind greatly increases your intellectual power. It enables us to think rationally and in a better way. ~ Haridutt Sharma.
Real peace of mind is the companion of the silence of the mind. ~ Remez Sasson.
I can only have peace of mind when I forgive rather than judge. ~ Gerald Jampolsky.
Popular Peace of Mind Quotes
As you create peace in yourself, you increase peace in the world by adding one more peaceful person to it. ~ Jerry Dorsman.
If you are always looking for fault, that is what you will find – and you'll never have peace of mind. ~ Dorsey Baker.
To have a quiet mind is to possess one's mind wholly. ~ Hamilton Mabie.
Peace of mind is attained not by ignoring problems, but by solving them. ~ Raymond Hull.
The fastest way out of mental illness is to learn what it means to live in peace. ~ Dr Bill Pettit.
Set peace of mind as your highest goal, and organize your life around it. ~ Brian Tracy.
If you fill your mind with thoughts of beauty. forgiveness, thankfulness, harmony and love, then the chaotic life you lead will transform wonderfully into harmonious, blissful living. ~ David Michael Ferruolo.
The world will be at war as long as the mind is at war with itself. If we can't find peace within ourselves, where is the hope for peace in the world? ~ Byron Katie.
Every goal, every action, every thought, every feeling one experiences, whether it be consciously or unconsciously known, is an attempt to increase one's level of peace of mind. ~ Sidney Madwed.
Peace of mind is that mental condition in which you have accepted the worst. ~ Lin Yutang.
When we consciously choose to respond to life with compassion, peace, and harmony, we meet our own needs for these positive qualities. ~ Mary Mackenzie.
The measure of success is happiness and peace of mind. ~ Bobby Davro.
Do not confuse peace of mind with spaced-out insensitivity. A truly peaceful mind is very sensitive, very aware. ~ Tenzin Gyatso.
Sometimes you can find peace of mind by transferring yourself to different situations. They're just reminders to stay… calm. ~ Yves Behar.
Peace of mind arrives the moment you come to peace with the contents of your mind. ~ Rasheed Ogunlaru.
Peace of mind always comes with knowing who you truly are, where you currently stand, where you positively need to be, and strongly believing in its possibility. ~ Edmond Mbiaka.
Great Peace of Mind Quotes
The minute you stop overwhelming your mind with caring about what everyone else thinks, and start doing what you feel in your heart is right, is the minute you will finally feel freedom and peace of mind. ~ Melchor Lim.
Mind your mind. Mind your thinking. What we think has a way of manifesting itself into reality. ~ I. C. Robledo.
Negative emotions like hatred destroy our peace of mind. ~ Matthieu Ricard.
Holding grudges has always proven to eat away one's peace of mind. ~ Edmond Mbiaka.
Peace of mind is a freedom from negative forces which may take possession of the mind, and from any such negative attitudes as worry and inferiority. ~ Napoleon Hill.
If you want peace, stop fighting. If you want peace of mind, stop fighting with your thoughts. ~ Peter McWilliams.
I try my best to take out time for exercise and also meditation, it really brings me peace of mind. ~ Shriya Saran.
Other people do not have to change for us to experience peace of mind. ~ Gerald Jampolsky.
When you've seen beyond yourself, then you may find peace of mind is waiting there. ~ George Harrison.
Anger is the ultimate destroyer of peace of mind. ~ Dalai Lama.
Peace is liberty in tranquility. ~ Cicero.
When God takes out the trash, don't go digging back through it. Trust Him. ~ Amaka Imani Nkosazana.
We are shaped by our thoughts; we become what we think. When the mind is pure, joy follows like a shadow that never leaves. ~ Buddha.
Only the just man enjoys peace of mind. ~ Epicurus.
You have power over your mind – not outside events. Realize this, and you will find strength. ~ Marcus Aurelius.
Peace cannot be kept by force; it can only be achieved by understanding. ~ Albert Einstein.
If we ourselves remain angry and then sing world peace, it has little meaning. First, our individual self must learn peace. This we can practice. Then we can teach the rest of the world. ~ Dalai Lama.
There is no greater wealth in this world than the peace of mind. ~ Unknown.
---
So these were the 70 quotes about Peace of Mind.
If these quotes and sayings connect with you, check out our other posts on light quotes and holding hands quotes.