Pierre Alechinsky, a Belgian artist born in 1927, is renowned as a founding member of the CoBrA art movement, a group dedicated to freedom of color and form in art.
The movement's name "CoBrA" represents its members' hometowns – Copenhagen, Brussels and Amsterdam.
Alechinsky's artistic journey, beginning as an illustrator and typographer in Paris, led him to join forces with poet-artist Christian Dotremont, Karel Appel and Asger Jorn to form CoBrA.
His move to Japan in 1955 to study calligraphy deeply influenced his art, resulting in the adoption of a calligraphic style and the frequent use of India ink.
Alechinsky's works, characterized by borders, beasts and biomorphic forms, often embrace flaws and are imbued with the charm of found objects.
Related: Rosa Bonheur Quotes from the French Artist and Mary Engelbreit Quotes from the Famous Artist
Serving as a professor in Paris from 1983 to 1987, he received an honorary doctorate from the University in Brussels in 1994.
Today, he continues to live and work in Paris.
I have chosen some of the best quotes from Pierre Alexhinsky.
---
Best Pierre Alechinsky Quotes
Everything that you paint may be used as evidence against you. ~ Pierre Alechinsky.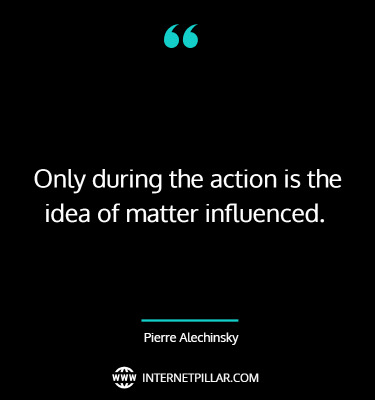 Only during the action is the idea of matter influenced. ~ Pierre Alechinsky.
Whoever thought the immediate alternates with the immediate action is not an abstract painter. ~ Pierre Alechinsky.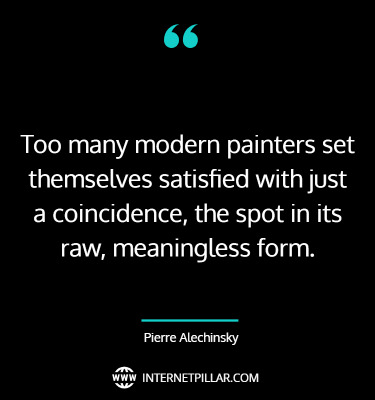 Too many modern painters set themselves satisfied with just a coincidence, the spot in its raw, meaningless form. ~ Pierre Alechinsky.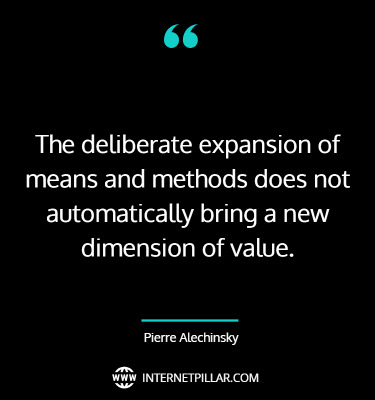 The deliberate expansion of means and methods does not automatically bring a new dimension of value. ~ Pierre Alechinsky.
When a painter thinks to disengage from the world outside himself and fantasies unprecedented forms he thinks he will make a painting, he finds in this expression the same effect – I would even say the same picture – that he had unconsciously acquired by his habit to experience reality intensely. ~ Pierre Alechinsky.
Those who largely rely on their hands and the beautiful or shocking traces of the imagination that they leave on the canvas …CONCRETE… one builds a picture. ~ Pierre Alechinsky.
When I paint, I liberate monsters They are the manifestations of all the doubts, searches and groping for meaning and expression which all artists experience – one does not choose the content, one submits to it. ~ Pierre Alechinsky.
Famous Pierre Alechinsky Quotes
The main thing is that we are part of the reality in ourselves to perfect one's power of discovery and that leads to the discovery of our organic ourselves without fear of immersing ourselves in the earth, the sea, fire or air. ~ Pierre Alechinsky.
People think you can get out your canvas and paint any time you have a free moment. You can't. Commercial art and painting are entirely different. Painting takes a different mental approach. You have to get the right attitude, the right mood. ~ Pierre Alechinsky.
Of course, when one is faced with a canvas, one is no longer alone, and the sense of solitude diminishes. This can be an agreeable passage of time. In fact, solitude then becomes a kind of companion. ~ Pierre Alechinsky.
---
So these were the 11 top Pierre Alechinsky quotes and sayings.
If you like these quotes and sayings, then you can also read my other posts on Lacey Sturm quotes and Yahtzee Croshaw quotes.