The pineapple is a fruit that grows on a tropical plant.
It is a sweet fruit with a tough skin. The inside of the pineapple is full of small, hard seeds.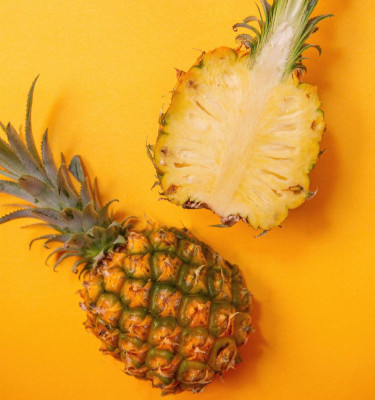 People usually eat the fruit by removing the skin and eating the soft, sweet flesh inside.
I have curated some of the best 'Pineapple' quotes, sayings and captions for you to read and share with others.
---
Best Pineapple Quotes
Stay golden… just like the pineapple. ~ Unknown.
If you were a tropical fruit, you'd be a fine-apple. ~ Unknown.
Love is like a pineapple, sweet and undefinable. ~ Piet Hein.
I thought 'Pineapple Express' was hilarious. ~ J. B. Smoove.
I pine for you. ~ Unknown.
A pineapple has pointy defenses, but it's still sweet. Be a pineapple. ~ Unknown.
Somebody's been putting pineapple juice in my pineapple juice! ~ W. C. Fields.
When life gives you pineapples, just add rum. ~ Unknown.
Passports and pineapples. ~ Unknown.
If you speak to him of a machine for peeling a potato, he will pronounce it impossible: if you peel a potato with it before his eyes, he will declare it useless, because it will not slice a pineapple. ~ Charles Babbage.
Funny Pineapple Quotes
You have to be a pineapple, the best one. You have to have a hundred eyes. ~ Unknown.
So, bring me two piña coladas. One for each hand. ~ Garth Brooks.
I see the Creator of all existence as the crown on a pineapple, and all religions of the world as the spiky eyelets, where each eyelet symbolizes a different religion or race under the same crown. ~ Suzy Kassem.
Party like a pineapple. ~ Unknown.
It is against the law of Pineapples for humans to drink water after eating them. ~ Michael Bassey Johnson.
The dessert plates were arranged with delicate biscuits and pineapple cream served in cunning little glazed pots. ~ Lisa Kleypas.
Peace, love, and pineapples. ~ Unknown.
He is the very pineapple of politeness. ~ Richard Brinsley Sheridan.
Pineapple Captions
If only every workday could be spent in the sunshine with pineapples full of rum. She'd get very little work done, but she'd be in an excellent mood. ~ Jasmine Guillory.
The soul wants pineapples in champagne, and the body would like vodka. ~ Unknown.
Wear a crown like a pineapple. ~ Unknown.
Fresh, juicy pineapple rings – not from a can – encircle not maraschino cherries but lovely candied cherries from Nob Hill Grocers. ~ Jennie Shortridge.
Maturity is most rapid in the low latitudes, where pineapples and women most do thrive. ~ Nathaniel Parker Willis.
Here's the only thing I know for sure: Chopped pineapple is incredible on hot dogs. Honest to God, I love pineapple on everything. ~ Beth Harbison.
Be as the pineapple. Have a hundred eyes. ~ Filipino Proverb.
A pineapple is a compilation of berries that grow and fuse together. When joined, they create a single fruit. – Suzy Kassem.
Love you to the pineapple and back. ~ Unknown.
Quotes about Pineapple
I may be spiky on the outside, but I'm sweet on the inside. ~ Unknown.
Pineapple calories don't count! ~ Unknown
The green pineapple never falls from the tree by accident. ~ Unknown.
Dinner that night was pizza, homemade by her father. It had slices of green pepper on it and, of all things, pineapple chunks. Coraline ate the entire slice she was given. ~ Neil Gaiman.
Dang, you pine. ~ Unknown.
Pineapples are one of nature's medicines. ~ Steven Magee.
You can't be a sweet pineapple with a prickly attitude. ~ Unknown.
Pineapples have this cute little crown on top of them. They wear it proudly. ~ Unknown.
When life hands you pineapples, you best make piña coladas. ~ Unknown.
Eyes like a pineapple, eyes are everywhere, seeing everything, in all directions. ~ Unknown.
Pineapple Sayings
Who lives in a pineapple under the sea? ~ SpongeBob SquarePants.
Happiness comes in pineapples. ~ Unknown.
You can't compare pineapples and coconuts. ~ Unknown.
As a kid I'd play with homemade recipes, like putting pineapple on my face to exfoliate my skin and doing facial steams with lavender or peppermint oils. ~ Demi Lovato.
I had a craving for pineapple and a pink cardigan. ~ Sophie Kinsella.
Done good adulating – let's be pineapples. ~ Unknown.
Where is it written that houses must be beige? Any dun colored house would look better if painted pineapple, cream, ochre, or even a smart sage. ~ Frances Mayes.
Be a pineapple: Stand tall, wear a crown, and be sweet on the inside. ~ Katherine Gaskin.
Top Pineapple Quotes
I felt myself as coming from a caramelized planet, an upside-down planet, pineapple-cratered. ~ Richard Rodriguez.
A pineapple a day keeps the worries away. ~ Unknown.
A sick pineapple went to a doctor and then became a fine-apple. ~ Unknown.
I can't wait to get off the stage, because I've got some LifeSavers in my pocket and pineapple is next! ~ Mitch Hedberg.
You are the pineapple of my eye. ~ Sand Issariya.
You are like the piña to my colada. ~ Unknown.
If you sit in a bath of pineapple chunks, it can kill you. That's well documented.~ Karl Pilkington.
Great Pineapple Quotes
Only the knife knows the heart of a pineapple. ~ Simone Schwarz-Bart.
If I were a fruit I would be a pineapple. ~ Unknown.
I think I was a mermaid and I used to swim the shores of Hawaii and used to pop up and see coconuts and pineapples everywhere. ~ Ella Henderson.
Nobody missed the candles, because when you're eating pineapple upside – down cake, there is nothing much left to wish for. ~ Jenny Wingfield.
In certain areas of the country, a pineapple was a symbol of warmth, welcome, friendship, and hospitality. ~ Barbara A. Luker.
In a world full of apples, be a pineapple. ~ Unknown.
I always like to start my morning with a good amount of fruit. I really like pineapple, particularly because of the enzymes that it has. ~ Cynthia Nixon.
Follow me to where the pineapples are. ~ Unknown.
---
So these were the 63 quotes about Pineapples.
If you like these quotes and sayings, then you can also read my other popular blog posts on the topics of Leap of Faith quotes and Thinking of You quotes and Frustration quotes.
You are welcome to share these best quotes, sayings, phrases and captions with your friends and family on social media channels such as (Facebook, Twitter, TikTok, Instagram, WhatsApp, and Pinterest).