Birds with their amazing diversity and elegance serve as wonderful examples of how nature can never fail to inspire us.
They are representative of the natural world's beauty and tenacity.
Birds bring a distinct visual appeal to our surroundings due to their bright plumage that covers a stunning range of hues.
These colors not only fascinate spectators, but they also play important roles in their survival tactics from courting mates to hiding from predators.
Aside from their beauty, birds have the amazing capacity to fly into the broad sky bypassing terrestrial limits that limit many other species.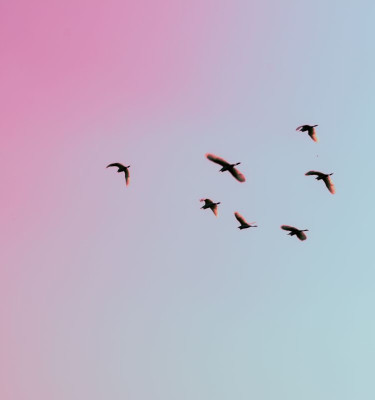 This ability to fly far above the earth embodies a feeling of freedom and limitlessness that regularly inspires us in literature, art and development.
Birds' colors and flight emphasize the unending wonder and lessons we can acquire from nature.
---
Inspirational Quotes About Birds
A heart without dreams is like a bird without feathers. ~ Suzy Kassem.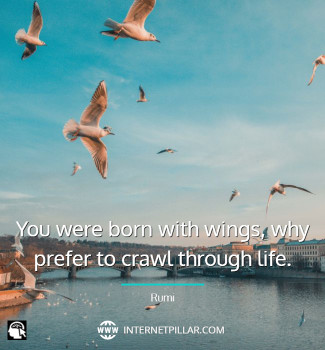 You were born with wings, why prefer to crawl through life. ~ Rumi.
If birds can glide for long periods of time, then why can't I? ~ Orville Wright.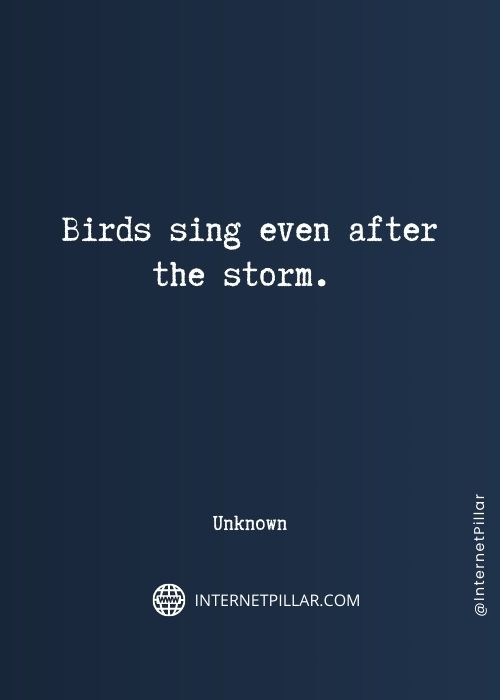 Birds sing even after the storm. ~ Unknown.
God gives every bird its food, but He does not throw it into its nest. ~ Josiah Gilbert Holland.
Hold fast to dreams, for if dreams die, life is a broken-winged bird that cannot fly. ~ Langston Hughes.
A bird in a cage is not half a bird. ~ Henry Ward Beecher.
Each bird must sing with his own throat. ~ Henrik Ibsen.
Oh, the little birds sang east, and the little birds sang west. ~ Elizabeth Barrett Browning.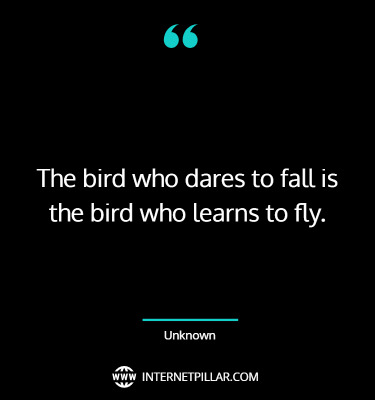 The bird who dares to fall is the bird who learns to fly. ~ Unknown.
I like the idea of taking off like a bird. ~ Florence Welch.
Inspiring Quotes About Birds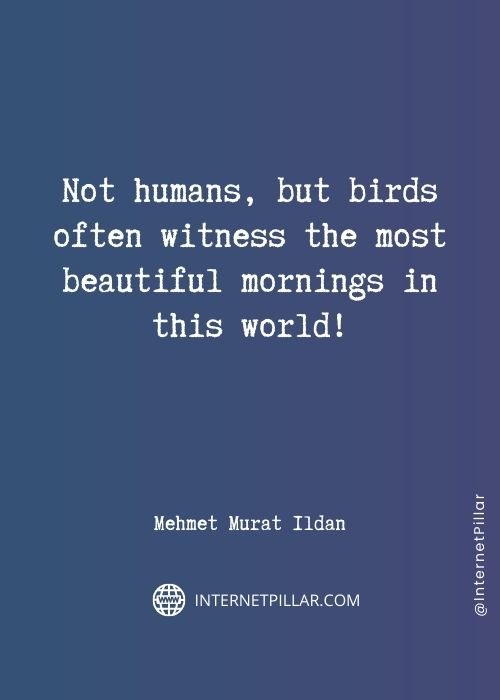 Not humans, but birds often witness the most beautiful mornings in this world! ~ Mehmet Murat Ildan.
Wherever there are birds, there is hope. ~ Mehmet Murat Ildan.
My heart is like a singing bird. ~ Christina Rossetti.
Watching birds has become part of my daily meditation affirming my connection to the earth body. ~ Carol P. Christ.
In order to see birds it is necessary to become a part of the silence. ~ Robert Lynd.
I caught a glimpse of happiness, and saw it was a bird on a branch, fixing to take wing. ~ Richard Peck.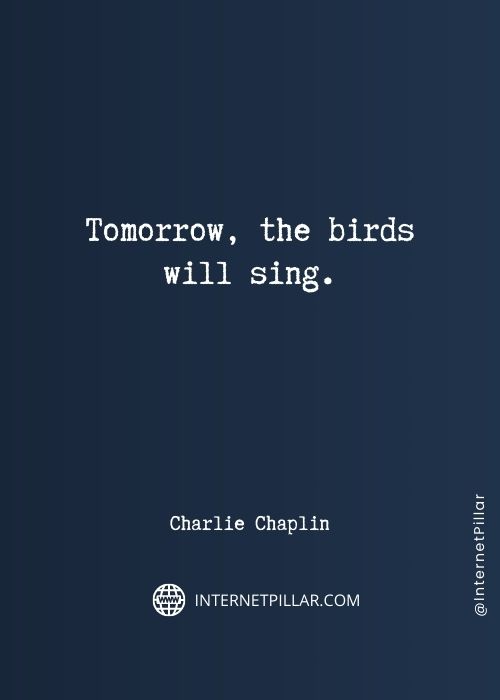 Tomorrow, the birds will sing. ~ Charlie Chaplin.
Birds are an ecological litmus paper. ~ Roger Tory Peterson.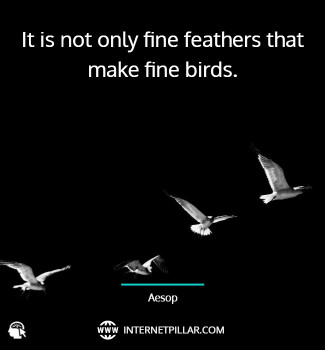 It is not only fine feathers that make fine birds. ~ Aesop.
The reason birds can fly and we can't is simply that they have perfect faith, for to have faith is to have wings. ~ J.M. Barrie.
Related Quotes: 42 Swan Quotes and Sayings for All Birds Lovers and 65 Hummingbird Quotes and Sayings to Inspire and Motivate You
A bird does not sing because it has an answer, it sings because it has a song. ~ Maya Angelou.
Sad birds still sing. ~ Unknown.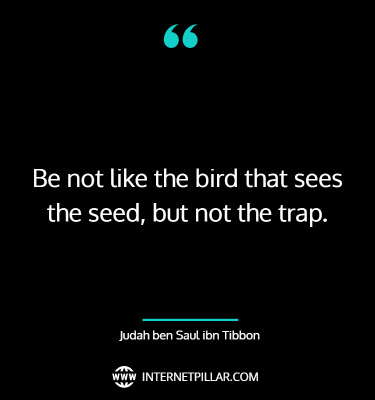 Be not like the bird that sees the seed, but not the trap. ~ Judah ben Saul ibn Tibbon.
Best Quotes About Birds
There's a lot of us out here that are birds, man. We all need to just fly. ~ Travis Scott.
Heavenly bodies are nests of invisible birds. ~ Dejan Stojanovic.
The more I work with birds, the more I believe in the undreamt, the things we are not given to know. ~ Julie Zickefoose.
The bluebird carries the sky on his back. ~ Henry David Thoreau.
You must have the bird in your heart before you can find it in the bush. ~ John Burroughs.
The bird is powered by its own life and by its motivation. ~ A. P. J. Abdul Kalam.
I know why the caged bird sings. ~ Maya Angelou.
Birds chirping around you is a beautiful realization that life in incredibly good. Let this sound be a gentle break in your routine. ~ Hiral Nagda.
A Fly can't bird, but a bird can fly. ~ A. A. Milne.
Everyone likes birds. What wild creature is more accessible to our eyes and ears, as close to us and everyone in the world, as universal as a bird? ~ David Attenborough.
The songs of the morning birds reverberate the glory of the eternal life. ~ Amit Ray.
If you want to see birds, you must have birds in your heart. ~ John Burroughs.
Motivational Quotes About Birds
Perfect as the wing of a bird may be, it will never enable the bird to fly if unsupported by the air. Facts are the air of science. Without them a man of science can never rise. ~ Ivan Pavlov.
Be as a bird perched on a frail branch that she feels bending beneath her, still she sings away all the same, knowing she has wings. ~ Victor Hugo.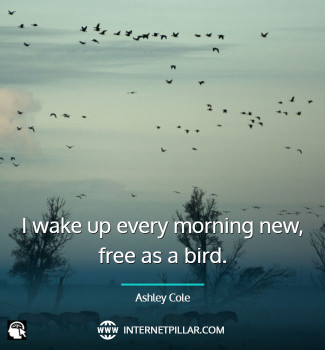 I wake up every morning new, free as a bird. ~ Ashley Cole.
Every bird, every tree, every flower reminds me what a blessing and privilege it is just to be alive. ~ Marty Rubin.
No bird soars too high if he soars with his own wings. ~ William Blake.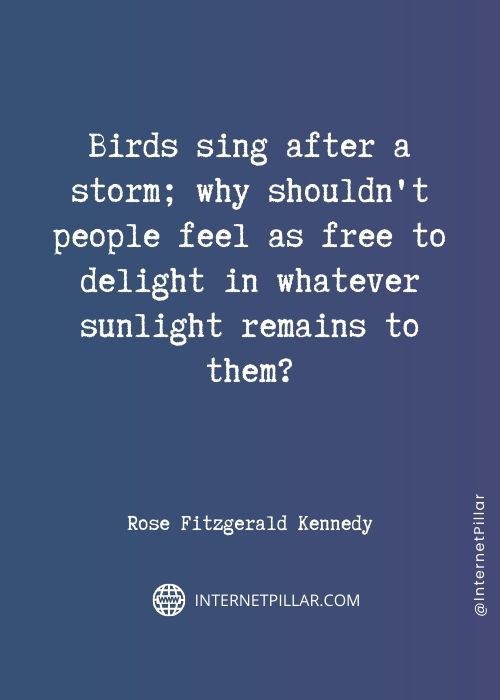 Birds sing after a storm; why shouldn't people feel as free to delight in whatever sunlight remains to them? ~ Rose Fitzgerald Kennedy.
I'd rather learn from one bird how to sing than teach ten thousand stars how not to dance. ~ E. E. Cummings.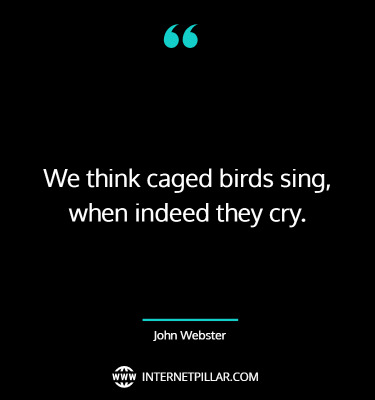 We think caged birds sing, when indeed they cry. ~ John Webster.
I'm like a bird, I only fly away. I don't know where my soul is. I don't know where my home is. ~ Nelly Furtado.
Powerful Quotes About Birds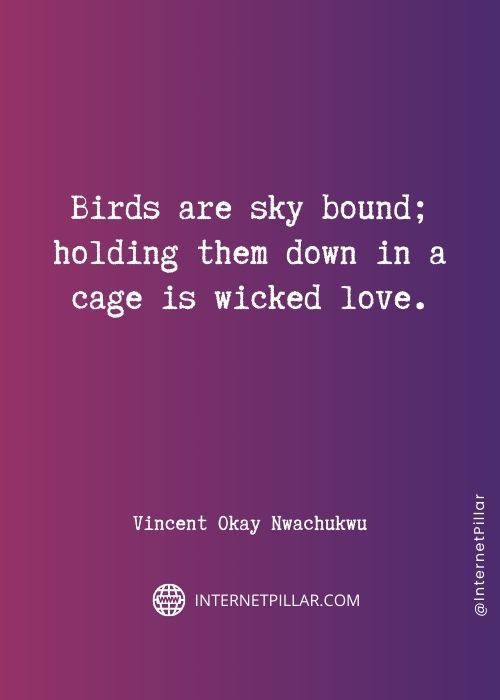 Birds are sky bound; holding them down in a cage is wicked love. ~ Vincent Okay Nwachukwu.
People are interested in birds only in as much as they exhibit human behavior – greed and stupidity and anger – and by doing so, they free us from the unique sorrow of being human. ~ Douglas Coupland.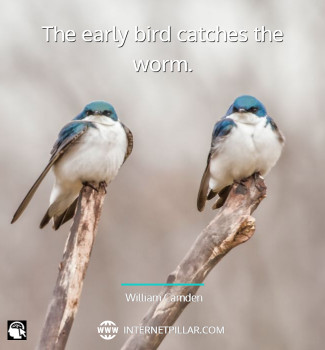 The early bird catches the worm. ~ William Camden.
Tame birds sing of freedom. Wild birds fly. ~ John Lennon.
No bird can fly without opening its wings. ~ Unknown.
The presence of a single bird can change everything for one who appreciates them. ~ Julie Zickefoose.
Birds learn how to fly, never knowing where the flight will take them. ~ Mark Nepo.
Give the birds a splash of water to get relief from the hot sun. ~ Unknown.
The sound of birds stops the noise in my mind. ~ Carly Simon.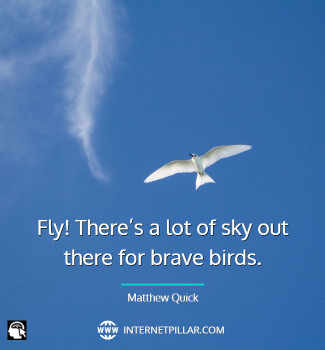 Fly! There's a lot of sky out there for brave birds. ~ Matthew Quick.
I wish we had all been birds instead. ~ Unknown.
Famous Quotes About Birds
When the Sun of compassion arises darkness evaporates and the singing birds come from nowhere. ~ Amit Ray.
Birds fly over the rainbow. Why then, oh, why can't I? ~ Judy Garland.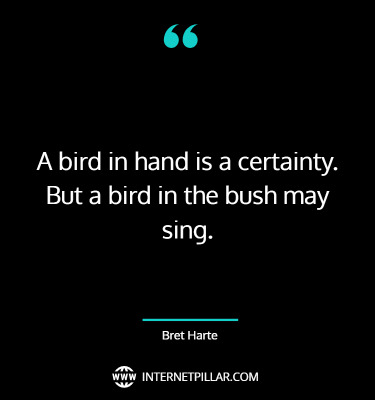 A bird in hand is a certainty. But a bird in the bush may sing. ~ Bret Harte.
I don't ask for the meaning of the song of a bird or the rising of the sun on a misty morning. There they are, and they are beautiful. ~ Pete Hamill.
If I had to choose, I would rather have birds than airplanes. ~ Charles Lindbergh.
Man is a bird without wings and a bird is a man without sorrow. ~ Louis de Bernieres.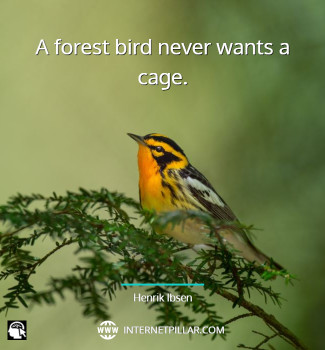 A forest bird never wants a cage. ~ Henrik Ibsen.
Birds are a miracle because they prove to us there is a finer, simpler state of being which we may strive to attain. ~ Douglas Coupland.
I'm youth, I'm joy, I'm a little bird that has broken out of the egg. ~ James M. Barrie.
Top Quotes About Birds
It's like being a bird, maybe, the perspective of flying over the Earth. ~ Peggy Whitson.
Birds are the most popular group in the animal kingdom. We feed them and tame them and think we know them. And yet they inhabit a world which is really rather mysterious. ~ David Attenborough.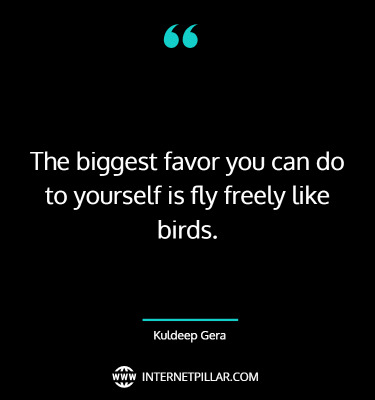 The biggest favor you can do to yourself is fly freely like birds. ~ Kuldeep Gera.
Life without dreams is like a bird with a broken wing – it can't fly. ~ Dan Pena.
Unclose your mind. You are not a prisoner. You are a bird in flight, searching the skies for dreams. ~ Haruki Murakami.
Birds of a feather flock together …only in good weather! ~ Ankala Subbarao.
Every nation needs two wings to fly. Any bird torn at the wings will never soar the skies. ~ Suzy Kassem.
Birds teach a great life lesson. All you have to do is listen to their song. ~ Unknown.
The bird fights its way out of the egg. The egg is the world. Whoever will be born must destroy a world. ~ Hermann Hesse.
Without love we all like birds with broken wings. ~ Mitch Albom.
---
---
So these were the 78 top quotes about birds.
If you like these quotes and sayings, then you can also read my other posts on Girly quotes and I Miss You quotes.
---
References and Sources: