Real estate investing involves putting money in a property, rental apartments and holiday homes.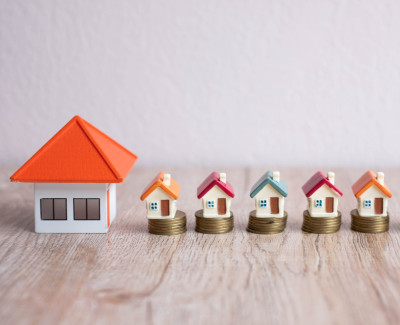 ---
Top 7 Real Estate Investing Quotes
I would give a thousand furlongs of sea for an acre of barren ground. ~ Shakespeare.
Owning a home is a keystone of wealth – both financial affluence and emotional security. ~ Suze Orman.
The best time to buy a house is always five years ago. ~ Ray Brown.
Success in real estate comes down to two factors: taking care of and valuing the customer. ~ Michael Miedler.
In real estate, you make 10% of your money because you're a genius and 90% because you catch a great wave. ~ Jeff Greene.
Ninety percent of all millionaires become so through owning real estate. ~ Andrew Carnegie.
Real estate investing, even on a very small scale, remains a tried and true means of building an individual's cash flow and wealth. ~ Robert Kiyosaki.
Famous Real Estate Investing Quotes
Every person who invests in well-selected real estate in a growing section of a prosperous community adopts the surest and safest method of becoming independent, for real estate is the basis of wealth. ~ Theodore Roosevelt.
Never count on making a good sale. Have the purchase price be so attractive that even a mediocre sale gives good results. ~ Warren Buffet.
Real estate is my life. It is my day job if you will. But it consumes my nights and weekends as well. ~ Ivanka Trump.
Real estate practice is not about selling or buying a home. It's about representing your client's greatest asset to your client's greatest benefit. ~ Alex Delgado.
I'm a big believer in a high-quality realtor and I endorse realtors for that reason. High-quality real estate agents all over America. ~ Dave Ramsey.
Real estate is the purest form of entrepreneurship. ~ Brian Buffini.
If you're not going to put money in real estate, where else? ~ Tamir Sapir.
I have always liked real estate; farm land, pasture land, timber land and city property. I have had experience with all of them. I guess I just naturally like 'the good Earth,' the foundation of all our wealth. ~ Jesse Jones.
The major fortunes in America have been made in land. ~ John D. Rockefeller.
In the real estate business, you learn more about people, and you learn more about community issues, you learn more about life, you learn more about the impact of government, probably than any other profession that I know of. ~ Johnny Isakson.
The land is the only thing in the world worth working for, worth fighting for, worth dying for, because it's the only thing that lasts. ~ Margaret Mitchell.
Landlords grow rich in their sleep. ~ John Stuart Mill.
Best Real Estate Investing Quotes
Buying real estate is not only the best way, the quickest way, the safest way, but the only way to become wealthy. ~ Marshall Field.
Find out where the people are going and buy the land before they get there. ~ William Penn Adair.
There's always in real estate. It's just a matter of finding that opportunity in the current market. ~ Samantha DeBianchi.
But land is land, and it's safer than the stocks and bonds of Wall Street swindlers. ~ Eugene O'neill.
If you do not like real estate, all you have to do is make hamburgers, build a business around that hamburger, and franchise it. ~ Robert Kiyosaki.
People say they get into real estate for 'freedom,' but if you have a lot of freedom, you're probably not selling any houses! ~ Dana Galli.
The best investment on Earth is earth. ~ Louis Glickman.
What we call real estate – the solid ground to build a house on – is the broad foundation on which nearly all the guilt of this world rests. ~ Nathaniel Hawthorne.
I still think buying a home is the best investment any individual can make. ~ John Paulson.
Popular Real Estate Investing Quotes
Most top producers in real estate, like in every business, are focused on learning and biased towards action. If you want to keep growing, you have to make learning and action your highest priorities. ~ Kurt Uhlir.
Don't wait to buy real estate, buy real estate and wait. ~ T. Harv Eker.
Buy on the fringe and wait. Buy land near a growing city! Or buy real estate when other people want to sell. Hold what you buy! ~ John Jacob Astor.
Real estate cannot be lost or stolen, nor can it be carried away. Purchased with common sense, paid for in full, and managed with reasonable care, it is about the safest investment in the world. ~ Franklin D. Roosevelt.
Buy land, they aren't making anymore of it. ~ Mark Twain.
Everyone wants a piece of land. It's the only sure investment. It can never depreciate like a car or washing machine. Land will only double its value in ten years. ~ Sam Shepard.
There have been few things in my life which have had a more genial effect on my mind than the possession of a piece of land. ~ Harriet Martineau.
Great Real Estate Investing Quotes
Real estate is an imperishable asset, ever-increasing in value. It is the most solid security that human ingenuity has devised. It is the basis of all security and about the only indestructible security. ~ Russell Sage.
Land monopoly is not only monopoly, but it is by far the greatest of monopolies; it is a perpetual monopoly, and it is the mother of all other forms of monopoly. ~ Winston Churchill.
Now, one thing I tell everyone is about real estate. Repeat after me. Real Estate provides the highest returns, the greatest values, and the least risk. ~ Armstrong Williams.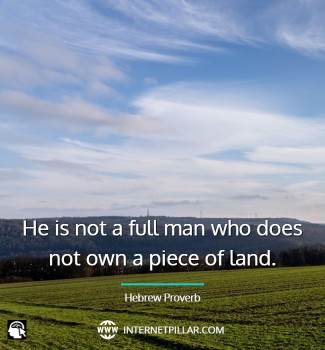 He is not a full man who does not own a piece of land. ~ Hebrew Proverb.
Kissing is like real estate. The most important thing is location, location, location. ~ Unknown.
Property has its duties as well as its rights. ~ Thomas Drummond.
Buy real estate in areas where the path exists…and buy more real estate where there is no path, but you can create your own. ~ David Waronker.
---
So these were the 43 top quotes about Real Estate Investing.
If you like these quotes and sayings, then you can also read my other popular blog posts on the topics of Investment quotes and Financial Freedom quotes.