The concept of working remotely is gaining popularity as the world becomes increasingly digital.
---
Top 5 Remote Work Quotes
Remote work is the future of work. ~ Alexis Ohanian.
When people are free to choose where in the world they want to work, they simply enjoy their day-to-day work more. ~ Brian De Haff.
I jump right into work when I'm ready. And leave when I'm done. There's zero friction between working and not. ~ Wade Foster.
Remote workers are happiest when they spend more than 76% of their time working remotely. ~ State of Remote Working.
One of the secret benefits of using remote workers is that the work itself becomes the yardstick to judge someone's performance. ~ Jason Fried.
Famous Remote Work Quotes
Technology now allows people to connect anytime, anywhere, to anyone in the world, from almost any device. This is dramatically changing the way people work, facilitating 24/7 collaboration with colleagues who are dispersed across time zones, countries, and continents.  ~ Michael Dell.
There's a great opportunity to begin to explore how we create an environment that is safe for people who want to have conversations about flexibility, who want to be flexible, vs. fighting that change. ~ Peter Yobo.
Success in a hybrid work environment requires employers to move beyond viewing remote or hybrid environments as a temporary or short-term strategy and to treat it as an opportunity. ~ George Penn.
Do you want to access talent everywhere, or just in specific markets? If the answer is everywhere, you need to be at least open to the possibility of remote work – it opens doors to attracting and retaining talent around the world, literally and figuratively. ~ Katie Burke.
We like to give people the freedom to work where they want, safe in the knowledge that they have the drive and expertise to perform excellently, whether they are]at their desk or in their kitchen. Yours truly has never worked out of an office, and never will. ~ Richard Branson.
Remember to enjoy the freedom of being able to work from anywhere and the flexibility to adapt your work to your life rather than the other way around. ~ Alex Muench.
I can't tell you the number of CEOs I talked to who are thinking, 'I have to solve the diversity challenge in my business, and remote work is one of the key tools… We have to let go of this very office-centric culture and incorporate people who are in a lot of geographies. ~ Hayden Brown.
Now that companies have built the framework – and experienced the cost and time savings associated with it – there's no real reason to turn back. ~ Mark Lobosco.
So many people think the remote work community is made up of only spoiled, privileged millennials and Instagram influencers, and that's not who we are. We're people of all ages, from all countries and all socio-economic classes, and what brings us together is our shared mindset that we want to do something different and have adventures sooner, rather than later in life. ~ Spencer Jentzch.
To successfully work with other people, you have to trust each other. A big part of this is trusting people to get their work done wherever they are, without supervision. ~ Richard Branson.
Maintaining high levels of authentic engagement with remote workers is key to the success of the teams. ~ Henry Kurkowski.
Best Remote Work Quotes
Working from home makes it much harder to delineate work time from personal time. I encourage all of our employees to have a disciplined schedule for when you will work, and when you will not, and to stick to that schedule. ~ Dan Springer.
The option to work from home when needed, or to try a different lifestyle without having to change jobs, is a win for everyone. ~ Scott Berkun.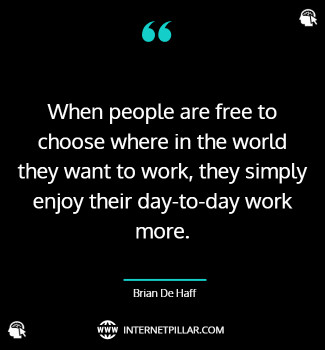 When people are free to choose where in the world they want to work, they simply enjoy their day-to-day work more. ~ Brian De Haff.
The future we envision for work allows for infinite virtual workspaces that will unlock social and economic opportunities for people regardless of barriers like physical location. It will take time to get there, and we continue to build toward this ~ Andrew Bosworth.
Suddenly my location was completely irrelevant to my ability to make a living. ~ Bernard Vukas.
Remote work is this incredible invitation to really get good at building inclusive cultures where there's a wide variety of types of people, and to build a culture where everyone feels included and everyone is experiencing ongoing growth and development on a regular basis. That's the challenge, and it's not an easy one. But the business isn't easy. ~ Shane Metcalf.
Working from home is great for a lot of people because they get to spend more time with their family, their kids, and their pets. ~ Brian Peters.
Popular Remote Work Quotes
Trust in your employees is essential for remote work success. It also forms the underlying foundation of a great virtual culture. ~ Larry English.
It is about workplace flexibility. It's about giving our associates the opportunity to be who they are as an individual, whether that is a community member, a spouse or parent, or anything in between. That flexibility has come to be very important for our associate base. ~ Amy Freshman.
Many companies hiring for remote positions prefer candidates with previous remote work experience, but that shrinks the talent pool and eliminates people who have previously been excluded by the digital economy (e.g., people returning to the workforce.). ~ Tammy Bjelland.
Right state of mind is an extremely important trigger to support, sustain and scale up remote work or WFH. ~ Dax Bamania.
Successfully working from home is a skill, just like programming, designing or writing. It takes time and commitment to develop that skill, and the traditional office culture doesn't give us any reason to do that. ~ Alex Turnbull.
The thing that's been positively surprising to people is that people are more productive working at home than people would have expected. Some people thought that everything was just going to fall apart, and it hasn't. And a lot of people are actually saying that they're more productive now ~ Mark Zuckerberg.
---
So these were the 31 top quotes about Remote Work.
If you like these quotes and sayings, then you can also read my other popular blog posts on the topics of Future of Work quotes and Banking quotes.