Rosa Bonheur, a French painter and sculptor born in 1822, was renowned for her detailed and accurate portrayals of animals.
Trained by her father and later influenced by her lifelong companion Nathalie Micas, Bonheur honed her skills by observing animals in their natural habitats.
Rebelliously adopting masculine attire for her sketching trips to male-dominated public places, she faced mockery yet continued to dress as she pleased.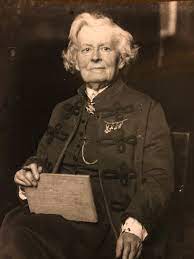 Bonheur's work including her acclaimed masterpiece "The Horse Fair" found immense popularity among audience particularly in the US and Britain allowing her to buy an estate near Fontainebleau.
She was the first woman to receive the Grand Cross of the Legion of Honour. In her later years, she developed a fascination for lions and the American West, sketching "Buffalo Bill" Cody's encampment and painting his portrait.
Related: Mary Engelbreit Quotes from the Famous Artist and Allen Tucker Quotes from the American Artist
She spent her final years with American artist Anna Klumpke until her death in 1899.
Below are some of the most famous quotes by Rose Bonheur.
---
Best Rosa Bonheur Quotes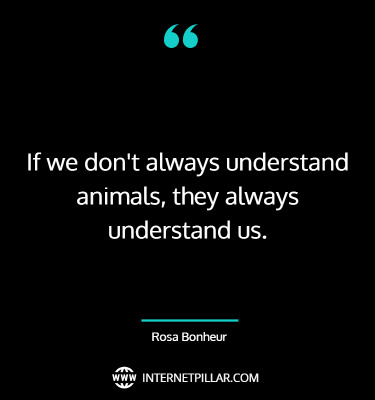 If we don't always understand animals, they always understand us. ~ Rosa Bonheur.
The epithets of imbeciles have never bothered me. ~ Rosa Bonheur.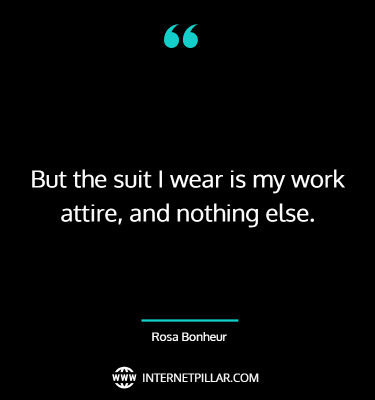 But the suit I wear is my work attire, and nothing else. ~ Rosa Bonheur.
I became an animal painter because I loved to move among animals. I would study an animal and draw it in the position it took, and when it changed to another position I would draw that. ~ Rosa Bonheur.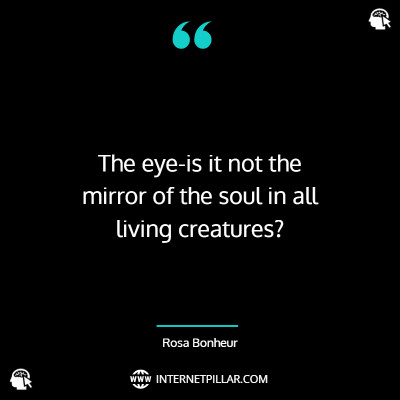 The eye-is it not the mirror of the soul in all living creatures? ~ Rosa Bonheur.
The horse is, like man, the most beautiful and the most miserable of creatures, only, in the case of man, it is vice or property that makes him ugly. He is responsible for his own decadence, while the horse is only a slave. ~ Rosa Bonheur.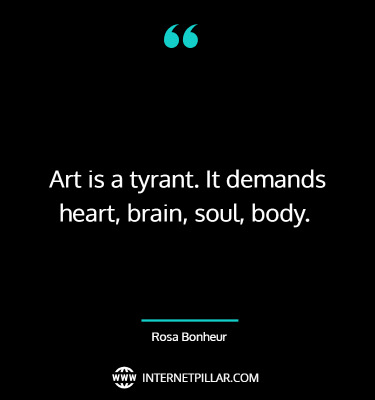 Art is a tyrant. It demands heart, brain, soul, body. The entireness of the votary. Nothing less will win its highest favor. I wed art. It is my husband, my world, my life dream, the air I breathe. I know nothing else, feel nothing else, think nothing else. ~ Rosa Bonheur.
Famous Rosa Bonheur Quotes
Why shouldn't I be proud to be a woman? My father, that enthusiastic apostle of humanity, told me again and again that it was woman's mission to improve the human race…To his doctrines I owe my great and glorious ambition for the sex to which I proudly belong, whose independence I'll defend till my dying day. Besides, I'm convinced the future is ours. ~ Rosa Bonheur.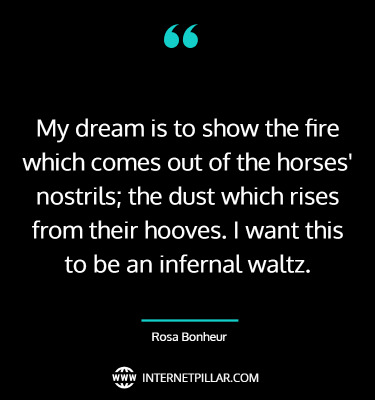 My dream is to show the fire which comes out of the horses' nostrils; the dust which rises from their hooves. I want this to be an infernal waltz. ~ Rosa Bonheur.
My whole life has been devoted to improving my work and keeping alive the Creator's spark in my soul. Each of us has a spark, and we've all got to account for what we do with it. ~ Rosa Bonheur.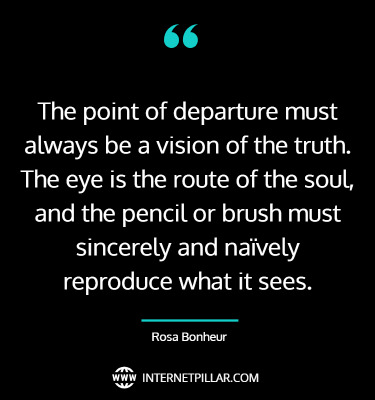 The point of departure must always be a vision of the truth. The eye is the route of the soul, and the pencil or brush must sincerely and naïvely reproduce what it sees. ~ Rosa Bonheur.
Honesty in art depends upon line-work. Few painters have so far insisted upon this honesty, this conscientiousness, without which the most gifted artist remains incomplete. ~ Rosa Bonheur.
Ah! If nations could only agree to employ their resources to perfect agriculture and improve transportation, and to bring all their girl children a good education, what an explosion of happiness there would be on earth! ~ Rosa Bonheur.
---
So these were the 13 top Rosa Bonheur quotes and sayings.
If you like these quotes and sayings, then you can also read my other posts on Imelda Marcos quotes and Isoroku Yamamoto quotes.