Sam Elliott epitomizes the American cowboy image. Beginning his career on stage, his film debut was in "Butch Cassidy and the Sundance Kid" (1969).
He met his future wife, Katharine Ross, on "The Legacy" (1978) set. Although there were limited western film roles, TV provided opportunities like "The Sacketts" (1979) and "The Yellow Rose" (1983).
He frequently played tough roles, including in "Road House" (1989) and was in the drama "Mask" (1985) alongside Cher.
The 1990s saw him return to western roles, including "Gettysburg" (1993) and "Tombstone" (1993).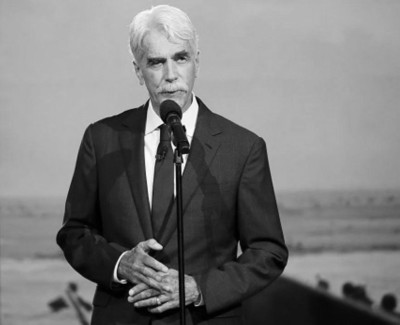 He notably narrated "The Big Lebowski" (1998) and ended the century with "You Know My Name" (1999).
Entering the 21st century, Elliott appeared in films like "Fail Safe" (2000) and the pre-MCU "Hulk" (2003).
He joined Marvel's "Ghost Rider" (2007) and starred in "The Hero" (2017). His versatility continued with roles in "A Star Is Born" (2018) and the TV series "1883" (2021).
I have made a top list of the quotes by Sam Elliott.
---
Best Sam Elliott Quotes
I'm not a hunter, but I've been around guns all my life. I'm a great shot. ~ Sam Elliott.
I was never afraid of hard work. ~ Sam Elliott.
I read a lot of scripts. Most of 'em go to other actors. ~ Sam Elliott.
I think anytime you can affect people in general, in a positive way, then you're a lucky individual. ~ Sam Elliott.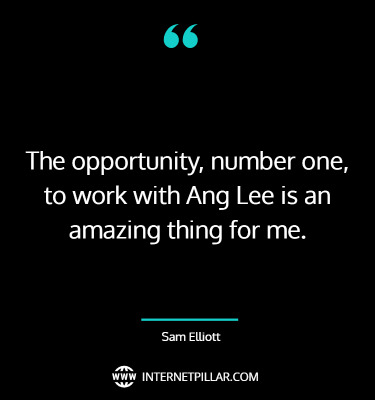 The opportunity, number one, to work with Ang Lee is an amazing thing for me. ~ Sam Elliott.
I'm a sixth-generation Texan, even though I was born in California. ~ Sam Elliott.
My family is all from the Southwest. My great-great-grandfather was at the Battle of San Jacinto with Sam Houston. ~ Sam Elliott.
You know, when I was your age… you broke a tool, you had to craft a new one with your own bare hands. ~ Sam Elliott.
I've spent my entire career on horseback or on a motorcycle. It boxes you in, the way people perceive you. ~ Sam Elliott.
Famous Sam Elliott Quotes
Any of these Vietnam vets that have been there and know the deal, they don't feel that any Hollywood endeavor about the Vietnam era has ever gotten it right yet. ~ Sam Elliott.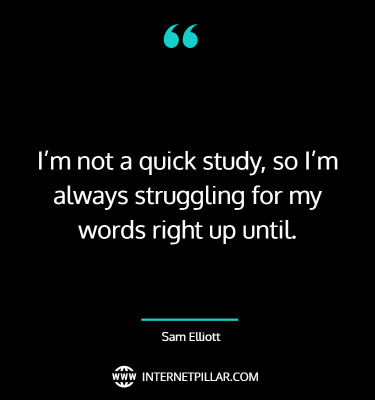 I'm not a quick study, so I'm always struggling for my words right up until. ~ Sam Elliott.
I'll do anything. I'll shave my head for the right job. I'm partial to my facial hair, I guess, but I also enjoy doing something where I look totally different, which is kind of the reason why I've always worn long hair. I can really change my look radically by getting rid of it. ~ Sam Elliott.
Popular Sam Elliott Quotes
A strong man stands up for himself, a stronger man stands up for others. ~ Sam Elliott.
Making movies is never going to get better than working on a Coen brothers project. ~ Sam Elliott.
I was single-minded on what I wanted to do since I was like nine or ten. ~ Sam Elliott.
My security comes from the fact that I've never done a job for money. ~ Sam Elliott.
I did one film that I'm proud of. That was 40 years ago. Since then I've stayed busy. ~ Sam Elliott.
Sometimes, you get the bear. Sometimes, the bear gets you. ~ Sam Elliott.
Hugh Grant is the main man. He's the number one romantic comedy man in the world. ~ Sam Elliott.
I haven't given up my faith in the law, it's justice I'm having some doubts about. ~ Sam Elliott.
My western heritage runs deep. ~ Sam Elliott.
I'm picky, very picky. I wanted to be an actor since I was nine years old, and I figured that was only one way to ever have any longevity, and that's to be careful about what kind of work you do. ~ Sam Elliott.
Top Sam Elliott Quotes
Everyone is so preoccupied by youth. People talk about how the movie business is a microcosm of the bigger picture, or life imitating art, but the business is guilty for getting women out of the way. ~ Sam Elliott.
I love the fact that I'm having an opportunity to make people laugh and you actually get to hear it. ~ Sam Elliott.
Before you try to hurt my feelings… Please keep in mind I don't have any. ~ Sam Elliott.
I'm a four star general in this thing, and you don't rise to the ranks of a four star general by hanging about the house being the perfect dad. ~ Sam Elliott.
A woman who can threaten your life before breakfast is the only sort of woman worth having. ~ Sam Elliott.
I think I might have been a more interesting actor, had more of a career earlier on, if I had more formal preparation. ~ Sam Elliott.
Even after nearly 50 years in this business, I still feel like I'm lucky every time I get a decent job, but an opportunity to work with people of that ilk. ~ Sam Elliott.
Sam Elliott Quotes from Movies
God knows I made my share of mistakes. I've been trying to make them right ever since. All I can do is hope he sees fit to give me a second chance. ~ Sam Elliott (Caretaker).
Takes nerve to bring up a boy when a woman's alone. ~ Sam Elliott (Conn Conagher).
I met the love of my life… only I killed her dog before I got the chance to tell her. ~ Sam Elliott (Richie Marks).
---
So these were the 32 quotes by Sam Elliott for you.
If these quotes and sayings connect with you, check out our other posts on Masaru Emoto quotes and Aldous Huxley quotes.