Sam Snead also known as Slammin' Sam was an iconic American golfer celebrated for his record-breaking 82 PGA tournament wins including major championships like the British Open Masters Tournament and PGA Championship though the U.S. Open eluded him with four second-place finishes.
His self-taught smooth swing agility and longevity set him apart in the golfing world.
Snead who turned professional in 1933 was a key person in the U.S. Ryder Cup team and World Cup teams clinching several victories and individual titles.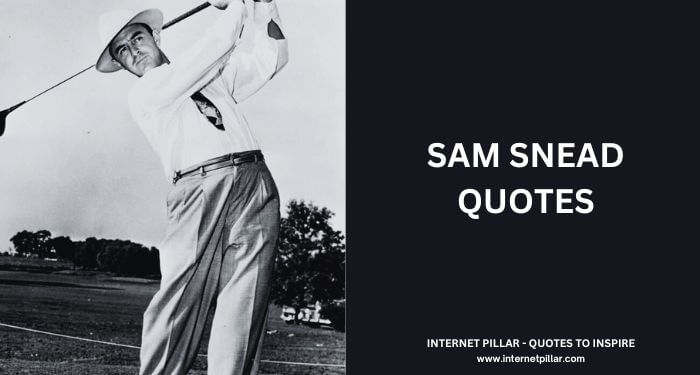 His numerous accolades include the Vardon Trophy PGA Seniors tournament and the World Seniors Championship.
The legend known for his straw hat and folksy humor penned an autobiography and several golf instruction books.
His witty advice and unorthodox putting methods to counteract "the yips" (a twitch) left a lasting legacy.
Snead was inducted into the PGA Hall of Fame in 1953 and continued to be a formidable competitor well into his sixties.
Below are some of the best quotes by Sam Snead.
---
Top 10 Sam Snead Quotes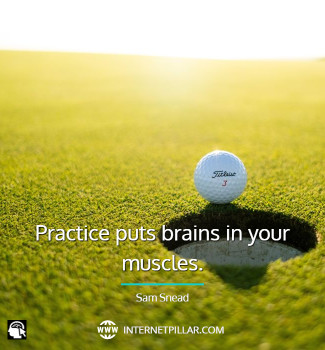 Practice puts brains in your muscles. ~ Sam Snead.
You've just one problem. You stand too close to the ball after you've hit it. ~ Sam Snead.
There are no short hitters on the tour anymore – just long and unbelievably long. ~ Sam Snead.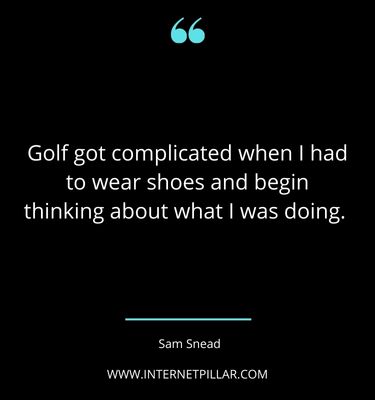 Golf got complicated when I had to wear shoes and begin thinking about what I was doing. ~ Sam Snead.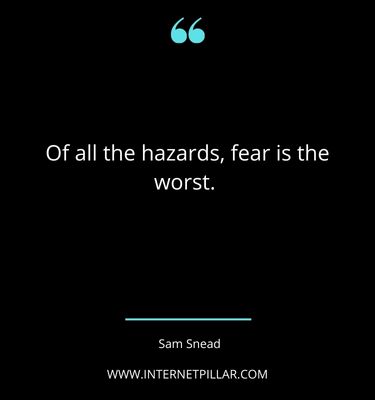 Of all the hazards, fear is the worst. ~ Sam Snead.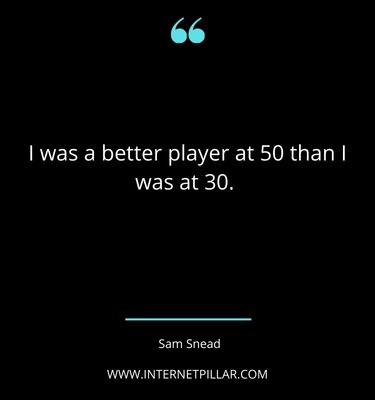 I was a better player at 50 than I was at 30. ~ Sam Snead.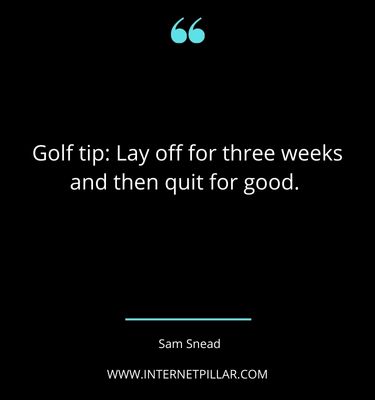 Golf tip: Lay off for three weeks and then quit for good. ~ Sam Snead.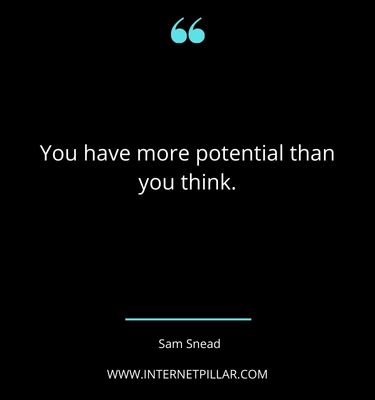 You have more potential than you think. ~ Sam Snead.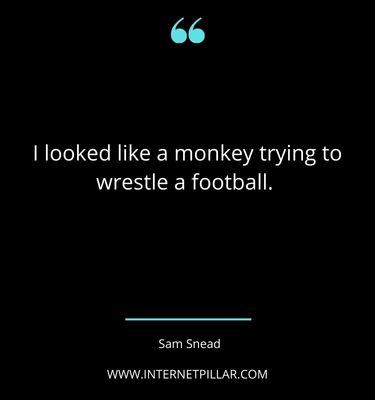 I looked like a monkey trying to wrestle a football. ~ Sam Snead.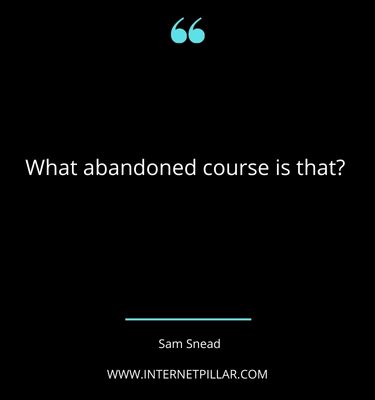 What abandoned course is that? ~ Sam Snead.
Famous Sam Snead Quotes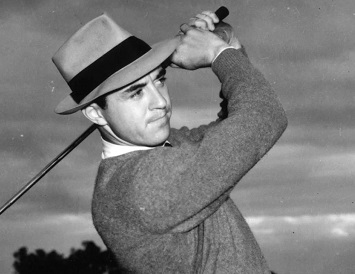 Keep close count of your nickels and dimes, stay away from whiskey, and never concede a putt. ~ Sam Snead.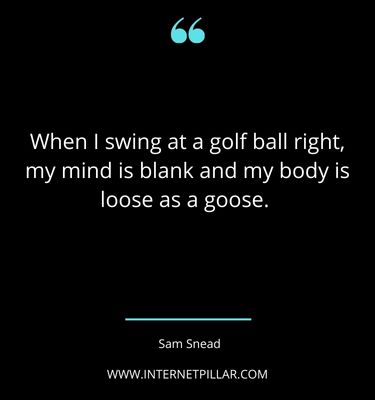 I give the ball some sweet talk. I tell it that this isn't going to hurt a bit. I'm a friend and all I'm going to do is give it a nice little ride. ~ Sam Snead.
Those who go along get along. ~ Sam Snead.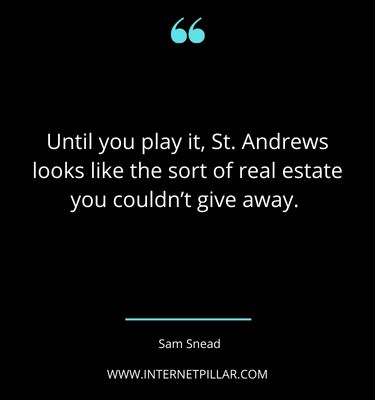 Until you play it, St. Andrews looks like the sort of real estate you couldn't give away. ~ Sam Snead.
If I had cleared the trees and drove the green, it would've been a great shot. ~ Sam Snead.
Golf is played with the arms. ~ Sam Snead.
These greens are so fast I have to hold my putter over the ball and hit it with the shadow. ~ Sam Snead.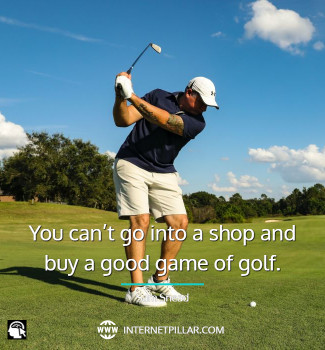 You can't go into a shop and buy a good game of golf. ~ Sam Snead.
Over the years I've studied the habits of golfers. I know what to look for. Watch their eyes. Fear shows up when there is an enlargement of the pupils. Big pupils lead to big scores. ~ Sam Snead.
Best Sam Snead Quotes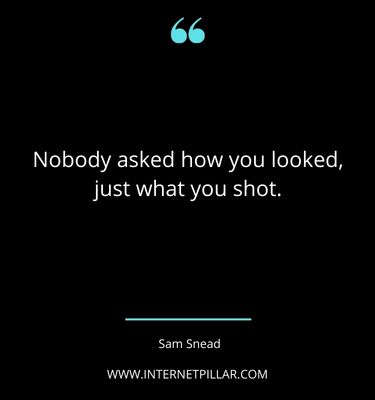 Nobody asked how you looked, just what you shot. ~ Sam Snead.
Grip the club as if you were holding a baby bird. ~ Sam Snead.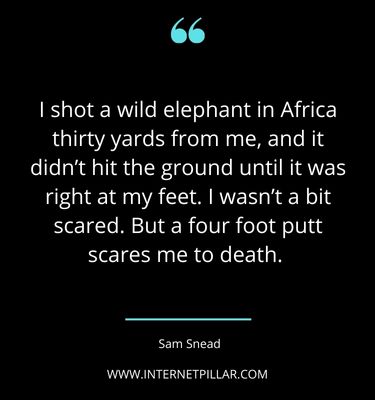 I shot a wild elephant in Africa thirty yards from me, and it didn't hit the ground until it was right at my feet. I wasn't a bit scared. But a four foot putt scares me to death. ~ Sam Snead.
Don't just play your way around the course. Think your way around way around the course. ~ Sam Snead.
A bad putter is like a bad apple in a barrel. First, it turns your chipping game sour. Then it begins to eat into your irons and finally it just cleans the head off your driver. ~ Sam Snead.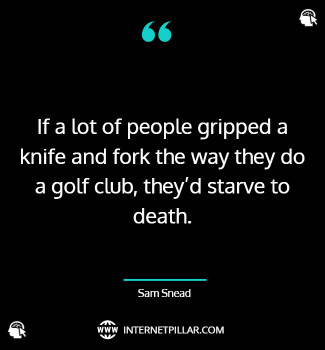 If a lot of people gripped a knife and fork the way they do a golf club, they'd starve to death. ~ Sam Snead.
Make the basic shot-making decision early, clearly and firmly, and then ritualize all the necessary acts of preparation. ~ Sam Snead.
Popular Sam Snead Quotes
When I ask you what club to use, look the other way and don't answer. ~ Sam Snead.
I've gotten rid of the yips four times but they hang in there. You know those two-foot downhill putts with a break? I'd rather see a rattlesnake. ~ Sam Snead.
The mark of a great player is in his ability to come back. The great champions have all come back from defeat. ~ Sam Snead.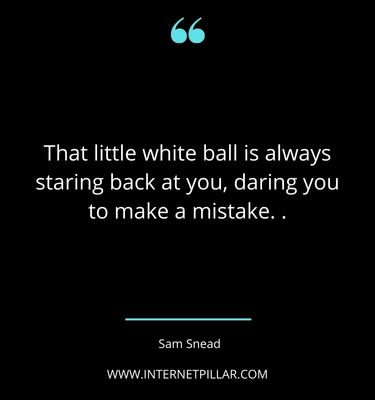 That little white ball is always staring back at you, daring you to make a mistake. ~ Sam Snead.
Forget your opponents; always play against par. ~ Sam Snead.
In golf, as in life, you get out of it what you put into it. ~ Sam Snead.
To quit between tee and green is more habit-forming than drinking a highball before breakfast. ~ Sam Snead.
Most people who play golf have one big trouble: they think too much. To get any real mileage out of this game you've got to sit on your imagination. ~ Sam Snead.
Great Sam Snead Quotes
What did I want with prestige? The British Open paid the winner $600 in American money. A man would have to be two hundred years old at that rate to retire from golf. ~ Sam Snead.
To be consistently effective, you must put a certain distance between yourself and what happens to you on the golf course. This is not indifference, it's detachment. ~ Sam Snead.
I'd say that golf is about 75% mental. If your state of mind gets out of kilter, you're worse off than a tomcat floating on a log. ~ Sam Snead.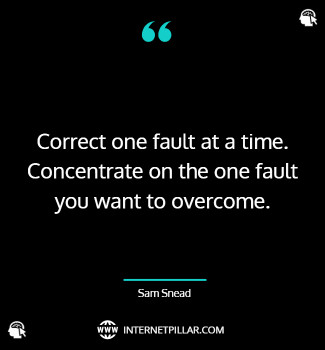 Correct one fault at a time. Concentrate on the one fault you want to overcome. ~ Sam Snead.
I've been on some fairways that are as good as the greens we putted on back then. We had crab grass. I remember one green where I putted through ants. ~ Sam Snead.
There is an old saying: if a man comes home with sand in his cuffs and cockleburs in his pants, don't ask him what he shot. ~ Sam Snead.
I hope I'll never get too old to want to take part in this event, and I don't think I will ever age that much. ~ Sam Snead.
Just have a Coke or something and watch the boys go past. ~ Sam Snead.
Quotes about Sam Snead
He brought so much to the game with his great swing and the most fluid motion ever to grace a golf course. ~ Jack Nicklaus.
It was a gift, something you can't teach. His hands looked like they were born to have a golf club in them. ~ Curtis Strange.
No one will ever duplicate Sam Snead. No one will ever surpass Sam Snead because he was so unique. ~ Tim Finchem.
I don't think there's ever been a golf swing as aesthetically pleasing as Sam Snead's. ~ Phil Mickelson.
Watching Sam Snead practice hitting golf balls is like watching a fish practice swimming. ~ John Schlee.
Sam doesn't know a damn thing about the golf swing. But he does it better than anyone else.~ Ben Hogan .
He was the best natural player ever. He had the eye of an eagle, the grace of a leopard and the strength of a lion. ~ William Campbell.
Sam Snead is the only person who came into the game possessing every physical attribute – a sound swing, power, a sturdy physique, and no bad habits. ~ Gene Sarazen.
Interesting Sam Snead Quotes
The only reason I ever played in the first place was so I could afford to hunt and fish. ~ Sam Snead.
Practice your swing until it becomes a habit of mind and muscle. ~ Sam Snead.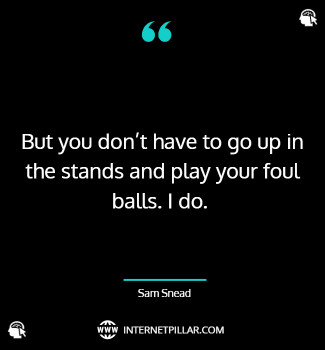 But you don't have to go up in the stands and play your foul balls. I do. ~ Sam Snead.
Of the mental hazards, being scared is the worst. When you get scared, you get tense. ~ Sam Snead.
Thinking instead of acting is the number one golf disease. ~ Sam Snead.
Playing golf is like eating. It's something which has to come naturally. ~ Sam Snead.
Good golfing temperament falls between taking it with a grin or shrug and throwing a fit. ~ Sam Snead.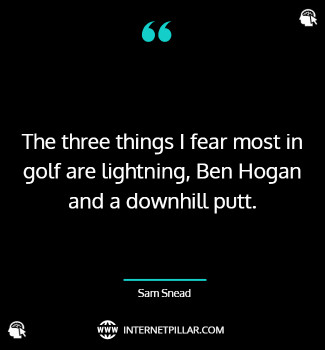 The three things I fear most in golf are lightning, Ben Hogan and a downhill putt. ~ Sam Snead.
The only place that's holier than St. Andrews is Westminster Abbey. ~ Sam Snead.
---
So these were the 62 famous quotes about Sam Snead.
If you like these quotes and sayings, then you can also read my other posts on Ruth Graham quotes and Quintus Ennius quotes.