September is a time for looking back on the summer that has just passed and getting ready for the impending winter.
September is a best time for outdoor activities such as camping and hiking.
---
Best September Quotes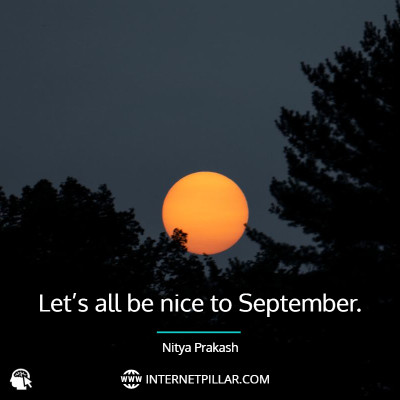 Let's all be nice to September. ~ Nitya Prakash.
Autumn carries more gold in its pocket than all the other seasons. ~ Jim Bishop.
This is a new year. A new beginning. And things will change. ~ Taylor Swift.
Autumn is a second spring when every leaf is a flower. ~ Albert Camus.
Wine is the divine juice of September. ~ Voltaire.
And then the sun took a step back, the leaves lulled themselves to sleep, and Autumn was awaked. ~ Raquel Franco.
I used to love September, but now it just rhymes with remember. ~ Dominic Riccitello.
Education is the most powerful weapon which you can use to change the world. ~ Nelson Mandela.
My favorite poem is the one that starts 'Thirty days hath September' because it actually tells you something. ~ Groucho Marx.
Lovely September Quotes
But when fall comes, kicking summer out on its treacherous ass as it always does one day sometime after the midpoint of September, it stays awhile like an old friend that you have missed. ~ Stephen King.
No spring nor summer beauty hath such grace as I have seen in one autumnal face. ~ John Donne.
The roots of education are bitter, but the fruit is sweet. ~ Aristotle.
I cannot endure to waste anything so precious as autumnal sunshine by staying in the house. ~ Nathaniel Hawthorne.
No matter how many losing seasons you might have had in the past with your marriage, the good thing is that all teams get a fresh start once September begins. ~ Shon Hyneman.
Delicious autumn! My very soul is wedded to it, and if I were a bird I would fly about the earth seeking the successive autumns. ~ George Eliot.
You're off to great to great places. Today is your first day! Your mountain is waiting, so get on your way! ~ Dr. Seuss.
Beautiful September Quotes
All I have learned, I learned from books. ~ Abraham Lincoln.
You can never be overdressed or overeducated. ~ Oscar Wilde.
It looked like the world was covered in a cobbler crust of brown sugar and cinnamon. ~ Sarah Addison Allen.
Make it a September to Remember. ~ Unknown.
September! I never tire of turning it over and over in my mind. It has warmth, depth, and color. It glows like old amber. ~ Patience Strong.
Autumn is the antidote to stifling summer. ~ Terri Guillemets.
I love September, especially when we're in it. ~ Willie Stargell.
Life starts all over again when it gets crisp in the fall. ~ F. Scott Fitzgerald.
Education is not preparation for life; education is life itself. ~ John Dewey.
Famous September Quotes
Wild is the music of the autumnal winds amongst the faded woods. ~ William Wordsworth.
September days have the warmth of summer in their briefer hours, but in their lengthening evenings a prophetic breath of autumn. ~ Rowland E. Robinson.
Let us remember: One book, one pen, one child and one teacher can change the world. ~ Malala Yousafzai.
By all these lovely tokens, September days are here. With summer's best of weather and autumn's best of cheer. ~ Helen Hunt Jackson.
As if summer was holding its breath, and when it let it out again, it would be autumn. ~ Sharyn McCrumb.
It must be September, July sun has disappeared. ~ Charmaine J. Forde.
It strikes me that the spirit of the Fourth, this year, was used up by September's end and fell like an early leaf. ~ William H. Gass.
Inspiring September Quotes
Autumn is springtime in reverse. ~ Terri Guillemets.
The leaves fall, the wind blows, and the farm country slowly changes from the summer cottons into its winter wools. ~ Henry Beston.
Ah, September! You are the doorway to the season that awakens my soul… but I must confess that I love you only because you are a prelude to my beloved October. ~ Peggy Toney Horton.
September tries its best to have us forget summer. ~ Bernard Williams.
Everyone must take time to sit and watch the leaves turn. ~ Elizabeth Lawrence.
The most important day of a person's education is the first day of school, not Graduation Day. ~ Harry Wong.
All at once, summer collapsed into fall. ~ Oscar Wilde.
Top September Quotes
Happily we bask in this warm September sun, which illuminates all creatures… ~ Henry David Thoreau.
But the days grow short when you reach September. ~ Maxwell Anderson.
September was a thirty-days long goodbye to summer, to the season that left everybody both happy and weary of the warm, humid weather and the exhausting but thrilling adventures. ~ Lea Malot.
Success is the sum of small efforts, repeated day in and day out. ~ Robert Collier.
Winter is an etching, spring a watercolour, summer an oil painting, and autumn a mosaic of them all. ~ Stanley Horowitz.
Autumn mornings: sunshine and crisp air, birds and calmness, year's end and day's beginnings. ~ Terri Guillemets.
Inspirational September Quotes
Education is the key to unlocking the world, a passport to freedom. ~ Oprah Winfrey.
There is a time in late September when the leaves are still green, and the days are still warm, but somehow you know that it is all about to end. ~ Sharyn McCrumb.
We know that in September, we will wander through the warm winds of summer's wreckage. We will welcome summer's ghost. ~ Henry Rollins.
In many ways, September feels like the busiest time of the year: The kids go back to school, work piles up after the summer's dog days, and Thanksgiving is suddenly upon us. ~ Brene Brown.
That old September feeling, left over from school days, of summer passing, vacation nearly done, obligations gathering, books and football in the air. ~ Wallace Stegner.
September was a thirty-days long goodbye to summer, to the season that left everybody both happy and weary of the warm, humid weather and the exhausting but thrilling adventures. ~ Lea Malot.
Anyone who thinks fallen leaves are dead has never watched them dancing on a windy day. ~ Unknown.
Popular September Quotes
Autumn is the hardest season. The leaves are all falling, and they're falling like they're falling in love with the ground. ~ Andrea Gibson.
We awoke one morning in September, and the world lurched on its axis. ~ Jeb Bush.
There is something incredibly nostalgic and significant about the annual cascade of autumn leaves. ~ Joe L. Wheeler.
Making your Christmas cake in September is perfect, as too fresh a cake crumbles when cut. ~ Mary Berry.
It was a beautiful bright autumn day, with air like cider and a sky so blue you could drown in it. ~ Diana Gabaldon.
Of all the seasons, autumn offers the most to man and requires the least of him. ~ Hal Borland.
Powerful September Quotes
September: it was the most beautiful of words, he'd always felt, evoking orange-flowers, swallows, and regret. ~ Alexander Theroux.
Autumn seemed to arrive suddenly that year. The morning of the first September was crisp and golden as an apple. ~ J.K. Rowling.
Autumn shows us how beautiful it is to let things go. ~ Unknown.
You can't start the next chapter of your life if you keep re-reading the last one. ~ Unknown.
Fall has always been my favorite season. The time when everything bursts with its last beauty, as if nature had been saving up all year for the grand finale. ~ Lauren DeStefano.
Autumn is the mellower season, and what we lose in flowers we more than gain in fruits. ~ Samuel Butler.
All the months are crude experiments, out of which the perfect September is made. ~ Virginia Woolf.
---
So these were the 67 top quotes about September month.
If you like these quotes and sayings, then you can also read my other posts on July quotes and August quotes.