These Small Business Quotes are going to inspire you.
Many people find the process of starting a small company to be frightening.
There are several elements to consider and obstacles to overcome before the business may begin operations effectively.
This should not deter potential entrepreneurs, since entering the business sector might be the most gratifying choice of their life.
To help and encourage you along the way, we've compiled a comprehensive collection of 88 small business quotes spanning a wide range of topics, including business, financing, accomplishment, inspiration and more.
These small company quotes may give helpful insights and inspiration as you traverse the difficult but exciting world of entrepreneurship.
---
Top 10 Small Business Quotes
A big business starts small. ~ Richard Branson.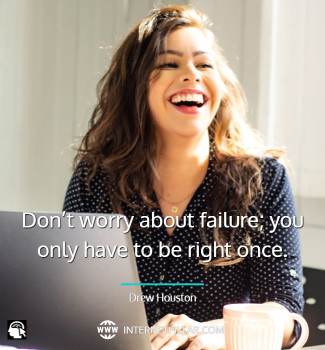 Don't worry about failure; you only have to be right once. ~ Drew Houston.
The secret to getting ahead is getting started. ~ Mark Twain.
Great things in business are never done by one person. ~ Steve Jobs.
There are no working hours for leaders. ~ James Cardinal Gibbons.
It's not about ideas. It's about making ideas happen. ~ Scott Belsky.
First, think. Second, believe. Third, dream. And finally, dare. ~ Walt Disney.
What would you do if you weren't afraid? ~ Sheryl Sandberg.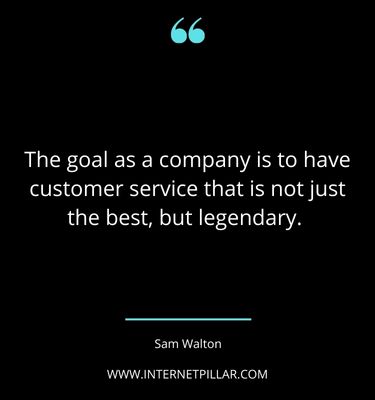 The goal as a company is to have customer service that is not just the best, but legendary. ~ Sam Walton.
Business is the salt of life. ~ Voltaire.
Related Quotes: 49 Business Success Quotes to Motivate You Today and 54 Business Growth Quotes to Inspire Entrepreneurs
Inspiring Small Business Quotes
Find a great mentor, someone who has already been through the many challenges of being an entrepreneur. ~ Jodi Levine.
The heart and soul of a company is creativity and innovation. ~ Robert Iger.
Every contact we have with a customer influences whether or not they'll come back. We have to be great every time or we'll lose them. ~ Kevin Stirtz.
Failure is the condiment that gives success its flavor. ~ Truman Capot.
Setting Goal is the first step in turning the invisible into the visible. ~ Tony Robbins.
Customer service is an opportunity to exceed your customer's expectations. ~ John Jantsch.
What do you need to start a business? Three simple things: know your product better than anyone. Know your customer, and have a burning desire to succeed. ~ Dave Thomas.
I would rather earn 1% off 100 people's efforts than 100% off my own efforts. ~ John D. Rockefeller.
There's no luck in business. There's only drive, determination and more drive. ~ Sophie Kinsella.
My best advice to entrepreneurs is this: forget about making mistakes, just do it. ~ Ajaero Tony Martins.
You can't be successful in business without taking risks. It's really that simple. ~ Adena Friedman.
Motivational Small Business Quotes
When you serve the customer better, they always return on your investment. ~ Arnold Palmer.
Know what your customer want most and what your company does best. Focus on where those two meet. ~ Kevin Stirtz.
Get closer than ever to your customers. So close that you tell them what they need well before they realize it themselves. ~ Steve Jobs.
If your business is not on the internet then your business will be out of business. ~ Bill Gates.
Good business leaders create a vision, articulate the vision, passionately own the vision, and relentlessly drive it to completion. ~ Jack Welch.
Don't watch the clock; do what it does. Keep going. ~ Sam Levenson.
Repetition makes reputation and reputation makes customers. ~ Elizabeth Arden.
Great customer service is a critical competitive advantage for a business. ~ Steve Benson.
Perseverance is the hard work you do after you get tired of doing the hard work you already did. ~ Newt Gingrich.
A satisfied customer is the best business strategy of all. ~ Michael LeBoeuf.
Inspirational Small Business Quotes
Minds are like parachutes; they work best when open. ~ Thomas Dewar.
If you are not taking care of your customer, your competitor will. ~ Bob Hooey.
The journey of a thousand miles begins with one step. ~ Lao Tzu.
The most successful entrepreneurs I know are optimistic. It's part of the job description. ~ Caterina Fake.
Customers may forget what you said but they'll never forget how you made them feel. ~ Unknown.
A small business is an amazing way to serve and leave an impact on the world you live in. ~ Nicole Snow.
Business has only two functions – marketing and Innovation. ~ Peter Drucker.
Opportunities don't happen. You create them. ~ Chris Grosser.
There's nothing wrong with staying small. You can do big things with a small team. ~ Jason Fried.
You have to work on the business first before it works for you. ~ Idowu Koyenikan.
Powerful Small Business Quotes
Courteous treatment will make a customer a walking advertisement. ~ James Cash Penny.
The successful man is the one who finds out what is the matter with his business before his competitors do. ~ Roy L. Smith.
A business that makes nothing but money is a poor business. ~ Henry Ford.
Fall seven times and stand up eight. ~ A Japanese Proverb.
Everything starts with the customer. ~ Lou Gerstner.
Don't find customers for your products, find products for your customers. ~ Seth Godin.
You don't need to have a 100–person company to develop that idea. ~ Larry Page.
The best customer service is if the customer doesn't need to call you, doesn't need to talk to you. It just works. ~ Jeff Bezos.
Action is the foundational key to all success. ~ Pablo Picasso.
Hardships often prepare ordinary people for an extraordinary destiny. ~ C.S. Lewis.
Make the customer the hero of your story. ~ Ann Handley.
The biggest mistake a small business can make is to think like a small business. ~ Aruna Bhayana.
Start Small Business Quotes
What you do today can improve all your tomorrows. ~ Ralph Marston.
The purpose of business is to create and keep a customer. ~ Peter Drucker.
The secret to successful hiring is this: look for the people who want to change the world. ~ Marc Benioff.
A goal without a plan is just a wish. ~ Antoine De Saint-Exupery.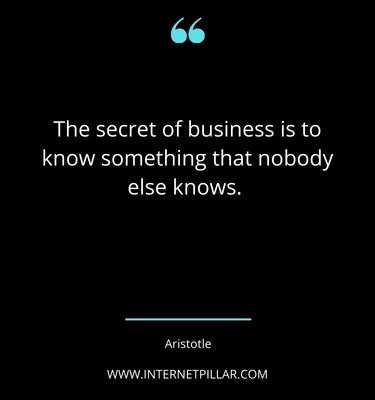 The secret of business is to know something that nobody else knows. ~ Aristotle.
To be successful you have to have your heart in your business and your business in your heart. ~ Thomas J. Watson.
Test fast, fail fast, adjust fast. ~ Tom Peters.
To win big, you sometimes have to take big risks. ~ Bill Gates.
If you can dream it, you can do it. ~ Walt Disney.
Your Customer doesn't care how much you know until they know how much you care. ~ Damon Richards.
In the business world, everyone is paid in two coins: cash and experience. Take the experience first; the cash will come later. ~ Harold Geneen.
All you have in business is your reputation – So it's very important that you keep your work. ~ Richard Branson.
Best Small Business Quotes
Innovation distinguishes between a leader and a follower. ~ Steve Jobs.
Every company's greatest assets are its customers because without customers there is no company. ~ Michael LeBoeuf.
If you don't understand the details of your business you are going to fail. ~ Jeff Bezos.
Success is how high you bounce after you hit bottom. ~ George Patton Jr..
Never Give up. Today is hard and tomorrow will be Worse, but the day after Tomorrow will be Sunshine. ~ Jack Ma, Founder of Alibaba Group.
Build your own dreams, or someone else will hire you to build theirs. ~ Farrah Gray.
Make a Customer, Not a sale. ~ Katherine Barchetti.
Whenever you see a successful business, someone once made a courageous decision. ~ Peter F. Drucker, Management Consultant.
I attribute my success to this: I never gave or took any excuse. ~ Florence Nightingale.
Where do you put the fear when you choose to innovate? The fear is there, but you have to find a place to put it. ~ Seth Godin, Writer.
Just go for it. Don't be afraid. You're always going to wonder, 'What if?' ~ Sarah Lawrence.
Patience: This is the greatest business asset. Wait for the right time to make your moves. ~ J. Paul Getty.
Famous Small Business Quotes
Customer don't expect you to be perfect. They do expect you to fix things when they go wrong. ~ Donald Porter.
Business is all about relationships, how well you build them determines how well they build your business. ~ Brad Sugars.
This might shock you, but you should fail during the course of your business. ~ Mike Kappel.
The goal as a company is to have customer service that is not just the best but legendary. ~ Sam Walton.
The greatest ability in business is to get along with others and to influence their actions. ~ John Hancock.
Capital isn't scarce. Vision is. ~ Sam Walton.
Don't deliver a product, deliver an experience. ~ Unknown.
The Golden Rule for Every Business is this: Put Yourself in your Customer's Place. ~ Orison Swett Marden.
You don't build a business. You build people and people build the business. ~ Zig Ziglar.
If you don't drive your business, you will be driven out of business. ~ B.C. Forbes.
You don't build a business, you build people, then people build the business. ~ Zig Ziglar.
---
---
So these were the 88 quotes about Small Business.
If you like these quotes and sayings, then you can also read my other popular blog posts on the topics of Rainy Day quotes and Life is Hard quotes.
---
Sources: