Parenting a child with special needs can be a journey filled with frustration, exhaustion and at times, despair.
Yet, it is also a journey where parents are encouraged to acknowledge their blessings.
Contrary to societal perceptions, raising a child with special needs isn't the most difficult thing; rather, raising a child who lacks empathy for others' struggles can be more challenging.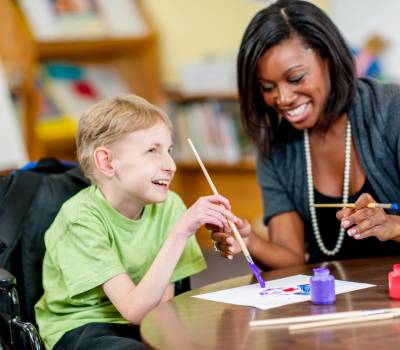 As parents, our role is not just about ensuring fairness but more about infusing joy in life.
Despite the increased demands, we strive to foster an environment of happiness and acceptance for our children, believing in the strength of hope and healing.
Special needs parenting is an experience that many might not understand, but it's a path trodden with relentless resilience and profound strength.
Related: Autism Quotes and Social Work Quotes.
As parents, we strive to empower our children, allowing them to carve their own spaces in the world, fostering their autonomy and helping them to live fulfilling lives.
These 50 quotes on special needs aim to inspire not only the parents but also the family and teachers of these children.
They underline the gravity of the lived experiences of special needs children and encourage motivation and inspiration for those who are a part of their journey.
These quotes about special needs are sure to inspire you.
---
Best Special Needs Quotes
Why fit in when you were born to stand out? ~ Dr. Seuss.
I don't need easy. I just need possible. ~ Bethany Hamilton.
Believe you can and you're halfway there. ~ Theodore Roosevelt.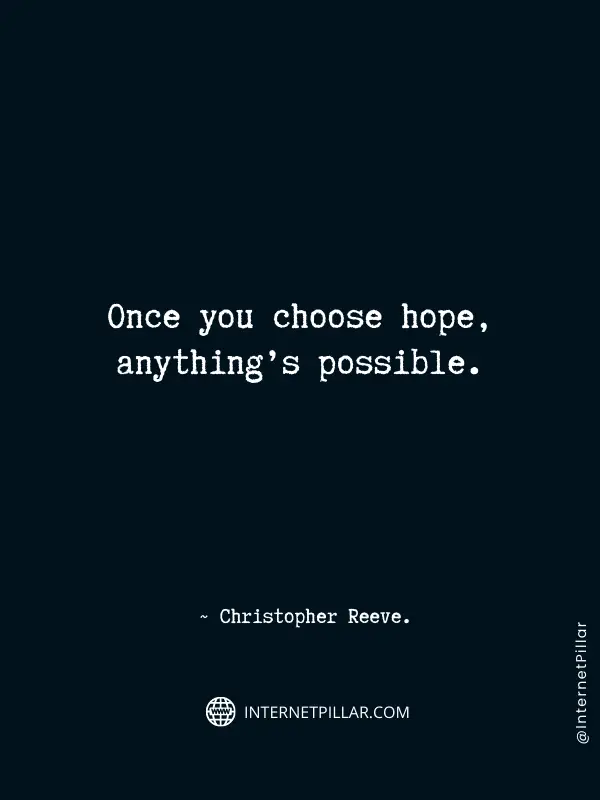 Once you choose hope, anything's possible. ~ Christopher Reeve.
The only disability in life is a bad attitude. ~ Scott Hamilton.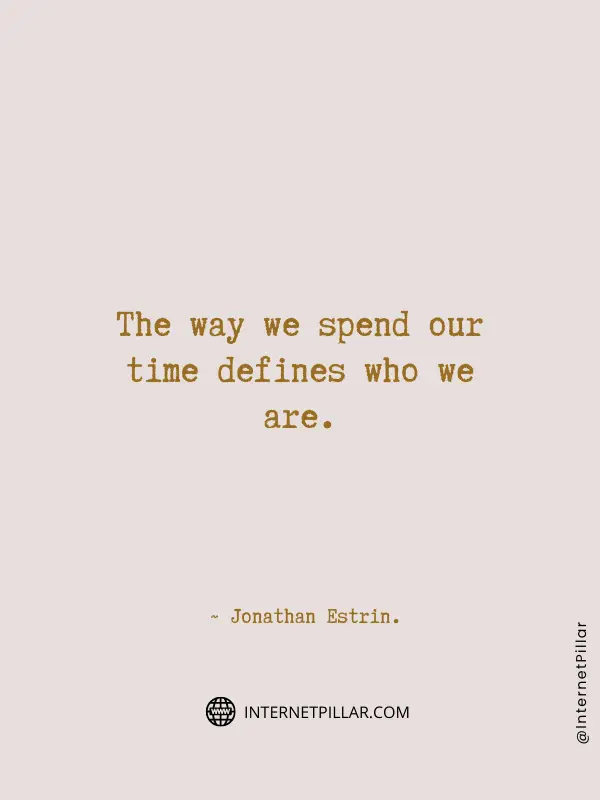 The way we spend our time defines who we are. ~ Jonathan Estrin.
Motivational Quotes to Inspire Special Needs Parents
You can only make a difference by being different. ~ Rick Warren.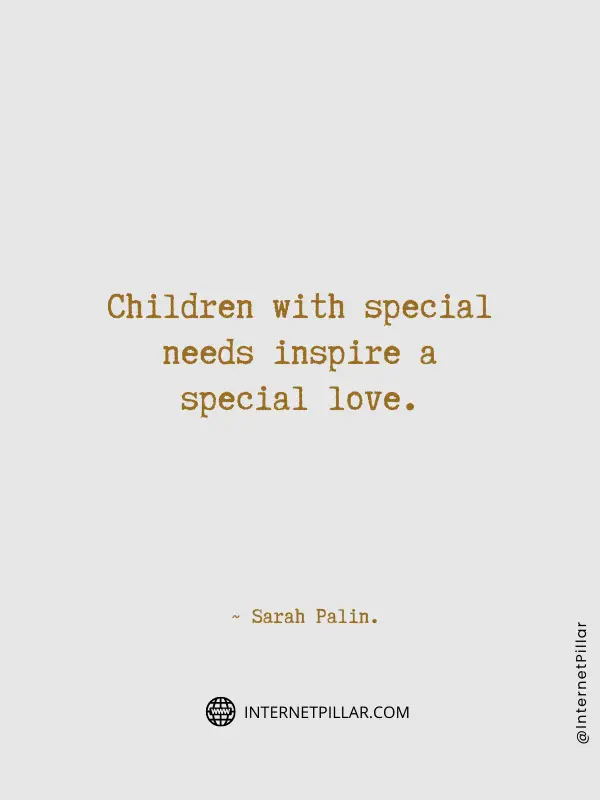 Children with special needs inspire a special love. ~ Sarah Palin.
Difficulties strengthen the mind, as labor does the body. ~ Seneca.
That which does not kill us makes us stronger. ~ Friedrich Nietzsche.
Most people see what is and never see what can be. ~ Albert Einstein.
Guilt is to the spirit what pain is to the body. ~ Elder David A. Bednar.
Attitude is a little thing that makes a big difference. ~ Winston Churchill.
Special Needs Quotes To Support And Inspire Your Family
What seems to us as bitter trials are often blessings in disguise. ~ Oscar Wilde.
Some of the most wonderful people are the ones who don't fit into boxes. ~ Tori Amos.
No one is useless in this world who lightens the burdens of another. ~ Charles Dickens.
The future belongs to those who believe in the beauty of their dreams. ~ Eleanor Roosevelt.
A diagnosis can't predict the extraordinary love you will have for your child. ~ Tara McCallan.
Best Special Needs Quotes To Give You Comfort
Parenting for special needs and "typical" kids is like a tightrope walk without a net. ~ Unknown.
God's plan will always be greater and more beautiful than all of your disappointments. ~ Unknown.
Children with special needs aren't sent to special parents, they make parents special. ~ Unknown.
All kids need is a little help, a little hope, and someone who believes in them. ~ Magic Johnson.
You're not disabled by the disabilities you have, you are able by the abilities you have. ~ Unknown.
I thought I'd teach my child about the world. Turns out I'm teaching the world about her. ~ Unknown.
Quotes about Special Needs
I'll say this: It takes a special person to see the special needs of a complicated kid. ~ James Duff.
They laugh at me because I am different. I laugh at them because they're all the same. ~ Kurt Cobain.
By being yourself, you put something wonderful in the world that was not there before. ~ Edwin Elliot.
Stop thinking in terms of limitations and start thinking in terms of possibilities. ~ Terry Josephson.
Embrace the unique way your child is blooming – even if it's not in the garden you imagined. ~ Unknown.
Inspirational Special Needs Quotes and Sayings
Every child is a different kind of flower that altogether make this world a beautiful garden. ~ Unknown.
All children with special needs have a right to be part of a family, a community and society. ~ Angela Dare.
Love people enough to tell them the truth and respect them enough to trust that they can handle it. ~ Yanla.
The central struggle of parenthood is to let our hopes for our children outweigh our fears. ~ Ellen Goodman.
Children are not a distraction from more important work. They are the most important work. ~ Dr. John Trainer.
Never let anyone dis your ability to make the right choices regarding your child's disabilities. ~ Lisa Thornbury.
Special Needs Sayings and Quotes
If you want your children to improve, let them overhear the nice things you say about them to others. ~ Dr. Haim Ginott.
The past haunts and the future taunts. This is particularly true if you love a child with special needs. ~ Lisa Thornbury.
We must be willing to let go of the life we have planned so as to have the life that is waiting for us! ~ Joseph Campbell.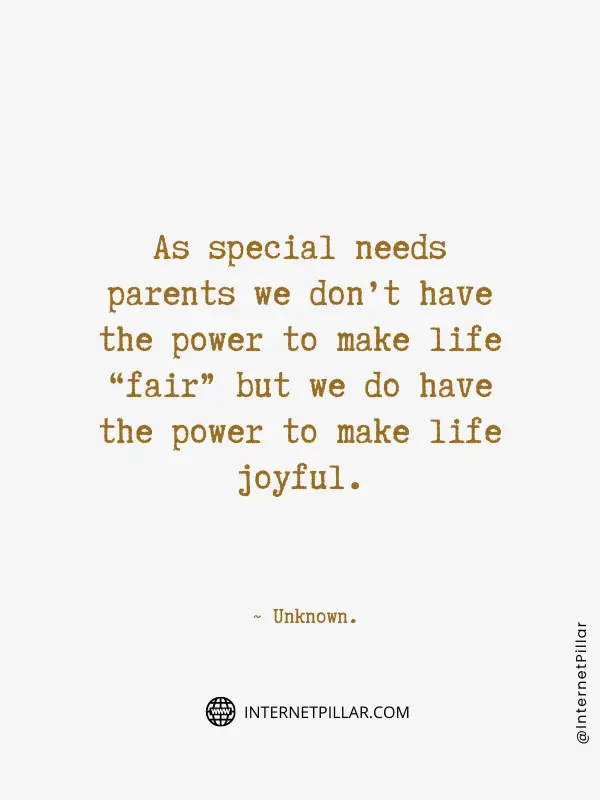 As special needs parents we don't have the power to make life "fair" but we do have the power to make life joyful. ~ Unknown.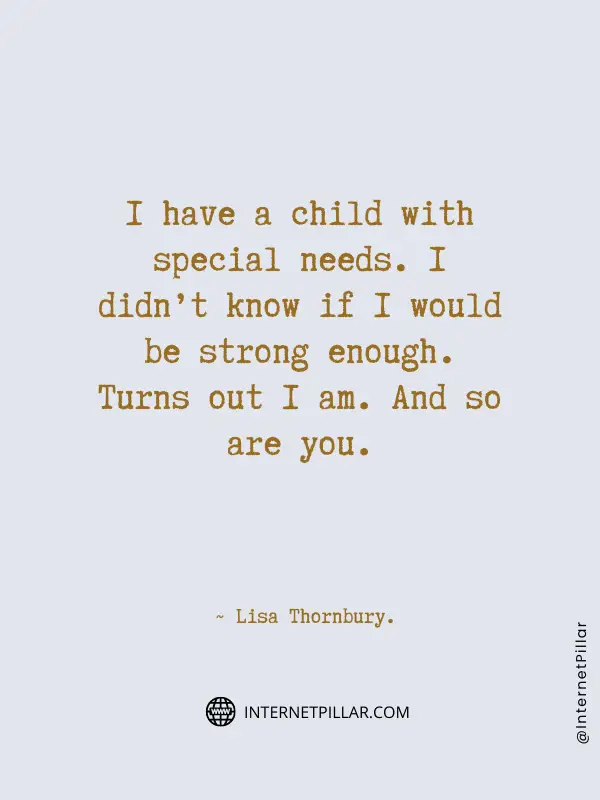 I have a child with special needs. I didn't know if I would be strong enough. Turns out I am. And so are you. ~ Lisa Thornbury.
Special Needs Children Quotes
The best and most beautiful things in the world cannot be seen or even touched. They must be felt with the heart. ~ Helen Keller.
It shouldn't matter how slowly a child learns. What matters is that we encourage them to never stop trying. ~ Robert John Meehan.
In all kinds of ways if we are willing, our children take us into places in our hearts we didn't know existed. ~ Dr. Shefali Tsabary.
Being a mother is learning about the strengths you didn't know you had, and dealing with fears you didn't know existed. ~ Linda Wooten.
Parents of children with special needs create their own world of happiness and believe in things that others cannot yet see. ~ Unknown.
Courage does not always roar. Sometimes courage is the quiet voice at the end of the day saying I will try again tomorrow! ~ Mary Anne Radmacher.
Special Needs Quotes for Parents
A child with special needs requires love, guidance, encouragement, positive influence and a life teacher just like all other children. ~ Unknown.
Every child has a different learning style and pace. Each child is unique, not only capable of learning but also capable of succeeding. ~ Robert John Meehan.
Parenting a special needs child is hard work. It is physically exhausting, mentally and emotionally draining, time consuming, and often times, very, very lonely. ~ Patrick Baldwin.
If society were more inclusive in its structure and nature, there would be no need to have 'special needs' policies or even to label children as having 'special needs.' ~ Penny Tassoni.
---
So these were the 50 Quotes about Special Needs.
If you like these quotes, then you can also read our other posts on Ocean Quotes and Happy Friday Quotes and New Month Quotes and Greek Mythology Quotes.