Are you looking for the best Virgil Abloh quotes?
I've rounded up some of the famous Virgil Abloh quotes, sayings, captions for Instagram, and status messages for you.
Virgil Abloh was an entrepreneur and fashion designer from the United States.
Beginning in 2018, he was the artistic director of Louis Vuitton's menswear line, and in early 2021, he was granted expanded creative duties throughout the LVMH brand.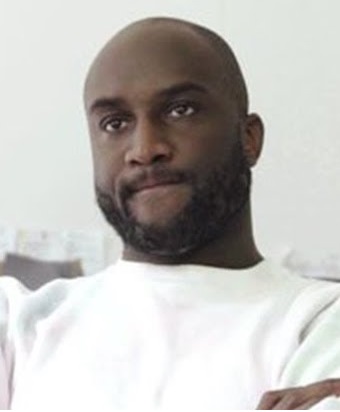 Abloh is noted for blurring the barriers between high-fashion and streetwear, causing the fashion business to be disrupted and a new generation of young culture to emerge.
He is one of the world's most well-known fashion designers. He has developed t-shirts for non-profit groups that benefit people's wellbeing.
He was named one of the 100 most important people in the world by Time magazine in 2018.
He was the first American of African origin to be chosen artistic director of a French luxury fashion brand.
You will find below a curated collection of popular Virgil Abloh quotes to read and share with others.
---
Best Virgil Abloh Quotes
I think my original ambition was to be an artist. ~ Virgil Abloh.
I like the idea of a fully realized collection with artists. ~ Virgil Abloh.
I don't have the patience to be a non-creator. ~ Virgil Abloh.
I do fashion to tell a narrative. ~ Virgil Abloh.
I'm mostly into buying art from friends. I like to keep it vague – just whatever I find intriguing. ~ Virgil Abloh.
I don't come up with ideas in a test tube; I come up with ideas by breaking test tubes. That's how I've always been. ~ Virgil Abloh.
Whenever I'm doing a collection, I'm inspired by the world around us. ~ Virgil Abloh.
All I do all day is think of ideas and implement them. That's an industry, you know. I'm trying to make art on a commercial scale. ~ Virgil Abloh.
My dad is a Ghanaian immigrant, and he wanted a son who was an engineer. ~ Virgil Abloh.
My general premise is not about selling clothes. If that's your end goal, then all of a sudden everything looks the same, you know – you start designing by numbers. ~ Virgil Abloh.
Famous Virgil Abloh Quotes
I interned at Fendi while Michael Burke was overseeing Fendi. ~ Virgil Abloh.
I'm a kid from Chicago. I know what it was like to see Obama become president. We felt the tectonic plates of the world shift. ~ Virgil Abloh.
I hate stores. Stores are corny. It's a fact. Who wants to be sold anything? ~ Virgil Abloh.
I look at culture, and I see what the kids around me are wearing, and I see a particular style. I understand the space between fashion and streetwear. ~ Virgil Abloh.
I pride myself in collaborating and being a creative director, and creative direction isn't putting my opinion first. It's supporting an artist so they get the most out of the project. ~ Virgil Abloh.
People that are able to think in terms of concepts and offer us valuable forms of art are very exciting to me. ~ Virgil Abloh.
My lifestyle doesn't really account for movies. I can't even remember what I last saw. ~ Virgil Abloh.
I hate being up onstage with a microphone. ~ Virgil Abloh.
I don't have to choose between high fashion or streetwear. My brand reminds me that it doesn't have to fit in a box. It can just be in a gray area. ~ Virgil Abloh.
Fashion and music are two great artistic forms that can be molded by the youth culture – our taste and our passion for evolving things in our limited time on earth allows us to look at things with fresh eyes. ~ Virgil Abloh.
There's no line between a designer and consumer. ~ Virgil Abloh.
I don't know where my parents got my name. I'm sure they saw it in a movie, maybe. ~ Virgil Abloh.
Inspirational Virgil Abloh Quotes
What I love about tennis is the gracefulness. It's an aggressive and powerful game, but it takes touch and finesse. ~ Virgil Abloh.
I feel like I'm figuring things out, but I don't feel accomplished yet. I still feel like I'm an intern. ~ Virgil Abloh.
I just wanna start a brand that inspires and is geared towards youth. ~ Virgil Abloh.
The whole point of collaboration is that you give and take from each other, and that's how you create things that are totally new. ~ Virgil Abloh.
I always joke that, at any given time, I'm supposed to be at two other places. ~ Virgil Abloh.
I was never meant to, like, work and then turn it off and sit on the couch. I just have a vision, and I'm inspired by it. It's sort of what makes me tick. ~ Virgil Abloh.
I don't do the vintage thing so much, just because it's not me. There are some vintage designers I'll buy things from, but mostly not. ~ Virgil Abloh.
Popular Virgil Abloh Quotes
For me, I analyze the modern girl, the girl that I'm friends with, and they're empowered: They pay their own bills. They have their own style. They wear clothes – the clothes don't wear them. ~ Virgil Abloh.
The amount of random conversations that lead to culture-shifting ideas is insane. ~ Virgil Abloh.
I try to talk on the phone as little as possible. ~ Virgil Abloh.
I'm constantly inspired by my friends and the people I surround myself with and the cities that I'm traveling to. ~ Virgil Abloh.
Growing up, at high school, we all used to wear Champion garments, which, in America, are standard-issue gym uniforms. ~ Virgil Abloh.
The blue-collar culture, it's not really a buttoned-up aesthetic. It's a heavy-labor thing because you're, like, sweating. ~ Virgil Abloh.
My friends and me, we're the type that don't care. We're not into fashion. That's, like, millennial spirit. ~ Virgil Abloh.
I don't sleep as much as normal people do. ~ Virgil Abloh.
I don't want to be a celebrity designer. I want to keep my personal life out of it. ~ Virgil Abloh.
You can look at Lil Uzi and know he has a strong opinion about his aesthetic. ~ Virgil Abloh.
Top Virgil Abloh Quotes
As a young designer in tune with culture, I'm interested in the lifeline of trends. ~ Virgil Abloh.
Ironic things are interesting. ~ Virgil Abloh.
The best New Year's resolution I ever made was probably to, like, pursue fashion in the spirit that I have now. ~ Virgil Abloh.
I want to put culture on a track so that it becomes more inclusive, more open source. ~ Virgil Abloh.
I've been DJing since I was in high school. ~ Virgil Abloh.
My graphic design skills are superior to a lot of other things I can do; I use it as a part of my tool kit. ~ Virgil Abloh.
Everything I do references something that influenced me. ~ Virgil Abloh.
I'd do anything at the right time, and I would also do things at the wrong time if they felt right. ~ Virgil Abloh.
I want Off-White to be a graphics-based brand. ~ Virgil Abloh.
Inspiring Virgil Abloh Quotes
I always live in multiple places. I'm never in the same city for seven days. ~ Virgil Abloh.
The fashion consumer likes a high-low mix – I want to be a brand that represents that. ~ Virgil Abloh.
Every idea that comes to mind I execute, or I look for outlets to put out ideas. ~ Virgil Abloh.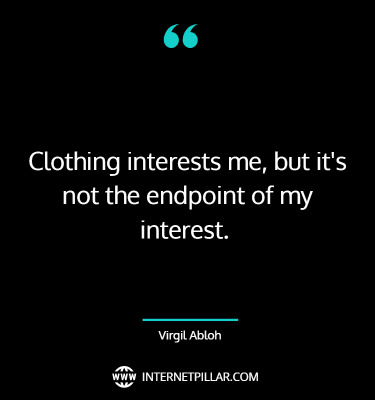 Clothing interests me, but it's not the endpoint of my interest. ~ Virgil Abloh.
The most important message is to let me just focus on making the most beautiful normcore clothes, but as luxurious as possible. ~ Virgil Abloh.
My first degree was in structural engineering, which is super-boring. ~ Virgil Abloh.
I'm fascinated by the idea that a human connection can be triggered through inanimate devices. ~ Virgil Abloh.
I have this overriding principle that streetwear could end up like disco: that it will be perceived well at the time but doesn't age well at all. ~ Virgil Abloh.
Motivational Virgil Abloh Quotes
The most valuable thing in culture is to find something first – so everyone is always looking. ~ Virgil Abloh.
I'm always trying to prove to my 17-year-old self that I can do creative things I thought weren't possible. ~ Virgil Abloh.
My style is to never say no. ~ Virgil Abloh.
My goal was to tell a dialogue between high fashion and streetwear. So, the name Off-White, in my mind, is between black and white. So, that middle ground is a mixture between both genres of fashion. ~ Virgil Abloh.
From my perspective, I'm trying to stand for a generation. You know, each generation has designers who go along with it. ~ Virgil Abloh.
My greatest design tool personally is to look at what that genre is doing and make it 3–5% different. It's in a way, trolling. ~ Virgil Abloh.
I love counterfeits, it's the best feedback. It's better than a great review in Vogue. If it's working to a point where someone else can profit […] it's really working. ~ Virgil Abloh.
I couldn't beg a fashion writer to write about my project. But with Instagram, I made it my magazine. ~ Virgil Abloh.
When creativity melds together with global issues, I believe you can bring the world together. ~ Virgil Abloh.
Memorable Virgil Abloh Quotes
Music needs a visual element to make it tangible. So, naturally, there's gonna be a synergy between high-level art direction and high-level albums. ~ Virgil Abloh.
Modern culture thrives off of the ironic. ~ Virgil Abloh.
Pyrex Vision's first season was, for me, an expression of myself as an artist first, designer second. ~ Virgil Abloh.
I like to look at fashion and relate it to the time when it was happening. ~ Virgil Abloh.
I think that, in a digital age, album covers are becoming a lost art. ~ Virgil Abloh.
Art is made in hindsight. ~ Virgil Abloh.
I started off as a kid who didn't care what my education was. ~ Virgil Abloh.
I believe in the romantic interchange between intellectuals about fashion. ~ Virgil Abloh.
From a very young age, as a teenager, I was into hip-hop and skateboarding and all those things that were akin to a kid in the '90s. All those things are what resulted in clothes. ~ Virgil Abloh.
Encouraging Virgil Abloh Quotes
I think the reason why Off-White exists is to modernize fashion. ~ Virgil Abloh.
Humor is an entry point for humanity. ~ Virgil Abloh.
To me, graphic T-shirts are the most important and most expressive format for a designer or a person. Your taste in graphic tees says a lot about your point of view. ~ Virgil Abloh.
I'm not really into style. I'm more into confidence or having something to say. ~ Virgil Abloh.
My motivation is, in part, a bit of angst that comes from feeling like I don't belong, that our generation doesn't belong. ~ Virgil Abloh.
Criticism doesn't worry me. ~ Virgil Abloh.
---
So these were the 80 top Virgil Abloh quotes that are inspirational.
Tell me in the comments section, which Virgil Abloh quotes were your favorite?
If you like these quotes and sayings, then you can also read my other posts on Stonewall Jackson quotes and Naya Rivera quotes.
You are welcome to share these quotes, sayings, lyrics, messages, and captions with your family and friends on WhatsApp, Facebook, Twitter, Instagram, and Pinterest and inspire them to take their life to the next level and achieve greatness and success!
---
About Virgil Abloh
Virgil Abloh was a famous American fashion designer and entrepreneur.
Birthdate: September 30, 1980
Birthplace: Rockford, Illinois, U.S.
Died: November 28, 2021 at the age of 41 in Chicago, Illinois, U.S.
Education: University of Wisconsin–Madison and Illinois Institute of Technology
Occupation: Designer, Entrepreneur, Disc Jockey
Title: Founder and CEO of Off-White, Artistic Director of menswear at Louis Vuitton, Creative Director of Donda.
Designer and founder of the fashion label Off-White, Virgil Abloh is known for his streetwear-inspired collections.
He often collaborated with other artists, and his work has been worn by celebrities like Kanye West, Rihanna, and Justin Bieber.