Waiting is the belief that if you are patient then wonderful things will happen in your life.
---
Best Waiting Quotes
All things come to him who waits – provided he knows what he is waiting for. ~ Woodrow T. Wilson.
Waiting for the spark from heaven to fall. ~ Matthew Arnold.
If you wait, all that happens is that you get older. ~ Mario Andretti.
Mars is there, waiting to be reached. ~ Buzz Aldrin.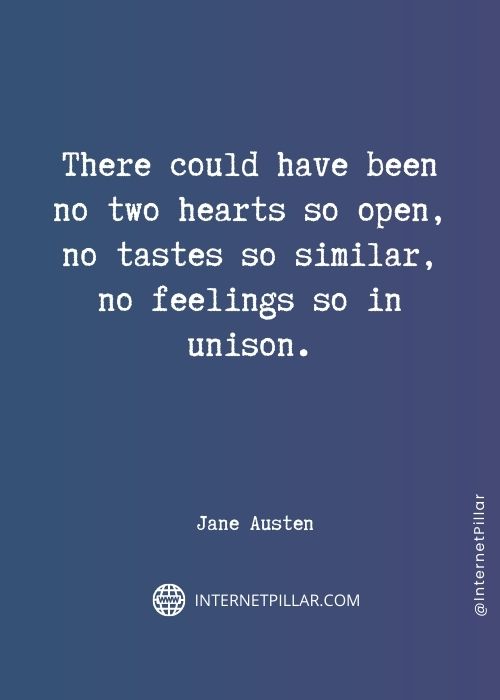 There could have been no two hearts so open, no tastes so similar, no feelings so in unison. ~ Jane Austen.
Waiting was a sin against both the time that was still to come and the moments one was currently disregarding. ~ Neil Gaiman.
If we wait until we're ready, we'll be waiting for the rest of our lives. ~ Lemony Snicket.
I find waiting unbearable because it makes me passive and negates me. I hate being nothing. ~ Kathy Acker.
Things may come to those who wait, but only the things left by those who hustle. ~ Abraham Lincoln.
Waiting for perfect is never as smart as making progress. ~ Seth Godin.
The problem with waiting is that it runs counter to our cultural expectations of ceaseless activity. ~ Margaret Whipp.
Waiting is a trap. There will always be reasons to wait. The truth is, there are only two things in life, reasons and results, and reasons simply don't count. ~ Robert Anthony.
But the important thing about learning to wait, I feel sure, is to know what you are waiting for. ~ Anna Neagle.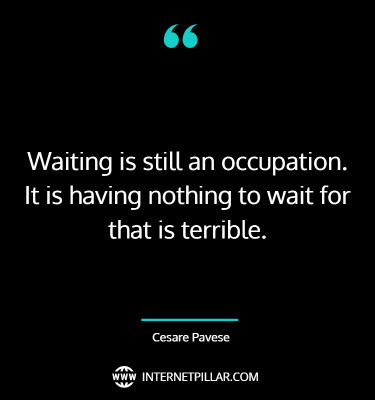 Waiting is still an occupation. It is having nothing to wait for that is terrible. ~ Cesare Pavese.
What we are waiting for is not as important as what happens to us while we are waiting. Trust the process. ~ Mandy Hale.
To know how to wait is the great secret of success. ~ De Maistre.
Anxiety makes waits seem longer. ~ Mark Van Hagen.
You usually have to wait for that which is worth waiting for. ~ Craig Bruce.
Spending your days waiting to die is no way to live. ~ Anthony Ray Hinton.
Waiting in uncertainty takes longer than when one is informed. ~ Mark Van Hagen.
You are not just waiting in vain. There is a purpose behind every delay. ~ Mandy Hale.
The waiting time, my brothers, is the hardest time of all. ~ Sarah Doudney.
Top Waiting Quotes
Though sleep is called our best friend, it is a friend who often keeps us waiting! ~ Jules Verne.
Don't rush things. Anything worth having is worth waiting for. ~ Unknown.
Don't wait for extraordinary circumstance to do good; try to use ordinary situations. ~ Charles Richter.
Our lives have become a perpetual waiting game. This is a societal norm. We spend an absurd amount of time simply waiting. ~ Dr. Asa Don Brown.
How much of human life is lost in waiting. ~ Ralph Waldo Emerson.
Waiting is not always a bad thing; it can bring its own joy -the thrill of anticipation. ~ David Jeremiah.
Waiting is a form of passive persistence. ~ Ogwo David Emenike.
Waiting is tough. Waiting is frustrating. ~ Marlinda Ireland.
The thing about waiting is that the longer you wait, the more impatient you become. ~ Ashay Abbhi.
You don't stumble upon your heritage. It's there, just waiting to be explored and shared. ~ Robbie Robertson.
Nothing's going to come to you by sitting around and waiting for it. ~ Zoe Kazan.
After you find out all the things that can go wrong, your life becomes less about living and more about waiting. ~ Chuck Palahniuk.
Never keep long and be waiting. Waiters and quitters have just a slight difference but a common end. ~ Israelmore Ayivor.
You can't stay in your corner of the forest waiting for others to come to you. You have to go to them sometimes. ~ A. A. Milne.
There is no great achievement that is not the result of patient working and waiting. ~ J. G. Holland.
The wait is long, my dream of you does not end. ~ Nuala O'Faolain.
Waiting is more than merely an inconvenient delay. It is more than a matter of time. ~ Harold Schweizer.
Waiting is not mere empty hoping. It has the inner certainty of reaching the goal. ~ I Ching.
Waiting is as resistant to description and analysis as time or boredom. ~ Homer.
Famous Waiting Quotes
Waiting makes wine better; but waiting makes man decay! Don't wait because you have no time! Move fast! ~ Mehmet Murat ildan.
You usually have to wait for that which is worth waiting for. ~ Craig Bruce.
There is nothing to be gained by waiting for a better situation. You see where you are and you do what you can with that. ~ Jacob K. Javits.
Waiting is the rust of the soul. ~ Carlos Ruiz Zafon.
Life is very much like an arms race, each side waiting for the other one to put his stick down first. ~ Merle Shain.
Knowing someone isn't coming back doesn't mean you ever stop waiting. ~ Toby Barlow.
Each life is made up of mistakes and learning, waiting and growing, practicing patience and being persistent. ~ Billy Graham.
Waiting, like nothing else, reveals our complex human relationship with time. ~ Margaret Whipp.
Men trust God by risking rejection. Women trust God by waiting. ~ Carolyn McCulley.
I've learned that waiting is the most difficult bit, and I want to get used to the feeling, knowing that you're with me, even when you're not by my side. ~ Paulo Coelho.
We have become a global community that relies on patience because waiting has become the norm. ~ Dr. Asa Don Brown.
Waiting is not wasting. It is a strategy for champing for greater things. ~ Ifeanyi Enoch Onuoha.
And sure enough even waiting will end… if you can just wait long enough. ~ William Faulkner.
I keep waiting to meet a man who has more balls than I do. ~ Salma Hayek.
If you wait to do everything until you're sure it's right, you'll probably never do much of anything. ~ Win Borden.
Popular Waiting Quotes
The universe is full of magical things, patiently waiting for our wits to grow sharper. ~ Eden Phillpotts.
We never live; we are always in the expectation of living. ~ Voltaire.
If you wait for opportunities to occur, you will be one of the crowd. ~ Edward de Bono.
Waiting turns men into bears in a barn and women into cats in a sack. ~ Robert Jordan.
Waiting is a period of learning. The longer we wait, the more we hear about him for whom we are waiting. ~ Henri Nouwen.
Don't wait for your ship to come in – swim out to it. ~ Jerry Smith.
---
So these were the 62 quotes about Waiting.
If these quotes and sayings connect with you, check out our other blogs on short friend quotes and peace of mind quotes.