These Willpower Quotes are going to inspire and motivate you!
Willpower is the capacity to endure setbacks and resist temptations while staying focused on your long-term goals.
This inner strength is fundamental to human accomplishment and can be cultivated over time.
The more we harness our willpower, the stronger it becomes, laying the groundwork for remarkable achievements.
Everyone possesses some degree of willpower, with some fortunate individuals having been taught this skill from an early age by their parents or teachers.
Others may possess a lesser degree of willpower, but regardless of which group one belongs to, there's always room for growth.
This is because we often experience resilience depletion as we exert ourselves in pursuit of our objectives.
Like a muscle, willpower can be trained and developed to improve our ability to persevere in the face of adversity.
To help motivate and inspire you on this journey, we have gathered a collection of exceptional willpower quotes that offer valuable insights and encouragement.
---
Best Willpower Quotes
Your willpower is everything that let the things fall for you. ~ Giridhar Alwar.
The mind is just like a muscle – the more you exercise it, the stronger it gets and the more it can expand. ~ Idowu Koyenikan.
Willpower is trying very hard not to do something you want to do very much. ~ John Ortberg.
Decide what you want. Believe you can have it. ~ Heidi Schulz.
Live in the present, launch yourself on every wave, find eternity in each moment. ~ Henry David Thoreau.
Knowledge is power. Power to do evil… or power to do good. Power itself is not evil. So knowledge itself is not evil. ~ Veronica Roth.
Willpower gets you started. Habits get you results. ~ Priit Kallas.
If you want to find out what a man is to the bottom, give him power. Any man can stand adversity – only a great man can stand prosperity. ~ Robert Green Ingersoll.
Will power is but the unflinching purpose to carry the task you set for yourself to fulfillment. ~ George Clason.
You are the only person on earth who can use your ability. ~ Zig Ziglar.
Knowledge in one's true individuality and selfhood can give him the irreducible fact of himself, and one's perception of himself is everything of value. ~ Bongha Lee.
We shall sooner have the fowl by hatching the egg than by smashing it. ~ Abraham Lincoln.
The object of torture is torture. The object of murder is murder. The object of power is power. ~ George Orwell.
Related Quotes: 72 Determination Quotes to Inspire Grit and Willpower and 72 Have a Great Day Quotes and Sayings to Inspire You
Famous Willpower Quotes
The germ of success in whatever you want to accomplish is in your will power. ~ Paramahansa Yogananda.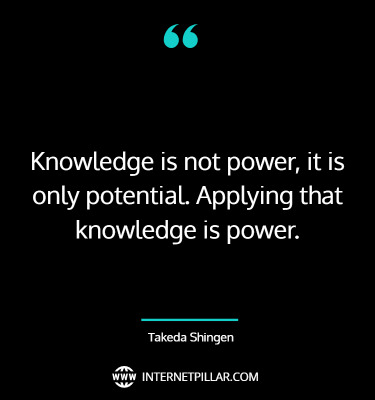 Knowledge is not power, it is only potential. Applying that knowledge is power. ~ Takeda Shingen.
When your only regret is if anyone thinks you regret anything – that is the definition of conviction. ~ Criss Jami.
If you have a dream, don't just sit there. Gather courage to believe that you can succeed and leave no stone unturned to make it a reality. ~ Dr Roopleen.
Everything is within your power, and your power is within you. ~ Janice Trachtman.
I am, indeed, a king, because I know how to rule myself. ~ Pietro Aretino.
There is no such thing as a great talent without great will power. ~ Honore.
The roots of education are bitter, but the fruit is sweet. ~ Aristotle.
If the fire in your heart is strong enough, it will burn away any obstacles that come your way. ~ Suzy Kassem.
Women hold all the power. They should use it like a whip, not offer it up like a sacrifice. ~ Tarryn Fisher.
With motivation you get willpower, and with willpower you get the strength to work hard for what you want. ~ Fred Juliusson.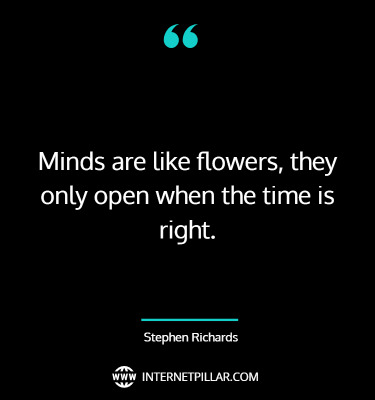 Minds are like flowers, they only open when the time is right. ~ Stephen Richards.
Hence it comes that all armed prophets have been victorious, and all unarmed prophets have been destroyed. ~ Niccolò Machiavelli.
The possession of knowledge does not kill the sense of wonder and mystery. There is always more mystery. ~ Anais Nin.
The past has no power over the present moment. ~ Eckhart Tolle.
Popular Willpower Quotes
Forgiveness does not change the past, but it does enlarge the future. ~ Paul Boese.
Power doesn't corrupt people, people corrupt power. ~ William Gaddis.
Whatever we plant in our subconscious mind and nourish with repetition and emotion will one day become a reality. ~ Earl Nightingale.
The power of the mind. Basically, being able to control anyone's mind. That would be a very good power. ~ Sebastian Roche.
Wisdom consists of knowing how to distinguish the nature of trouble, and in choosing the lesser evil. ~ Niccolò Machiavelli.
The extremists are afraid of books and pens, the power of education frightens them. They are afraid of women. ~ Malala Yousafzai.
Men can do all things if they will. ~ Leon Batista Alberti.
The moment you realize you are not present, you are present. Whenever you are able to observe your mind, you are no longer trapped in it. ~ Eckhart Tolle.
To become a happy person have a clean soul, eyes that see romance in the commonplace, a child's heart, and spiritual simplicity. ~ Norman Vincent Peale.
If you can't run, you crawl. If you can't crawl – you find someone to carry you. ~ Joss Whedon.
Power is not a means, it is an end. One does not establish a dictatorship in order to safeguard a revolution. ~ George Orwell.
Top Willpower Quotes
My mother told me to be a lady. And for her, that meant be your own person, be independent. ~ Ruth Bader Ginsburg.
If you plan to build walls around me, know this – I will walk through them. ~ Richelle E. Goodrich.
I wonder if fears ever really go away, or if they just lose their power over us. ~ Veronica Roth.
An investment in knowledge pays the best interest. ~ Benjamin Franklin.
Never was anything great achieved without danger. ~ Niccolò Machiavelli.
Behind her gentle character, the strength of armor was found. ~ Erin Forbes.
Most of life's actions are within our reach, but decisions take willpower. ~ Robert McKee.
Forgiveness in no way requires that you trust the one you forgive. ~ Wm. Paul Young.
Forgiveness is not a feeling; it is a commitment. ~ Gary Chapman.
Nothing is more gratifying to the mind of man than power or dominion. ~ Joseph Addison.
A big part of willpower is having something to aspire to, something to live for. ~ Mark Shuttleworth.
Tapping into the power of love in your heart, will ignite your desires and activate your actions towards creating life on your terms. ~ Dr. Jacinta Mpalyenkana.
There are better people in the world, do not let the worst do the worst to you, you deserve the best in life. ~ Michael Bassey Johnson.
Forgiveness is not an occasional act, it is a constant attitude. ~ Martin Luther King Jr.
You are essentially who you create yourself to be and all that occurs in your life is the result of your own making. ~ Stephen Richards.
What is now proved was once only imagined. ~ William Blake.
True forgiveness is when you can say, Thank you for that experience. ~ Oprah Winfrey.
Powerful Willpower Quotes
Where the willingness is great, the difficulties cannot be great. ~ Niccolo Machiavelli.
I am a strong and powerful woman. I am proud to be a woman and I celebrate the qualities that I have as a woman. ~ Idowu Koyenikan.
Pessimism never won any battle. ~ Dwight D. Eisenhower.
Develop the strength to do bold things, not the strength to suffer. ~ Niccolò Machiavelli.
The only thing God is afraid of is a strong-willed human. ~ Pawan Mishra.
We know that no one ever seizes power with the intention of relinquishing it. ~ George Orwell.
In a time of turbulence and change, it is more true than ever that knowledge is power. ~ John F. Kennedy.
Self-determination is the greatest willpower. ~ Lailah Gifty Akita.
A woman is the full circle. Within her is the power to create, nurture and transform. ~ Diane Mariechild.
Inspiring Willpower Quotes
Education is not the filling of a pail, but the lighting of a fire. ~ William Butler Yeats.
The weak can never forgive. Forgiveness is the attribute of the strong. ~ Mahatma Gandhi.
I shall do everything it becomes me to do. ~ George Eliot.
Be happy for this moment. This moment is your life. ~ Omar Khayyam.
There is no great talent without great willpower. ~ Honore de Balzac.
She knew the power of her mind and so programmed it for success. ~ Carrie Green.
It is not power that corrupts but fear. Fear of losing power corrupts those who wield it and fear of the scourge of power corrupts those who are subject to it. ~ Aung San Suu Kyi.
Nobody can give you freedom. Nobody can give you equality or justice or anything. If you're a man, you take it. ~ Malcolm X.
Our bodies are our gardens to which our wills are gardeners. ~ William Shakespeare.
Inspirational Willpower Quotes
If an injury has to be done to a man it should be so severe that his vengeance need not be feared. ~ Niccolo Machiavelli.
Never attempt to win by force what can be won by deception. ~ Niccolo Machiavelli.
The best protection any woman can have is courage. ~ Elizabeth Cady Stanton.
Education is the passport to the future, for tomorrow belongs to those who prepare for it today. ~ Malcolm X.
If freedom is short of weapons, we must compensate with willpower. ~ Adolf Hitler.
Manifesting is a lot like making a cake. The things needed are supplied by you, the mixing is done by your mind and the baking is done in the oven of the universe. ~ Stephen Richards.
With but few exceptions, it is always the underdog who wins through sheer willpower. ~ Johnny Weissmuller.
Even if things aren't going the way we want right now, we will always get through it. ~ Stacey T. Hunt.
Therefore it is unnecessary for a prince to have all the good qualities I have enumerated, but it is very necessary to appear to have them. ~ Niccolo Machiavelli.
Amazing Willpower Quotes
Forgiveness is an act of the will, and the will can function regardless of the temperature of the heart. ~ Corrie Ten Boom.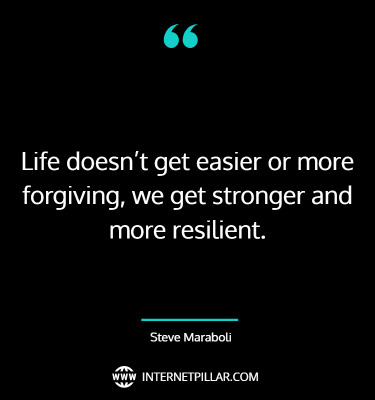 Life doesn't get easier or more forgiving, we get stronger and more resilient. ~ Steve Maraboli.
No man is good enough to govern another man without that other's consent. ~ Abraham Lincoln.
Power does not corrupt men; fools, however, if they get into a position of power, corrupt power. ~ George Bernard Shaw.
Eternity belongs to those who live in the present. ~ Ludwig Wittgenstein.
In order to carry a positive action we must develop here a positive vision. ~ Dalai Lama.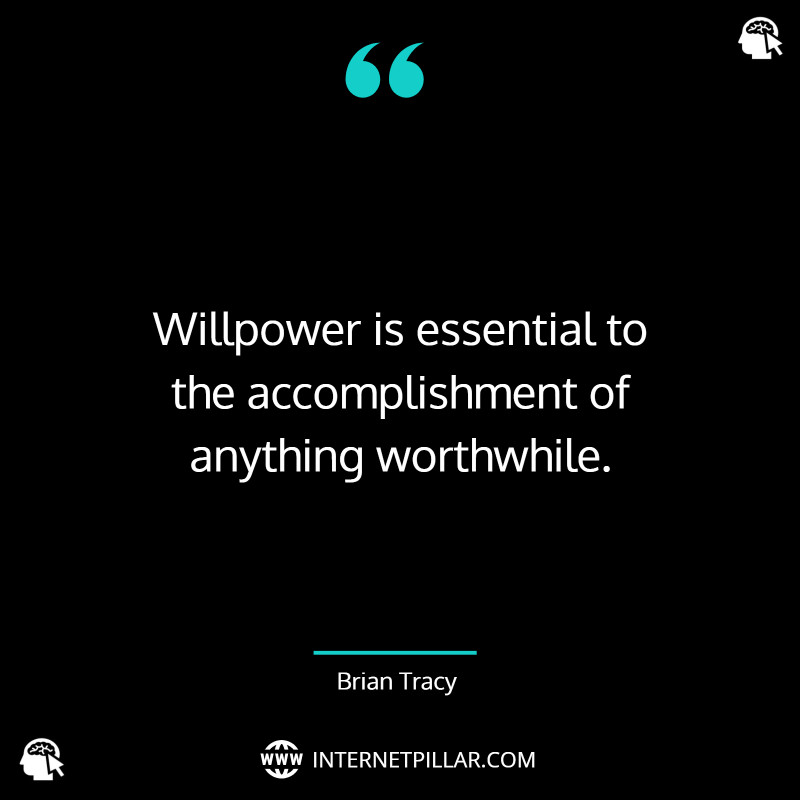 Willpower is essential to the accomplishment of anything worthwhile. ~ Brian Tracy.
Genuine forgiveness does not deny anger but faces it head on. ~ Alice Miller.
The thing women have yet to learn is nobody gives you power. You just take it. ~ Roseanne Barr.
Forgiveness is a powerful mental process that detoxifies our mental, spiritual and physical realms. ~ Dr. Jacinta Mpalyenkana.
---
So these were the 95 quotes about Willpower.
If these quotes and sayings connect with you, check out our other posts on Younger Sister quotes and Unrequited Love quotes.
---
Sources: