Winning mindset is important for success in life.
These winning mindset quotes are going to inspire you to go after win.
Let's get inspired for winning in life.
---
Inspiring Winning Mindset Quotes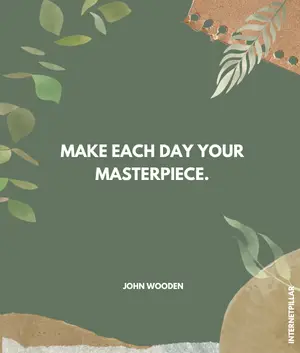 Make each day your masterpiece. ~ John Wooden.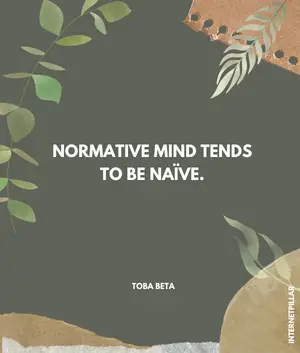 Normative mind tends to be naïve. ~ Toba Beta.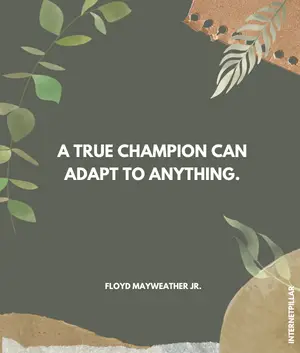 A true champion can adapt to anything. ~ Floyd Mayweather Jr.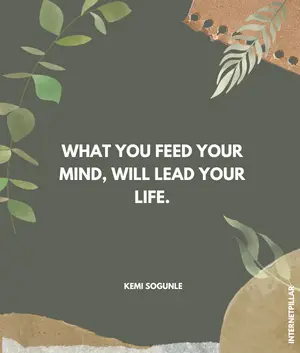 What you feed your mind, will lead your life. ~ Kemi Sogunle.
There's no way around hard work. Embrace it. ~ Roger Federer.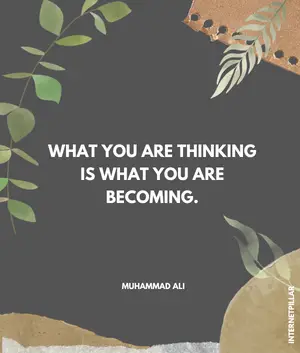 What you are thinking is what you are becoming. ~ Muhammad Ali.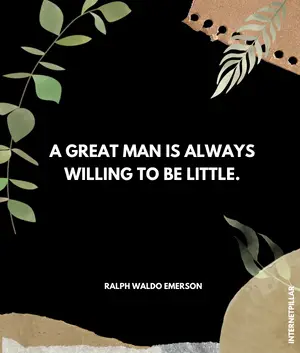 A great man is always willing to be little. ~ Ralph Waldo Emerson.
Hard work beats talent when talent doesn't work hard. ~ Tim Notke.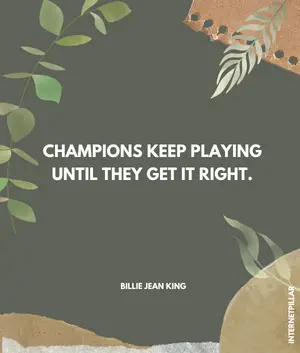 Champions keep playing until they get it right. ~ Billie Jean King.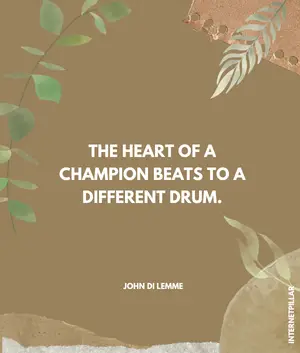 The heart of a champion beats to a different drum. ~ John Di Lemme.
Other Topic Quotes: 58 Balance Quotes on Juggling and Winning in Life and 68 Losing Quotes and Sayings to Help You With Winning
Motivational Winning Mindset Quotes
You cannot be a winner without maturity and consistency. ~ Marco Silva.
If you're a champion, you have to have it in your heart. ~ Chris Evert.
A champion isn't made of muscle; a champion is made of heart. ~ Liang Chow.
Don't wait for the cold to know that you're the fire. ~ Goitsemang Mvula.
Every champion was once a contender that refused to give up. ~ Rocky Balboa.
Expect the best. Prepare for the worst. Capitalize on what comes. ~ Zig Ziglar.
Success is the sum of small efforts, repeated day in and day out. ~ Robert Collier.
Inspirational Winning Mindset Quotes
Identify your problems but give your power and energy to solutions. ~ Tony Robbins.
Hard days are the best because that's when champions are made. ~ Gabrielle Douglas.
Things work out best for those who make the best of how things work out. ~ John Wooden.
A champion is afraid of losing. Everyone else is afraid of winning. ~ Billie Jean King.
Success isn't about the end result; it's about what you learn along the way. ~ Vera Wang.
True champions aren't always the ones that win, but those with the most guts. ~ Mia Hamm.
Ambition is the path to success. Persistence is the vehicle you arrive in. ~ Bill Bradley.
Always stay calm in every situation and see beauty in everything. You'll win! ~ Lord Robin.
Success is walking from failure to failure with no loss of enthusiasm. ~ Winston Churchill.
Quotes about Winning Mindset
Don't tell me the sky's the limit when I know there are footprints on the moon. ~ Paul Brandt.
It is better to aim at perfection and miss it than to aim at imperfection and hit it. ~ Thomas Watson.
If people are doubting how far you can go, go so far that you can't hear them anymore. ~ Michele Ruiz.
Real genius is nothing else but the supernatural virtue of humility in the domain of thought. ~ Simone Weil.
Don't spend so much time trying to choose the perfect opportunity, that you miss the right opportunity. ~ Michael Dell.
Success in life is not for those who run fast, but for those who keep running and always on the move. ~ Bangambiki Habyarimana.
Quotes on Winning Mindset
The only way of discovering the limits of the possible is to venture a little way past them … into the impossible. ~ Arthur C. Clarke.
If you want to achieve excellence, you can get there today. As of this second, quit doing less-than-excellent work. ~ Thomas J Watson.
The real champions in life are so humble and gracious. They just continue doing what they do without all the posturing. ~ Denis Waitley.
Success is neither magical nor mysterious. Success is the natural consequence of consistently applying the basic fundamentals. ~ Jim Rohn.
The quality of a person's life is in direct proportion to their commitment to excellence, regardless of their chosen field of endeavor. ~ Vince Lombardi.
---
I believe these quotes on winning mindset are going to help you a lot in your life.
If you like these powerful quotes and sayings, then you are requested to check out our other top blog posts on the topics of Black Leaders Quotes and Dare to Dream Quotes.
---
Sources and References: