Adversity is a universal experience, often arriving unexpectedly and posing initial stress and chaos.
However, it's through these hardships that we grow and learn. The successful individuals we admire are not necessarily those with inherent talent, family influence, or wealth.
Rather, they are people who have faced challenges like everyone else and their success is usually attributed to their resilience.
Success is not about avoiding adversity, but about having the courage and strength to respond to it effectively.
This understanding is celebrated through a compilation of inspiring, courageous and uplifting quotes about adversity, collected from various sources over time.
These quotes about adversity honor the ability to overcome hardship, highlighting the essential role of adversity in personal development and success.
---
Top 10 Adversity Quotes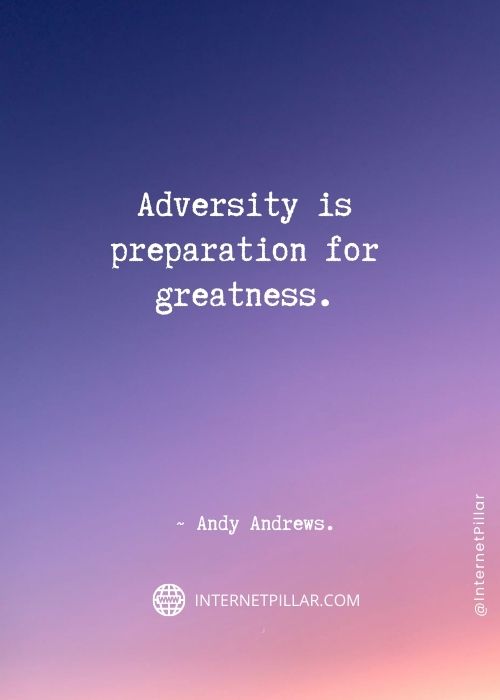 Adversity is preparation for greatness. ~ Andy Andrews.
Adversity is the first path to truth. ~ Lord Byron.
Adversity introduces a man to himself. ~ Albert Einstein.
There is no education like adversity. ~ Benjamin Disraeli.
In the middle of a difficulty lies opportunity. ~ Albert Einstein.
Think like a queen. A queen is not afraid to fail. ~ Oprah Winfrey.
Good things are often birthed from adversity. ~ Robert A. Schuller.
Fire is the test of gold. Adversity, of strong men. ~ Martha Graham.
A challenge only becomes an obstacle when you bow to it. ~ Ray Davis.
The greater the obstacle, the more glory in overcoming it. ~ Molière.
Images for Adversity Quotes
Always seek out the seed of triumph in every adversity. ~ Og Mandino.
You'll never find a better sparring partner than adversity. ~ Golda Meir.
With the new day comes new strength and new thoughts. ~ Eleanor Roosevelt.
We must embrace pain and burn it as fuel for our journey. ~ Kenji Miyazawa.
If you aren't in over your head, how do you know how tall you are? ~ T.S. Eliot.
You can't really be strong until you can see a funny side to things. ~ Ken Kesey.
Rock bottom became the solid foundation in which I built my life. ~ J.K. Rowling.
Adversity Quotes
Be sure you put your feet in the right place, then stand firm. ~ Abraham Lincoln.
Difficulties strengthen the mind, as labor does the body. ~ Lucius Annaeus Seneca.
All the world is full of suffering. It is also full of overcoming. ~ Helen Keller.
Only those who dare to fail greatly can ever achieve greatly. ~ Robert F. Kennedy.
Hardships often prepare ordinary people for an extraordinary destiny. ~ C.S. Lewis.
A new challenge keeps the brain kicking and the heart ticking. ~ E. A. Bucchianeri.
Adversity causes some men to break; others to break records. ~ William Arthur Ward.
Short Inspirational Quotes for Overcoming Adversity
One's best success comes after their greatest disappointments. ~ Henry Ward Beecher.
Life keeps throwing me stones. And I keep finding the diamonds. ~ Ana Claudia Antunes.
Strength and growth come only through continuous effort and struggle. ~ Napoleon Hill.
Fresh activity is the only means of overcoming adversity. ~ Johann Wolfgang von Goethe.
Related: Generosity Quotes and Resilience Quotes.
You never know how strong you are until being strong is your only choice. ~ Bob Marley.
Prosperity is no just scale; adversity is the only balance to weigh friends. ~ Plutarch.
We make a living by what we get, but we make a life by what we give. ~ Winston Churchill.
You can't be brave if you've only had wonderful things happen to you. ~ Mary Tyler Moore.
Fierce Quotes About Overcoming Adversity
Sometimes adversity is what you need to face in order to become successful. ~ Zig Ziglar.
I can be changed by what happens to me, but I refuse to be reduced by it. ~ Maya Angelou.
Turning feelings into words can help us process and overcome adversity. ~ Sheryl Sandberg.
One who conquers the sea today is ready to conquer the ocean tomorrow. ~ Matshona Dhliwayo.
Use what you've been through as fuel, believe in yourself and be unstoppable! ~ Yvonne Pierre.
Brave men rejoice in adversity, just as brave soldiers triumph in war. ~ Lucius Annaeus Seneca.
Best Adversity Quotes Ideas Images
Life doesn't get easier or more forgiving, we get stronger and more resilient. ~ Steve Maraboli.
As with the butterfly, adversity is necessary to build character in people. ~ Joseph B. Wirthlin.
The key to life is accepting challenges. Once someone stops doing this, he's dead. ~ Bette Davis.
The gem cannot be polished without friction, nor man perfected without trials. ~ Chinese Proverb.
Stand up straight and realize who you are, that you tower over your circumstances. ~ Maya Angelou.
He who doesn't want to face his challenges shall always face challenges! ~ Ernest Agyemang Yeboah.
Famous Quotes About Overcoming Adversity
Strength does not come from physical capacity. It comes from an indomitable will. ~ Mahatma Gandhi.
Goals give you a mark to shoot for and keep you motivated when you face adversity. ~ Benjamin Watson.
Let me embrace thee, sour adversity, for wise men say it is the wisest course. ~ William Shakespeare.
Always listen to experts. They'll tell you what can't be done, and why. Then do it. ~ Robert A. Heinlein.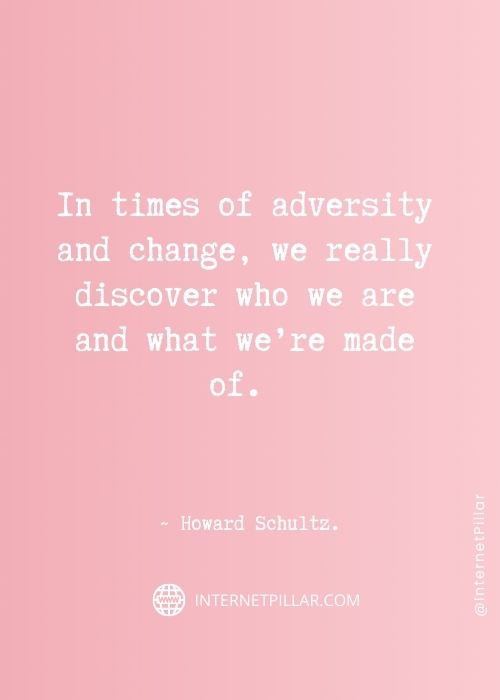 In times of adversity and change, we really discover who we are and what we're made of. ~ Howard Schultz.
The struggle you're in today is developing the strength you need for tomorrow. Don't give up. ~ Robert Tew.
Hard times don't create heroes. It is during the hard times when the hero within us is revealed. ~ Bob Riley.
A woman is like a tea bag – you never know how strong she is until she gets in hot water. ~ Eleanor Roosevelt.
Quotes About Overcoming Adversity
Opportunities to find deeper powers within ourselves come when life seems most challenging. ~ Joseph Campbell.
Prosperity is not without many fears and distates; adversity not without many comforts and hopes. ~ Francis Bacon.
You can't calm the storm, so stop trying. What you can do is calm yourself. The storm will pass. ~ Timber Hawkeye.
Life is very interesting. In the end, some of your greatest pains become your greatest strengths. ~ Drew Barrymore.
It's part of life to have obstacles. It's about overcoming obstacles; that's the key to happiness. ~ Herbie Hancock.
Acceptance of what has happened is the first step to overcoming the consequences of any misfortune. ~ William James.
Show me someone who has done something worthwhile, and I'll show you someone who has overcome adversity. ~ Lou Holtz.
Any man can win when things go his way, it's the man who overcomes adversity that is the true champion. ~ Jock Ewing.
The most successful people see adversity not as a stumbling block, but as a stepping-stone to greatness. ~ Shawn Anchor.
Every adversity, every failure, every heartache carries with it the seed of an equal or greater benefit. ~ Napoleon Hill.
Adversity has ever been considered the state in which a man most easily becomes acquainted with himself. ~ Samuel Jackson.
Famous Adversity Quotes
The eagle has no fear of adversity. We need to be like the eagle and have a fearless spirit of a conqueror. ~ Joyce Meyer.
Life's challenges are not supposed to paralyze you, they're supposed to help you discover who you are. ~ Bernice Johnson Reagon.
Everyone is handed adversity in life. No one's journey is easy. It's how they handle it that makes people unique. ~ Kevin Conroy.
It is your reaction to adversity, not the adversity itself, that determines how your life story will develop. ~ Dieter F. Uchtdorf.
A hero is an ordinary individual who finds the strength to persevere and endure in spite of overwhelming obstacles. ~ Christopher Reeve.
Adversity has the same effect on a man that severe training has on the pugilist: it reduces him to his fighting weight. ~ Josh Billings.
Challenges are gifts that force us to search for a new center of gravity. Don't fight them. Just find a new way to stand. ~ Oprah Winfrey.
We don't develop courage by being happy every day. We develop it by surviving difficult times and challenging adversity. ~ Barbara De Angelis.
In times of great stress or adversity, it's always best to keep busy, to plow your anger and your energy into something positive. ~ Lee Iacocca.
Success is to be measured not so much by the position that one has reached in life as by the obstacles which he has overcome. ~ Booker T. Washington.
The knowledge that you have emerged wiser and stronger from setbacks means that you are, ever after, secure in your ability to survive. ~ J.K. Rowling.
Conquering any difficulty always gives one a secret joy, for it means pushing back a boundary-line and adding to one's liberty. ~ Henri Frederic Amiel.
Had I really succeeded at anything else, I might never have found the determination to succeed in the one arena I believed I truly belonged. ~ J.K. Rowling.
Our very survival depends on our ability to stay awake, to adjust to new ideas, to remain vigilant and to face the challenge of change. ~ Martin Luther King Jr.
When one door of happiness closes, another opens; but often we look so long at the closed door that we do not see the one which has been opened for us. ~ Helen Keller.
Sometimes good comes through adversity. I would not be who I am today had it not been for the internment, and I like who I am. ~ Ruth Asawa.
---
So these were the 80 Quotes about Adversity.
If you like these quotes, then you can also read our other posts on Maturity Quotes and Freedom Quotes.