The American people are noted for their great feeling of patriotism and pride in their nation.
Their strong sense of independence has driven their pride in their country.
America has positioned itself as a technological and inventive leader.
In this article, you will find best quotes about American Pride.
---
Top 10 American Pride Quotes
America is the land where people find whatever they have lost. ~ Gunter Grass.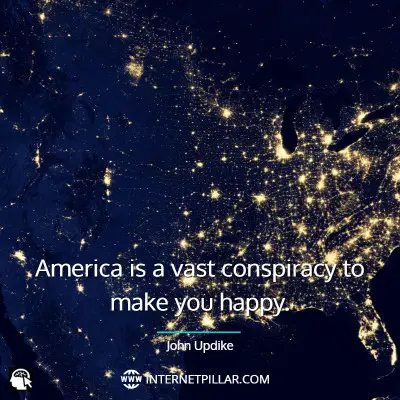 America is a vast conspiracy to make you happy. ~ John Updike.
Where liberty dwells, there is my country. ~ Benjamin Franklin.
We did not come to fear the future. We came here to shape it. ~ Barack Obama.
Ask not what your country can do for you, but what you can do for your country. ~ John F. Kennedy.
To be black in America is to walk with fury. ~ Nathan McCall.
Freedom is nothing but a chance to be better. ~ Albert Camus.
America was not built on fear. America was built on courage, imagination, and an unbeatable determination to do the job at hand. ~ Harry S. Truman.
Freedom is never given it is won. ~ A. Philip. Randolph.
We need an America with the wisdom of experience. But we must not let America grow old in spirit. ~ Hubert H. Humphrey
Other Topics Quotes: 43 American Flag Quotes Every American Should Know and 45 Proud to be an American Quotes and Sayings to Inspire You
Famous American Pride Quotes
My dream is of a place and a time where America will once again be seen as the last best hope of earth. ~ Abraham Lincoln.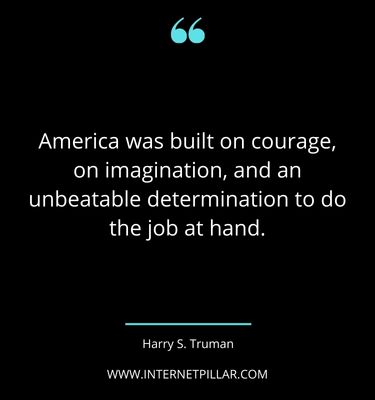 Only in America can someone start with nothing and achieve the American Dream. That's the greatness of this country. ~ Rafael Cruz.
I like to see a man proud of the place in which he lives. I like to see a man live so that his place will be proud of him. ~ Abraham Lincoln.
I think there are few things more patriotic than taking the time to make your country a better place. ~ Michael Moore.
I still believe in a place called Hope, a place called America. ~ Bill Clinton.
Americans need a fresh reminder of the amazing nation they have and the power of liberties I see so often taken for granted. ~ Ali Master.
Patriotism is easy to understand in America; it means looking out for yourself by looking out for your country. ~ Calvin Coolidge.
Patriotic American Pride Quotes
In the truest sense, freedom cannot be bestowed; it must be achieved. ~ Franklin D. Roosevelt.
Our country, right or wrong. When right to be kept right; when wrong to be put right. ~ Carl Schurz.
In the face of impossible odds, people who love their country can change it. ~ Barack Obama.
Our destiny is largely in our hands. ~ Frederick Douglass.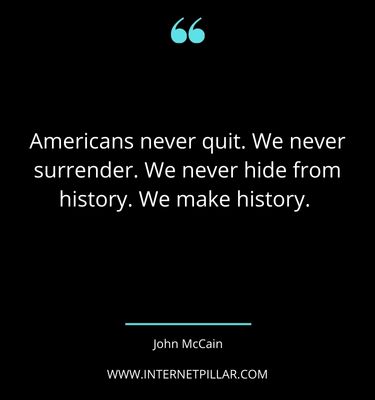 Americans never quit. We never surrender. We never hide from history. We make history. ~ John McCain.
Change will not come if we wait for some other person or if we wait for some time. We are the ones we've been waiting for. ~ Barack Obama.
Best American Pride Quotes
This great Nation will endure as it has endured, will revive and will prosper. ~ Franklin D. Roosevelt.
And I'm proud to be an American, Where at least I know I'm free, and I won't forget the men who died, Who gave that right to me and I'll proudly stand up next to him to defend her still today because there isn't any doubt I love this land, God bless the USA. ~ Lee Greenwood.
Freedom is one of the deepest and noblest aspirations of the human spirit. ~ Ronald Reagan.
Terrorist attacks can shake the foundations of our biggest buildings, but they cannot touch the foundation of America. These acts shatter steel, but they cannot dent the steel of American resolve. ~ George W. Bush.
Our responsibility as citizens is to address the inequalities and injustices that linger, and we must secure our birthright freedoms for all people. ~ Barack Obama.
Popular American Pride Quotes
This is America … a brilliant diversity spread like stars, like a thousand points of light in a broad and peaceful sky. ~ George Bush.
No other date on the calendar more potently symbolizes all that our nation stands for than the Fourth of July. ~ Mac Thornberry.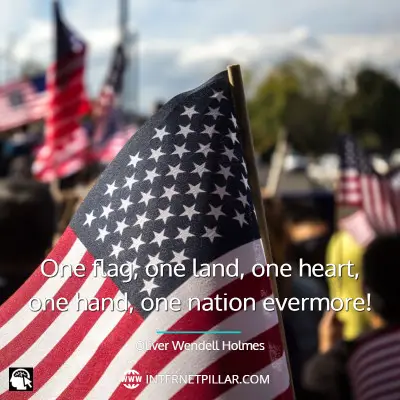 One flag, one land, one heart, one hand, one nation evermore! ~ Oliver Wendell Holmes.
Let every nation know, whether it wishes us well or ill, we shall pay any price, bear any burden, meet any hardship, support any friend, oppose any foe, to assure the survival and success of liberty. ~ John F. Kennedy.
My fellow Americans, ask not what your country can do for you; ask what you can do for your country. ~ John F. Kennedy.
Powerful American Pride Quotes
In America you can say anything you want – as long as it doesn't have any effect. ~ Paul Goodman.
America is not just a country, it's an idea. ~ Bono.
People might not get all they work for in this world, but they must certainly work for all they get. ~ Frederick Douglass.
The winds that blow through the wide sky in these mounts, the winds that sweep from Canada to Mexico, from the Pacific to the Atlantic – have always blown on free men. ~ Franklin D. Roosevelt.
The chief business of the American people is business. ~ Calvin Coolidge.
---
So these were the 40 top quotes about American Pride.
If you like these quotes and sayings, then you can also read my other posts on God Bless America quotes and Proud to be an American quotes.
---
Sources and References: