Caring for an autistic child is a tough job that many moms bravely face with patience, love and kindness and never showing regret.
These mothers know that autism doesn't define their child.
Autism is complex and often misunderstood and leads to misconceptions.
While some autistic children struggle with speech, others may develop language skills early or even excel.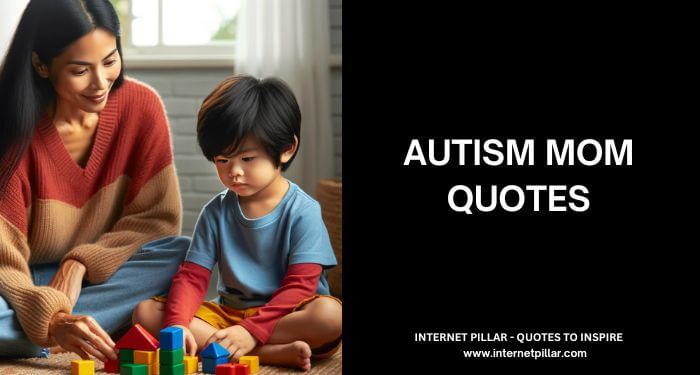 These 70 quotes are for these moms and offers much needed encouragement.
These autism mom quotes shows that they're not alone on this challenging journey and provides them with optimism and courage.
Let's jump in.
---
Autism Mom Quotes
I am different, not less. ~ Unknown.
Normal is just a dryer setting. ~ Patsy Clairmont
My child is so much more than a diagnosis ~ Unknown.
Autism is an extremely variable disorder. ~ Temple Grandin
Autism, seeing the world from a different angle. ~ Unknown.
Autism is not a tragedy, ignorance is. ~ Shannon Des Roches Rosa.
Everybody has a heart that can be touched by something. ~ Unknown.
Also read: Autism Quotes about ASD from Autistic People
Autism Mom Captions
Kids need to be encouraged to stretch their shine! ~ Amanda Friedman.
We can use Asperger's as a super power if we focus. ~ Daniel M. Jones
I looked up to the stars and wondered which one I was from. ~ James McCue
Children with special needs inspire a very, very special love. ~ Sarah Palin
Autism doesn't define my child, it is only a part of who they are. ~ Unknown.
I am proud of my child's differences, they make him who he is. ~ Lisa Jo Rudy
A diagnosis defines a lot of things, but it doesn't define love. ~ Lexi Behrndt
You are not alone in feeling overwhelmed, it's okay to ask for help. ~ Unknown.
I am the mother of an amazing child who happens to have autism. ~ Brenda Rothman
Autism is a journey I never planned, but I sure do love my tour guide. ~ Unknown.
Autism is as much a part of humanity as is the capacity to dream. ~ Kathleen Seidel
I do not suffer from Autism, but I do suffer from the way you treat me. ~ Brad Pitt.
See also: Temple Grandin Quotes on Autism
Autism Mom Quotes One Liner
There is always room for hope no matter how hard or impossible it feels. ~ Unknown.
Your child's future is full of endless possibilities, never give up hope. ~ Unknown.
Your child may be different, but that doesn't make them any less amazing. ~ Unknown.
Autism may be a part of our story, but it doesn't define who we are. ~ Kimberly Drew.
You are not alone on this journey, there is a whole community willing you on ~ Unknown.
Autism doesn't come with a manual. It comes with a parent who never gives up. ~ Unknown.
Don't think that there's a different, better child 'hiding' behind the autism. ~ Unknown.
If you've met one person with autism, you've met one person with autism. ~ Dr. Stephen Shore
Autism doesn't come with a manual, but it does come with a mom who never gives up ~ Unknown.
Quotes for Autism Moms
Being a mother of an autistic child is not a burden, it's a blessing in disguise. ~ Unknown.
I am equal, loved, unique, purposed, and worthy just because I am me. ~ Unknown. Kris McElroy
Get to know someone on the spectrum and your life will truly be blessed ~ Stephanie L. Parker
My son is the bravest person I know, and I'm honored to be his mother. ~ Holly Robinson Peete.
Children with special needs aren't sent to special parents, they make parents special. ~ Unknown.
If you give us a safe vaccine, we'll use it. It shouldn't be polio versus autism. ~ Jenny McCarthy
Attacking people with disabilities is the lowest display of power I can think of. ~ Morgan Freeman.
You Might Like: Summer Letter Board Quotes, Ideas and Captions
Best Autism Quotes for Moms
She had a disorder, but it didn't define her. She was Stella. She was a unique person. ~ Helen Hoang
Nobel prize-calibre geniuses often have certain core autistic features at their heart. ~ Allan Snyder
Special needs parenting has taught us the true meaning of resilience and strength. ~ Brent and Marla Nielson
Sometimes it is the people no one can imagine anything of who do the things no one can imagine. ~ Alan Turing
Disability doesn't make you exceptional, but questioning what you think you know about it does. ~ Stella Young
While we try to teach our children all about life, our children teach us what life is all about. ~ Angela Schwindt.
Autism Quotes to Inspire Moms
Even for parents of children who are not on the spectrum, there is no such thing as a normal child. ~ Violet Stevens
It takes a village to raise a child. It takes a child with autism to raise the awareness of that village. ~ Elaine Hall
Disability is a matter of perception. If you can do just one thing well, you're needed by someone. ~ Martina Navratilova
Our duty in autism is not to cure but to relieve suffering and to maximize each person's potential. ~ John Elder Robison.
What I like to tell parents is that raising a child with autism is running a marathon. It's not a sprint ~ Dr. Brian Bowman
Cherish the children marching to the beat of their own music. They play the most beautiful heart songs. ~ Fiona Goldsworthy
Remember that your child with autism is a gift, and you were chosen to be their parent for a reason. ~ Stephanie M. C. Smith.
Autism Mother Quotes
What I like to tell parents is that raising a child with autism is running a marathon. It's not a sprint. ~ Dr. Brian Bowman
Autism makes you listen louder. It makes you pay attention on an emotional level as well as an intellectual level. ~ Jace King
As special needs parents, we learn to see the world through a different lens, and it has made us better people. ~ Robert Rummel-Hudson
The journey of parenting a child with autism may be difficult, but it's also filled with love, growth, and new experiences. ~ Eric Peacock.
Autism is really more of a difference to be worked with rather than a monolithic enemy that needs to be slain or destroyed. ~ Stephen Shore, PhD.
We need to embrace those who are different and the bullies need to be the ones who get off the bus,. ~ Unknown. Caren Zucker, co-author of In a Different Key ~ Unknown.
Being a mom to an autistic child means being their biggest supporter and their biggest fan. It means never giving up on them and always believing in their abilities. ~ Unknown.
Do not fear people with Autism, embrace them. Do not spite people with Autism, unite them. Do not deny people with Autism, accept them for then their abilities will shine. ~ Paul Isaacs
Autists are the ultimate square pegs, and the problem with pounding a square peg into a round hole is not that the hammering is hard work. It's that you're destroying the peg. ~ Paul Collins.
This is what we know, when you tell us of your fondest hopes and dreams for us: that your greatest wish is that one day we will cease to be, and strangers you can love will move in behind our faces. ~ Jim Sinclair.
---
I hope these quotes will give inspiration to moms who have autistic children.