Are you looking for the best Ava Gardner quotes? I've rounded up some of the famous Ava Gardner quotes, sayings, captions for Instagram, and status messages for you.
Ava Gardner was an actress and singer from the United States. From the 1940s until the 1970s, Ava Gardner was one of the most popular actresses.
Her reputation was enhanced not just by her outstanding acting abilities, but also by her role as a sex symbol.
Mogambo earned Ava Gardner an Academy Award nomination in 1953.
She stayed close to Sinatra, who visited her in the hospital when she suffered a stroke in 1986 and later assisted her with her medical expenditures. In North Carolina, she was laid to rest close to her parents.
You will find below a curated collection of the popular 'Ava Gardner' quotes that you can read and share with others.
---
Best Ava Gardner Quotes
I am deeply superficial. ~ Ava Gardner.
For the loot, honey, for the loot. ~ Ava Gardner.
I hate cheating. I won't put up with it. I don't do it myself. ~ Ava Gardner.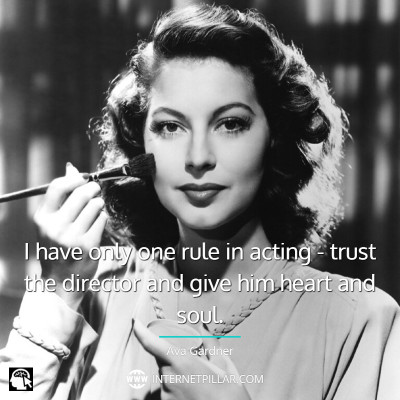 I have only one rule in acting – trust the director and give him heart and soul. ~ Ava Gardner.
It's a pity nobody believes in simple lust anymore. ~ Ava Gardner.
Love is nothing but a pain in the ass. ~ Ava Gardner.
I know the reason why my marriages didn't last long. I love hard, but not smart. ~ Ava Gardner.
Elizabeth Taylor is not beautiful, she is pretty – I was beautiful. ~ Ava Gardner.
Famous Ava Gardner Quotes
All I have going is my looks. When my beauty goes, I'm through. ~ Ava Gardner.
I do everything for a reason. Most of the time the reason is money. ~ Ava Gardner.
I was never an actress – none of us kids at Metro were. We were just good to look at. ~ Ava Gardner.
I either write the book or sell the jewels. And I'm kinda sentimental about the jewels. ~ Ava Gardner.
He will always be my Sir Galahad. ~ Ava Gardner.
Sing me not a song; let me hear your recital of veneration and respect; this I will listen to over and over when I share your need of pleasing. ~ Ava Gardner.
The truth is that the only time I'm happy is when I'm doing absolutely nothing. I don't understand people who like to work and talk about it like it was some sort of goddamn duty. Doing nothing feel like floating on warm water to me. Delightful, perfect. ~ Ava Gardner.
I suffered, I really suffered, with all three of my husbands. And I tried damn hard with all three, starting each marriage certain that it was going to last until the end of my life. Yet none of them lasted more than a year or two. ~ Ava Gardner.
Top Ava Gardner Quotes
After I finished my audition, the director happily said, I couldn't talk or act. He said I was great. ~ Ava Gardner.
When you have to face up to the fact that marriage to the man you love is really over, that's very tough, sheer agony. In that kind of harrowing situation, I always go away and cut myself off from the world. Also, I sober up immediately when there is genuine bad news in my life; I never face it with alcohol in my brain. I just rented a house in Palm Springs and sat there and just suffered for a couple of weeks. I suffered there until I was strong enough to face it. ~ Ava Gardner.
When I'm old and gray, I want to have a house by the sea. And paint. With a lot of wonderful chums, good music, and booze around. And a damn good kitchen to cook in. ~ Ava Gardner.
I was lazy. I would have been a hell of a lot better actress had I taken it more seriously. I never had the proper respect for acting. Quite often, I learned my lines on the way to the studio. ~ Ava Gardner.
Maybe, in the final analysis, they saw me as something I wasn't and I tried to turn them into something they could never be. I loved them all but maybe I never understood any of them. I don't think they understood me. ~ Ava Gardner.
Just because I was cast as sirens and vixens people tend to think I am like those characters in real life. They were dead wrong about that. ~ Ava Gardner.
Oh, what the hell did I know? I went to the set the first day in full makeup and the director told me to take it off. So I did the film without makeup. I had nothing to do with anything I did. I never understood why I was so famous. ~ Ava Gardner.
And the news got worse. It appeared that there was this whole other person Jesus Christ whose birthday a lot of people tended to confuse with mine. I was personally outraged. It was a long time before I forgave the Lord for that. ~ Ava Gardner.
Popular Ava Gardner Quotes
I think the main reason my marriages failed is that I always loved too well but never wisely. ~ Ava Gardner.
Although no one believes me, I have always been a country girl and still have a country girl's values. ~ Ava Gardner.
I don't mind growing old. If I have to go before my time, this is how I'll go – cigarette in one hand, glass of scotch in the other. ~ Ava Gardner.
What I'd really like to say about stardom is that it gave me everything I never wanted. ~ Ava Gardner.
And I won 'em back fair and square. So what are you going to do about it? Want to fight? Who wants the first bloody nose? ~ Ava Gardner.
Sex isn't all that important, but it is when you love someone very much. ~ Ava Gardner.
I wish to live to 150 years old, but the day I die, I wish it to be with a cigarette in one hand and a glass of whiskey in the other. ~ Ava Gardner.
Great Ava Gardner Quotes
Fame gives you everything you never wanted. ~ Ava Gardner.
The truth is, honey, I've enjoyed my life. I've had a hell of a good time. ~ Ava Gardner.
I haven't taken an overdose of sleeping pills and called my agent. I haven't been in jail, and I don't go running to the psychiatrist every two minutes. That's something of an accomplishment these days. ~ Ava Gardner.
I've certainly never taken the care of myself that I should have. On the contrary. I've done a lot of late nights without enough sleep and all that. But I've had fun. Whatever wrinkles are there, I've enjoyed getting them. ~ Ava Gardner.
Deep down, I'm pretty superficial. ~ Ava Gardner.
Because I was promoted as a sort of a siren and played all those sexy broads, people made the mistake of thinking I was like that off the screen. They couldn't have been more wrong. ~ Ava Gardner.
Women's liberation as a movement makes some valid points. But in the final analysis, it doesn't matter who wears the pants – as long as there's money in the pockets. ~ Ava Gardner.
Ultimate Ava Gardner Quotes
God knows I've got so many frailties myself, I ought to be able to understand and forgive them in others. But I don't. ~ Ava Gardner.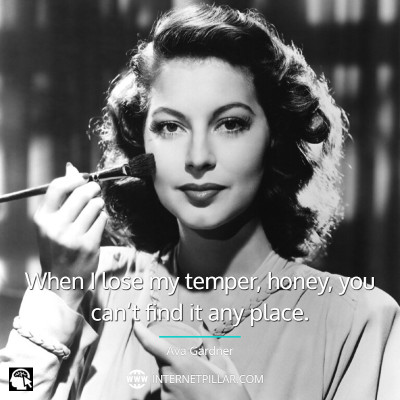 When I lose my temper, honey, you can't find it any place. ~ Ava Gardner.
So this was where lust was satisfied. If I'd been an old-time miner I'd have asked for my gold nugget back. ~ Ava Gardner.
After my screen test, the director clapped his hands gleefully and yelled: She can't talk! She can't act! She's sensational! ~ Ava Gardner.
In one scene, when I was supposed to say, In a pig's eye you are, what came out was, In a pig's ass you are. ~ Ava Gardner. Old habits die awfully hard. ~ Ava Gardner.
If I had my life to live over again, I'd live it the same way. Maybe a few changes here or there, but nothing special. The truth is, honey, I've enjoyed my life. I've had a hell of a good time. ~ Ava Gardner.
---
So these were the 48 top Ava Gardner quotes and sayings on life, love and fame.
Tell me in the comments section, which Ava Gardner quotes were your favorite?
If you like these quotes and sayings, then you can also read my other posts on Bethany Hamilton quotes and Nicolaus Copernicus quotes.
You are welcome to share these quotes and sayings with your family and friends on WhatsApp, Facebook, Twitter, Instagram, and Pinterest and inspire them to take their life to the next level and achieve greatness and success!