Criticism while challenging to handle is often intended to help us improve and achieve better outcomes.
Yet, harsh words can also leave us feeling small, stupid, or rejected. Dealing with criticism can be complex, as inappropriate or tactless criticism can harm self-confidence, suppress motivation and foster feelings of incompetence.
Unfortunately we don't live in a world where criticism is always presented with care and consideration.
Despite this it has become essential to remember that criticism can be an opportunity for growth and improvement.
This collection of 60 quotes about criticism aims to provide comfort and expand perspectives, enabling you to deal more effectively with negative feedback.
With the right mindset, criticism can become a valuable tool on your path to personal and professional development.
---
Top 10 Criticism Quotes
He who throws dirt always loses ground. ~ Unknown.
Blame is safer than praise. ~ Ralph Waldo Emerson.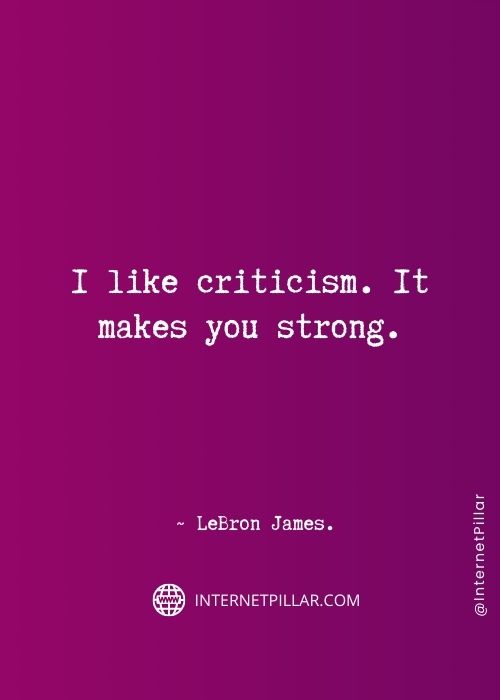 I like criticism. It makes you strong. ~ LeBron James.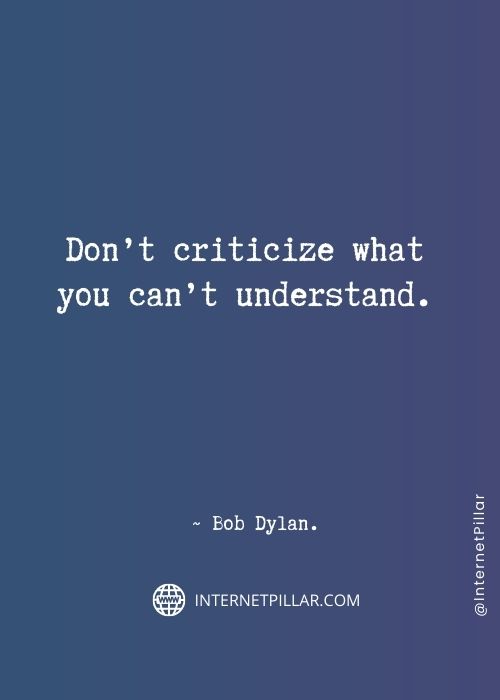 Don't criticize what you can't understand. ~ Bob Dylan.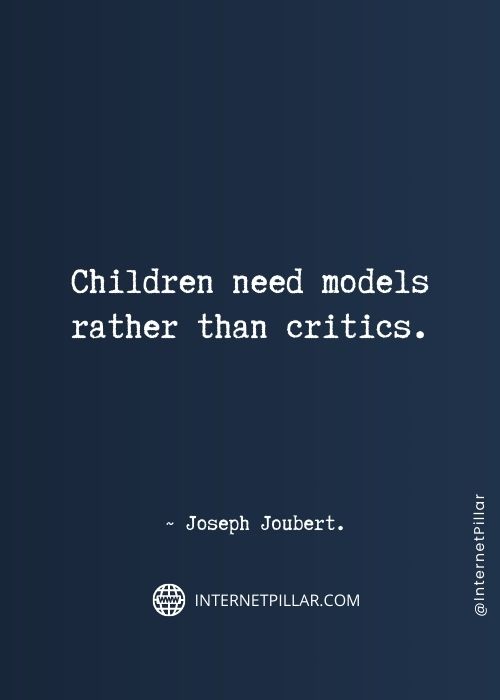 Children need models rather than critics. ~ Joseph Joubert.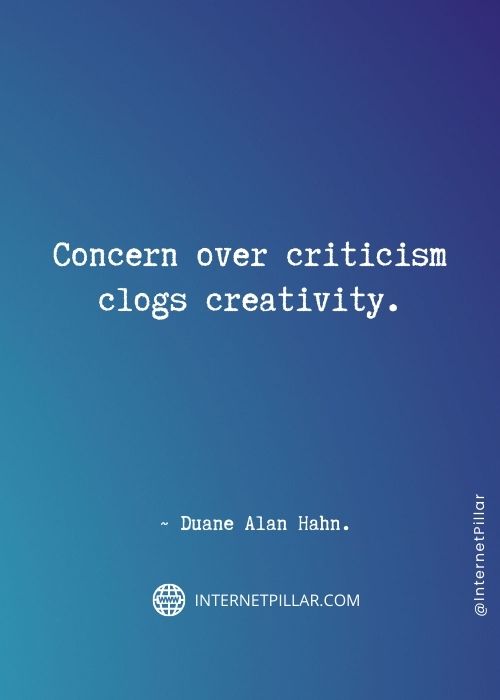 Concern over criticism clogs creativity. ~ Duane Alan Hahn.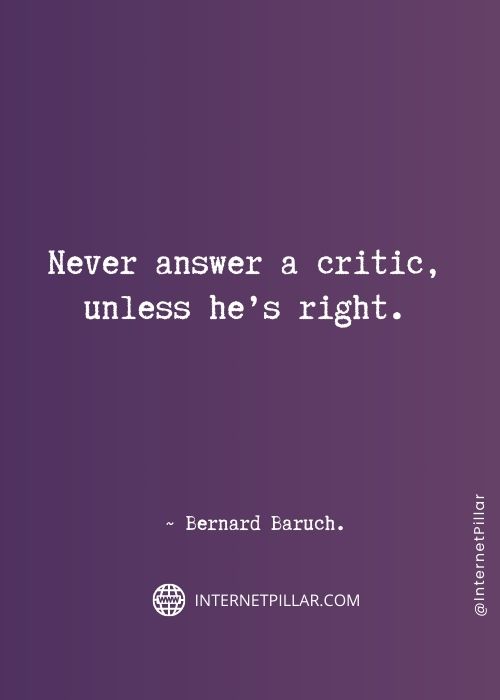 Never answer a critic, unless he's right. ~ Bernard Baruch.
Criticism is an indirect form of self-boasting. ~ Emmet Fox.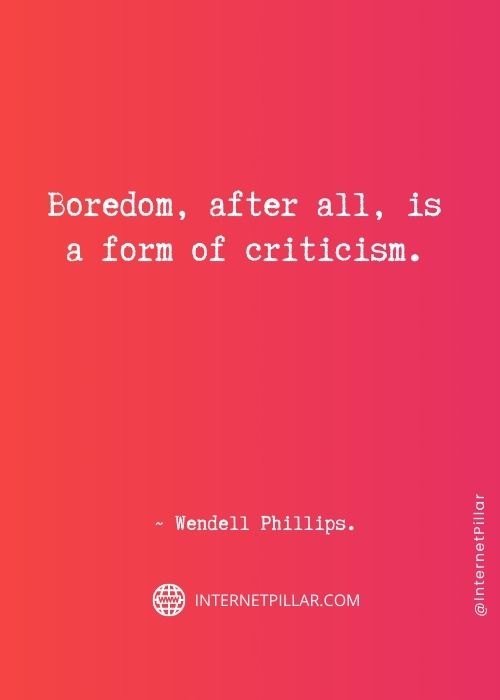 Boredom, after all, is a form of criticism. ~ Wendell Phillips.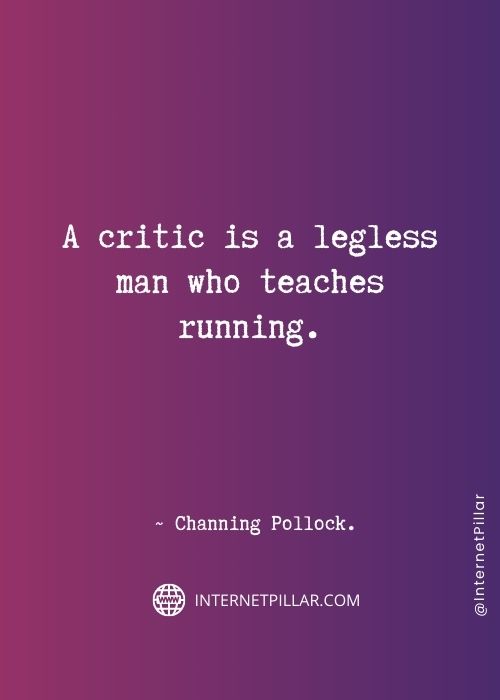 A critic is a legless man who teaches running. ~ Channing Pollock.
See also: Instinct Quotes and Dignity Quotes.
Best Criticism Quotes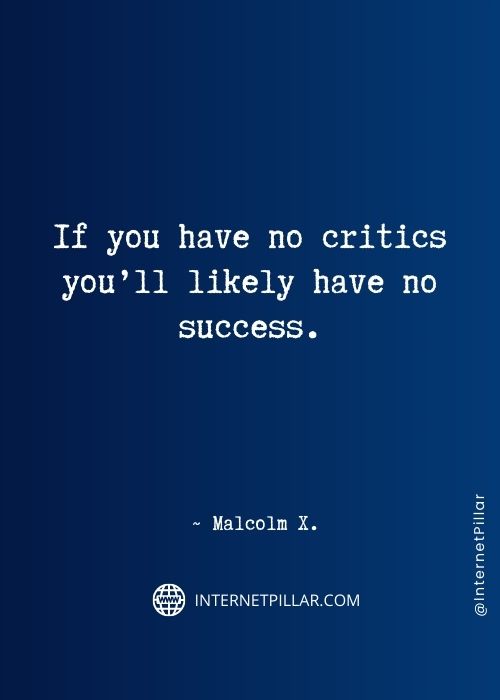 If you have no critics you'll likely have no success. ~ Malcolm X.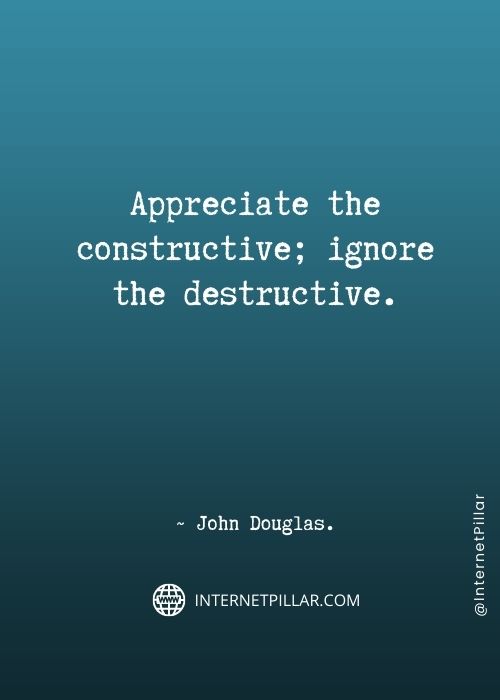 Appreciate the constructive; ignore the destructive. ~ John Douglas.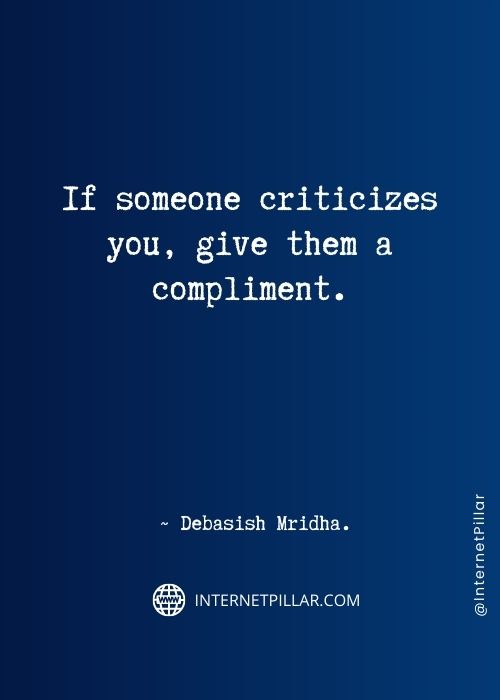 If someone criticizes you, give them a compliment. ~ Debasish Mridha.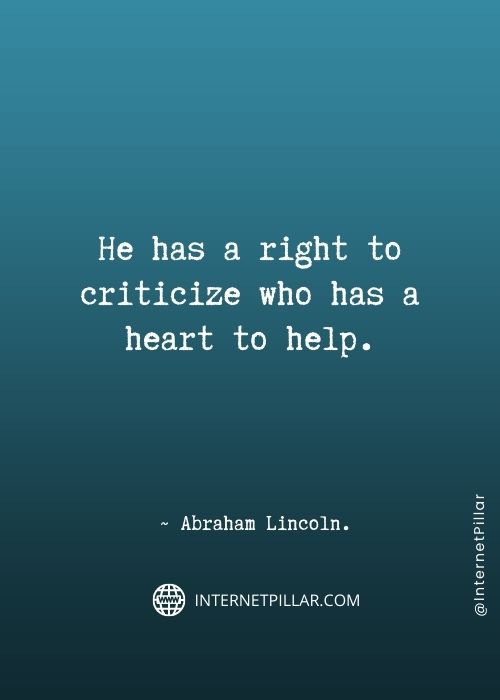 He has a right to criticize who has a heart to help. ~ Abraham Lincoln.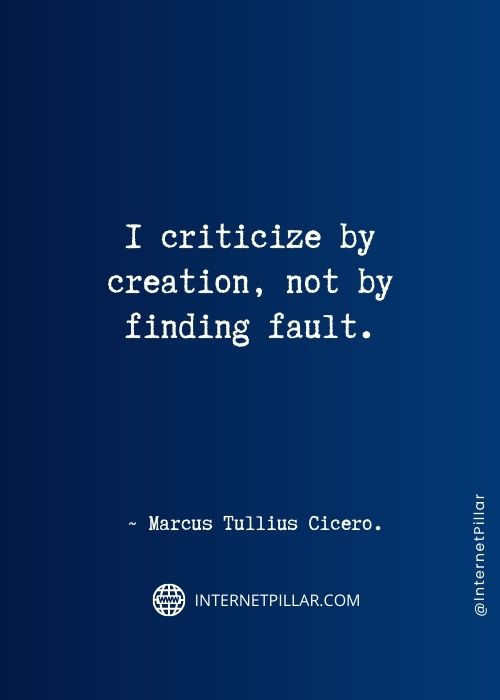 I criticize by creation, not by finding fault. ~ Marcus Tullius Cicero.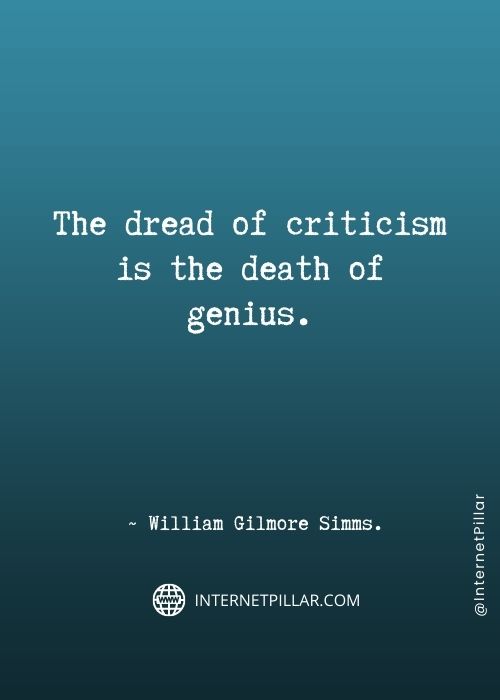 The dread of criticism is the death of genius. ~ William Gilmore Simms.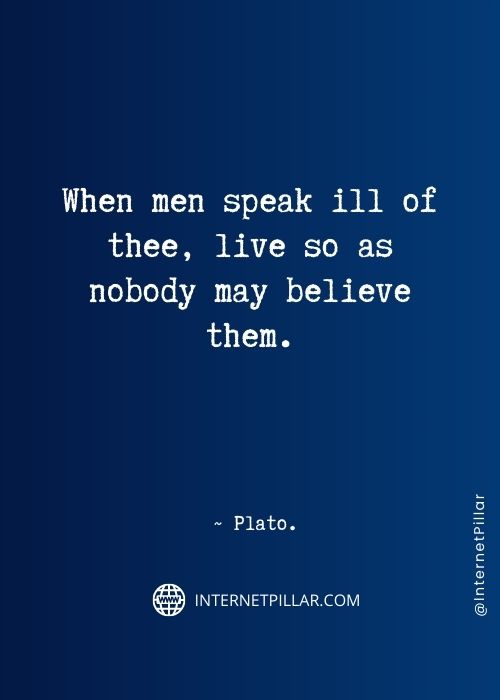 When men speak ill of thee, live so as nobody may believe them. ~ Plato.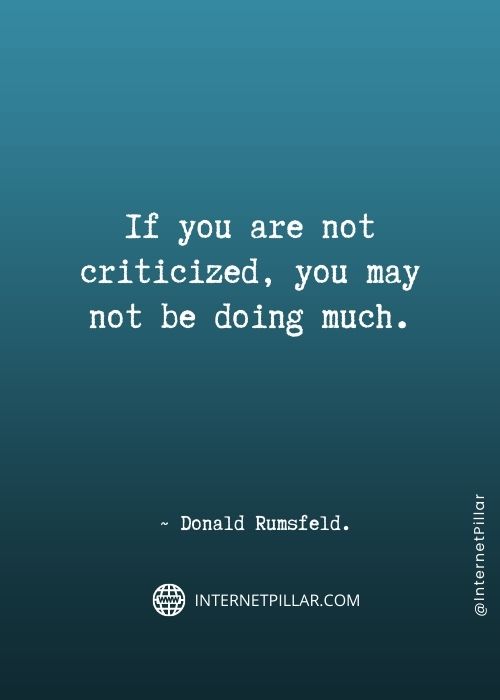 If you are not criticized, you may not be doing much. ~ Donald Rumsfeld.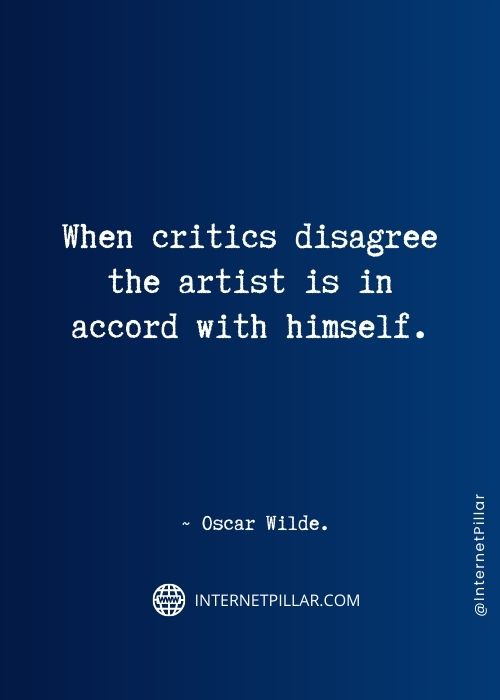 When critics disagree the artist is in accord with himself. ~ Oscar Wilde.
Insightful Criticism Quotes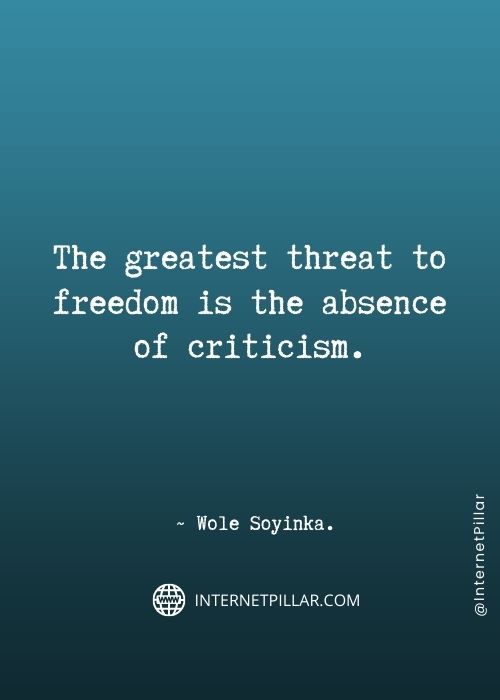 The greatest threat to freedom is the absence of criticism. ~ Wole Soyinka.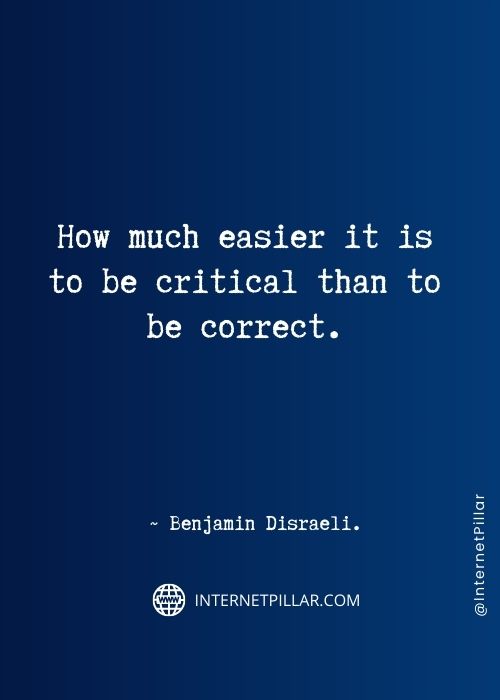 How much easier it is to be critical than to be correct. ~ Benjamin Disraeli.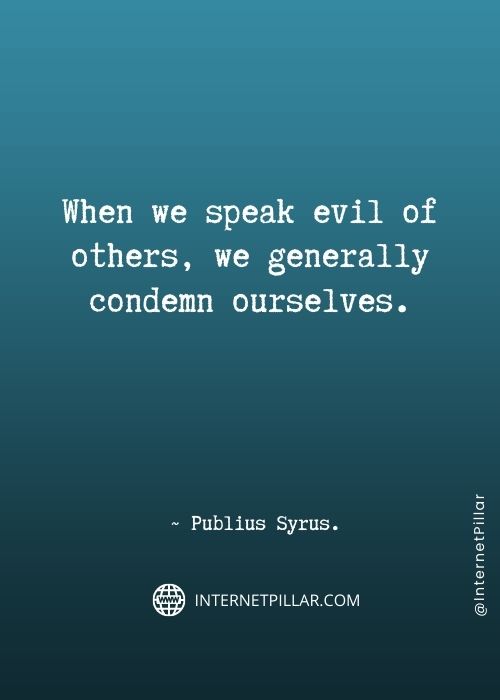 When we speak evil of others, we generally condemn ourselves. ~ Publius Syrus.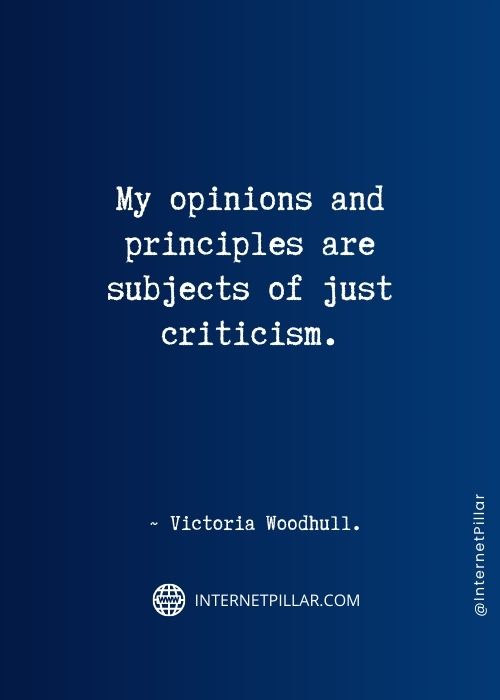 My opinions and principles are subjects of just criticism. ~ Victoria Woodhull.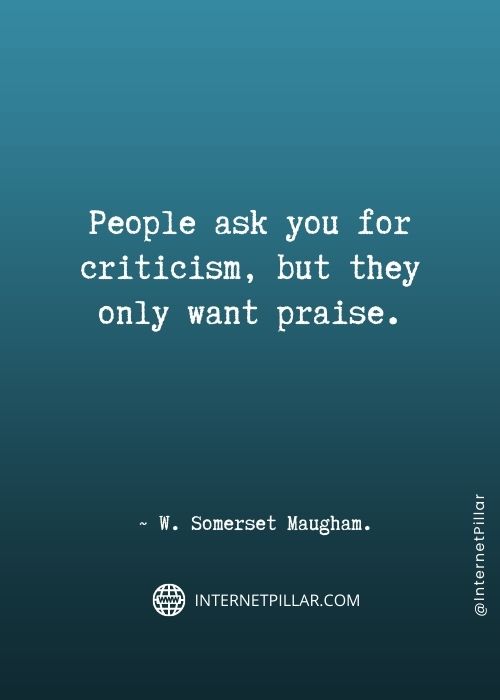 People ask you for criticism, but they only want praise. ~ W. Somerset Maugham.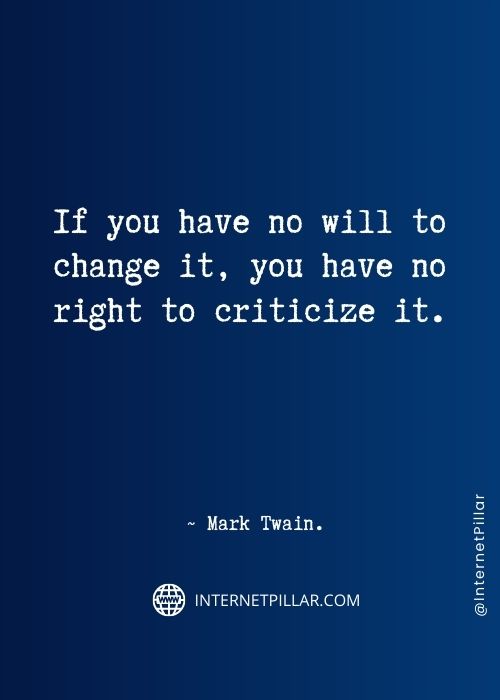 If you have no will to change it, you have no right to criticize it. ~ Mark Twain.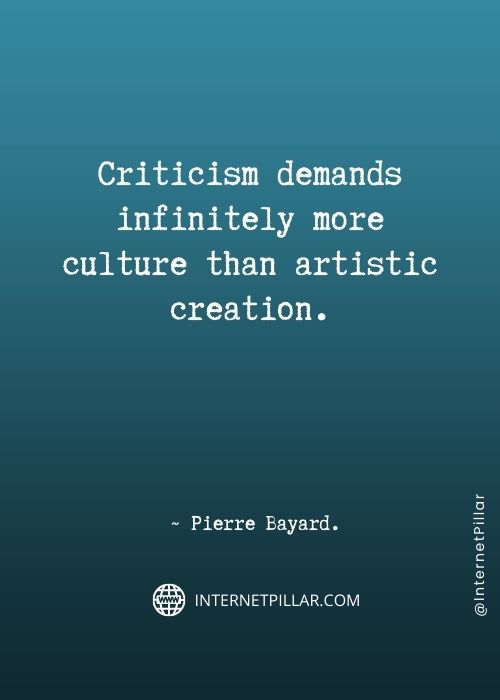 Criticism demands infinitely more culture than artistic creation. ~ Pierre Bayard.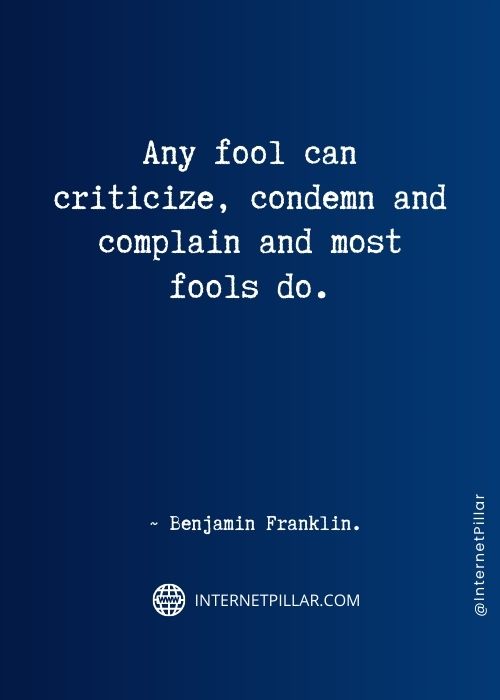 Any fool can criticize, condemn and complain and most fools do. ~ Benjamin Franklin.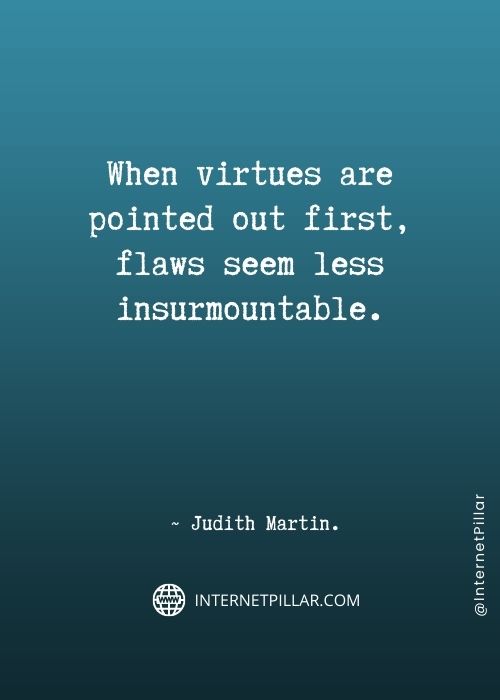 When virtues are pointed out first, flaws seem less insurmountable. ~ Judith Martin.
What distinguishes modern art from the art of other ages is criticism. ~ Octavio Paz.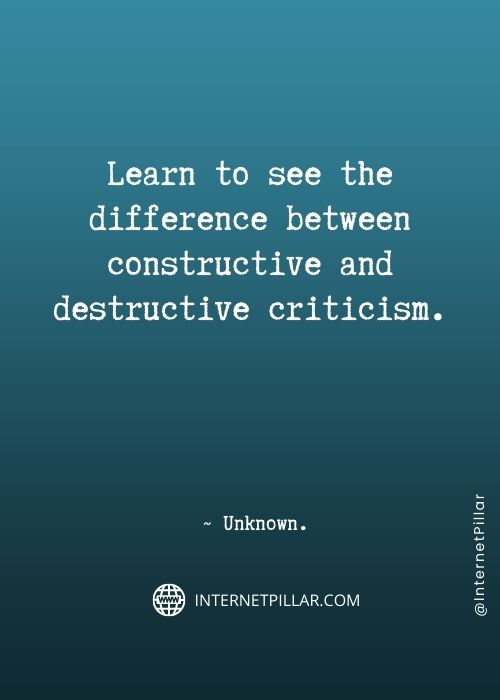 Learn to see the difference between constructive and destructive criticism. ~ Unknown.
Thought-Provoking Criticism Quotes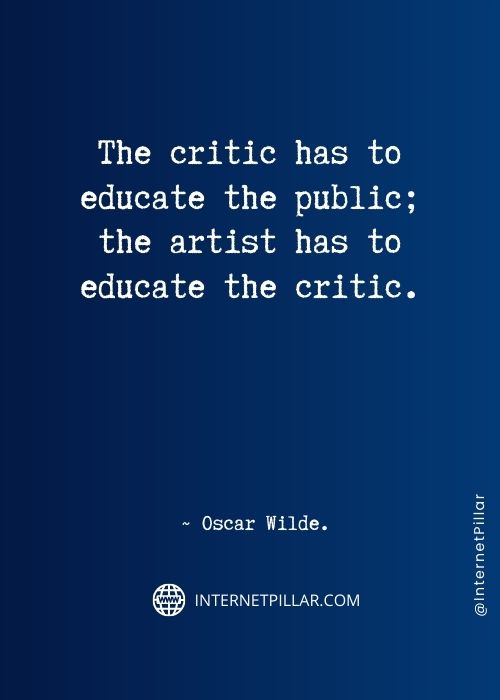 The critic has to educate the public; the artist has to educate the critic. ~ Oscar Wilde.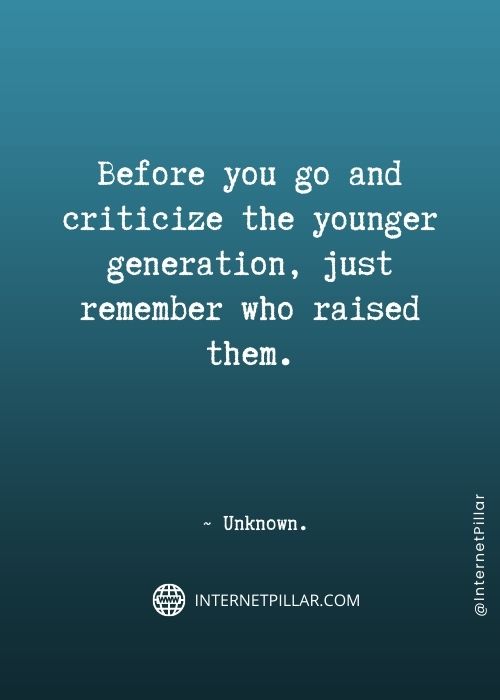 Before you go and criticize the younger generation, just remember who raised them. ~ Unknown.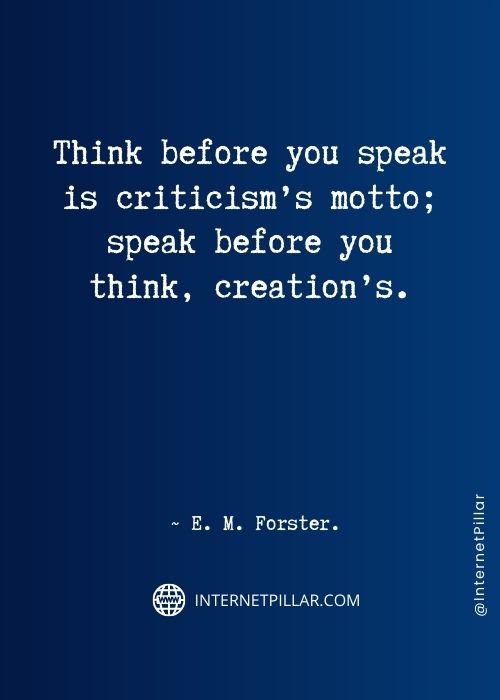 Think before you speak is criticism's motto; speak before you think, creation's. ~ E. M. Forster.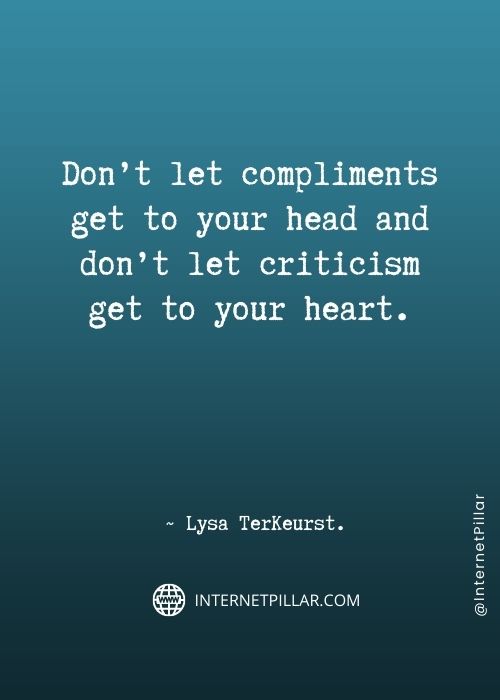 Don't let compliments get to your head and don't let criticism get to your heart. ~ Lysa TerKeurst.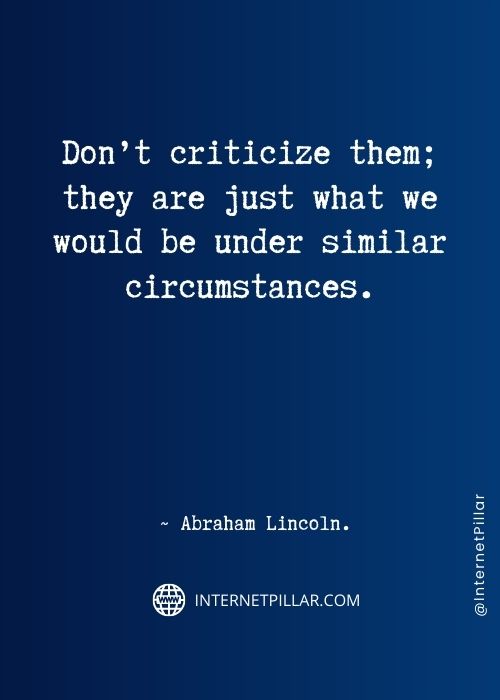 Don't criticize them; they are just what we would be under similar circumstances. ~ Abraham Lincoln.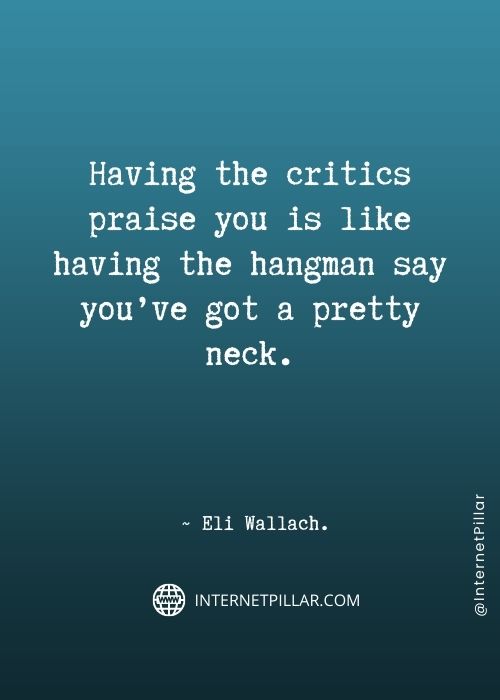 Having the critics praise you is like having the hangman say you've got a pretty neck. ~ Eli Wallach.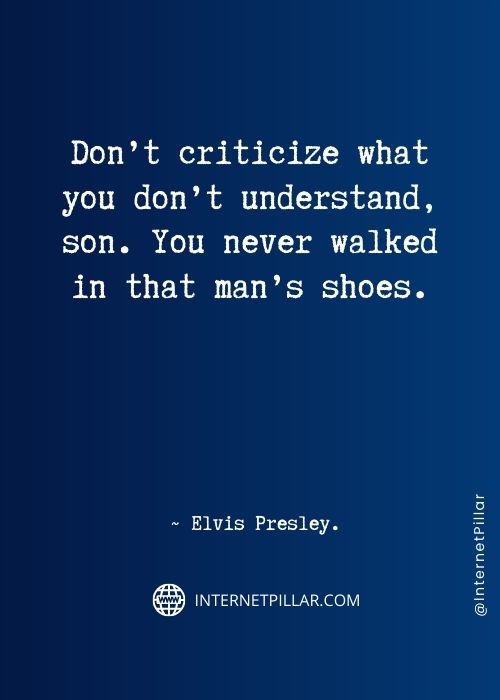 Don't criticize what you don't understand, son. You never walked in that man's shoes. ~ Elvis Presley.
Criticism Quotes to Make You Think
One mustn't criticize other people on grounds where he can't stand perpendicular himself. ~ Mark Twain.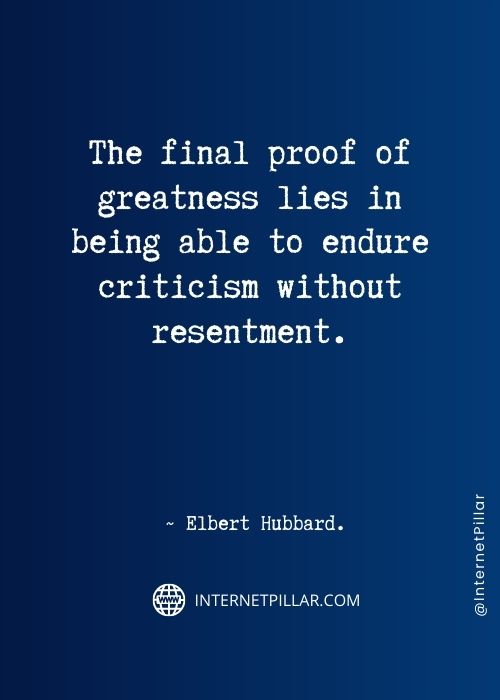 The final proof of greatness lies in being able to endure criticism without resentment. ~ Elbert Hubbard.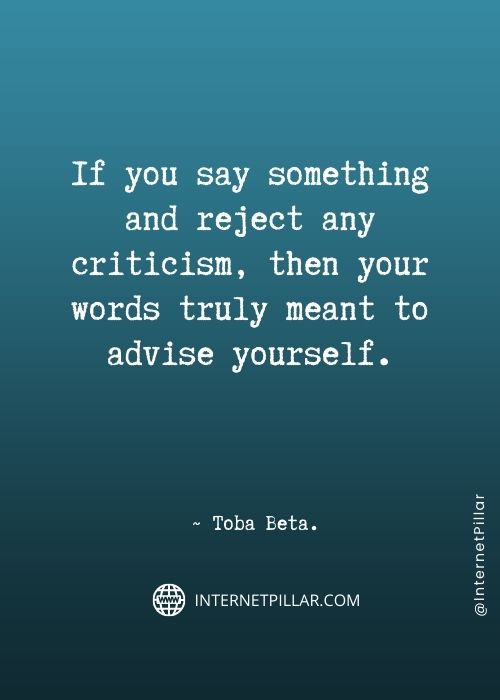 If you say something and reject any criticism, then your words truly meant to advise yourself. ~ Toba Beta.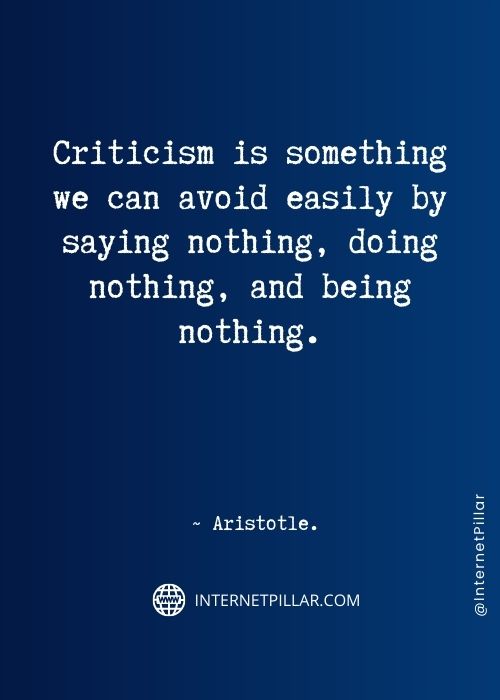 Criticism is something we can avoid easily by saying nothing, doing nothing, and being nothing. ~ Aristotle.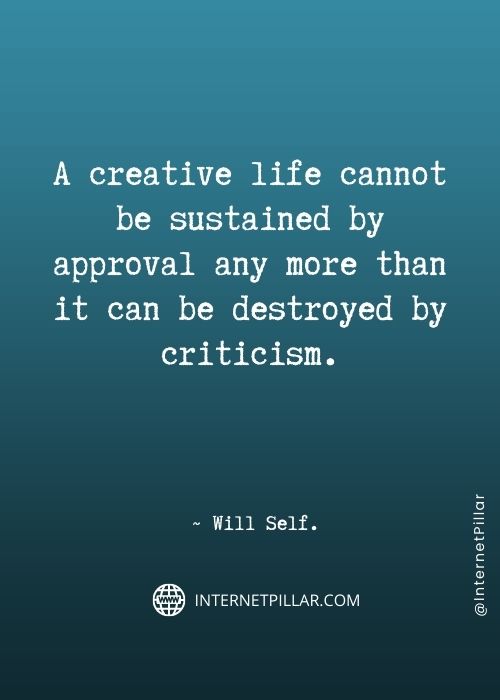 A creative life cannot be sustained by approval any more than it can be destroyed by criticism. ~ Will Self.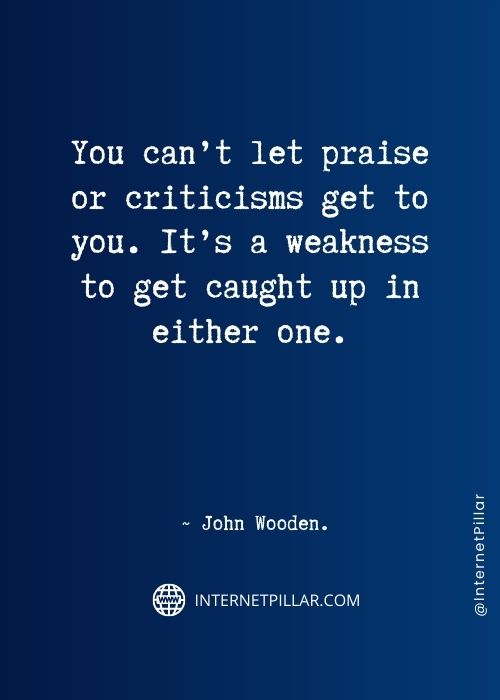 You can't let praise or criticisms get to you. It's a weakness to get caught up in either one. ~ John Wooden.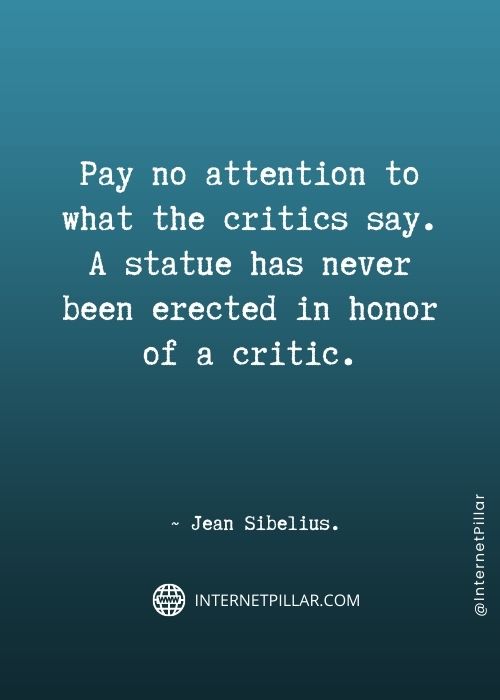 Pay no attention to what the critics say. A statue has never been erected in honor of a critic. ~ Jean Sibelius.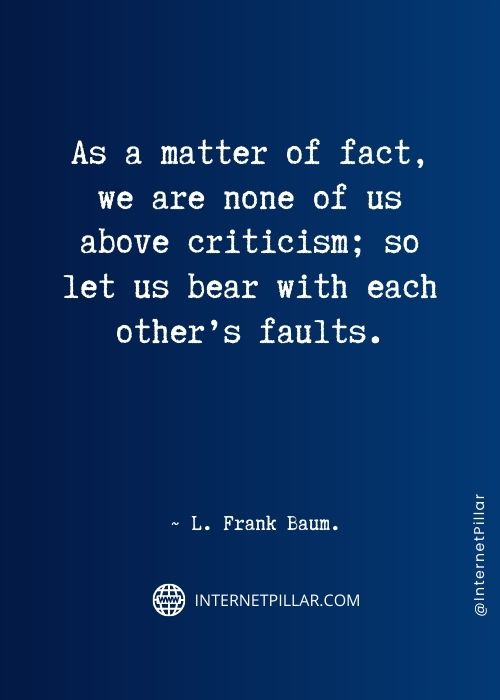 As a matter of fact, we are none of us above criticism; so let us bear with each other's faults. ~ L. Frank Baum.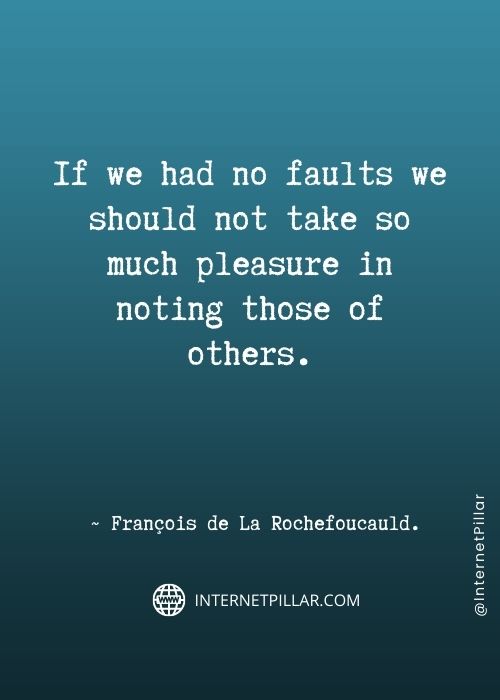 If we had no faults we should not take so much pleasure in noting those of others. ~ François de La Rochefoucauld.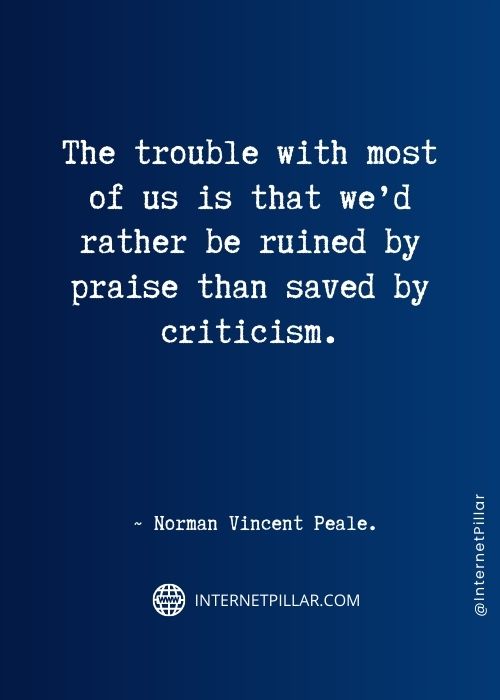 The trouble with most of us is that we'd rather be ruined by praise than saved by criticism. ~ Norman Vincent Peale.
Famous Criticism Quotes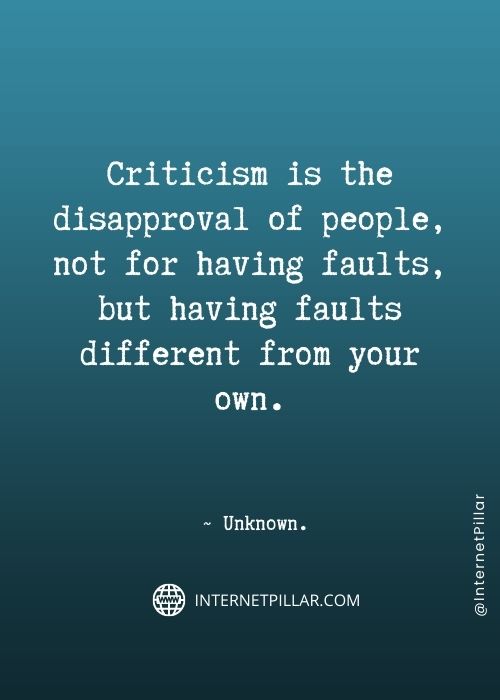 Criticism is the disapproval of people, not for having faults, but having faults different from your own. ~ Unknown.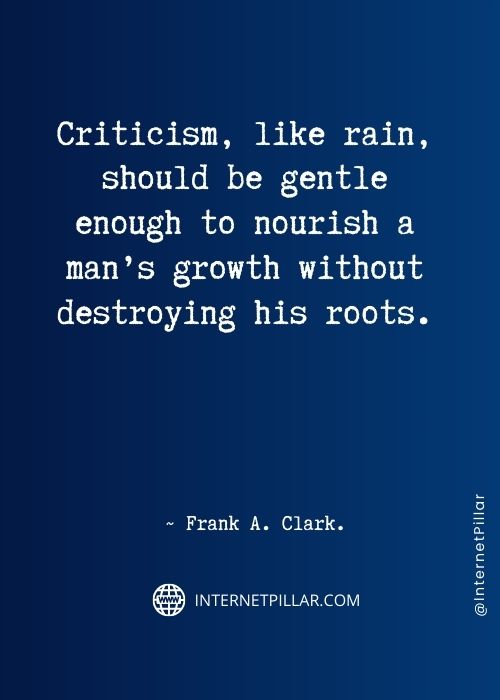 Criticism, like rain, should be gentle enough to nourish a man's growth without destroying his roots. ~ Frank A. Clark.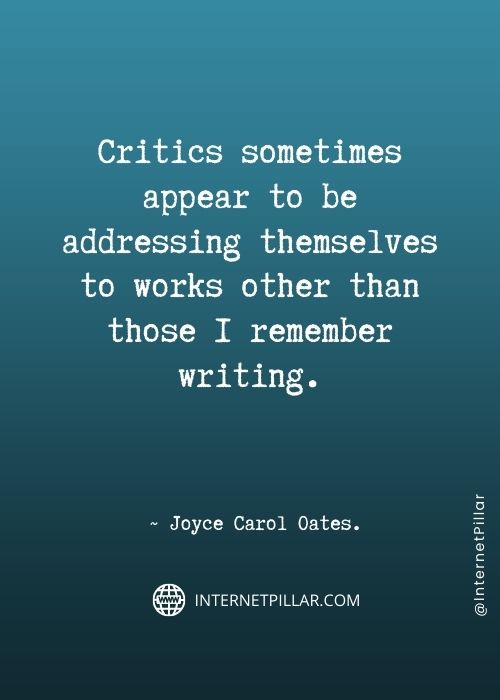 Critics sometimes appear to be addressing themselves to works other than those I remember writing. ~ Joyce Carol Oates.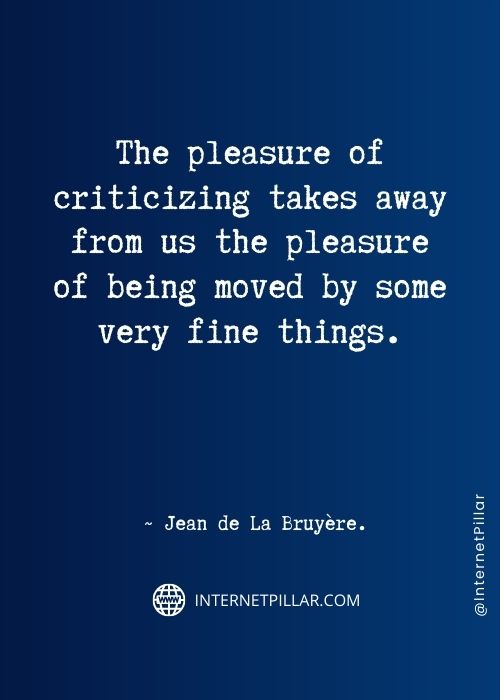 The pleasure of criticizing takes away from us the pleasure of being moved by some very fine things. ~ Jean de La Bruyère.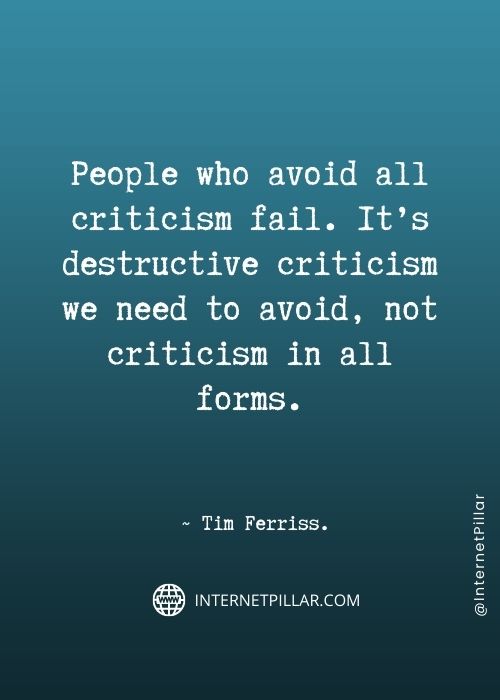 People who avoid all criticism fail. It's destructive criticism we need to avoid, not criticism in all forms. ~ Tim Ferriss.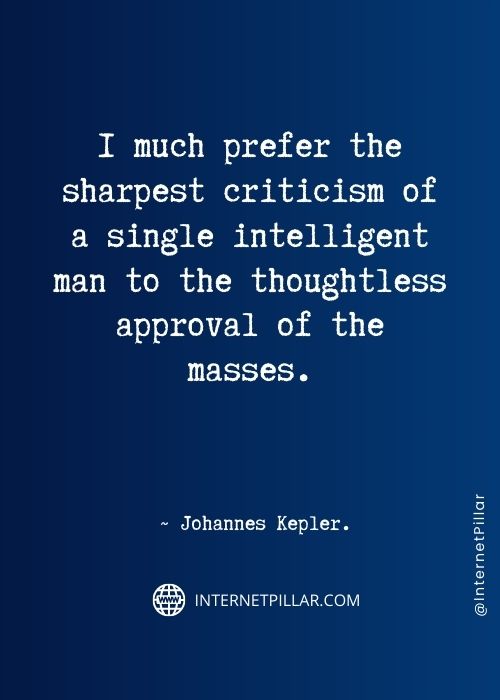 I much prefer the sharpest criticism of a single intelligent man to the thoughtless approval of the masses. ~ Johannes Kepler.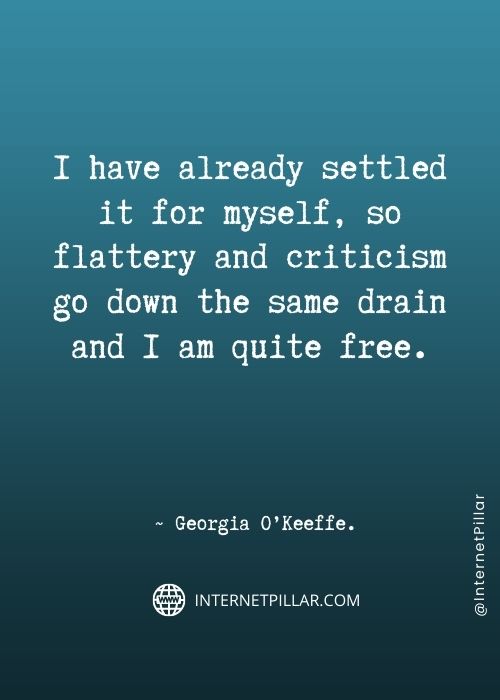 I have already settled it for myself, so flattery and criticism go down the same drain and I am quite free. ~ Georgia O'Keeffe.
Meaningful Criticism Quotes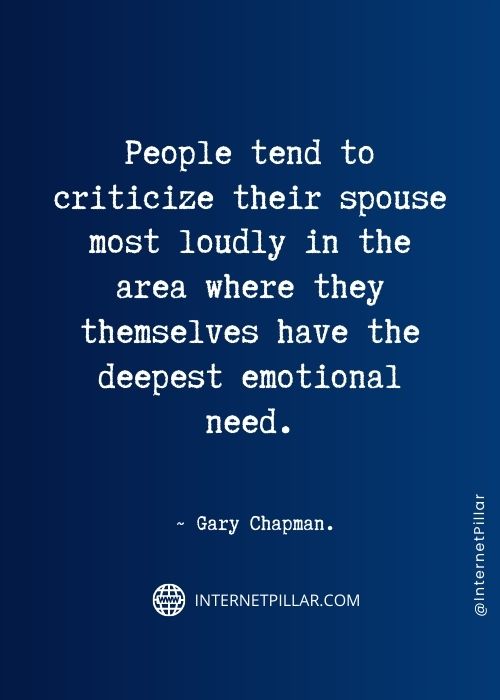 People tend to criticize their spouse most loudly in the area where they themselves have the deepest emotional need. ~ Gary Chapman.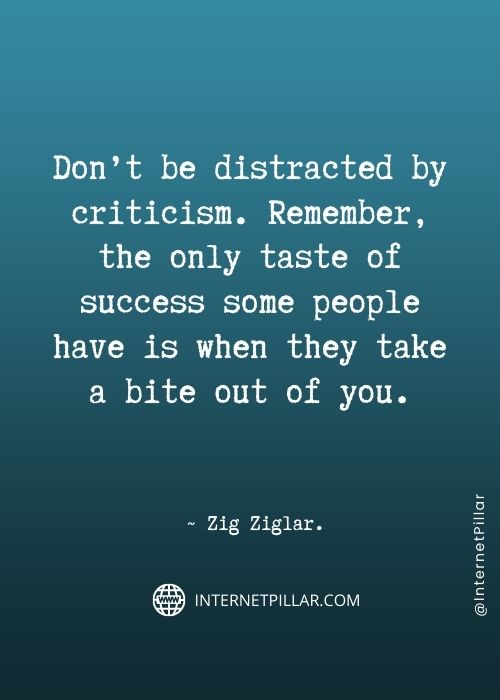 Don't be distracted by criticism. Remember, the only taste of success some people have is when they take a bite out of you. ~ Zig Ziglar.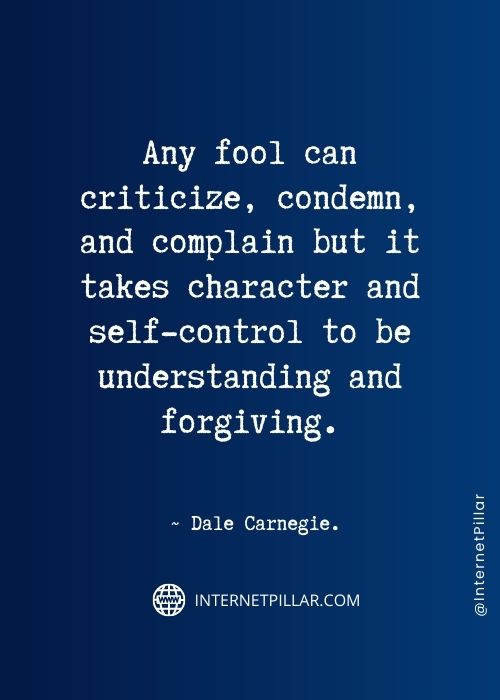 Any fool can criticize, condemn, and complain but it takes character and self-control to be understanding and forgiving. ~ Dale Carnegie.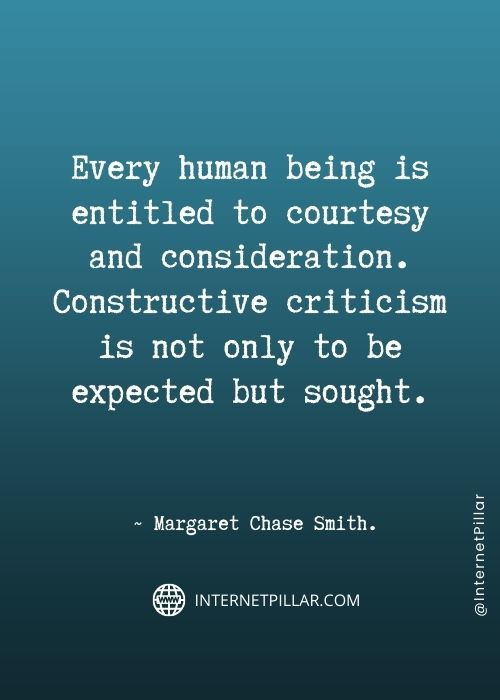 Every human being is entitled to courtesy and consideration. Constructive criticism is not only to be expected but sought. ~ Margaret Chase Smith.
When we judge or criticize another person, it says nothing about that person; it merely says something about our own need to be critical. ~ Unknown.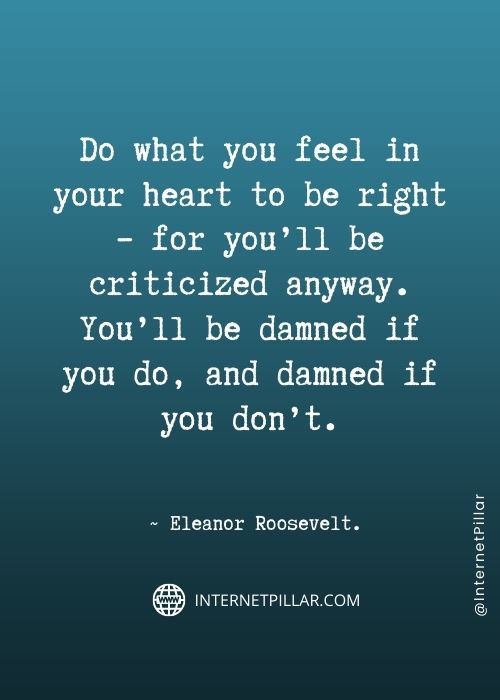 Do what you feel in your heart to be right – for you'll be criticized anyway. You'll be damned if you do, and damned if you don't. ~ Eleanor Roosevelt.
---
So these were the 60 Quotes about Criticism.
If you like these quotes, then you can also read our other posts on Problem Solving Quotes and Mentally Tired Quotes.