Errol Flynn, the famous Australian actor known for his swashbuckling roles, had a tumultuous life.
Starting as a rebellious youth, he found his way into acting after being spotted by an Australian film producer.
His career took off after landing a role in 'Captain Blood,' leading to starring roles in several popular films, most notably 'The Adventures of Robin Hood.'
Despite his success, Flynn led a troubled personal life, marked by heavy drinking and womanizing which he was acquitted of but severely tarnished his image.
His later films reflected his self-destructive lifestyle and despite a brief resurgence, his health rapidly declined, leading to his death at age 50.
He had been married three times and had four children.
I have made a list of the best quotes from Errol Flynn.
---
Best Errol Flynn Quotes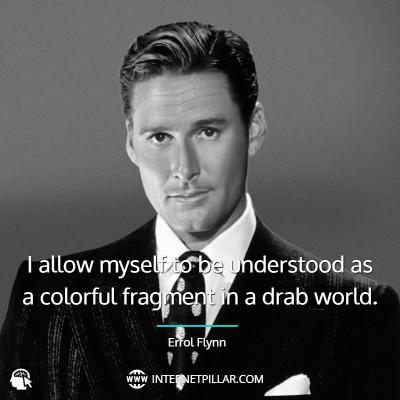 I allow myself to be understood as a colorful fragment in a drab world. ~ Errol Flynn.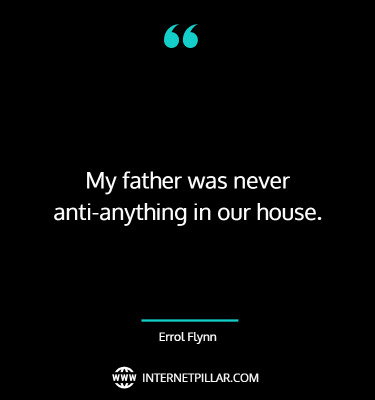 My father was never anti-anything in our house. ~ Errol Flynn.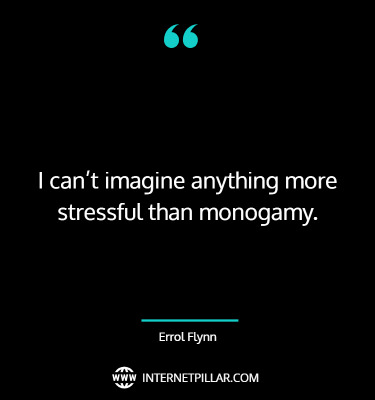 I can't imagine anything more stressful than monogamy. ~ Errol Flynn.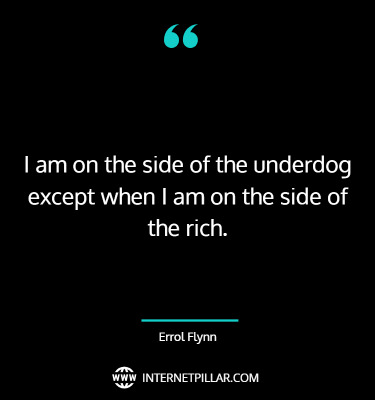 I am on the side of the underdog except when I am on the side of the rich. ~ Errol Flynn.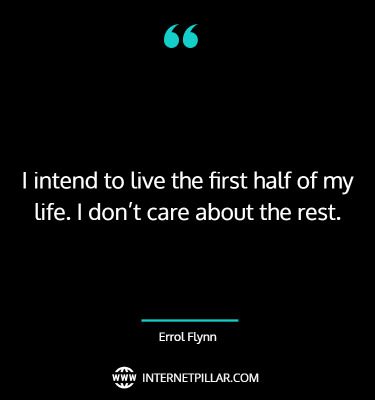 I intend to live the first half of my life. I don't care about the rest. ~ Errol Flynn.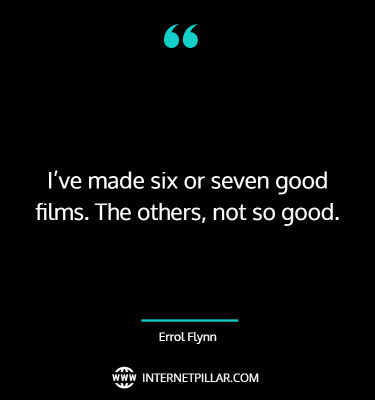 I've made six or seven good films. The others, not so good. ~ Errol Flynn.
I am convinced of the validity of contradiction. There are many worlds. Each is true, at its time, in its own fashion. ~ Errol Flynn.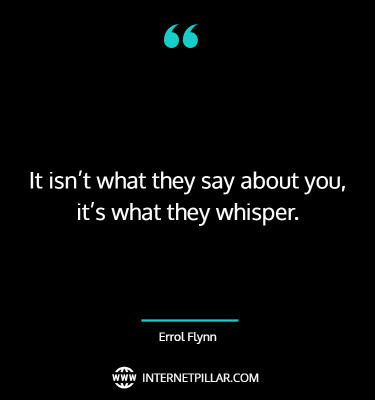 It isn't what they say about you, it's what they whisper. ~ Errol Flynn.
Has every oyster a different taste? ~ Errol Flynn.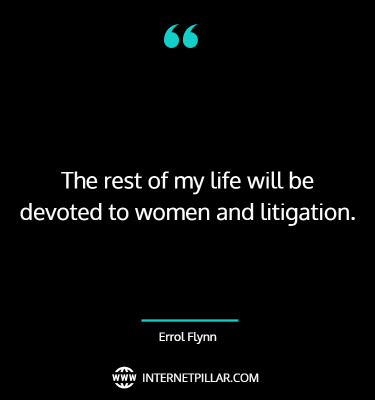 The rest of my life will be devoted to women and litigation. ~ Errol Flynn.
The public has always expected me to be a playboy, and a decent chap never lets his public down. ~ Errol Flynn.
Top Errol Flynn Quotes
It is habit for me to discount myself before somebody else does it for me. Better to get in the first lick. ~ Errol Flynn.
By instinct I'm an adventurer; by choice I'd like to be a writer; by pure, unadulterated luck, I'm an actor. ~ Errol Flynn.
They've great respect for the dead in Hollywood, but none for the living. ~ Errol Flynn.
Man's indecency to man all over the world rules out the idea of humanity as an actuality. It is a dream of young idealists. In practice a misnomer. ~ Errol Flynn.
I particularly detest books that begin something like 'Ah, there was joy and happiness in the quaint Tasmanian home of Professor Flynn when the first bellowings of lusty little Errol were heard. . . .' ~ Errol Flynn.
There is nothing like lying flat on your back on the deck, alone except for the helmsman aft at the wheel, silence except for the lapping of the sea against the side of the ship. At that time you can be equal to Ulysses and brother to him. ~ Errol Flynn.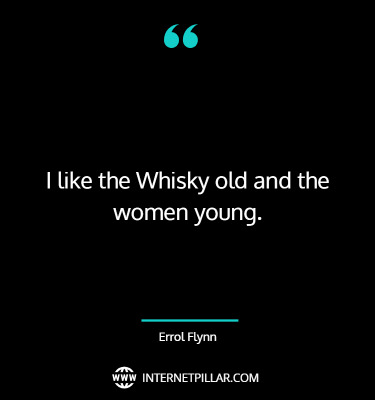 I like the Whisky old and the women young. ~ Errol Flynn.
I crave the indulgence of my senses but this is countered by an interior desire that is even keener than my senses to know the meaning of things. ~ Errol Flynn.
It is a mistake to think you can't be hurt if you don't care. ~ Errol Flynn.
Famous Errol Flynn Quotes
You once liked the blissful mobility, but then you wonder, who's the real you? And who's the chap on the screen? You know, I catch myself acting out my life like a goddamn script. ~ Errol Flynn.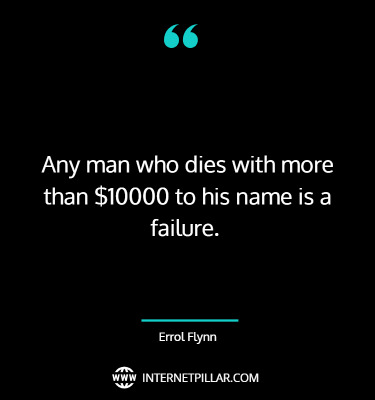 Any man who dies with more than $10000 to his name is a failure. ~ Errol Flynn.
I've had a hell of a lot of fun and I've enjoyed every minute of it. ~ Errol Flynn.
I felt like an impostor, taking all that money for reciting ten or twelve lines of nonsense a day. ~ Errol Flynn.
I want faith; but I am faithless. ~ Errol Flynn.
My problem lies in reconciling my gross habits with my net income. ~ Errol Flynn.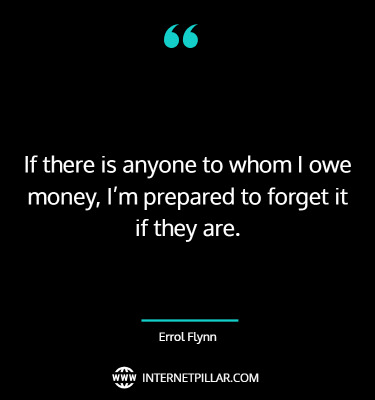 If there is anyone to whom I owe money, I'm prepared to forget it if they are. ~ Errol Flynn.
I always see about six scuffles a night when I come to San Francisco. That's one of the town's charms. ~ Errol Flynn.
Popular Errol Flynn Quotes
If they say I am inconsistent let them say it, for it is true, because inconsistency is a part of living. ~ Errol Flynn.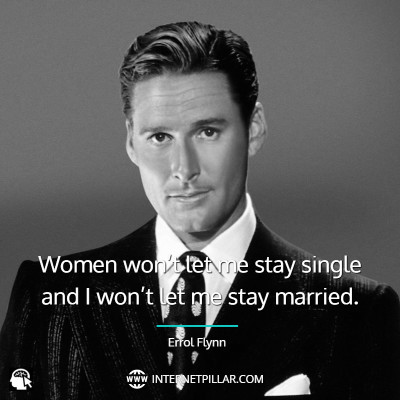 Women won't let me stay single and I won't let me stay married. ~ Errol Flynn.
I portray myself as wicked, hoping I will not be regarded as wicked. But I may be wicked in the biblical sense. ~ Errol Flynn.
I am not biased against the rich because they are rich, but the most lively people are those without money who would like to have some. ~ Errol Flynn.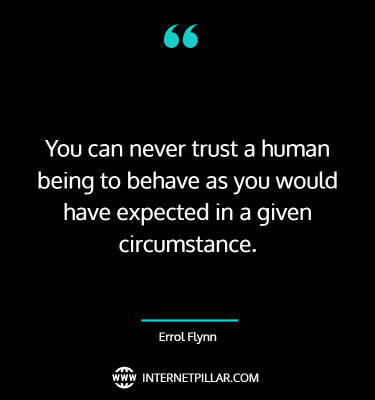 You can never trust a human being to behave as you would have expected in a given circumstance. ~ Errol Flynn.
Someone, I don't know who- it might have even been me- said, Any man at the age of twenty-five who is not a Communist has no heart: any man who is still is at the age of thirty-five has no head. ~ Errol Flynn.
---
So these were the 35 top Errol Flynn quotes and sayings.
If you like these quotes and sayings, then you can also read my other posts on Michelle Kwan quotes and Josh McDowell quotes.