July is the seventh and often warmest month of the year, ushers in the height of summer with its sun, beaches and an array of food celebrations like National Day of Mojito, Pecan Pie, Sugar Cookie and Fried Chicken.
Further, July is marked by the 4th of July, a day of freedom and liberty.
More importantly, it's the first month of the year's second half, making it a 'second January,' an ideal time to review, reassess and reinitiate unmet goals.
In essence, July embodies a balance of enjoyment and productivity, symbolized by the sweat of both fun and work.
To help navigate this dynamic month, a list of inspiring July quotes and sayings is suggested to infuse the season with motivation and joy.
---
Best July Quotes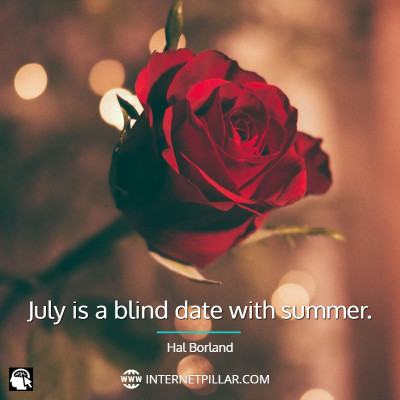 July is a blind date with summer. ~ Hal Borland.
Summer vacation: where you drink triple, see double and act single. ~ Unknown.
A life without love is like a year without summer. ~ Swedish Proverb.
A perfect summer day is when the sun is shining, the breeze is blowing, the birds are singing, and the lawnmower is broken. ~ James Dent.
I love how summer just wraps its arms around you like a warm blanket. ~ Kellie Elmore.
In the long dusks of summer, we walked the suburban streets through scents of maple and cut grass, waiting for something to happen. ~ Steven Millhauser.
In June we picked the clover, and sea-shells in July: There was no silence at the door, No word from the sky. A hand came out of August and flicked his life away: We had not time to bargain, mope, Moralize, or pray. ~ Cecil Day-Lewis.
Deep summer is when laziness finds respectability. ~ Sam Keen.
Lovely July Quotes
When the sun is shining, I can do anything; no mountain is too high, no trouble too difficult to overcome. ~ Wilma Rudolph.
We spent June and July in the Rockies, growing stronger, feeling feral in the untamed range of mountains. ~ Aspen Matis.
There comes a time when people get tired of being pushed out of the glittering sunlight of life's July and left standing amid the piercing chill of an alpine November. ~ Martin Luther King, Jr.
There are lots of emotions that go with the fourth of July. ~ Dan Harmon.
Every summer, around late July and into August, I find myself in Europe, performing at any festival that will have me. ~ Henry Rollins.
In the old parts of Nice, the family tables are out in the cobbled streets so that you can't drive past. They insist you join them at midnight on a hot July evening. So that's just what you do, abandoning the car. ~ Mary Quant.
If June was the beginning of a hopeful summer, and July the juice middle, August was suddenly feeling like the bitter end. ~ Sarah Dessen.
The noise from good toast should reverberate in the head like the thunder of July. ~ E. V. Lucas.
They talk about big skies in the western United States, and they may indeed have them, but you have never seen such lofty clouds, such towering anvils, as in Iowa in July. ~ Bill Bryson.
Hot July brings cooling showers, Apricots and gillyflowers. ~ Sara Coleridge.
Related: April Quotes to Welcome Month of Love and Beauty and Best New Month Quotes for New Beginnings
Beautiful July Quotes
Let a man walk ten miles steadily on a hot summer's day along a dusty English road, and he will soon discover why beer was invented. ~ Gilbert K. Chesterton.
Why is summer mist romantic and autumn mist just sad? ~ Dodie Smith.
Some of the best memories are made in flip flops. ~ Kellie Elmore.
A lot of parents pack up their troubles and send them off to summer camp. ~ Raymond Duncan.
My life, I realize suddenly, is July. Childhood is June, and old age is August, but here it is, July, and my life, this year, is July inside of July. ~ Rick Bass.
But here I am in July, and why am I thinking about Christmas pudding? Probably because we always pine for what we do not have. The winter seems cozy and romantic in the hell of summer, but hot beaches and sunlight are what we yearn for all winter. ~ Joanna Franklin Bell.
The Summer looks out from her brazen tower, Through the flashing bars of July. ~ Francis Thompson.
July is hot afternoons and sultry nights and mornings when its joy just to be alive. July is a picnic and a red canoe and a sunburned neck and a softball game and ice tinkling in a tall glass. July is a blind date with summer. ~ Hal Borland.
Famous July Quotes
Tears of joy are like the summer rain drops pierced by sunbeams. ~ Hosea Ballou.
I know I am but summer to your heart, and not the full four seasons of the year. ~ Edna St. Vincent Millay.
A man says a lot of things in summer he doesn't mean in winter. ~ Patricia Briggs.
July: Just take me to the Ocean. ~ Unknown.
In the old parts of Nice, the family tables are out in the cobbled streets so that you can't drive past. They insist you join them at midnight on a hot July evening. So that's just what you do, abandoning the car. ~ Mary Quant.
If I had my way, I'd remove January from the calendar altogether and have an extra July instead. ~ Roald Dahl.
The summer morn is bright and fresh, the birds are darting by; As if they loved to breast the breeze that sweeps the cool clear sky. ~ William C. Bryant.
Summertime. It was a song. It was a season. I wondered if that season would ever live inside me. ~ Benjamin Alire Saenz.
This nation will remain the land of the free only so long as it is the home of the brave. ~ Elmer Davis.
What good is the warmth of summer, without the cold of winter to give it sweetness. ~ John Steinbeck.
Inspiring July Quotes
Then came July like three o'clock in the afternoon, hot and listless and miserable. ~ Allie Ray.
Julia, I almost wish we were butterflies living an eternal summer. Today is the first day of August; it is no longer July. Summer passes, and Summer friends will melt away like snow in spring. ~ Rolf van der Wind.
Do what we can, summer will have its flies. ~ Ralph Waldo Emerson.
Being a traditionalist, I'm a rabid sucker for Christmas. In July, I'm already worried that there are only 146 shopping days left. ~ John Waters.
Rest is not idleness, and to lie sometimes on the grass under trees on a summer's day, listening to the murmur of the water, or watching the clouds float across the sky, is by no means a waste of time. ~ John Lubbock.
I could taste the salt on her lips, each kiss like a summer wave breaking on an empty beach. ~ Michael Faudet.
That is the truly beautiful and encouraging aspect of freedom, no one struggles for it just for himself. ~ Fanny Lewald.
As a British person living in the USA, I keep a low profile on Independence Day, July 4th. ~ Steven Magee.
Top July Quotes
We all know you can't have a Fourth of July barbecue without the fixings that go with it. ~ Rachel Hollis.
The sunlight that has brought life and healing to you has brought stripes and death to me. This Fourth of July is yours, not mine. ~ Frederick Douglass.
The summer night is like a perfection of thought. ~ Wallace Stevens.
Live in each season as it passes: breathe the air, drink the drink, taste the fruit. ~ Henry David Thoreau.
If you're not barefoot, then you're overdressed. ~ Unknown.
I drifted into a summer-nap under the hot shade of July, serenaded by a cicadae lullaby, to drowsy-warm dreams of distant thunder. ~ Terri Guillemets.
Here men from the planet Earth first set foot upon the Moon. July 1969 AD. We came in peace for all mankind. ~ Neil Armstrong.
And so with the sunshine and the great bursts of leaves growing on the trees, just as things grow in fast movies, I had that familiar conviction that life was beginning over again with the summer. ~ F. Scott Fitzgerald.
Inspirational July Quotes
I always have the most fun on the Fourth of July. You don't have to exchange any gifts. You just go to the beach and watch fireworks. It's always fun. ~ James Lafferty.
The summer looks out of her brazen tower, through the flashing bars of July. ~ Francis Thompson.
Summer will end soon enough, and childhood as well. ~ George R.R. Martin.
Summer is the time when one sheds one's tensions with one's clothes, and the right kind of day is jeweled balm for the battered spirit. ~ Ada Louise Huxtable.
Summer romances end for all kinds of reasons. But when all is said and done, they have one thing in common: They are shooting stars-a spectacular moment of light in the heavens, a fleeting glimpse of eternity. And in a flash, they're gone. ~ Nicholas Sparks.
July, that lovely hell, all velvet dresses and drapes stuffed into a hot little hole. ~ Laura Kasischke.
Summer has filled her veins with light and her heart is washed with noon. ~ C. Day Lewis.
Popular July Quotes
I have always had a certain aversion to heat. And for me, the name of the game on the stage is 'beat the heat.' It's always July under the lights. ~ Bob Weir.
Sweet, sweet burn of sun and summer wind, and you my friend, my new fun thing, my summer fling. ~ K.D. Lang.
After winter comes the summer. After night comes the dawn. And after every storm, there comes clear, open skies. ~ Samuel Rutherford.
Kiss is a Fourth of July fireworks show with a backbeat. ~ Gene Simmons.
In the summer, the days were long, stretching into each other. Out of school, everything was on pause and yet happening at the same time, this collection of weeks when anything was possible. ~ Sarah Dessen.
If ant hills are high in July, the coming winter will be hard. ~ American Proverb.
I have lived pain, and my life can tell: I only deepen the wound of the world when I neglect to give thanks the heavy perfume of wild roses in early July and the song of crickets on summer humid nights… ~ Ann Voskamp.
No bought potpourri is so pleasant as that made from ones own garden, for the petals of the flowers one has gathered at home hold the sunshine and memories of summer, and of past summers only the sunny days should be remembered. ~ Eleanor Sinclair-Rhode.
Powerful July Quotes
This, for the purpose of this celebration, is the 4th of July. It is the birthday of your National Independence, and of your political freedom. ~ Frederick Douglass.
It's a sure sign of summer if the chair gets up when you do. ~ Walter Winchell.
He who marvels at the beauty of the world in summer will find equal cause for wonder and admiration in winter. ~ John Burroughs.
Summer bachelors like summer breezes, are never as cool as they pretend to be. ~ Nora Ephron.
We hold these truths to be self-evident: that all men and women are created equal. ~ Elizabeth Cady Stanton.
Ah, summer, what power you have to make us suffer and like it. ~ Russell Baker.
Rejoice as summer should…chase away sorrows by living. ~ Melissa Marr.
---
So these were the 78 top quotes about July month.
If you like these quotes and sayings, then you can also read my other posts on May quotes and June quotes.