Born in 1925, Maria Tallchief, a Native American from the Osage Nation, moved to New York at 17 to pursue her dream of becoming a ballet dancer.
Despite facing discrimination, she quickly rose through the ranks of Ballet Russe Monte Carlo, later performing leading roles in George Balanchine's New York City Ballet, where she became the first Native American prima ballerina.
Tallchief famously refused to change her last name to avoid discrimination and became the first American to dance with the Paris Opera Ballet in 1947.
After retiring, she co-founded the Chicago City Ballet and became an advocate against injustices faced by Native Americans.
Known as an international superstar, Tallchief is remembered as one of America's most successful ballerinas. She passed away in 2013.
Related: Martha Graham Quotes from Famous American Modern Dancer and Misty Copeland Quotes from the American Ballet Dancer
I have compiled the top Maria Tallchief quotes.
---
Best Maria Tallchief Quotes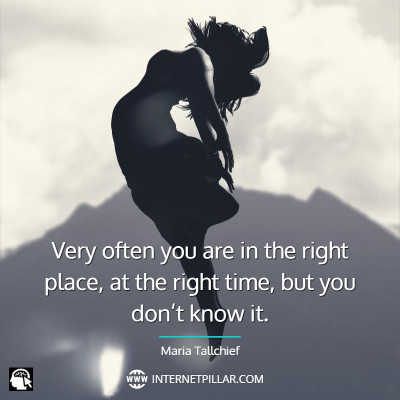 Very often you are in the right place, at the right time, but you don't know it. ~ Maria Tallchief.
I don't mind being listed alphabetically. I do mind being treated alphabetically. ~ Maria Tallchief.
What's important is that I'm working with very talented young people. ~ Maria Tallchief.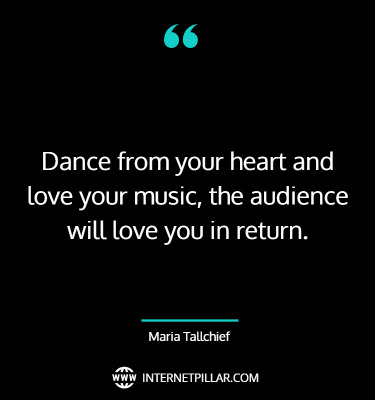 Dance from your heart and love your music, the audience will love you in return. ~ Maria Tallchief.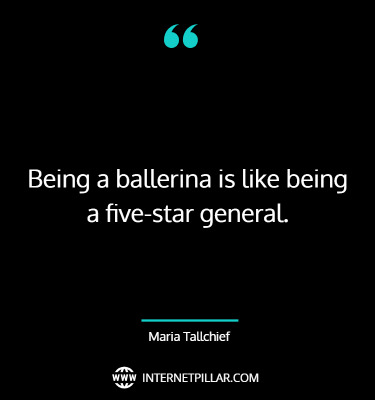 Being a ballerina is like being a five-star general. ~ Maria Tallchief.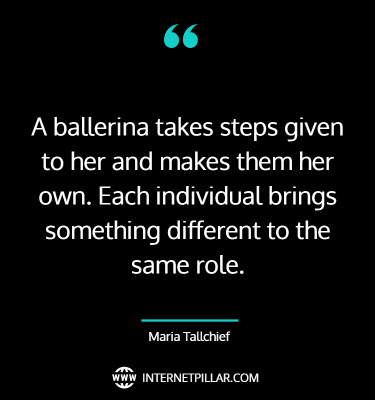 A ballerina takes steps given to her and makes them her own. Each individual brings something different to the same role. ~ Maria Tallchief.
Above all, I wanted to be a prima ballerina who happened to be Native American, never as someone who was an American Indian Ballerina. ~ Maria Tallchief.
Famous Maria Tallchief Quotes
We didn't concentrate only for an hour and a half a day on what was being taught. We lived it, and I was beginning to understand just how hard I was going to have to work if I wanted to be a dancer. ~ Maria Tallchief.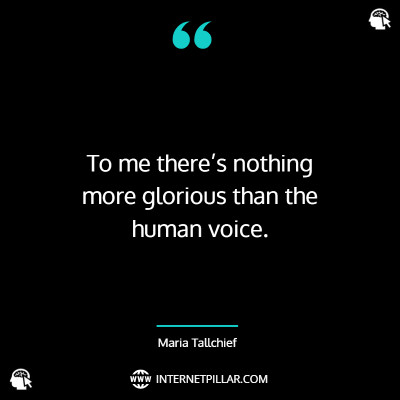 To me there's nothing more glorious than the human voice. ~ Maria Tallchief.
The Nutcracker absolutely was our staple every year. We even took it out to California in the summertime, and danced it at the Greel Theatre with great success! Why not? Christmas in summer. ~ Maria Tallchief.
Top Maria Tallchief Quotes
If anything at all, perfection is not when there is nothing to add, but when there is nothing left to take away. ~ Maria Tallchief.
I think it is an innate quality that Indians have to dance. They dance when they are happy, they dance when they are sad. They dance when they get married, they dance when someone dies. ~ Maria Tallchief.
From your first plie you are learning to become an artist. In every sense of the world, you are poetry in motion. ~ Maria Tallchief.
---
So these were the 18 top Maria Tallchief quotes and sayings.
If you like these quotes and sayings, then you can also read my other posts on Sarah Kay quotes and Frances Perkins quotes.