Negativity whether from within or surrounding individuals, can lead to harmful consequences.
This article will share 63 quotes focused on countering negativity and inspiring positivity.
If you're often caught in negative thought patterns or are surrounded by pessimists, these quotes can guide you towards positivity and its immense benefits.
By sharing these insights, you can motivate others to adopt a similar outlook. Sometimes, we become our harshest critics, leading to self-doubt and undue stress.
At other times, pessimistic individuals in our lives might impede our progress towards our goals. To lead a content and successful life, it's crucial to address these factors.
These quotes provide encouragement, whether you're dealing with negative individuals, navigating challenging times, or simply battling your own inner critic.
In summary, they serve as a beacon, steering you towards positivity and away from the harms of negativity.
---
Table of Contents
Top 10 Negativity Quotes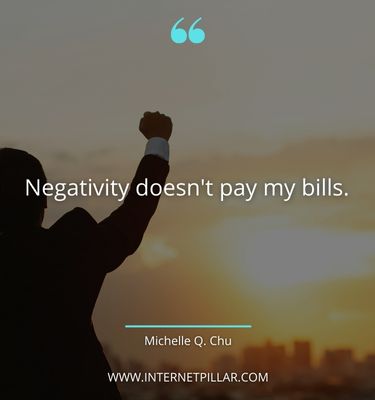 Negativity doesn't pay my bills. ~ Michelle Q. Chu.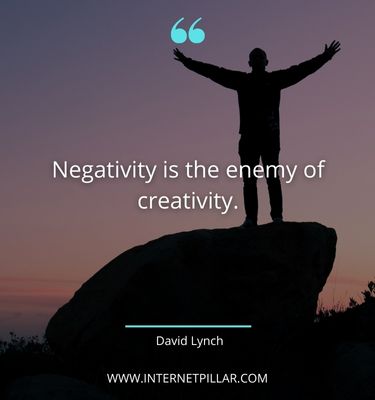 Negativity is the enemy of creativity. ~ David Lynch.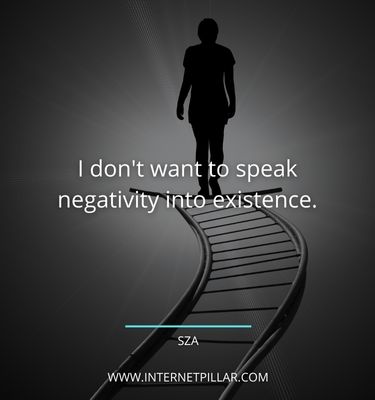 I don't want to speak negativity into existence. ~ SZA.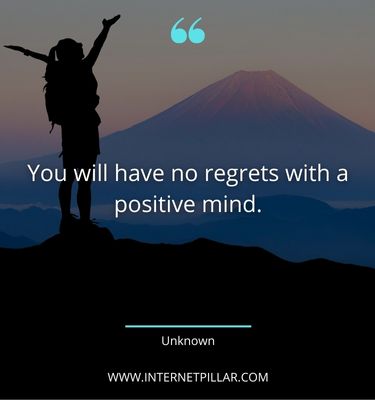 You will have no regrets with a positive mind. ~ Unknown.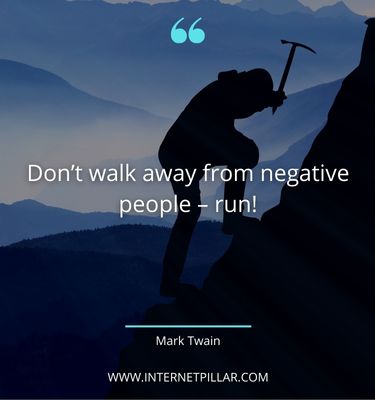 Don't walk away from negative people – run! ~ Mark Twain.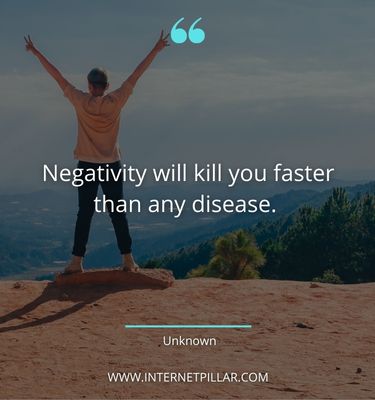 Negativity will kill you faster than any disease. ~ Unknown.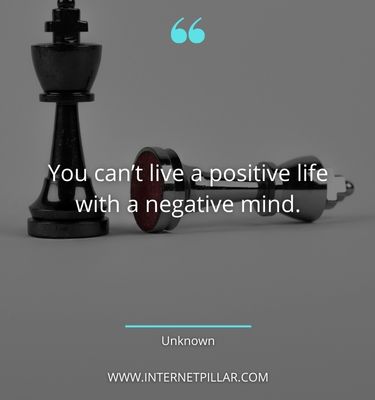 You can't live a positive life with a negative mind. ~ Unknown.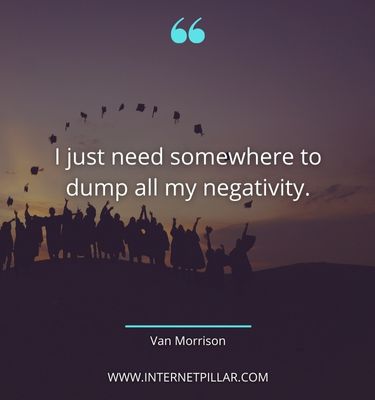 I just need somewhere to dump all my negativity. ~ Van Morrison.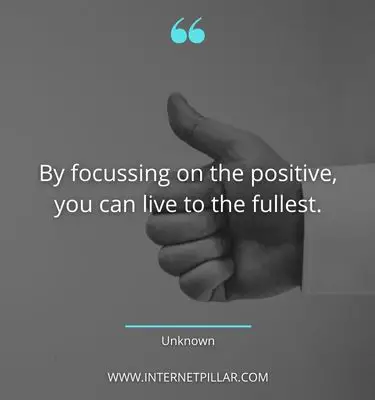 By focussing on the positive, you can live to the fullest. ~ Unknown.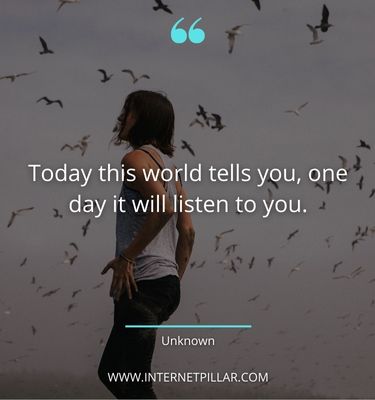 Today this world tells you, one day it will listen to you. ~ Unknown.
Short Quotes about Negativity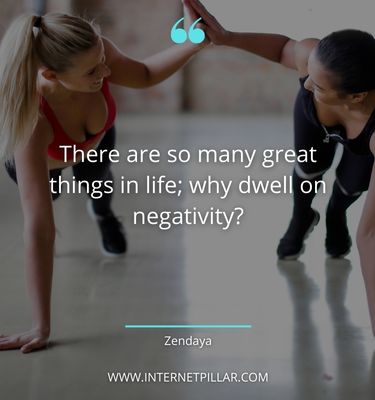 There are so many great things in life; why dwell on negativity? ~ Zendaya.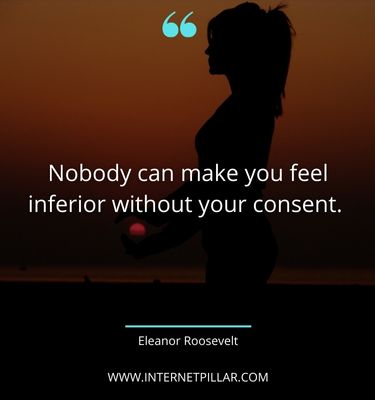 Nobody can make you feel inferior without your consent. ~ Eleanor Roosevelt.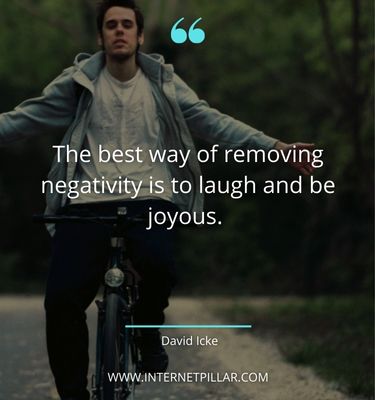 The best way of removing negativity is to laugh and be joyous. ~ David Icke.
Dwelling on the negative simply contributes to its power. ~ Shirley MacLaine.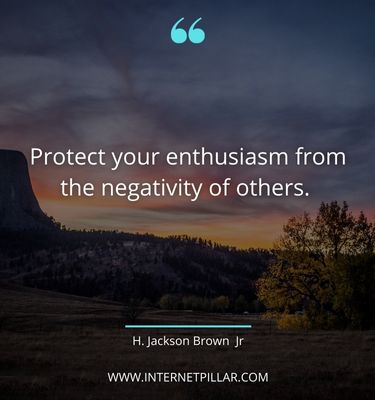 Protect your enthusiasm from the negativity of others. ~ H. Jackson Brown Jr.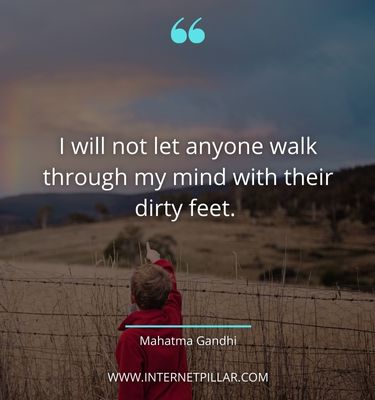 I will not let anyone walk through my mind with their dirty feet. ~ Mahatma Gandhi.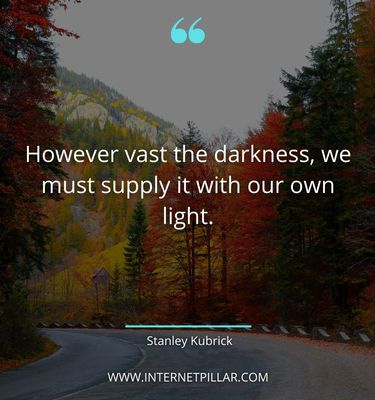 However vast the darkness, we must supply it with our own light. ~ Stanley Kubrick.
I do believe in bad energy and not wanting to be around negativity. ~ Kyle Richards.
Negativity Quotes to Change the Way You Think
Gravitate towards your goals and avoid negative people and situations. ~ Phillip Crone.
Sensitive souls draw in the negativity of others because they are so open. ~ John Gray.
Don't let negative thoughts of the past or the future ruin your today. ~ Avina Celeste.
I like to keep my world positive. There's enough negativity kicking around. ~ Jim Root.
I have no room in my life for any form of negativity or nonacceptance. ~ Ricky Williams.
Best Negativity Quotes Ideas
Stay away from negative people. They have a problem for every solution. ~ Albert Einstein.
It's not easy to look away from negativity, but I try to not focus on it. ~ Shehnaaz Gill.
You cannot expect to live a positive life if you hang with negative people. ~ Joel Osteen.
Always find possible ways to turn a negative situation into a positive situation. ~ Unknown.
Cut out any negative people, they will never smooth you towards a great life. ~ Edmund Ronen.
It is better to dwell on the beautiful things in life than the negative. ~ Lailah Gifty Akita.
Whatever you do, good or bad, people will always have something negative to say. ~ W.H. Auden.
Related: Change the World Quotes and Healthy Lifestyle quotes.
Inspirational Quotes to Conquer Any Negativity
Adopting the right attitude can convert a negative stress into a positive one. ~ Dr. Hans Selye.
Time is your most precious gift, not to be dwindled away in idleness or negativity. ~ Les Brown.
To get respect and happiness, respect others. Not just the elders, but also your youth. ~ Unknown.
Curiosity is what keeps me open to a sense of hope. It staves off negativity. ~ Carrie Brownstein.
My entire life I've proved that I'm able to overcome people's negativity toward me. ~ Beth Phoenix.
Negativity is cannibalistic. The more you feed it, the bigger and stronger it grows. ~ Bobby Darnell.
I don't have time to distinguish between the unfortunate and the incompetent. ~ General Curtis Le May.
Negative people need drama like oxygen. Stay positive, it will take their breath away. ~ Tony Gaskins.
Stop allowing other people to dilute or poison your day with their words or opinions. ~ Steve Maraboli.
Negativity Quotes For Negative Thinking People
When you have a lot of stress and negativity around you, when you cut that away, you cleanse. ~ Lil Jon.
All negativity is an illusion created by the limited mind to protect and defend itself. ~ Ambika Wauters.
You can't think away your self-defeating thoughts; you have to dissolve them through action. ~ Marty Rubin.
Nobody can motivate himself in a positive direction by continually using negative words. ~ John C. Maxwell.
I'll always use the negativity as more motivation to work even harder and become even stronger. ~ Tim Tebow.
The whole world can gossip about you, and if you don't take it personally you are immune. ~ Don Miguel Ruiz.
Some people can't function without negativity because bringing down others makes them feel better. ~ Unknown.
Negative words are powerful boomerangs so be careful what you say about people and yourself. ~ Mary J. Blige.
Quotes on Negativity
Have you ever noticed how positive people are happy people and negative people are miserable? ~ Riley Stevens.
Your present circumstances don't determine where you can go; they merely determine where you start. ~ Nido Qubein.
When we are aware of our weaknesses or negative tendencies, we open the opportunity to work on them. ~ Allan Lokos.
No matter the amount of negativity you're presented with, five minutes from now could be your best moment. ~ Mod Sun.
Generosity and kindness always feel good to give, and it never feels good to give grief or negativity. ~ Jason Becker.
Surround yourself with loving, caring, happy people and get rid of the negative people that drag you down. ~ Heather Rose.
No one can create negativity or stress within you. Only you can do that by virtue of how you process your world. ~ Wayne Dyer.
Positive Thinking Quotes to Overcome Negativity
Life is too short to spend in negativity. So I have made a conscious effort to not be where I don't want to be. ~ Hugh Dillon.
People who try to bring you down everyday aren't important in your life, so you better treat their opinions as such. ~ Terry Mark.
It's hard to let go of all that negativity, which will seriously drain your motivation, but you got to let it go. ~ Oscar Auliq-Ice.
Your beliefs, either positive or negative, helpful or hurtful, largely determine everything you do and how you do it. ~ Brian Tracy.
Positive Quotes To Overcome Negativity
Negative people can only infest you with discouragements when they find you around. Just get lost and be saved. ~ Israelmore Ayivor.
Some people are in such utter darkness that they will burn you just to see a light. Try not to take it personally. ~ Kamand Kojouri.
No matter how good you are, someone is always going to be against you. But never let them be the limit of your success. ~ Terry Mark.
Negativity, in general, is one of the things that holds people back, and you have to see what's holding you back to get away from it. ~ Lucy Dacus.
I'm the kind of person who doesn't really focus on more negativity. I'm a positive person, and I look at things in a positive way. ~ Caster Semenya.
---
So these were the 63 quotes about Negativity.
If you like these quotes, then you can also read our other posts on Youth Quotes to Inspire Next Generation and Psychology quotes by Famous Psychologists.